Ultimate Tutorial to Compress Video for Instagram
All video-sharing platforms have a size limit on videos uploaded to them for a better watching experience for their users. Thus, you may find your high-quality videos on hand cannot be directly uploaded to Instagram. You can read through this post to learn the specifications of Instagram videos and how to compress videos for Instagram.

Part 1: Instagram Video Specification Limits
Before you get started, it's better to keep in mind the recommended specifications for an Instagram video.
Max Instagram Video File Size: 4 GB
Recommended Instagram Video Format: MPV and MOV
Duration: 60 seconds.
Maximum Resolution: 1080P
Part 2: Ultimate Way to Compress Video for Instagram
Tipard Video Converter Ultimate might be the best tool for you to compress videos for Instagram. Unlike Final Cut Pro or Adobe Premiere Pro in which you have to figure dozens of parameters, Tipard Video Converter Ultimate can downsize your video for Instagram in a much easier manner. Here are several key features of it:
Key Features
1. Compress videos for Instagram in 3 easy steps.
2. Resize a video by tweaking the resolution, bitrate, and format or trimming.
3. Advanced algorithm produces compressed video with the least quality loss.
4. Hardware accelerating technology ensures peerless rendering speed.
Resize Videos for Instagram by Tweaking Resolution, Format, and Bitrate
Step 1Free download, install, and launch Tipard Video Converter Ultimate on your Windows or Mac. When you see the interface of the program, go to the Toolbox tab and click the Video Compressor button.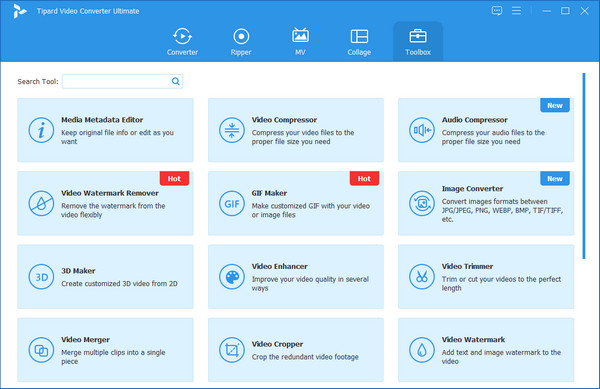 Step 2The first screen you see in the Video Compressor is a big "+" button in the center. Click on it to import the video you want to compress for Instagram.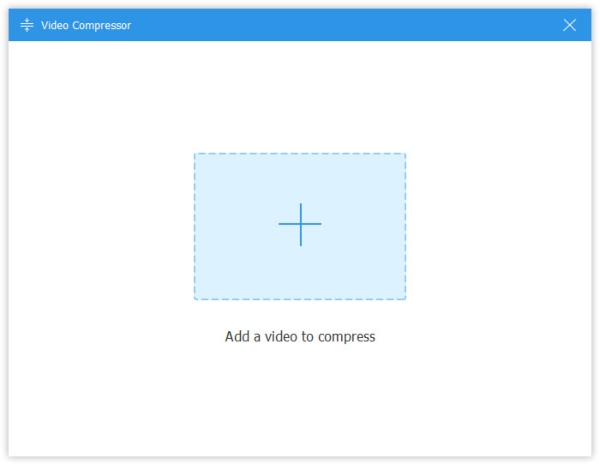 Step 3Now you can customize the settings to downsize the video. First, set the format to MP4 which is the most recommended format for Instagram videos. If the original resolution is higher than 1920 × 1080, you have to reduce it to 1920 × 1080 or lower so that it can be accepted by Instagram. Next, drag the orange dot on the size slide bar leftward to make the video smaller than 4GB.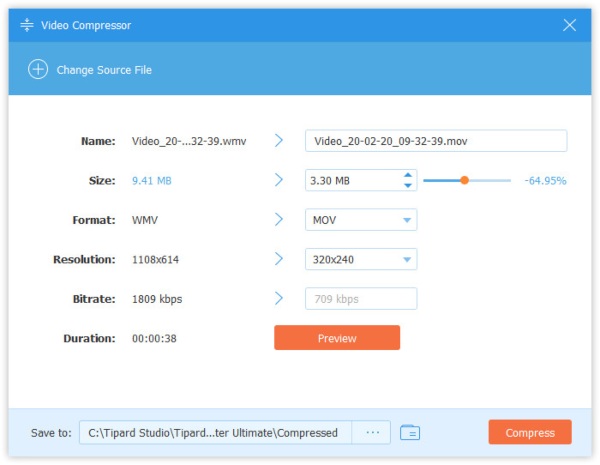 Step 4Use the Preview button to see how the export video will look like. If needed, you can try other combinations of format, resolution, and bitrate. The last thing is to click the Compress button in the bottom right corner to start compressing the video for Instagram.
Downsize Videos for Instagram by Trimming the Unwanted Segments
If there are many unwanted segments in your video, you can consider removing them to make the video much smaller, for the length affects the video file size to a great extent.
Step 1Launch Tipard Video Converter Ultimate and import the video by dragging and dropping it in the program interface.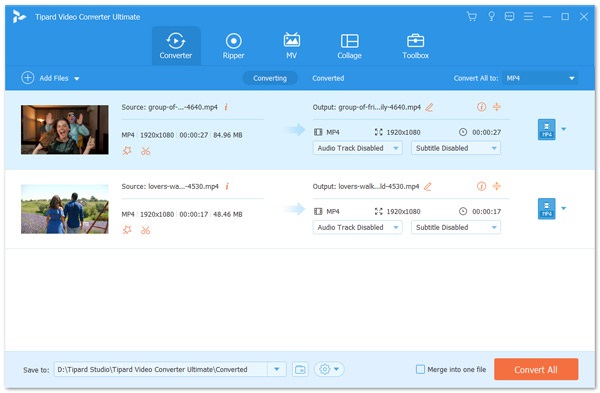 Step 2Click on the Cut button (the scissors icon) on the file you imported for the Cut feature.
Step 3Set the start and the end on the timeline to select a segment, then click the Delete button to cut it. Click the Save button in the bottom right to go back to the main interface.
Step 4Click on the Format button and select an MP4 preset with the resolution that suits your video (1080P or lower). At last, click the Convert All button in the bottom right corner of the interface.
Part 3: Compress Video for Instagram Online
Considering that some people don't like to download and install new programs, here we'd like to introduce an online solution to compress a video for Instagram. Just follow the steps below.
Step 1Open your web browser and go to https://clideo.com/compress-video for Clideo Video Compressor. Click the Choose File button and upload the video you want to compress, then wait patiently for the tool to render the video.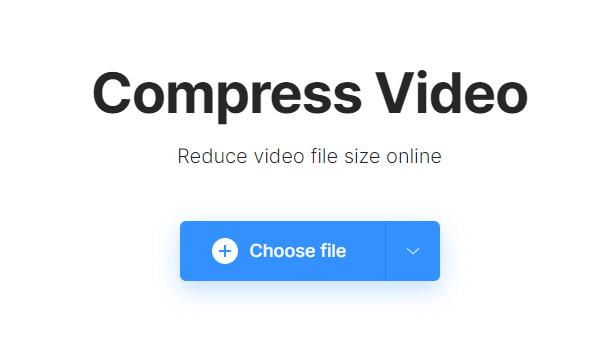 Step 2The video will be compressed automatically without asking you to set any settings. Now you need to click the Download button to retrieve the compressed video.
Note that the video is currently watermarked with clideo.com. You can sign in with your Facebook or Google account to remove the watermark.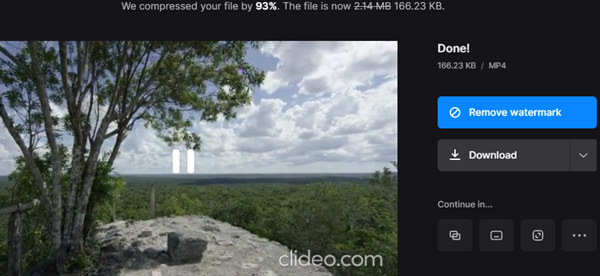 Part 4: FAQs about Compressing Video for Instagram
1. How to upload long videos to Instagram?
The best way to upload a long video to Instagram is to send it to IGTV using a computer. The maximum IGTV video length is 15 minutes if you upload it on your phone, while the limit rises to 60 minutes when you are uploading it from a computer.
2. How to upload large videos to Instagram?
Instagram has a size limit on videos sent to them. You have to make sure the video you are trying to upload is under 4GB. You can downsize the video for Instagram by using changing the bitrate and resolution or trimming unwanted segments.
3. Can I compress video without losing quality?
As a matter of fact, there is no way to compress a video without losing image quality or removing video segment. Even so, different video compressors have different performances. To compress a video with the least loss of quality, you can try Tipard Video Compressor Ultimate.
Conclusion
In this post, we talked about 3 effective ways to downsize a video for Instagram. Instagram has a size limit of 4G on videos, so you have to compress your videos beforehand if they are larger than 4GB. The ultimate tool to compress video for Instagram is Tipard Video Converter Ultimate. You can reduce video size by tweaking format, resolution, and bitrate, or trimming unwanted parts. If you don't want to download a new program for this task, you can try Clideo which can compress your video online but leaves a watermark.