What Is MP4 and More Knowledge You Should Know about the Video Format
If you download a video file from websites, chances are that it is saved as an MP4 file. Maybe, you also use MP4 to upload videos to social media regularly. However, most average people do not understand why MP4 is so popular on the internet. Therefore, this article will explain the necessary knowledge about the popular video format. So that you can know exactly whether it is right for your needs.

Part 1: What Is MP4?
In most cases, MP4 stands for MPEG-4 Part 14. It is based on Apple's MOV format and adds support for various other MPEG features. At first, it was released in 2001, but the video codec we used today was the re-released version in 2003.
MP4 is a container format stores video, audio tracks, and subtitles. An MP4 file must have the same codec, so that a media player is able to read it. The widely used codecs include:
Audio: AAC, ALS, SLS, TTSI, MP3, and ALAC.
Video: MPEG-4 Part 10 (H.264) and MPEG-4 Part 2.
Subtitles: MPEG-4 Timed Text.
Advantages of MP4
1. Available to a wide range of platforms and internet. It makes MP4 easier to use and deliver.
2. The high degree of compression of MP4 produces smaller file size. So, it is ideal for video streaming online.
3. An MP4 video file can store metadata as well. That makes MP4 can be integrated with 3D graphics, menu and more.
4. MP4 files enjoy high level of compatibility and most media players can read it.
5. MP4 format can be used to store high quality videos, like 4K contents.
Disadvantages of MP4
1. Once an MP4 file is exported, you cannot edit it anymore.
2. It is a lossy video format and results in loss in audio and video quality.
3. MP4 is an unencrypted video format, so it may be involved in illegal distribution of copyright contents.
Part 2: How to Open MP4
As mentioned previously, MP4 can be read by most media players. However, you must look for a good way to open your MP4 files if you want to get high quality experiences. Tipard Blu-ray Player can meet your needs.
Main features of the best MP4 player
1. Play any MP4 video files on Windows and Mac.
2. Keep the original video and audio quality including 4K videos.
3. Control and customize MP4 playback based on your wish.
How to Open MP4 without Quality Loss
Step 1
Install the best MP4 player
Download the media player and install it to your PC. Launch it and click the Open File button to bring up the open-file dialog. Find the MP4 file on your hard drive and open it.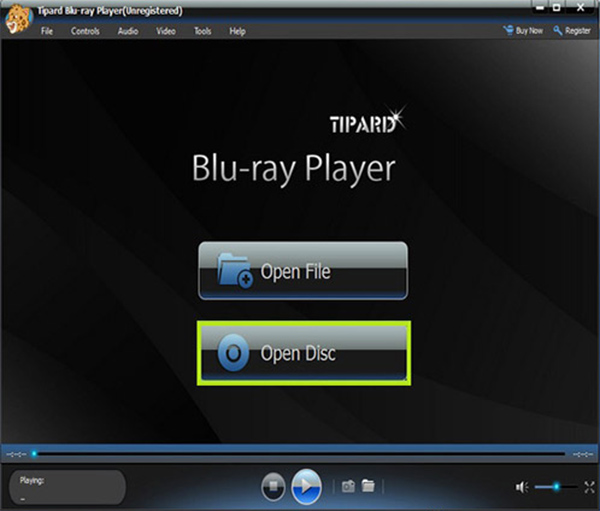 Step 2
Control MP4 playback
If your MP4 video contains multiple audio and subtitle tracks, pick your favorite and access the media player window. Press the Play icon to start playing MP4. The buttons at the bottom let you pause, forward, backward the playback. You can also find the snapshot and volume tools at bottom. Moreover, the top menu bar provides more controls.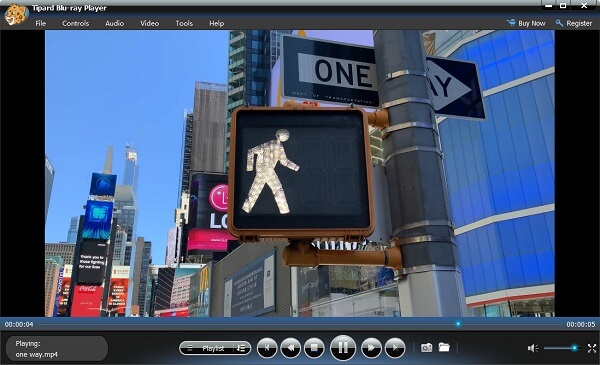 For more MP4 players for Windows and Mac computer can be found here.
Part 3: Best Way to Edit MP4
It is not easy to edit an MP4 video since it is compressed. Does it mean you cannot change your video files in MP4 format? The answer is no, all you need is a powerful MP4 editor, such as Tipard Video Converter Ultimate.
Key features of the easiest MP4 editor
1. Edit MP4 video files on computer without losing quality.
2. Batch process multiple MP4 files at the same time.
3. Convert between MP4 and other multimedia formats.
How to Edit MP4 Videos on Desktop
Run the easiest MP4 editor after you installed it on your computer. Click the Add Files menu at the upper left corner to import the MP4 videos you wish to edit.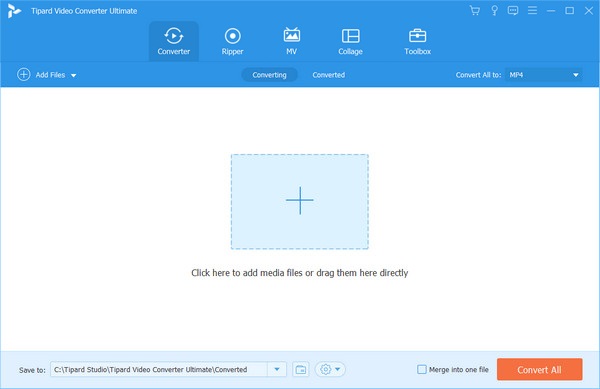 Step 2
Edit MP4 files quickly
Locate the first title and click the Edit icon to open the video editor. Here you can rotate, crop and watermark the MP4 video, modify subtitle and audio tracks, or apply video filters. To trim an MP4, hit the Scissor icon next to Edit in main interface. After editing, click OK to confirm it or hit Apply All to apply the editing to all MP4 files.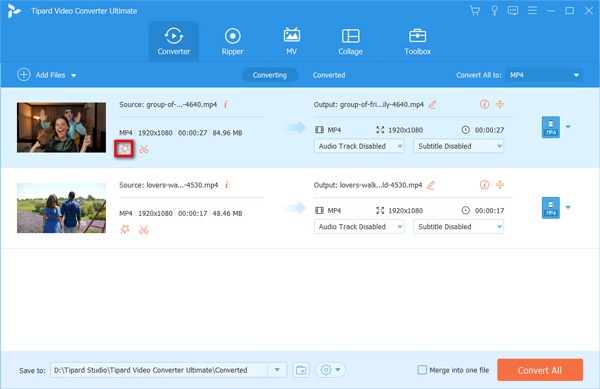 Click the format icon to open the Profile dialog, and pick your favorite video format and quality. Then set a specific folder to save the output by hitting the Folder icon. Finally, click the Convert All button to start exporting edited MP4 videos.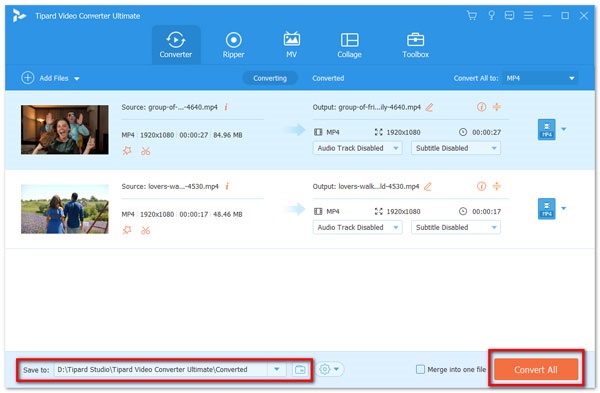 Check more details here to edit the MP4 videos.
Part 4: FAQs of MP4
Where are MP4 files used?
MP4 files are often used to store digital media on computer, mobile devices, and the internet. It commonly stores audio tracks, video, pictures and subtitles.
Which is better MP3 or MP4?
MP4 is a compressed video format delivering better audio quality, while MP3 has the smaller file size. So, which one is better depends on your needs. If you just want quality but not care about space, go for MP4.
Why cannot I play MP4 videos on my computer?
Firstly, you should try to play another MP4 file, when an MP4 video cannot be opened on computer. If your media player works normally, it means the MP4 video is corrupted. If it is your media player responsible, you should do troubleshooting. Chances are something wrong on your media player. Or you can use a third-party MP4 player directly.
Conclusion
This article has talked about one of the most widely used video formats, MP4. Now, you should understand what MP4 is, whether you should use it, how to open it and the best way to edit MP4 on your computer. Tipard Blu-ray Player is better than the built-in media player since it is more reliable and easier to use. When you wish to edit your MP4 files, Tipard Video Converter Ultimate can help you simplify the process. More questions? Please leave your message below.