Simple Steps on How to Compress a Video on Google Drive
Google Drive is among the most used Google applications that are important nowadays. Google Drive enables users to store files on the Google Service. It also synchronizes files in different devices and allows you to share them on different platforms. Moreover, many people upload videos on Google Drive, and others have trouble uploading files because of the size. That's why we searched for a method that allows users to compress their large-sized videos to upload on Google Drive. And if you are wondering, does Google Drive compress videos? Read this post completely.

Part 1. Does Google Drive Compress Videos
Unfortunately, you cannot compress videos directly on Google Drive. Although Google Drive has many useful tools for documents, images, and videos, this software does not support the compression process. Google Drive only provides resolutions, such as 1080p, 720p, and 360p, to preview your video smoothly and quickly. You can choose among these variations to play your video on Google Drive. But when you download the video, it will have the same size as the original file. However, there is still a way to compress videos on Google Drive. One is that you can zip your video when you download it.
Part 2. How to Compress Video for Google Drive
Since Google Drive cannot directly compress your videos, then we have other options you can do. Compressing videos by zipping them is hard to follow and risky. Therefore, we search for other applications that you can download to compress videos. Although many applications exist, picking the best video compressor tool is hard. This section will discuss how to compress videos for Google Drive using the most powerful offline and online video compressor applications.
1. Tipard Video Converter UItimate
Tipard Video Converter Ultimate is the most powerful tool if you search for the best video compressor. This video editing program contains many advanced editing features you can use, including a video compressor, video converter, GIF maker, video watermark remover, and more. In addition, with its video compressor feature, you can change your video's size, format, resolution, and bitrate. Also, it can compress numerous video formats, such as MP4, AVO, MOV, MKV, VOB, WMV, WebM, FLV, and 500+ more formats. Additionally, it allows you to have a batch compression process, to compress two or more videos simultaneously. It is also user-friendly because it has an intuitive user interface. Furthermore, it is downloadable on all media platforms, like Windows, Mac, and Linux.
How to compress videos for Google Drive using Tipard Video Converter Ultimate:
Step 1 To begin, download Tipard Video Converter Ultimate on your device by clicking the Download button below for Windows or Mac. And then, install it on your computer and open it.
Step 2 And the app's first interface, go to the Toolbox and select the Video Compressor feature for compressing videos.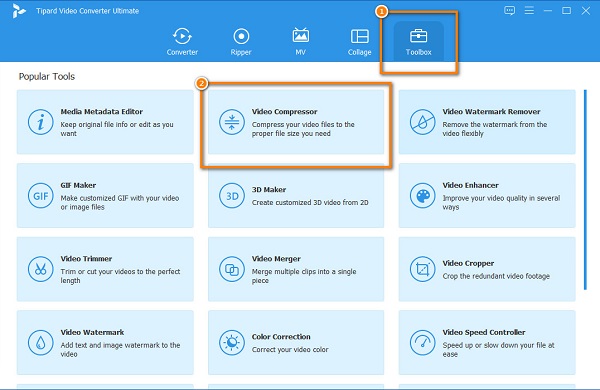 Step 3 Next, press the plus (+) sign button in the middle of the interface to add the video you want to compress. You can also drag-drop your video from your computer files to upload videos.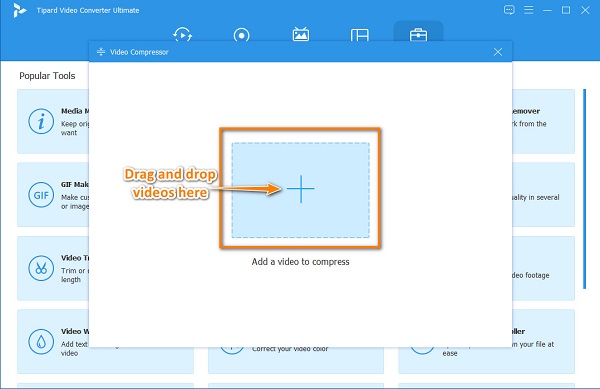 Step 4 After uploading your video, you will see that you can change your video's size, format, and resolution to compress your videos. And in this guide, we will adjust the size of your video to compress it. To do that, click the up/down arrow or hold and drag the slider to your preferred percentage.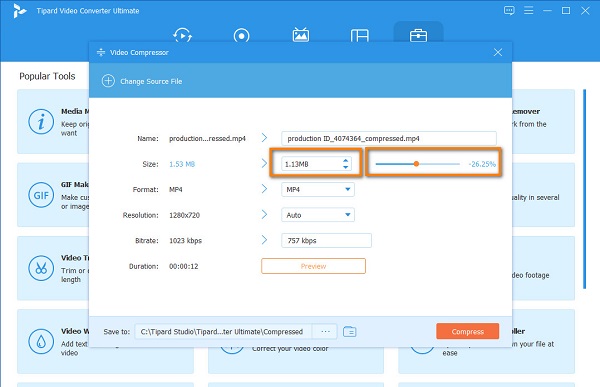 Step 5 Finally, if you are ready to compress your video/s, click the Compress button at the bottom right corner of the interface.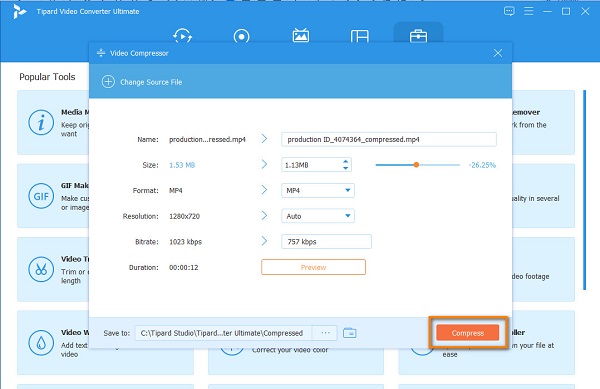 And then, wait for a few seconds, then your compressed video will automatically be saved on your computer files.
2. Clideo
If you prefer using a video compressor online than offline, then Clideo is the tool you can use. Clideo is the most outstanding online video compressor you can access on almost all browsers. Moreover, it has a user-friendly interface, making it easy for beginners to use this application. Also, even though it is a web application, it still has a fast compression process. Furthermore, it supports the standard file formats, like MP4, MOV, AVI, MKV, etc. What's astonishing about this application is that it uses an AI (Artificial Intelligence) compression process that automatically compresses your videos. However, when you compress videos using Clideo, it will leave a watermark on your video.
How to compress videos using Clideo:
Step 1 On your browser, search Clideo on the search box. And on the main interface, click the Choose File button to upload the video you want to compress. Then wait for your video to upload.
Step 2 And then, Clideo will automatically compress your video to a smaller size.
Step 3 Lastly, if you want to remove the watermark, you must sign up for your accounts. And if you want to save your video, click the Download button.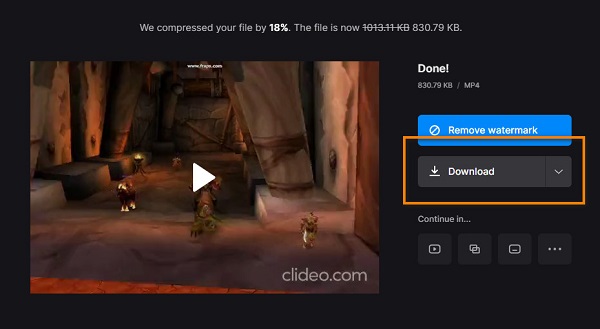 3. VEED.io
Another online program that you can use on your browser is VEED.io. VEED.io is also among the most popular video compressors online. It has an easy-to-use interface, and it is safe to use. Moreover, it can compress videos with MP4, AVI, and MOV formats. You can also upload videos from your Dropbox or past the video URL you want to compress. VEED.io compresses videos by adjusting the resolution of your video. In addition, it is accessible on almost all web browsers, like Google and Firefox. But the downside of this online app is that it has a slow uploading process which may be inconvenient for some users.
How to compress videos using VEED.io:
Step 1 Open your browser and search VEED.io and type VEED.io on the search box, then go to their main page. On the first user interface, click the Choose Video button and then the Upload a Video button to import videos.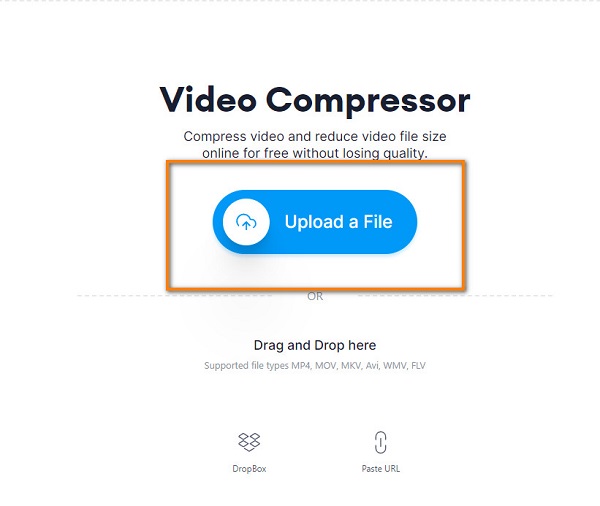 Step 2 And then, move the slider to the Smaller File to reduce your file size. You can also change the resolution of your video to compress it.
Step 3 Finally, click the Compress Video button to start compressing your video.
Part 3. How to Compress a Video on Google Drive
Since you cannot compress a video on Google Drive, we will introduce to you how to zip a video on Google Drive.
Here are the steps for zipping your Google Drive videos.
Step 1 First, go to Google Apps at the top right corner of your browser, then locate Google Drive. And then, select the file or folder that you want to compress.
Step 2 And then, click the Download button by selecting your file.
Step 3 After downloading your file on your computer, it will automatically download the zip file to your computer.
And that's the simplest way to compress a video on Google Drive.
Part 4. FAQs about Google Drive Compress Video
What is Google Drive's maximum file size video?
The maximum video size you can upload on Google Drive is 5TB if you have purchased that much storage. But if not, you are limited to only how much storage is available.
Can I upload 4K videos to Google Drive?
Yes. There is no resolution limit in Google Drive. However, 4K videos are quite large, so uploading these types of videos may take time.
Does Google Drive lower quality?
No. Google Drive does not reduce the quality of your video when you upload videos.
Conclusion
Now that your question "does Google Drive compress video" is answered, you can start choosing the best video compressor tool. But we recommend using the most outstanding video compressor available on all platforms; with its fast compressing process, you will surely love it! So what are you waiting for? Download Tipard Video Converter Ultimate now.