Learn the Most Outstanding Apps to Put Video in Reverse on iPhone & Android
Many movies start in reverse playback. Movie makers use this editing style to highlight a part of the movie or to make a scene funnier. Reversing a video not only depicts fun but can also tell a story mysteriously and beautifully. Hence, you first need to use the software to reverse your video. And searching for the best video reverser application is not easy because some software is not free and safe. But you do not need to search any longer because this article will show you the best reverse video apps you can use on your iPhone, Android, or PC.

Part 1. Best Reverse Video Apps for iPhone
The good thing about video reversers is that no matter what device you use, there is always a suitable application to download. If you are using an iPhone device, you can search video reversers on your AppStore and see tons of video reversing applications. So, read this part continually to know the top three reverse video apps for iPhone.
1. LumaFusion
First on the list is LumaFusion. LumaFusion is a powerful video reverser application for iPhone because of the effects it offers. LumaFusion is a professional and free video editor that you can use to create stunning stories. And it can even reverse your video quickly. Moreover, it has a feature where you can add effects to your video, edit audio, and even a video title that you can use. However, some beginners need help with using this app because it has a complex user interface, not intended for beginners.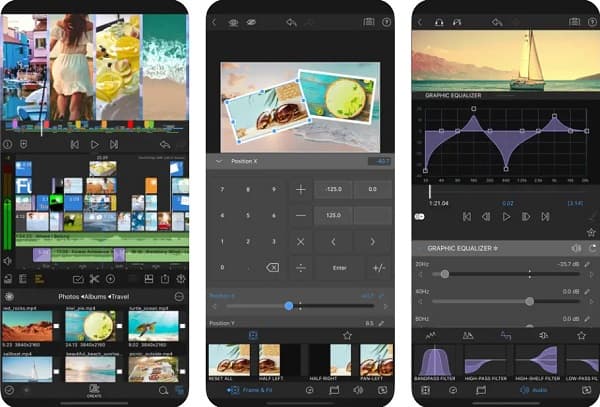 Pros:
• It can reverse your video with 120 - 240 fps files.
• It contains many additional features to use.
• It can share any file easily.

Cons:

• It is not free to use.
• It is not beginner-friendly.

2. Video Reverse: Rewind Videos

Also on the list is Video Reverse: Rewind Videos. Video Reverse: Rewind Videos is a video reverse application available on iOS devices. It is a popular app for video editing, especially for novices, because it has an easy-to-use interface. Furthermore, this video editing application is free to use and supports reverse playback at variable speeds. Plus, you can export videos with KineMaster in 4K resolution. It also allows you to reverse or slow your videos partially.

Pros:

• You can record a video and then reverse it.
• It has an intuitive interface.

Cons:

• There are too many ads.

Part 2. Best Reverse Video Apps for Android

You do not need to worry if you use an Android device. There are also tons of video reverser applications that you can download on your Android phone. Although not all applications are safe and free, we searched for the most used video reverser app and chose the best to present to you. Here are the top three best video reverser apps for your Android device without further ado.

1. Reverse Movie FX

If you are a novice editor, you may want to use this video reverser to reverse your videos. Reverse Movie FX is a beginner-friendly application with a simple user interface. You can reverse your video entirely or partially in just a few taps. Additionally, you can record a video with this app, then reverse it. It is one of Android's most popular video-reversing apps because it can magically reverse your videos. And you don't need to be anxious about the safety of your files because Reverse Movie FX is safe to use.

Pros:

• Can export videos with high quality.
• It has an intuitive user interface.
• Available on Android and iOS devices.

Cons:

• It has limited editing features to use.
• It has many ads that might distract you while reversing your video.

2. PowerDirector

When searching for a rewind video app for Android, you may have seen PowerDirector. PowerDirector is one of the most used video editing apps for Android devices. Also, this app cannot just add transitions or effects to your video. It also has a feature where you can reverse your videos easily. It is also a beginner-friendly app because of its easy-to-use interface.

Pros:

• It has an easy-to-use user interface.
• It has video templates that you can use.
• You can add background to your videos.
• Exports high-quality videos.

Cons:

• Editing functions are pretty hard to navigate.

3. Reverse Vid

If you want the best app for reverse video, then Reverse Vid might be among the choices you need to consider. This video-reversing app allows you to reverse your video and select the playback speed you prefer. In addition to that, it can rapidly reverse your video, making it very convenient to use. Reverse Vid is a fantastic app that creatively adjusts the reverse video's speed. However, it does not allow you to sync your reversed video with the audio of it. Nonetheless, it is an excellent app for reversing videos.

Part 3. Bonus: Video Reverser for Desktop

Editing videos on a desktop is easier than using your mobile phone. And, there is more software that you can use for your computer.

If you are searching for the best app to reverse your video on a computer, then Tipard Video Converter Ultimate is the best software. This offline video reverser software can reverse your video entirely or partially. Also, it supports numerous video file formats, such as MP4, AVI, MOV, MKV, FLV, VOB, M4V, WMC, and 500+ more. Additionally, Tipard Video Converter Ultimate can reverse your videos without affecting their quality. It also contains many advanced editing features, including a video watermark remover, video merger, video cropper, color correction, and more from the Toolbox.

Part 4. FAQs about Best Apps to Reverse Videos for Android and iPhone

How to reverse a video on Android

To reverse a video on your Android device, you can download FilmoraGo for Android, then launch it. On the main interface, tap the + icon and tap Allow. And then, locate your video then import it to FilmoraGo. Tap Next to continue. After, find the Reverse option and tap Export once you are done reversing your video.

What is the best app to reverse videos on Mac?

iMovie is the most popular video-reversing software on your Mac device. Another amazing video reverser you can use on your Mac device is Tipard Video Converter Ultimate.

Can I reverse an existing video on my device?

Certainly! With the apps mentioned above, you can reverse the video stored on your device.

Conclusion

All the reverse video editor apps for Android and iPhone are listed in this article. You no longer need to search for other apps anymore, because we assure you that you can reverse your videos easily and professionally with these apps. But if you want to reverse your videos on your computer, you can download Tipard Video Converter Ultimate on your Windows or Mac device.