How to Use Final Cut Pro to Reverse Clips
Did you ever wish to go back in time and replay the moments that you had before? Unfortunately, we could not go back in time and relive the times we once had. But not in the video editing world. But in terms of video editing, you can reverse things or moments using the reversing option. In video editing, many editors search for tools and solutions for reversing or rewinding a clip. And if that is your intent, why you are reading this post, then you are on the right page. Below, we will show you the best video-reversing application you can use on your device. Continue to read this article to learn the steps on how to use Final Cut Pro to reverse videos.

Part 1. How to Reverse a Video File in Final Cut Pro
Final Cut Pro is a video editing application that is available on macOS. Final Cut Pro is a video editing application that professionals use for video editing during post-production. It has many powerful editing tools that allow you to create unique and amazing videos to share on other platforms. Moreover, this video editing software utilizes the power of the most recent graphic processors that run on Mac computers, resulting in a smoother and quicker video editing process. Furthermore, the video editing features you can access on Final Cut Pro are special effects and filters, motion graphics, clip cutting, color correcting, and more. Plus, it supports HDR videos and video formats that Mac devices support.
When reversing a video in Final Cut Pro, you may wonder which of the Reverse or the Rewind feature you will use. Although their meaning is somehow synonymous with each other, they have different functions regarding Final Cut Pro. Before proceeding with the steps about how to reverse a clip in Final Cut Pro, let us first distinguish the difference between rewind and reverse.
Rewind - When rewinding a video, the user simply duplicates a clip as a segment or adjusts over a selected range. And then, the user rewinds the segment he selected at a certain speed faster than the original speed. Then, they play a segment from the original clip at an average speed.
Reverse - On the other hand, reverse, as the name implies, means that you will play a video from the end of it towards the beginning. And if you are wondering if it is possible to reverse the order of the video frames, yes, you can. You can reverse the order of your frames to arrange them so that the last frame will appear in the first.
How to reverse a video clip in Final Cut Pro
Step 1To start, go to the Timeline and select the video file you want to reverse from your collections. You can also apply this effect to a group of video clips.
Step 2And then, go to the pop-up menu where you will see the option to reverse clips from the arrow that points toward the left direction. Click the Reverse Clip option to reverse your video clip.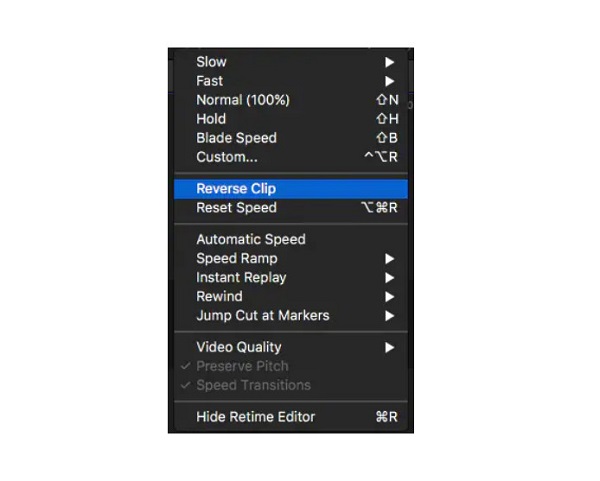 Step 3If you want to modify the speed of your reversed clip, use the retiming handle and drag it to the right or left of the timeline.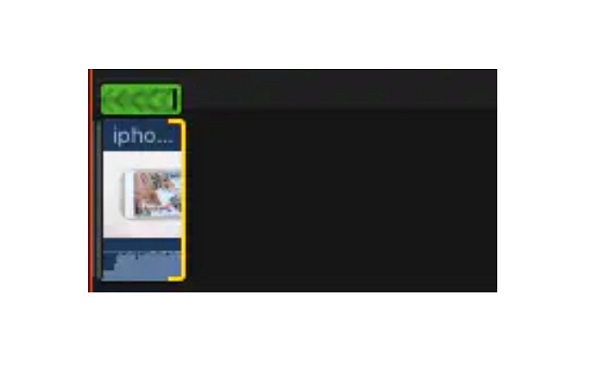 Step 4And now, you can preview your video with the reverse effect by clicking the playhead button.
How to rewind a video clip in Final Cut Pro
Step 1Again, go to the Timeline, and select the video clips you want to rewind.
Step 2And from the pop-up menu, select the Rewind option and choose your desired speed limit. You can choose your speed by 1x, 2x, and 4x.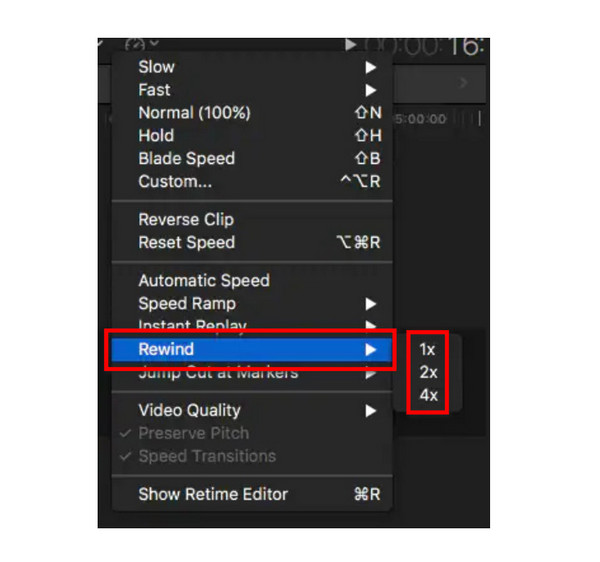 Step 3After, hold and drag the retiming handle so that you can adjust the speed based on your preference.
Step 4You can now see the preview of your output to view the other editing clips.
Simple, right? By following the simple steps above, you can use Final Cut Pro to reverse a video or rewind your video. Although it is a great application for editing and revising your videos, Final Cut Pro is not free and is quite pricey.
Part 2. Alternative Way to Using Final Cut Pro to Reverse Videos
Many video editors are searching for an alternative to Final Cut Pro because it is not free and it is available only on Mac devices. Luckily, we found an application that can help you reverse your videos, available on your Windows computer.
Tipard Video Converter Ultimate is listed among the best video reversers that are available on your Windows or Mac device. This video reversing software can help you reverse your videos entirely or select parts you want to reverse. Also, it is available on all operating systems, including Windows, Mac, or Linux. Additionally, you will not have a problem uploading files because it supports almost all video file formats, such as AVI, MOV, MKV, MP4, FLV, VOB, HEVC, MPEG, and 500+ more. With its AI reversing process, this video reverser can reverse your video without losing its quality.
Moreover, it has a preview feature where you can watch your reversed video first before saving it on your device. Beginners also love using Tipard Video Converter Ultimate because it has a simple user interface. To reverse videos using this software, follow the steps below.
Step 1Download Tipard Video Converter Ultimate by hitting the Download button below. After installing the program, launch it on your device.
Step 2And on the main user interface, click the Toolbox tab and select the Video Reverser feature.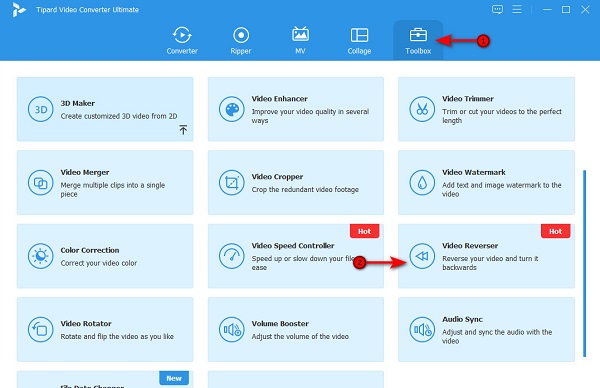 Step 3Next, click the plus sign (+) icon to import the video you want to reverse. You can also drag-drop the video file to the plus sign box from your computer folders.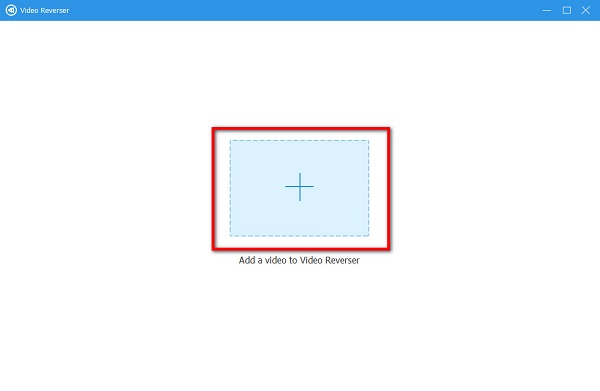 Step 4After importing your video, Tipard Video Converter Ultimate will automatically reverse your entire video. But if you want to reverse a part of your video, click the Set Start or Set End button.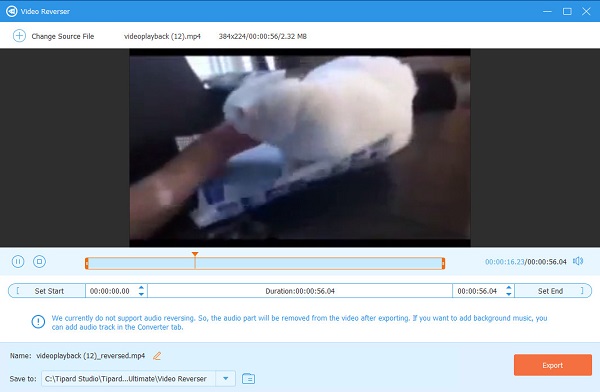 Step 5And finally, tick the Export button to save your reversed video on your device.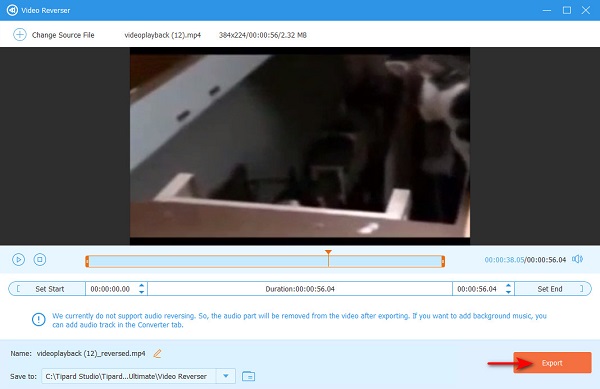 Further Reading:
Steps on How to Use Shotcut to Reverse Videos [Easy Steps]
Learn How to Use FFmpeg to Reverse Videos [Simple Steps]
Part 3. FAQs about How to Use Final Cut Pro to Reverse Video Clips
Does Final Cut Pro have transitions?
- Yes. You can add or change the transition of your video by clicking the Transitions button at the top right corner of the interface.
Can I import an MP4 file in Final Cut Pro?
- Final Cut Pro supports the most standard video file formats, including MP4, MOV, MKV, AVI, etc.
Is Final Cut Pro free to use?
- No. Final Cut Pro is not free to use. However, it does have a 90-day free trial that you can use.
Conclusion
Now that you know the steps about how to use Final Cut Pro to reverse a video, you can now start using it to reverse or rewind your video. But if you are a Windows user and you prefer a cheaper video reverser that can produce high-quality outputs, download Tipard Video Converter Ultimate now.