Learn the Simple Ways on How to Reverse a Video on Snapchat
Snapchat is one of the popular photo applications and messaging apps. With Snapchat, you can take excellent photos and videos you can share with your friends. Moreover, it has a feature where you can add filters and effects to add more fun to your images or videos. And did you know one of the effects that Snapchat offers allows you to reverse your video? Yes, you read that right! Snapchat can help you if you have a fantastic video that you want to reverse. And in this blog post, we will demonstrate to you the process of how to reverse a video in Snapchat.
Part 1. What is Reverse Video Filter in Snapchat
Reversing a video became popular with many video editors and vloggers because with video reversing, you can highlight a part of your video. Many applications offer a video reversing feature, and one of those apps is Snapchat.
Snapchat is among the most famous social media applications that many kids and teens use. Snapchat is not just an app for taking photos or videos; it is also an app that many people use for messaging. And as many people ask, "Can I reverse a video on Snapchat?" The short answer to that query is yes. Snapchat has a feature where you can reverse a video. But you can reverse a video that you recently recorded. You will see the reverse feature of Snapchat right after you record a video, then swipe left to view the reverse effect.
Reversing a video on Snapchat is not hard. And if you desire to learn how to put a video in reverse on Snapchat, read the next part thoroughly.
Part 2. How to Reverse a Video on Snapchat
Other Snapchat users do not know how to use Snapchat to reverse videos. And others thought that it could be found on the filters pane. The reverse effect of Snapchat cannot also be searched on the search menu. Why? Because the effect can only be used after recording a video. Read the steps below to learn how to use the reverse effect of Snapchat on your video.
How to Play a Video on Reverse on Snapchat
Step 1 Install the Snapchat app on your mobile phone and open the app. Once you have opened the app, fill up the information that Snapchat asks you. Then, record a new video snap by tapping and holding the record button (red circle). Note that you can only apply the reverse filter if you have below 10 seconds of video.
Step 2 Then, once you are done recording, on the preview of your video, browse through the effects until you see the three reverse arrows pointing on the left (<<<) that will appear over your video. Once you select the reverse effect, your video will automatically play in reverse. The audio of your video will also be reversed once you apply the effect.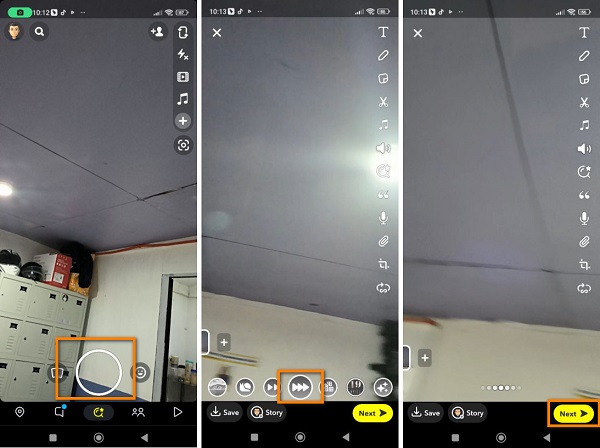 Tip. The reverse effect is usually the eighth effect when swiping your screen to the left. Although you can find the reverse filter by swiping your screen to the right, it will take longer to find it.
Step 3 (Optional). To add more effects to your video, you can add text, stickers, or drawings. Then, tap the Send to option to send your edited video to your friends or post it on your stories.
And that's it! That is how to put a video in reverse on Snapchat. By following these three steps, you can reverse your recently recorded video.
Part 3. How to Reverse a Video for Snapchat on Computer
The problem with reversing a video on Snapchat is that you cannot reverse a video saved on your Gallery or Photos. So, other users are searching for an application to help them reverse their videos quickly. In this part, we will show you an excellent video reverser application and present the steps on how to use them.
Tipard Video Converter Ultimate is the most remarkable video reverser software that is packed with advanced editing tools. This video reverser app can also help you convert, merge, trim, and remove watermarks from your videos for Snapchat. Additionally, it can reverse your videos entirely or in part. This offline application supports 500+ video formats, such as MP4, AVI, MOV, M4V, MKV, VOB, WMV, WebM, etc. You can also upload videos with a high resolution without having a hard time.
Furthermore, Tipard Video Converter Ultimate is a user-friendly application because it has an intuitive user interface. Plus, you do not need to worry about the quality of your video outputs because this application can reverse your video without ruining the quality of your video. Tipard Video Converter Ultimate is downloadable on all operating systems, including Windows, macOS, and Linux. So, if you wish to use this application to reverse your videos, follow the steps below.
How do I make a reverse video for Snapchat
Step 1 To begin, download the Tipard Video Converter Ultimate on your desktop by clicking the Download button below. Click the Download button for Windows if you are using a Windows computer, and click the download button for Mac if you are using a macOS device. After downloading and installing, open the application.
Step 2 Then, on the application's main interface, navigate to the Toolbox panel and select the Video Reverser feature.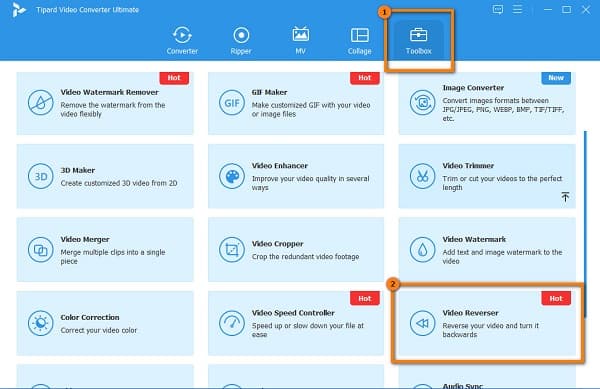 Step 3 Now, we will import the video that you want to reverse for Snapchat. To do that, click the plus sign button or drag and drop your video file into the plus sign box.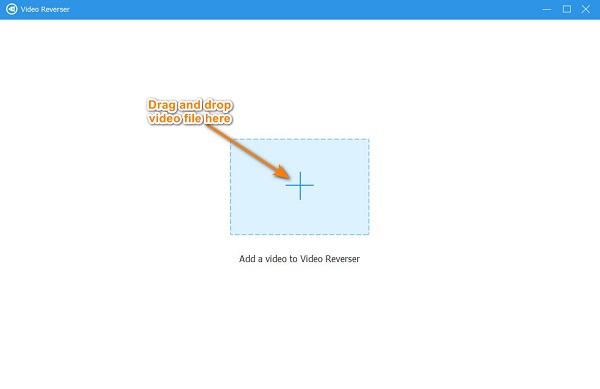 Step 4 Once your video is uploaded, Tipard Video Converter Ultimate will automatically reverse your video. You can also select the part you want to reverse by clicking the Set Start and Set End button.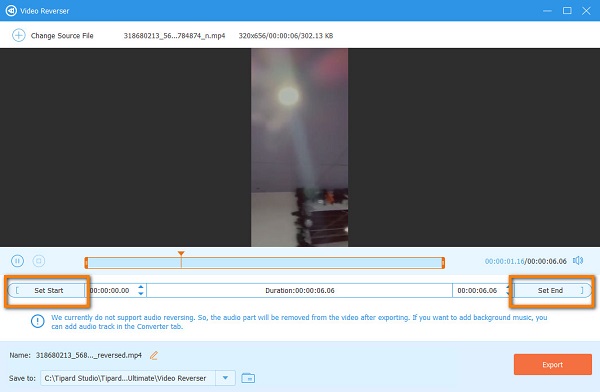 Step 5 After selecting the part you want to reverse, you can now view the Preview of your output. Click the Export button at the lower right corner of the interface to save your video output on your device.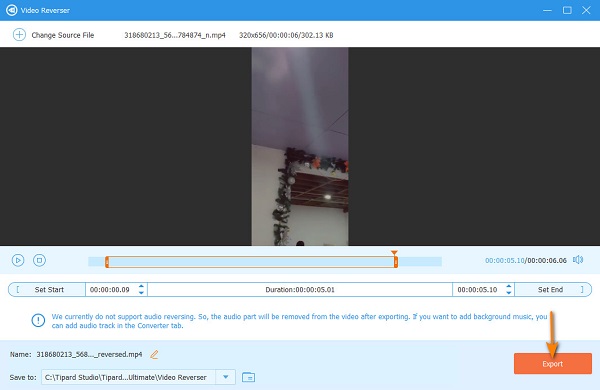 Part 4. FAQs about How to Reverse Videos on Snapchat
What is the maximum video length I can record on Snapchat?
You can record a video on Snapchat for up to 60 seconds. Tap and hold the red circle to record your video; hold it until sixty seconds.
Can I add music to my video using Snapchat?
Yes, you can add music to your video using Snapchat. Tap the Camera icon, then tap the Music Note symbol to search for songs you want to put. And then, tap the Play button next to the track you like, then record your video. Tap the + Create Sound in Feature Sounds to record your own sound.
Can I get the Snapchat app on my iPhone?
Yes. You can install the Snapchat app on your iPhone device from your AppStore.
Conclusion
Since you learned how to make a video go in reverse on Snapchat, you can now open your Snapchat and record your video in reverse. Indeed, it is easy to reverse a video on Snapchat; however, you cannot reverse a video on Snapchat by uploading a recorded video. Therefore, if you want to reverse a recorded clip, download Tipard Video Converter Ultimate now.