How to Resize a Video or Change Its Resolution
You might find many occasions where you need to crop or resize video files, send the video files via E-mail, upload the movies to YouTube or crop videos on your Android/Mac/iPhone. Therefore, you have to change video size to upscale resolution or change the aspect ratio in order to have a better preview experience. The article explains the best ways to resize video and change video resolution online and offline.

Part 1. Best Way to Resize a Video & Change Video Resolution
If you are searching for an easy way to resize your video for Instagram, TikTok or enhance your works in video resolution, aspect ratio, then what you need is a professional video editor to help you with that. For example, Tipard Video Converter Ultimate provides users with various practical editing tools that can fulfill all your needs.
1. Resize the video footage and scale the frame size just the way you like it.
2. Edit any video file with cropping, rotating, watermarking, clipping, adding filter, etc.
3. Enhance and optimize the video quality using advanced enhancing algorithm.
4. Support almost all popular video and audio formats, including 8K/4K videos.
How to Resize Videos on Tipard Video Converter Ultimate
Usually if the video files are too large, it will be difficult to upload the video to YouTube, Facebook, or Instagram. Consequently you can resize video to reduce the original one into a more fitted version. Rather than crack your brain to figure out the complicated procedure like on how to crop videos in FFmpeg, you can grasp this easy and efficient software to reach your target.
1. Go to the "Toolbox" tab. Click the "Video Compressor" button and then add a video to reduce the video size.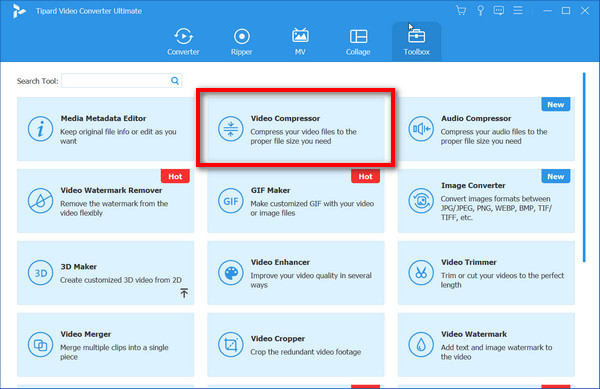 2. You can change the size of the video by adjusting the ratio slider behind the "Size". You can also choose to change the value of the "Resolution" or "Video Bitrate". After that, select a path to save the output video and click the "Compress" button to confirm the adjustment.
How to Change Video Resolution for TV
When you use some video files for HDTV, you have to improve video quality to resize video. And then you can enjoy a better preview of the video by change resolution of video for TV.
1. Go to the "Toolbox" tab and find "Video Enhancer". Select the video you want to upscale.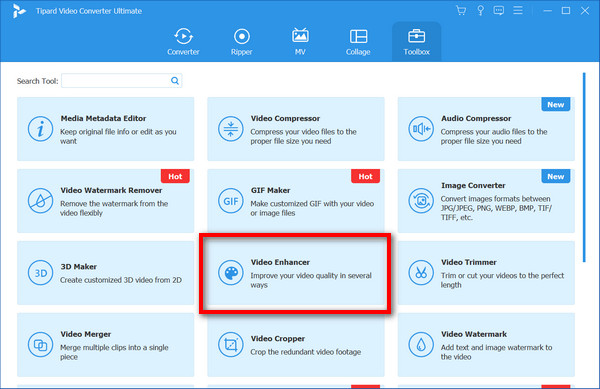 2. The program provides multiple options to enhance video with resizing. You can upscale resolution, optimize brightness and contrast, remove video noise and reduce video shaking.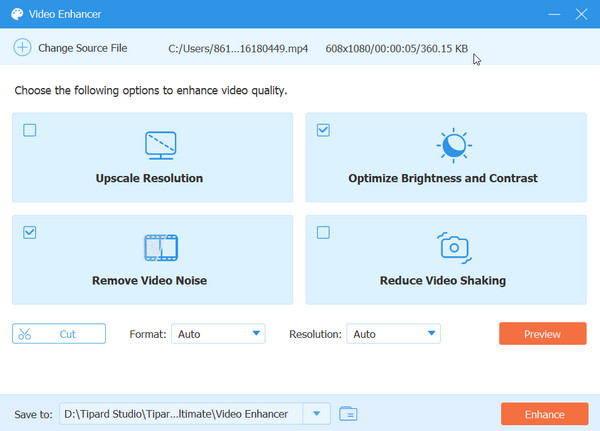 3. Just click the "Enhance" button to refine the video and enjoy a better playback experience. You can even change the size of video to 4K UHD for HD TV.
How to Crop Videos or Change Aspect Ration
Besides changing resolution of video files, you might also need to resize video by cropping video or changing aspect ratio in order to fit for a device, especially when you need to resize 4:3 video files to 16:9 or customize the video file. You might also need to rotate video for iPhone or other devices.
1. Open Converter then click "Add Files" or drag-and-drop the video files to the program when you need to crop the video or change the aspect ratio. After uploading the file, you need to click the "Edit" icon next to the video snapshot.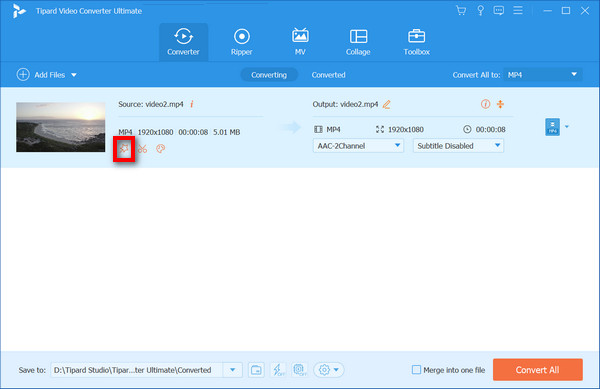 2. You can resize the video either by cropping the area to get the desired part or selecting the "Aspect Ratio" to fit for a certain device. Click OK to save the changes.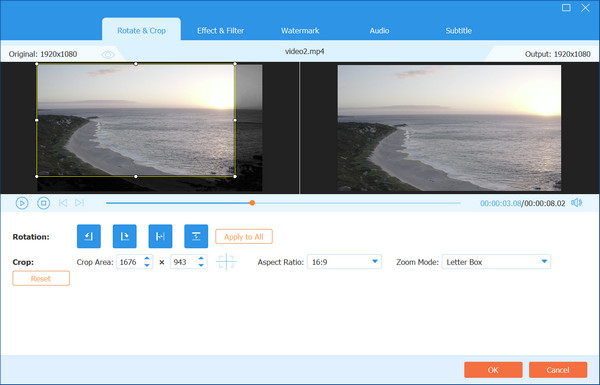 3. And then you can click the "Convert All" button in the main interface to adjust video files size with a different aspect ratio or frame.
Part 2. More Methods of Video Resizing
In addition to Tipard Video Converter Ultimate, here are several ways you can adopt as well to resize your videos online or offline.
Use Free Video Resizer to change
You can resize your video files easily and quickly on Free Video Resizer for any destination online.
What you need to do is to first open the Free Video Resizer website, select a video by clicking Upload your video button. Then choose the platform for your resized result and find the wanted deign for cropping your video on the customized area right below. Move the bar for Video scale to fit. And finally click Download to generate your setting for the adjusted version.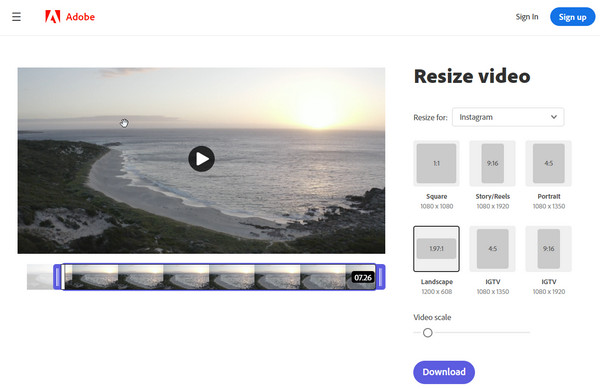 How to Resize a Video in Premiere
You can turn to Adobe Premiere Pro for help to crop your videos with the following steps.
After importing your video file, you will see Effects below. Search Crop in the search bar and you can see the coming area above shown for you to adjust the crop size. Then you can drag the bar following different aspects directly and adjust the amount to the most suitable one.
Or you can tap on Opacity to reach Free Draw Bezier while zooming out the video window to fit with the setting. Then you are free to draw the outline and create a video in a new size and frame.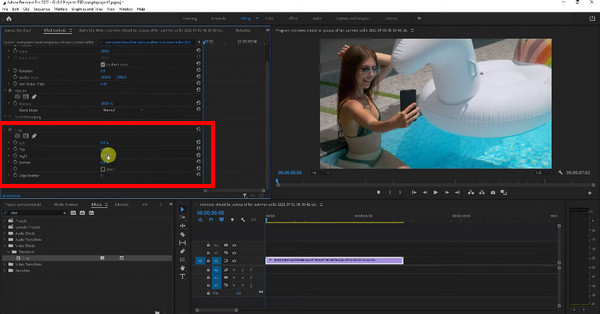 How to Crop a Video in iMovie
iMovie is a useful tool to resize your videos especially for Mac users. When cropping your videos into a new size, you can open the project and choose Crop button on the toolbar. With the cropping tools coming as follow, you can Crop to Fill to adjust the size of your video freely.
For more modification on your video such as resolution, quality and compression, you can visit the menu bar, click File and then Share. In the File selection you can unfold the box and for video format, resolution and more and adjust them to your favorite.
Crop your videos by QuickTime Player
QucikTime Player is a tool applied for playing media files. Also it can be used to record and edit your video files by connecting to a mask from Photoshop.
If you are interested in this app for video cropping, you can first move to Edit and click Copy button on QuickTime after you input an image to get its frame. Then you should open Photoshop and create a mask by going to the File and paste the image. Select the desired part using Rectangular Marquee Tool in black and the outside area white. Save the file in GIF or TIFF.
Now you can return QuickTime Player to open the video and the mask through Windows- Show Movie Properties-Visual Settings. With all set, you will get a resized video in a specific frame. Click Export to save your result.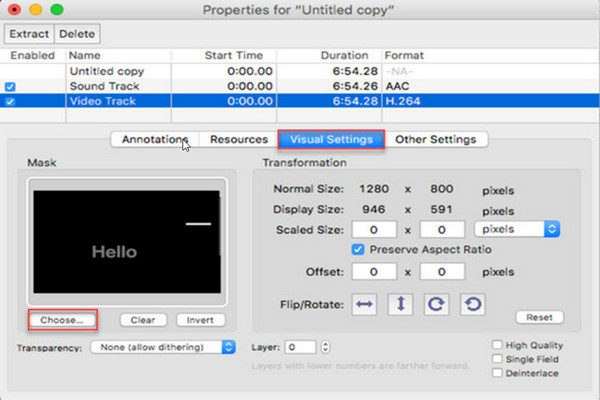 Part 3. FAQs of Resizing Videos
What is the best size for Instagram video?
The best video dimensions for Instagram are 1080px by 1920px. So, the video you want to upload should be 1080 pixels wide and 1920 pixels tall.
How do I resize an iPhone video?
To resize an iPhone video, the first thing you should do is to export the video from your phone to your computer. Then you can resize the video to the size you want with Tipard Video Converter Ultimate by following the steps above.
How do I reduce video time?
You can use the Cut feature of Tipard Video Converter Ultimate to reduce video time. After adding the file to the program, you can click the Cut icon next to the Edit icon. Then please set the start and end time to change the time length according to your need. Click Save to save the changes and then convert the video on your computer.
How to crop videos without watermark
You can access many video editors to resize your video without watermarks. Apart from the listed options, you are free to try After Effects, Kapwing Video Resizer, Canva, VLC for online and offline setting.
Conclusion
With the diverse tools for video resizing and enhancement including resolution, aspect ratio, etc. you are enjoying more freedom to make your videos in better fitted sizes with good quality as the same. Just grasp this chance and start your creating with this guide.

Click here to join the discussion and share your comments
How to Resize Video or Change Video Resolution