The Five Best Free MP4 Video Editors
When you want to edit MP4 videos, you would better to choose a free MP4 video editor. Whether you download the MP4 from YouTube or taken by iPhone, you should know the MP4 video-editing tool suitable for your requirement. You can find the most helpful five MP4 video editor tools from the article.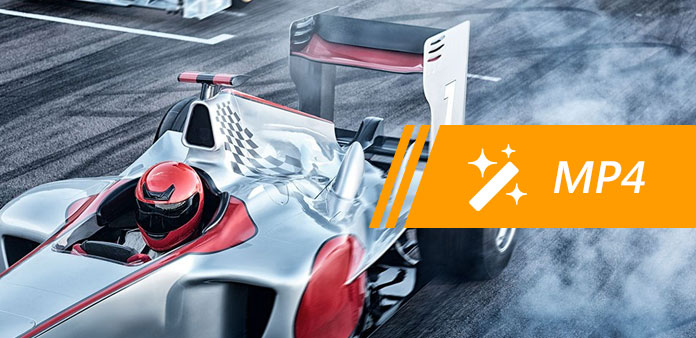 Part 1. Best Way to Edit MP4 Videos with Powerful Functions
Tipard MP4 video editor is available for Windows and Mac. You can add multiple MP4 video effects, enhance the video quality, resize the video files, rotate and flip MP4 video, adjust the parameters of MP4 clips, edit MP4 with watermark and convert MP4 video to different video formats or optimal file for devices directly.
The program supports various video formats, including MP4, MOV, AVI, WMV and plenty of presets for different devices. It should be the initial MP4 video editor for you. Follow the steps and have a try.
Step 1 Download and install Tipard Video Converter Ultimate on your computer. Then launch it.
Step 2 Add File
Click Add Files at the top-left corner of the main interface and choose the file you want to edit.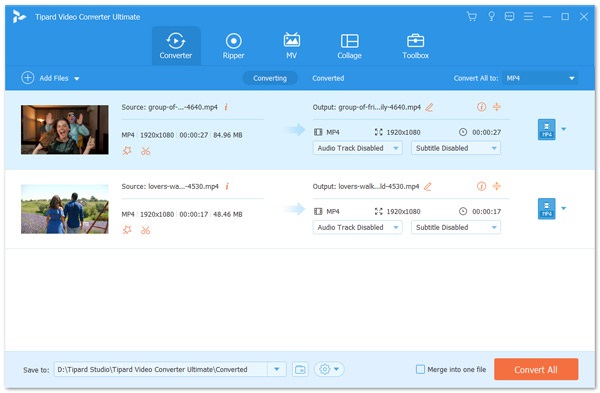 Step 3 Convert MP4 Video
Select the output format next to Convert All to. There are MOV, AVI, MP3, and more for your choice. Then you can choose the Destination where the converted file is stored. Click Convert All to start converting.
Step 4 Edit Video
Click the Edit button to enter the editing window.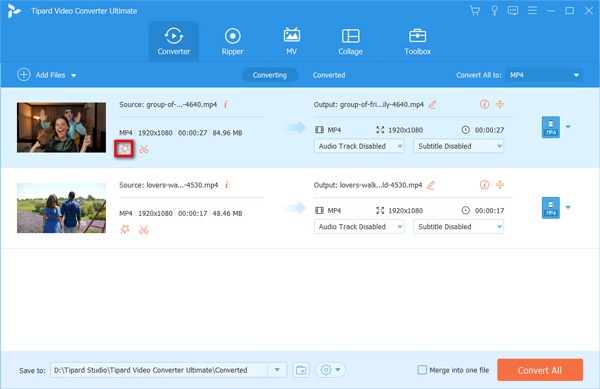 Step 5 Rotate and Crop Video
You'll see the rotating window first. Here you can choose the Rotation type, Crop Area, Aspect Ratio, and Zoom Mode.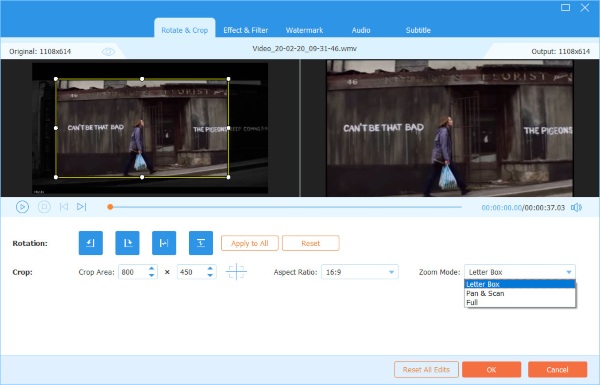 Step 6 Add Effect and Filter
Navigate your cursor to Effect & Filter at the top menu bar. Here you can change the basic effect, including Contrast, Saturation, Brightness, and Hue. You can also add filters to your video.
Step 7 Add Watermark
Choose Watermark. You can add text or images as watermarks. If you choose text. You can change the font, color, size, and more.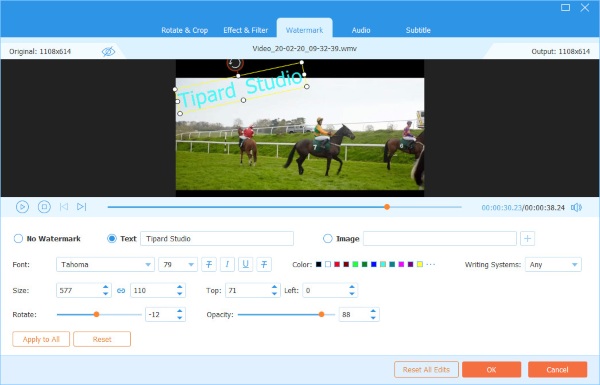 Step 8 Adjust Audio Track
Move to the Audio window. Here you can change the Audio Track or add your own. The Volume and Delay can also be adjusted.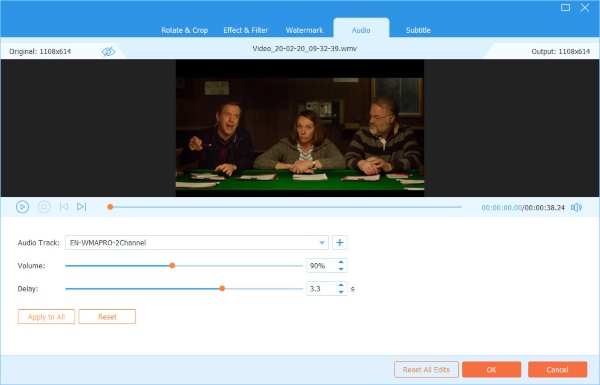 Step 9 Add Subtitle
Choose Subtitle at the top menu bar. You can change the original subtitles and add your own. The position, font, color, and more can also be changed.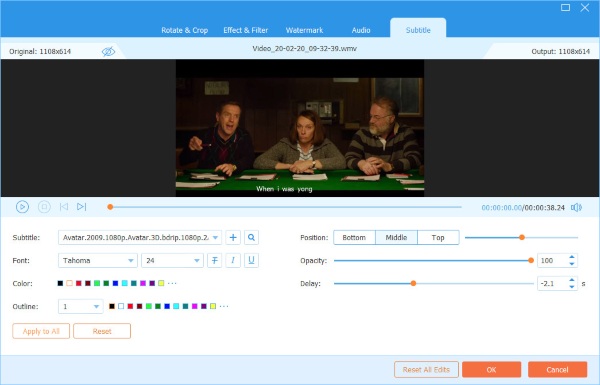 Part 2. Desktop Solutions to Edit MP4 Video
Windows Movie Maker
It should be the best choice for MP4 video editors of Windows or Windows tablets. You can drag-n-drop MP4 video to the program, and then create, edit, share and convert MP4 to other video formats. It also empowers you to combine photos and videos, music and sound together, apply transitions and effects.
Change as much as you want, or let Movie Maker do it for you. It also enables you to post your videos to social media, including YouTube and Facebook directly from Win Movie Maker.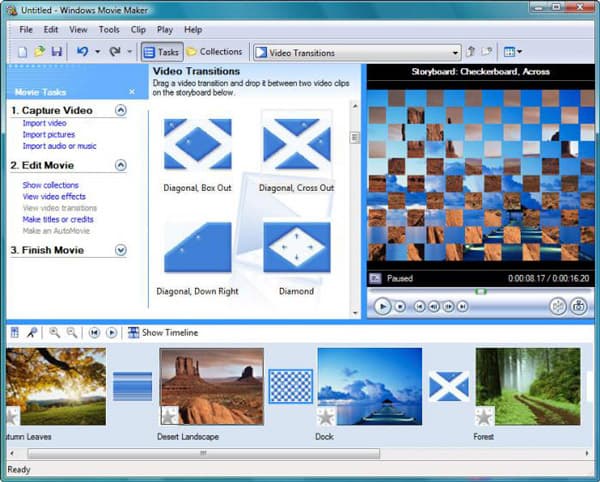 VSDC Free Video Editor
VSDC free editing software is available for Windows only. The VSDC MP4 Video editor can pick the quality up to 30FPS and 1080P HD, the timeline editing style that lets you combine MP4 video clips, add transitions and render MP4 into a complete project. It supports all popular video formats, including avi, wmv, divx, mp4, apng, mpeg and many more. It has over 50 effects to edit your videos. Besides, it is free and does not require sign-up. But it might not be easy to use the program as the beginner.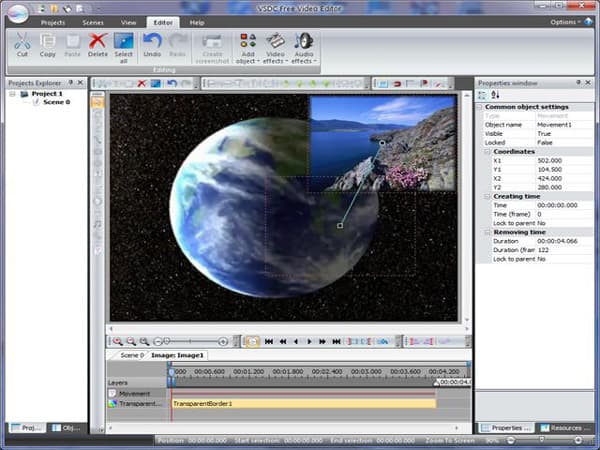 iMovie
If you are using the Mac operation system or devices with iOS, iMovie should be the nice choice for MP4 editor. The timeline enables you to edit the MP4 videos with beautiful effects and transitions, drop the titles and charters. And you can also sync the edited MP4 files between different devices via iMovie application.
It has powerful editing functions and can edit your video like a Pro. For example, users can fly through scenes by speeding them up. A broadcast feel can be added to video with picture-in-picture and split-screen effects. But it is only available to iOS devices. If you are Windows users, you can look for alternatives.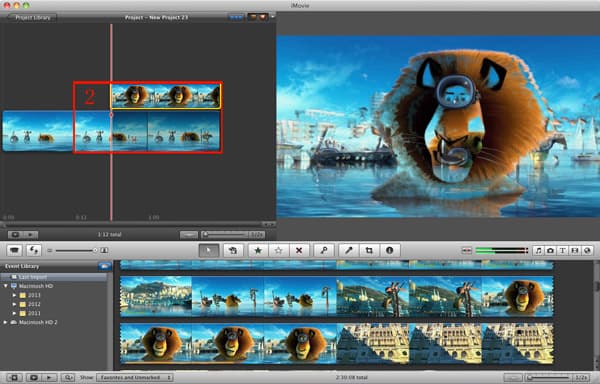 VirtualDub
It is a popular MP4 video editor provides the basic editing functionalities. The capability of batch processing large number of MP4 files should be a plus for the MP4 video editing software. The clean interface of the layout, keyboard and mouse shortcuts are useful for editing MP4 files. It can edit videos in batches at the same time. It does not have the editing power of a comprehensive editor such as Adobe Premiere, but the operation for users is intuitive and easy to handle. But VirtualDub is primary focus AVI files and does not support instant sharing of files in the Internet.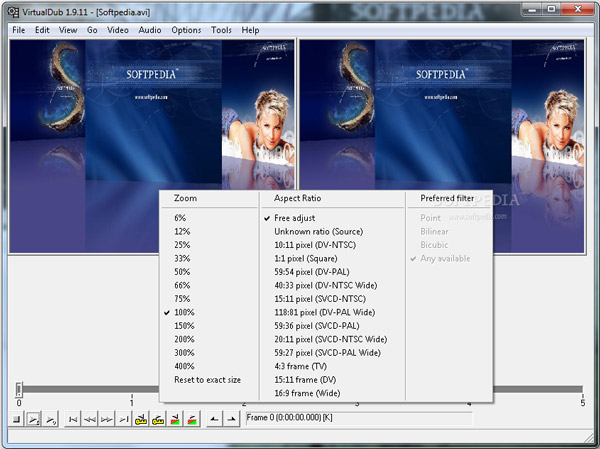 Lightworks
The progressed MP4 editing tools can easily trim the video, import and weave video and audio files together. The friendly interface and the packed timeline help you edit MP4 videos effortless with a few clicks. The customizable screens and multiple editing features for MP4 should always be a nice choice for you. It has multiple social media templates for sequence output. Users can access amazing membership-free audio & video content.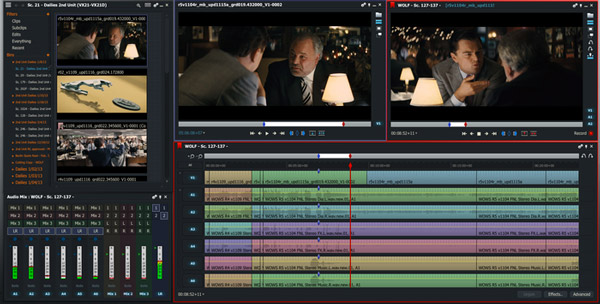 Part 3. FAQs of Editing MP4 Video
How to edit MP4 video for free?
You can use Tipard Video Converter Ultimate. It provides multiple editing functions, including cropping and rotating videos and adding filters and watermarks to videos. You can use the free trial version first and it's totally free.
How to edit MP4 video online?
You can use Online Video Cutter. It can trim or cut video of any format online. No third-party software and sign-up are required.
How to compress MP4 video?
You can use Tipard Video Converter Ultimate. Click Toolbox at the top menu bar and choose Video Compressor. Add your MP4 file to the compressor. Change the settings and click Compress.
Conclusion
This article provides 5 ways to edit MP4 videos. They all have pros and cons. Tipard Video Converter Ultimate has intuitive interface and provides the most powerful editing functions. It also provides free trial version. If you're interested in it, please download it and have a try.

Click here to join the discussion and share your comments
The Five Best Free MP4 Video Editors