Simple Steps on How to Compress 4K Videos
4K television technology is already popular; shortly, it will be bigger and more available. So, 4K videos are also a trend nowadays. Many video editors and producers prefer a 4K video resolution because of its imposing quality. In addition, in modern times, many prefer a high-resolution video, so 4K is a standard. But if you are among the people who want to compress their 4K videos, then you might want to consider finishing this article. Read this post until the end to learn how to compress 4K videos easily.

Part 1. Difference Between 4K and 1080P
There is a huge difference between 4K videos and 1080P videos. These video resolutions both have high quality. Many people are more familiar with 1080P because it is a video resolution that most videos have. 1080P is popular because it is more compatible with many platforms and devices. Moreover, 1080P provides ease of usage while using video cameras and DSLRs. On the other hand, 4K video resolutions are also called the UHD or Ultra High Definition videos. 4K videos have better quality compared to 1080P videos.
So what's the huge difference between these two video resolutions? As the name implies, 4K videos are Ultra High Definition videos with 3840 x 2160 pixels. In contrast, 1080P video resolutions are simple, high-definition videos with 1920 x 1080 pixels. More precisely, in 4K videos, the resolution is 4000 pixels horizontally, while the 1080P pixels are in vertical form. And the vertical resolution of 4K videos is 2160 pixels, which makes 4K videos more advantageous than 1080P videos.
If it is not yet clear to you, 4K is better than 1080p because the picture quality of 4K has a huge gap from that of 1080P. 4K videos reproduce complex details in a high contrast manner, with the help of the quadruple number of pixels stored, unlike that of 1080P. Another factor that makes 4K more advantageous than 1080P is that 4K has a closer viewing than the 1080P video resolution. Furthermore, also a factor that defines that 4K is better is when you are scaling it down. When you scale down a 4K video to a 2K video, the pictures are more noticeably detailed than the original 2K video. The only advantage of 1080P videos is that they have a smaller file size than 4K videos.
And as many people ask, can I convert 4K videos to 1080P videos? The answer is yes. There are tons of software applications that you can use to convert or compress your 4K videos to 1080P videos. Therefore, we will discuss how to compress 4K videos to 1080P videos; continue reading this article.
Part 2. How to Compress 4K Videos to 1080P HD Videos
4K videos are UHD (Ultra-High Definition) and are indeed high-quality. And as mentioned above, when you have a high-quality video, the video size also corresponds. So, if you have a 4K video, it might occupy a huge space on your device. And the problem with most ultra-high-quality videos is that they are sometimes not compatible with other platforms. Therefore, this section will teach you how to compress HD videos, particularly 4K videos, to 1080P offline.
Video Converter Ultimate is the most powerful video editing tool. This offline tool is known as a video file converter. But, many do not know that it is packed with more advanced editing features that you can use, including a video compressor, video merger, 3D maker, video watermark, and more. With its video compressor feature, you can adjust your video's size, resolution, and format. Additionally, it has a beginner-friendly interface, making it easy for beginners. What's even great about this application is that it has a fast compression process, which many users find convenient. Furthermore, it supports 4K and 1080 videos with extensions of MP4, AVI, MOV, MKV, VOB, M4V, WebM, and 500+ formats. It is also downloadable on all cross-media platforms, like Windows, Mac, and Linux.
How to compress 4K to 10180P in compressor:
Step 1For the first step, click the Download button below to download the Tipard Video Converter Ultimate on your device. Then, install it and run it on your computer.
Step 2Then, on the main user interface, go to the Toolbox panel, and click the Video Compressor feature.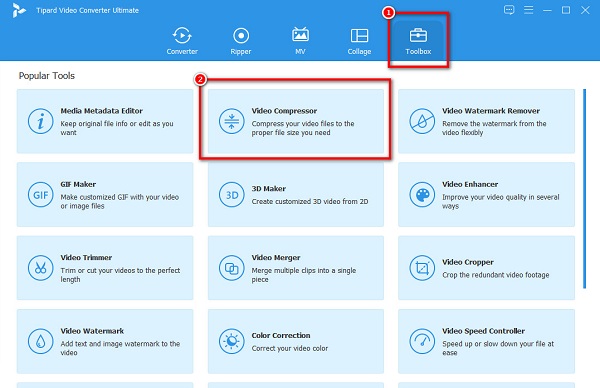 Step 3And then, click the + sign button to upload the 4K video you want to compress. Or, you can drag and drop your video to the plus sign box to upload the video.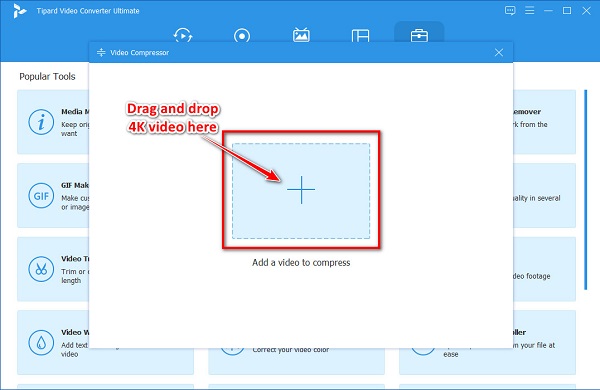 Step 4On the following software interface, you will observe that you can adjust your video's size, format, and resolution. But in this tutorial, we will reduce the size of your file to compress it. Click the up/down arrow or move the slider to the left to compress your video.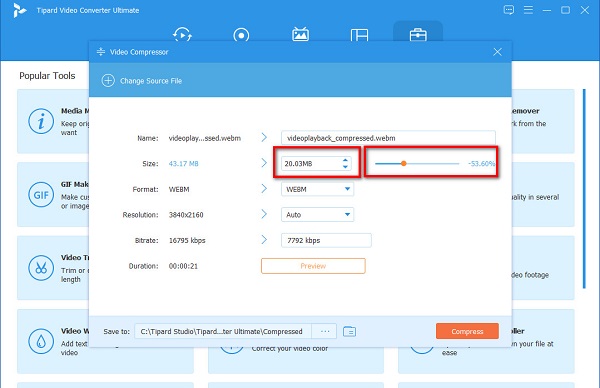 Step 5If you are ready to compress your file, click the Compress button to start the compression process. And in just a few seconds, your file will be compressed.
And that's how to compress HD videos. Following the steps above, you can easily compress your 4K video to 1080P.
Here is another method on how to compress 4K videos using Tipard Video Converter UItimate:
Step 1If you have already downloaded Tipard Video Converter Ultimate, run the app on your device.
Step 2On the first interface, go to the Converter panel and click the Add Files or the + sign button to upload your 4K video.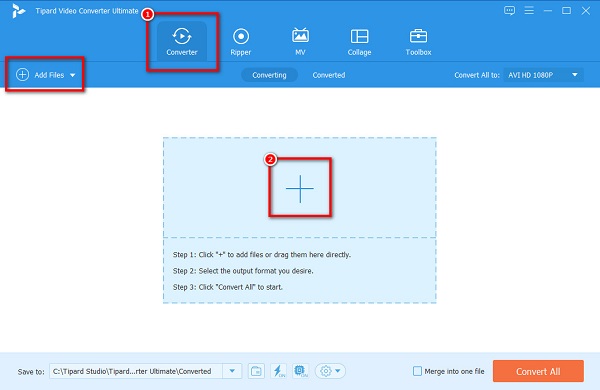 Step 3Your computer files will prompt where you select the 4K video and click Open.
Step 4And then, click the Convert All to drop-down arrow to select the output resolution you want, 1080P.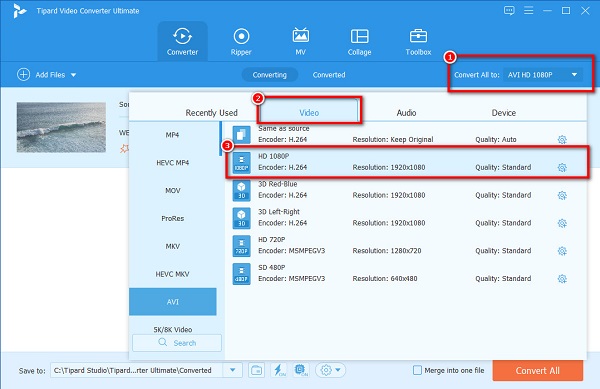 Optional Tipard Video Converter Ultimate's video converter has a feature to batch convert your 4K videos. If you like to convert two or more videos simultaneously, just click the Add Files to add another file. If not, proceed to the next step.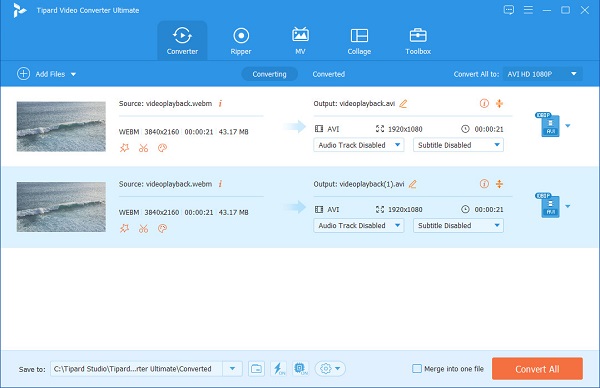 Step 5 Lastly, click the Convert All to button to convert your 4K video to a 1080P video. Wait for a second; your file will be converted to a 1080P video.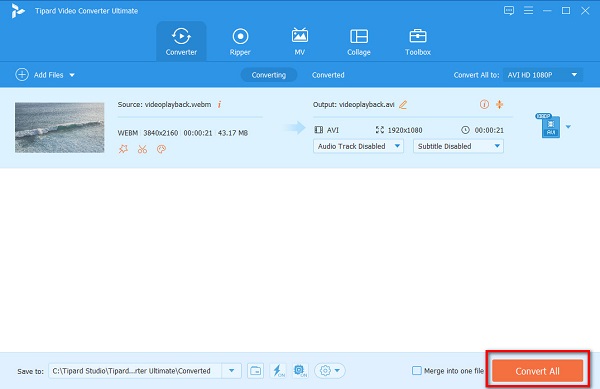 Part 3. FAQs about How to Compress 4K Videos
Is there a built-in app for the iPhone to compress 4K videos?
The iPhone does not have a built-in application to compress 4K videos. But, you can use a third-party app to compress videos. One of the best apps to compress videos is Video Compress.
Can I use Final Cut Pro to compress 4K videos?
Can I send 4K videos on WhatsApp?
No. WhatsApp currently cannot send high-quality videos or images. So, you must compress your 4K video before sending it on WhatsApp.
Conclusion
See, it is not hard to compress 4K videos using the best video compressor tool. It is necessary to compress 4K videos to 1080P if you want to save space on your device. So what are you waiting for? Download Tipard Video Converter Ultimate and compress your videos now.