All about H.264 Compression - Easily Compress H.264 Files
H.264 file is a format encoded with H.264 compression. This file type is a standard high-quality format that AVCHD camcorders often use. H.264 is also MPEG-4 Part 10 or Advanced Video Coding (MPEG-4 AVC), which defines many profiles. Moreover, the main purpose of creating H.264 files is to develop a new digital video standard capable of playing great video quality with a lower bitrate than the standard file formats. What's more is that this file can be applied to almost all applications, networks, and systems. However, some H.264 files contain a huge file size, occupying plenty of space on your device. Now, we will discuss how to compress H.264 files using the H.264 compression process.

Part 1. What is H.264 Video Encoding
H.264 is a video format capable of distributing full HD video and audio to different systems or programs. H.264 files are mostly used in recording, compressing, and distributing video content. But why do we need to encode H.264 files?
Video encoding is significant because it enables users to distribute or transmit video contents over the internet efficiently. Regarding video compressing, the raw video reduces the bandwidth, making it simpler to transmit videos. H.264 files work by encoding HDMI (HD) video or audio signals into IP streams that can be transmitted to other IP networks. What's so convenient about H.264 files is that it is very versatile to stream videos in the different encoders to multiple decoders.
Now that you know about H.264 video encoding, we will discuss how to compress H.264 files.
Part 2. How to Compress Videos With H.264 Encoder
Many files use H.264 encoder, like MP4. However you can download many applications on your computer, but not all provide great and fast quality compression. This section will teach you how to compress H.264 files using the best video compressor app.
Video Converter Ultimate is known as the best video converter tool. But this tool is not just a video converter. It also has a feature where you can compress files easily. In addition, with its video compressor feature, you can adjust your video's size, format, resolution, and bitrate. Also, it supports all file formats, such as MP4, AVI, MOV, MKV, VOB, WMV, and 500+ more formats. Furthermore, it has many advanced editing features that you can use, including a video compressor, video merger, color correction, video reverser, and more from the Toolbox. Many beginners also prefer using this tool because it has an easy-to-use software interface, making it a beginner-friendly tool. What's even excellent about Tipard Video Converter Ultimate is that it has a fast compressing process. Want to compress H.264 files using Tipard Video Converter Ultimate? Follow the steps below.
How to compress H.264 files using Tipard Video Converter Ultimate:
Step 1First, download the Tipard Video Converter Ultimate by clicking the Download button below. After installing the app, run it on your device.
Step 2And on the main user interface, go to the Toolbox panel above the interface. Then, click the Video Compressor feature.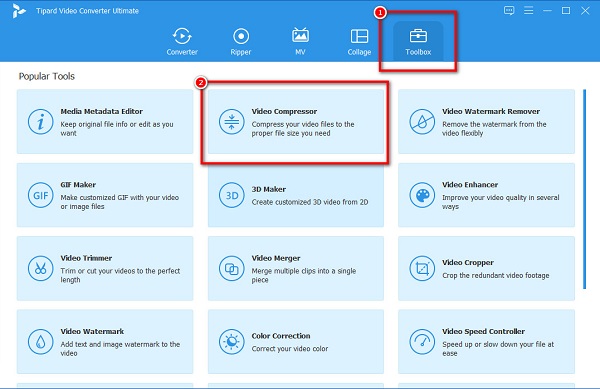 Step 3Next, tick the plus (+) sign button to import the H.264 file you want to compress. You can also choose to drag-drop your video from your computer folders.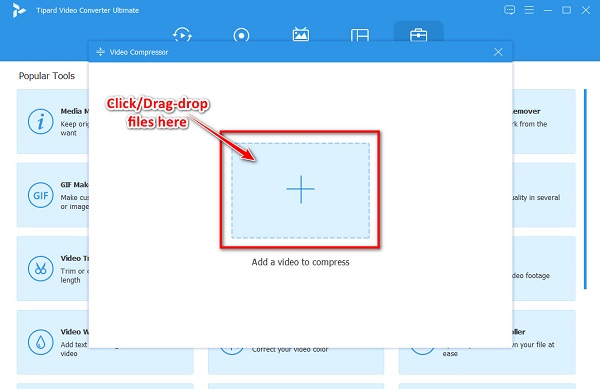 Step 4On the following interface, you will see that you can adjust your video's size, format, or resolution. In this tutorial, we will adjust the size to compress your video. Click the up/down arrow or move the slider to your preferred compression percentage.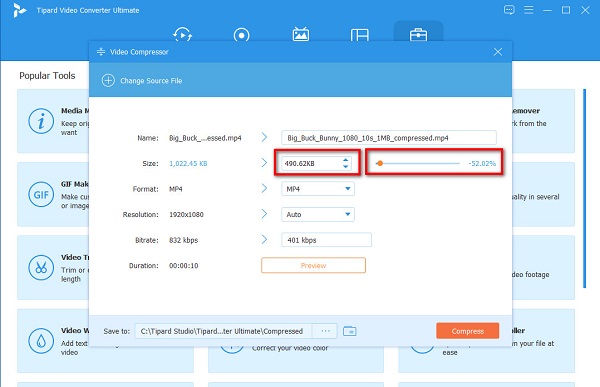 Step 5Finally, preview your video to see the changes from the original. And if you want to compress your video, click the Compress button at the bottom-right corner of the interface.
And then, wait for a few seconds, and that's it! Your file is now compressed. You can locate it in your computer folders.
Part 3. H.265 vs. H.264
Read this part comprehensively to know what H.265 and H.264 files are. In this part, you will also learn the differences between these files.
H.265
H.265 files are video saved using the H.265 video compression. This file type contains a video with up to 8192 × 4320 pixels. Moreover, H.265 is the replacement for H.264 files. Since H.265 are the successor of H.264 files, they also have good quality video while maintaining a small file size. Also, this codec's maximum video compression allowed video content creators to create, save, and transmit high-quality videos on different platforms. Furthermore, videos with H.265 codec usually have a .mov or .mp4 file extension.
H.264
H.265 files are videos or files saved in H.264 compression standard. It is among the most popular formats that contain high-definition videos. AVCHD camcorders, HDTV, Blu-ray, and HD DVD use this format. In addition, H.264 requires a video container to host an encoded video. So, you will most likely see H.264 files in a .mp4, .avi, or .mkv file extension. Furthermore, you can play H.264 in almost all media players, like VideoLAN VLC media player and File Viewer Plus (Windows).
As mentioned above, H.265 is the successor of H.264. While they have almost the same video quality, H.265 has a better compression codec, which offers 50% better data compression than the H.264 file. That said, it means that the same video that is saved with the same level of quality can take up 50% less space on your device (hard drive space) when saved in the H.265 codec instead of the H.264 codec. Moreover, H.265 is made to support future resolutions up to 8K UHD (Ultra High Definition) compared to the 4K resolution that H.264 supports.
And when it comes to processing frames, H.264 uses macroblocks, while H.265 processes information using the coding tree units (CTUs). H.265 is better in this manner because CTU processes information more efficiently and quickly, resulting in a smaller file size used for streaming videos.
Extended Reading:
Best Compressed Video Format for Video Compression
Top 10 Best MP4 Compressors for Windows, Mac, or on Phone
Part 4. FAQs about How to Compress Video to H.264
How much does H.264 compress?
Without affecting the video quality, H.264 encoders can compress videos by up to 80%. Compared with the Motion JPEG format, which can only compress up to 50% of the file size, H.264 has a better codec to compress videos.
Is H.264 lossy or lossless compression?
H.264 is a lossy compression, which means that it uses a class of data compression that removes partial data to reduce the size of the video.
Is H.264 the same as the MP4 format?
An MP4 file is a container format, while H.264 is a video compression codec. Usually, MP4 files use an H.264 codec. In short, MP4 and H.264 are not the same.
Conclusion
H.264 compression might sound complex for many. But if you read this post, you will clearly understand what H.264 compression is and how you can compress files with H.264 codec. So, if you want to compress video files with H.264 codec, download Tipard Video Converter Ultimate now.