Know the Best Compressed Video Format to use
Video Compression has become popular nowadays; with the rise of many video streaming sites and video downloading sites, the storage of many people's devices is running out. So, people are searching for the best-compressed video format to use. Fortunately, there are lists of compressed video formats that you can use if you want to save storage to your device. And in these write-ups, we will discuss the best compressed video formats for video compression.
Part 1. Best Video Compression Format
There are many video formats that you can find on the internet and different platforms. However, since there are many video formats, they also have different capabilities and purposes. But how will you know what is the best-compressed video format?
A good video format is a video file encoded and compressed using a method where the file size is compressed without losing the quality. There are many video formats that you can compress losslessly. When a file is lossless, it means that even if you compress a file, it will not lose quality or data stored with it. And when a file is lossy, it is already compressed and has a small file size. But, selecting the best compression format depends on the requirement and your playback device. Therefore, below, we listed the best video compressed format.
1. MP4
MP4 file format is probably the most common file format you can see on many media platforms. You will encounter many videos on social media platforms with a .mp4 extension. In addition, it is compatible with almost all media players and devices. And when it comes to compression, this video format can compress videos into smaller file sizes losslessly. What's amazing about this format is that all versions of MPEG-4 and H.264 are compatible with this format. Furthermore, this video format is common to many online streaming sites. Also, the MP4 format might be the smallest video compression format.
2. H.264
H.264, also known as MPEG-4 Part 10, Advanced Video Coding (MPEG-4 AVC). This file format is also among the best-compressed video formats that is standard nowadays. It offers high-quality files with low bitrates. And if you did not know, once your video has a low bitrate, it also has a small file size, which means that H.264 files have a small file size. Moreover, like the MP4 format, H.264 file is compatible with many media players and devices. This file format's primary purpose is to record and distribute full HD videos and audio. H.264 format is also compatible with Blu-ray disc playback because it offers high-quality videos.
3. DivX
DivX is also one of the best video file compression formats if searching for the best-compressed formats. DivX, LLC develops this video format and can compress your video files into small sizes without losing quality. In addition, DivX is a fantastic format because it is an editable video format, mainly used in commercial settings. DivX files use three major codecs, namely MPEG-4 Part 2 DivX codec (the original), the H.264/MPEG-4 AVC Plus HD codec, and the High-Efficiency Video Coding DivX HEVC Ultra HD codec. What's more is that DivX files are known for their high-quality and high-compression video codec, which is used for digital video distribution.
4. AVI
If you are talking about the most compressed video format, then AVI might be your desired file. This type of file is among the standard file formats you can find on many computers. AVI format, also known as Audio Video Interleave, is a high-quality multimedia container format while maintaining a small size. Moreover, it supports various codecs and multiple audio and video files. However, AVI files are not common to many social media platforms and video streaming sites. But, this file is suitable for your computer as it saves space on your device. Click here to learn how to compress AVI files.
5. WMV
WMV or Windows Media Video is among the most common file formats and the best format to compress video. Many media players support this file format. Microsoft developed the WMV file, which is part of the Windows Media Framework. Additionally, WMV format is an ideal file format if you want to send a compressed format via email. The drawback of this video format is that it is a lossy file format.
Although there are many file formats that you can see on different online and offline platforms, not all of them have lossless compression. You can use these five excellent file formats if searching for the best video format for compression.
Part 2. How to Compress Videos Without Losing Quality
Suppose you are looking for an application to compress videos losslessly, then we have the tool you are looking for. Many people think it is hard to compress videos without losing quality. Little did they know that using the right app, you can easily compress any videos without quality loss. This part will help you learn how to compress videos using the most potent video compressor tool.
Tipard Video Converter Ultimate is the best file compressor application you can use to reduce the size of your video. Many people want to compress their video so that they can save storage on their devices. Additionally, with this tool, you can reduce the size of your video by adjusting your video size, resolution, and format. Also, it supports many file formats, such as MP4, AVI, WMV, DivX, MOV, MKV, VOB, WebM, and 500+ more formats. Furthermore, it is a user-friendly application with an intuitive user interface. What's even unique with Tipard Video Converter Ultimate is its many advanced editing formats, including a video compressor, video merger, video watermark remover, color correction, and more from the Toolbox. Even more, it can batch compress your videos simultaneously. So, if you want to compress your videos losslessly, follow the instructions below.
How to compress videos losslessly using Tipard Video Converter Ultimate:
Step 1First, download Tipard Video Converter Ultimate by clicking the Download button below for Windows or Mac. After installing it, open it on your device.
Step 2Then, on the software's main user interface, go to the Toolbox panel, and click the Video Compressor feature.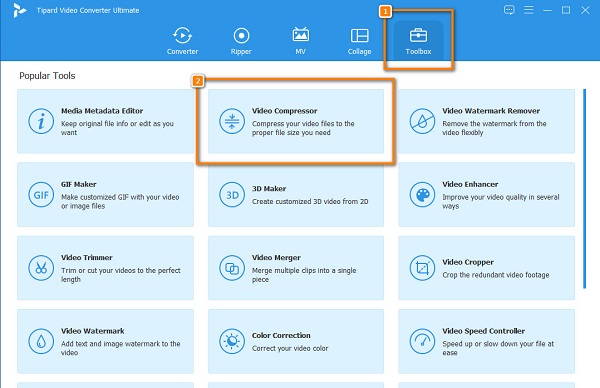 Step 3And then, tick the plus (+) sign button to upload the video you want to compress.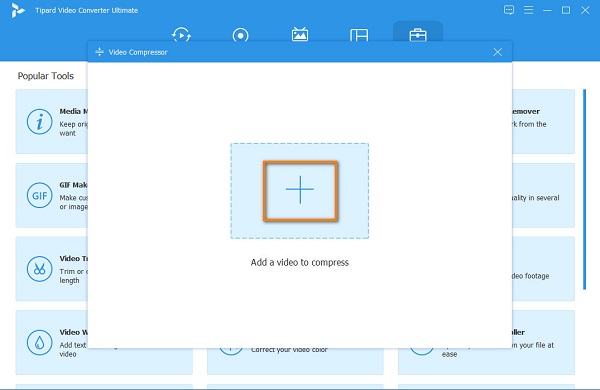 Step 4You can adjust your video's size, format, and resolution on the following interface of Video Compressor. To reduce the size, click the up/down arrow or hold and drag the slider to the left.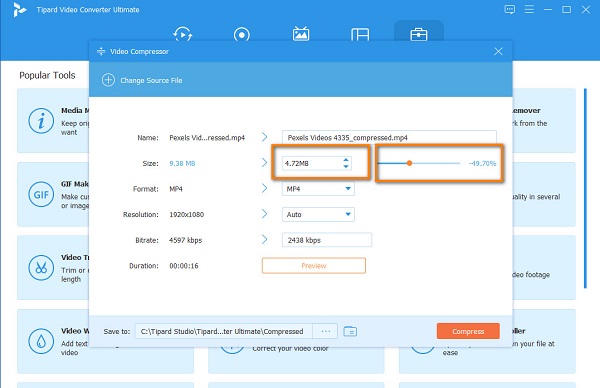 Step 5Finally, click the Compress button to start the compression process. And then, wait for a few seconds, then your video will be saved on your device's folders.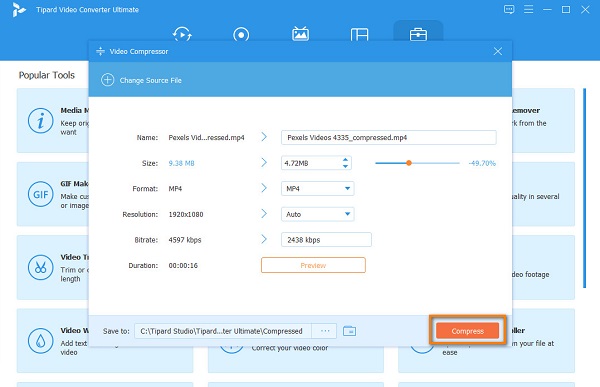 Part 3. FAQs about the Best Video Compression Format
Which is a better file format, AVI or MP4?
Although the AVI file format has better quality, it also has a large file size. On the other hand, MP4 has a smaller file size than AVI format, but it has a lower quality.
Is MOV compressed?
No. MOV files usually contain uncompressed videos. This type of format is high-quality, but it has a large file size. But the good news is you can compress your MOV files using the Tipard Video Converter Ultimate.
Is FLV smaller than MP4?
When it comes to size, MP4 is smaller than the FLV file format, so if you need a file format that you can use to save space on your device, MP4 is the best choice.
Conclusion
Now that you know the list of video compression formats, you can select the best format you want to use on your computer. Although using these files will surely help you save space on your device, you can also use a tool if you want to use other file formats. Therefore, if you want to compress video files easily, download Tipard Video Converter Ultimate now!