Top 3 AVI Compressors to Reduce AVI File Size
For sharing, uploading or some other purposes, you need to compress an AVI file to smaller size. Are you looking for a good AVI compressor to reduce the video file size?

Good thing is, there are a large number of video editors and compressors on the internet that can help you compress AVI files. This post will give you a detailed review of 3 great AVI compressor tools, including free online video compressors. When you want to decrease your AVI file size, you can use your preferred one to do that.
Part 1. Best AVI Compressor - Video Converter Ultimate
First, we like to introduce you with the best AVI compressing software, Video Converter Ultimate. Compared with other video compressors, VCU can give you more controls of the AVI file compression. It is designed with a specific Video Compressor feature to compress any video like AVI, MOV, MP4, FLV, MKV, WMV, MPEG, and more. Video Converter Ultimate is a powerful video compressor, editor and converter that can compress AVI and other videos to smaller size without quality loss.
1. Offer toolbox of video compressor, media metadata editor, GIF maker, video enhancer, and more.
2. Convert 8K/5K/4K, 1080p/720p HD, SD videos and audios to over 500 formats.
3. Edit video, enhance quality, adjust effects, abundant themes and real-time preview.
4. Copy DVD movie to digital video losslessly and convert common 2D to 3D.
How to compress an AVI file
Step 1Double click on the download button above and follow the instructions to free install this AVI compressor software on your computer. When you enter the main interface, select the Toolbox option.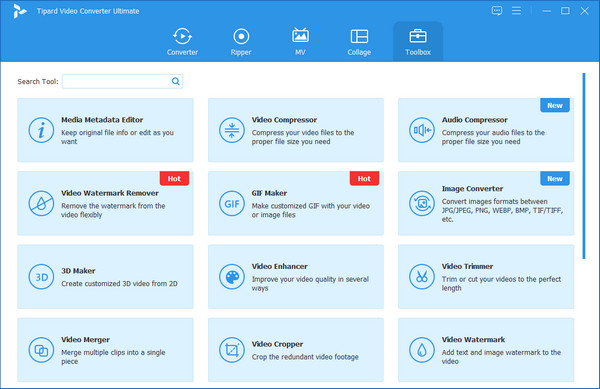 Step 2Use the Video Compressor to compress AVI. You can click the big plus icon to add your AVI file.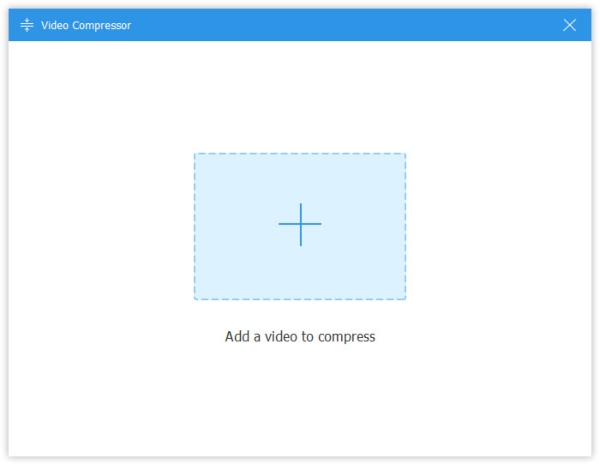 Step 3You can easily reduce AVI file size by moving the compress bar. You can see clearly of the compressed file size. During this step, you are also allowed to custom video resolution, bitrate, duration and more.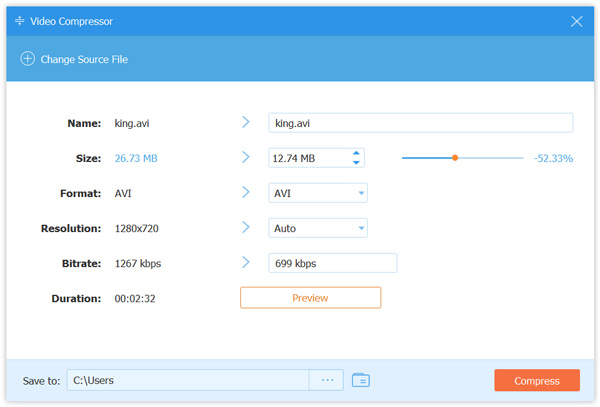 Step 4This AVI compressor has a Preview feature for you view the compressed AVI quality. After all the compressing operations, you can click Compress button to start your AVI file compression. Then click OK button to complete the whole process.
If you want to reduce AVI file size without losing any quality, you can choose to cut video and remove the unwanted part. In that case, you can rely on its Cut feature to use this video cutter software.
Part 2. Free Online AVI Compressor - VEED
VEED is a very popular online video compressor which can help you compress AVI files. It has a specific AVI Compressor service for you to reduce AVI file size online free. This online AVI compressor provides a simple way to reduce the file size of your AVI video while maintaining a clear picture and clear sound.
VEED AVI Compressor makes a list of handy presets for you to quickly compress an AVI file, such as YouTube 4K, 1440p, 1080p, 720p, Hootsuite Twitter, and more. In addition, it allows you to select your own video and frame rate. So, you can get a more bespoke AVI compression.
Step 1To compress AVI file size online free, you can open this VEED AVI Compressor page and click on the Compress Video button.
Step 2You will be guided to a new file uploading page. Here you can click Upload Your File to upload the AVI file you want to compress. You are allowed to directly drag and drop to add the video. It will take some time to complete the AVI file uploading. After that, you can start to compressing your AVI file with it.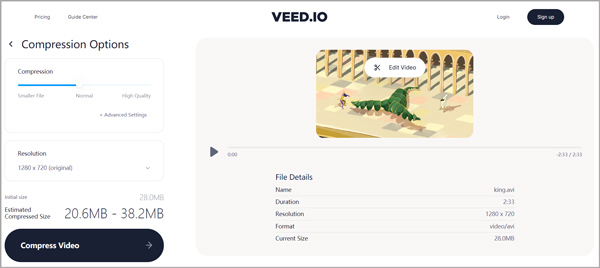 Step 3Besides the basic compression feature, you are also provided with some advanced settings. Moreover, you can edit video and preview the compressed video. Click Compress Video button on the bottom left to start the AVI compressing.
Step 4After the AVI file compression, you can directly play it online. To save the compressed file, you need to click on the 3-dots icon and then select the Download option.
Part 3. Online AVI Compressor - Free Online Video Compressor
FVC Free Video Compressor is another popular online AVI compressing tool. Compared with other online video compressors, it can offer a faster compression speed. Apart from AVI, it also supports many other video formats like MP4, FLV, MOV, MKV, WMV, TS, M2TS, WebM, M4V, and more. This online AVI compressor enables you to free compress any 4K, HD or SD video to a smaller size file.
Even though FVC Free Video Compressor is an online tool. It requires a small launcher for the AVI file compressing. You can go to the FVC Free Video Compressor site on any web browser and click Add Files to Compress button to download it.
Step 1When you want to reduce AVI file size online free, you can open FVC Launcher and start to compress AVI. With the help of this launcher, you can easily add your AVI file just like one desktop software.

Step 2This free video compressor is designed with a simple compression feature. You can move the compressing bar to control the output file size. Similarly, you are allowed to adjust the video resolution, bitrate and format. Click on Compress button to confirm your operation.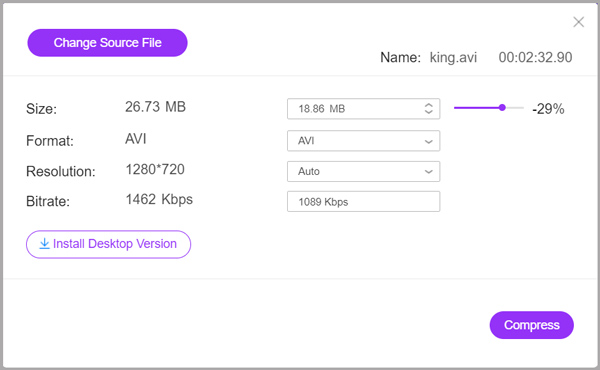 Another advantage of this free AVI compressor is that, the compressed video will be automatically saved on your computer.
Part 4. FAQs of AVI Compressor
Question 1. How can I compress an AVI file without losing quality?
You should know that, when you choose to lower the video resolution, bitrate, or encoding to reduce the file size of an AVI video, you will definitely decrease the file's quality. If you don't want any quality loss, you should use the cut way to remove some unwanted video clips.
Question 2. Which is bigger, AVI or MP4?
In general, AVI carries a larger file size than MP4. So, when you want to compress an AVI file, you can also choose to convert AVI to MP4, FLV or another compressed video format.
Question 3. How to compress AVI to MP4?
Conclusion
This post shares 3 AVI compressor tools for you to reduce the file size of AVI and make it smaller. You can learn the main features of each video compressor and how to use it. When you want to compress an AVI file, you can select your preferred one to get the job done.