How to reset Windows password
If you forget or lost Windows password, you can use Tipard Windows Password Reset tool to reset Windows local/administrator/domain or other user password easily. And you can create a new account without log in by this software. Follow this guide and learn the way.
Part 1: Create a bootable CD/DVD or USB drive
Step 1

Download and install corresponding Windows Password Reset software on an accessible computer

Notes : There are three versions provided for you - Standard, Platinum and Ultimate.
If you use Windows Password Reset Standard version, it only support burning bootable CD/DVD to recover password. Windows Password Reset Platinum and Ultimate version supports both creating bootable CD/DVD and USB flash drive.
What's more, the Ultimate version can also help you add user/admin account without login to Windows.
Step 2

Create password reset disk or USB drive

Note: Two options provided for you – CD/DVD (supported by all versions), USB drive (supported by Platinum/Ultimate version)

1. Insert the password reset device (CD/DVD or USB drive) to the accessible computer. And then click "Burn CD/DVD" or "Burn USB".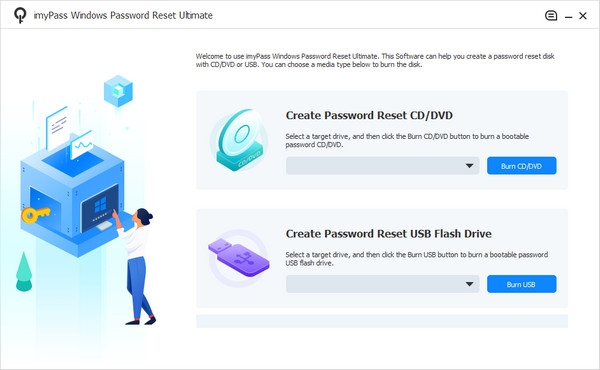 2. After finishing burning, you just need to click "OK" and close the interface.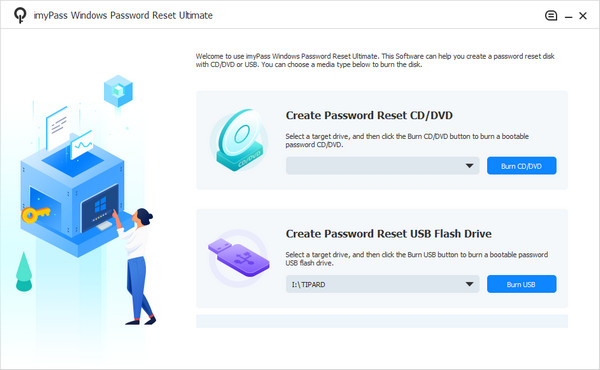 Step 3

Set the locked computer boot by bootable disk/USB drive

Take out the CD/DVD or USB flash drive and insert it to the locked Windows computer. Enter the "Windows Preinstallation Environment" according to the prompt of computer starting. If you use CD/DVD, choose CD-ROM Drive on boot menu, or choose USB.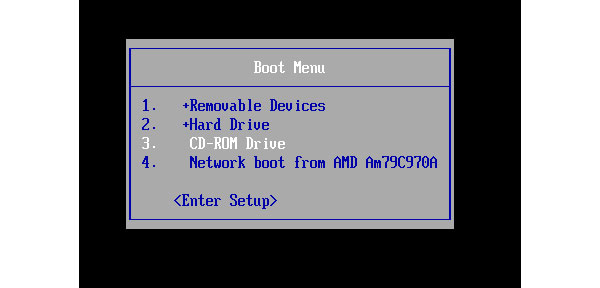 The Windows Password Reset will launch automatically as below. (Take Windows Password Reset Ultimate version as example)
Part 2: Reset Windows password
Reset Windows password
Step 1

Choose account and start to reset Windows password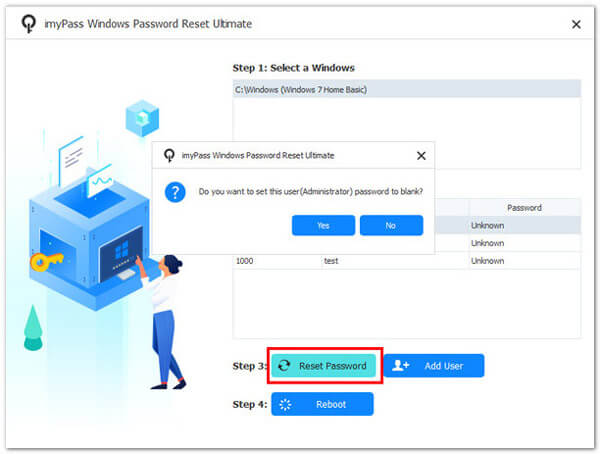 Step 2

Set or change your password

After reset your password successfully, this software will remind you that eject the bootable disk and restart computer .
All steps are finished, take out the password reset device and reboot your Windows computer to log on your Windows system with after resetting function.
Part 3: Add user (Apply for Ultimate version)
Add Windows user or administrator account easily
Step 1

Launch the program

Launch the program by bootable medium on your inaccessible computer through above steps. You can see "Add User" button clearly.
Step 2

Add account

Click "Add User" button and start the process on your aim Windows system. And then it will popup a window, input your username and new password.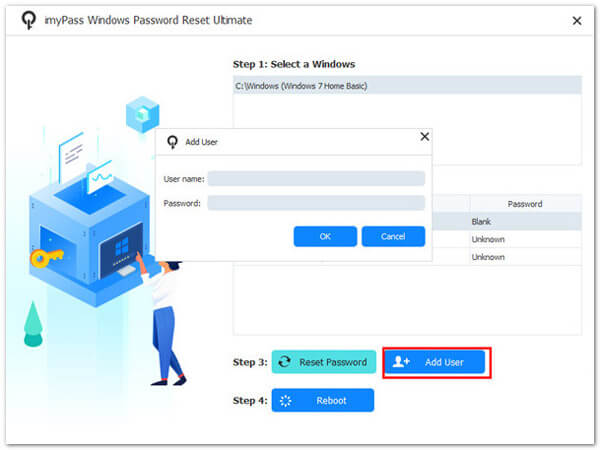 Step 3

Reboot and log in Windows by new account

If you add a new account successfully, you can click "Reboot" to restart your PC, and then log in Windows with the new-setting account easily.