Best Ways to Change MP4 to M4R on Computers, Mobile Phone Devices, and Online
People often use MP4 because this is the most popular video file format. Also, they want to use it because of its excellent compatibility with other devices and media players. In some cases, you want to convert your MP4 file into M4R to use it as a ringtone of your iPhone. Thus, you will need the most trustworthy MP4 to M4R converter. That is why you must keep reading this post because it will provide you with the best options to achieve your goal. More so, it will provide you with steps on how to transform MP4 to M4R on desktop, mobile phones, and over the internet.

Part 1. How to Convert MP4 to M4R on Desktop
1. How to Convert MP4 to M4R in Tipard Video Converter Ultimate
Do you need an effective method to turn your videos into audio data? If this is your concern, you need to use an eminent video to audio converter program. That is why we present with you Tipard Video Converter Ultimate. This one is an all-in-one program that enables the users to convert, merge, compress, edit media files, and a lot more. That is to say, Tipard Video Converter Ultimate can convert MP4 to M4R audio files. As a user, you might be desiring a media converter that transforms files into other formats within a short time. Well, you can trust this program because it allows you to convert files at a 70X faster speed conversion. In line with that, it has GPU acceleration to enable a quick conversion process. The software has a simple interface suitable for both beginners and professionals.
Please see the additional information on this tool to test its capabilities. More so, you can do all the simple steps below to change MP4 to M4R.
Fascinating Capabilities of the Tipard Video Converter Ultimate:
1. Convert batch files into other file formats.
2. The software can rip and copy homemade DVD and Blu-ray files.
3. Enables you to use the software with a free download version.
4. Offer excellent editing tools and effects.
5. The Toolbox features a GIF Maker, 3D Maker, Audio Sync Video, Media Metadata Editor, and many more.
6. The program can work with Mac and Windows computers.
How to Change MP4 to M4A in Tipard Video Converter Ultimate
Step 1First, type Tipard Video Converter Ultimate on Chrome. Then, go to the software's main page, click the download button and install it. Launch the program, then find the Converter tool and click it.
Step 2When you click the Converter tool of the program, you will encounter another screen. Then, tap the plus symbol at the center of the screen or go to the Add Files button at the upper right side of the window to add MP4 file/s.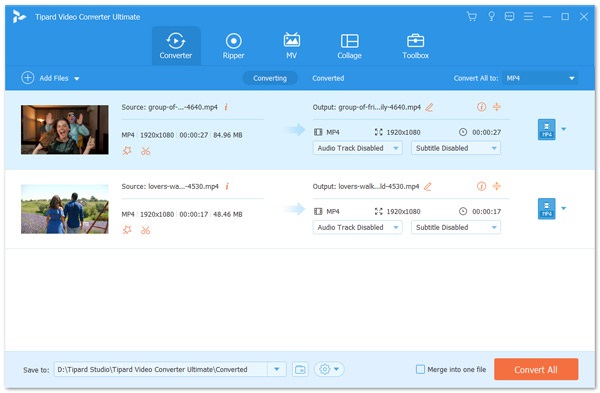 Step 3When you now have the MP4 file, do not forget to find the format you need. Thus, you need to click the Output Setting at the left side of the MP4 file/s. To find the file format you need, you can go to the Search area.
Step 4Go to the Audio option first then type M4R on the search section.
Step 5From the Save to area, you can choose the file location for your audio file/s. If you have a batch file to convert, you can enable the Merge into one file button, then click the Convert All button to save the video/s.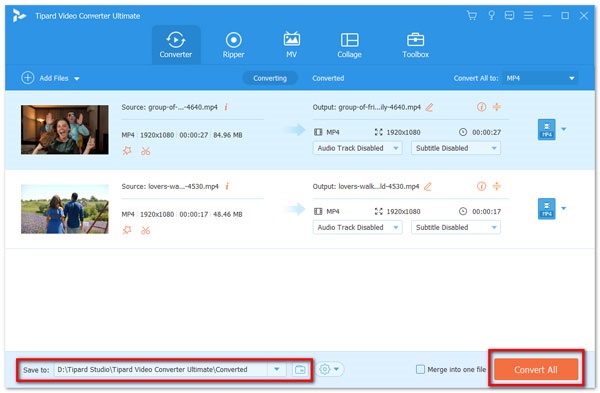 You can also use this way to convert MP4 to M4A.
2. How to Convert MP4 to M4R in iTunes
You can also use iTunes to convert MP4 to M4R on your desktop, whether Windows or Mac. In that way, you can play your MP4 as your ringtone on iPhone devices. Additionally, you can follow the steps below if you want to learn how to convert MP4 to M4R using iTunes.
Step 1 Kindly open iTunes using your Mac computer.
Step 2 After that, select the Edit option, then go to the Preferences. Meanwhile, click the Import Settings from the General tab. Then, beside the Import Using button, hit the Menu section. Here, you can now select the file format you need, then tap OK.
Step 3 Finally, pick the song/s from your file folder or library. Then, click the File button and go to the Create New Version. After that, you have a chance to create an M4R format.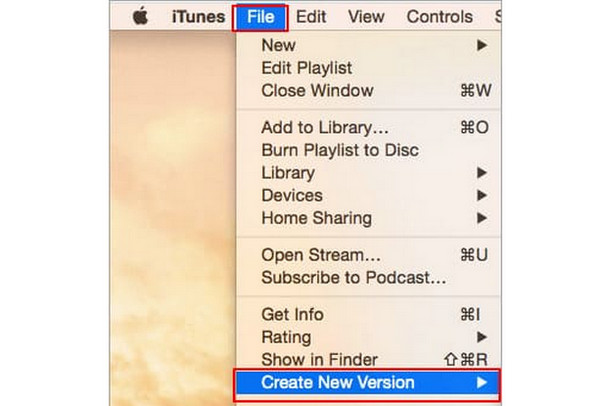 Part 2. How to Change MP4 to M4R Online
Using an online media converter, it is also possible to alter MP4 videos to M4R over the internet. Thus, we recommend Convertio. This online media converter can change MP4 to M4R with ease and without affecting the audio quality. Refer to the steps below on how to attain it.
Step 1 Look for Convertio on your browser. You can directly type MP4 to M4R online converter to make it easy. Thus, you will Convertio then go to the main page.
Step 2 When you are at the main page, click the Choose Files button to upload video/s.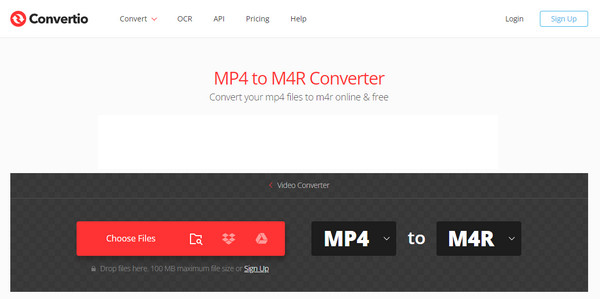 Step 3 After uploading the MP4 file/s, you can now hit the Convert button to start the conversion process. You can also hit the Add More Files button to upload more videos and convert them all at once.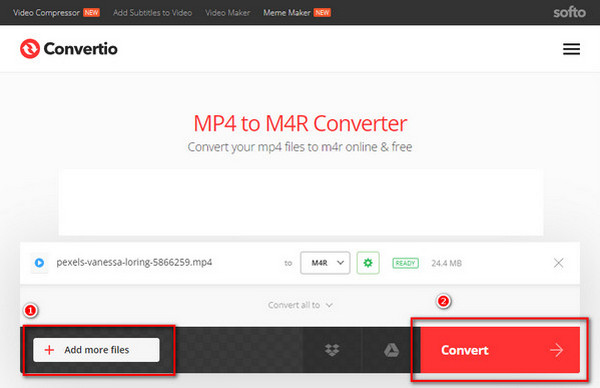 Part 3. How to Turn MP4 to M4R on Mobile
If you do not have a desktop, you can still convert MP4 to M4R on mobile devices. Thus, we recommend you an MP4 to M4R for iPhone. So, try to use iConvert, this mobile converter is easy to use and download. To achieve what you want, kindly do all the steps below.
Step 1 Search iConvert on your browser or Apple Store, then get it. After that, install and launch iConvert on your iPhone device.
Step 2 You will encounter a + icon below the screen when you open the software. Then, click the Album option to select the video file/s you need to convert.
Step 3 After adding the MP4 file/s. Hit the converter icon below the video output. Then, go to theConvert Format and choose the M4R format. Finally, hit the Convert button and wait for a second to save the new file.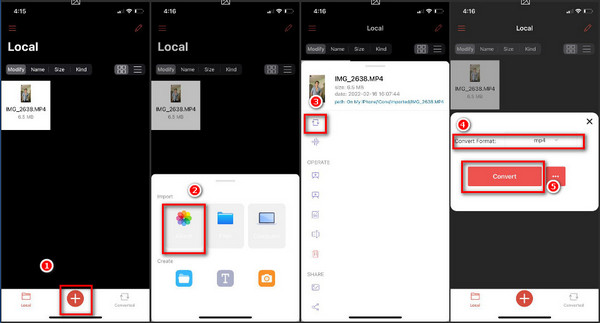 Part 4. FAQs of Converting MP4 to M4R
What is the M4R file?
M4R is a file extension that contains audio data. This file extension is commonly an iTunes ringtone. Thus, you can create your M4R, transfer it to an iPhone, and make it your ringtone.
How can I add M4R files to iTunes?
To add M4R files to iTunes, you must follow two practical ways. First, you need to drag and drop them into the tool. Second, click the File button and tap the Open button to select a file from your folder.
Is there a difference between M4A and M4R?
Yes, the difference between the two audio file containers is that M4R is an iPhone ringtone. But the M4A file is music.
Conclusion
You can now have a fantastic ringtone for your iPhone after converting MP4 to M4R. But you must still pick the most relevant video to audio converter. Thus, we want you to trust Tipard Video Converter Ultimate, among others. It comes with unique features allowing you to enjoy it for free because it has a free download version. Please, send this article to your friends to help them solve their concerns.