Top 8 Best GIF Makers for Windows/Mac/iPhone/Android (Free to Use)
Sometime pictures can express more information than pure words, especially for GIFs. It is quite common to express your emotions by sending GIFs in online chats. If you are tired of GIFs made from popular movies and TV shows, you can create GIFs by yourself. It is super easy. All you need to prepare is some source media files and a GIF maker. Which is the best GIF maker for you? Just read and check.

Part 1: Top 5 Best GIF Maker for Windows and Mac
You can make GIFs from still images and video clips. There are many animated GIF makers and editors in the market. If you have no idea which is the best GIF maker software, you can refer to the following paragraphs.
Top 1: Tipard Video Converter Ultimate
To make a high quality GIF, an HD GIF maker is necessary. It is Tipard Video Converter Ultimate that allows users to convert and edit any video to GIF with original quality. The GIF making software supports over 500 media formats, including 4K/1080p HD video and DVD disc. The 60x faster speed can help you save time on waiting. Moreover, you can make your own GIF with many video editing tools.
Main Features:
1. Create an animated GIF from video in MP4, MKV, AVI, WMV and many other popular formats.
2. Cut down long video into GIF animations.
3. Enable loop animation, adjust output file size and frame rate.
4. Preview the animated GIF effect at the maximum of 10 seconds.
5. In spite of the standalone video to GIF maker, you can apply GIF effects by trimming, merging, rotating, adding watermark, etc.
6. The user interface is clean and easy to use.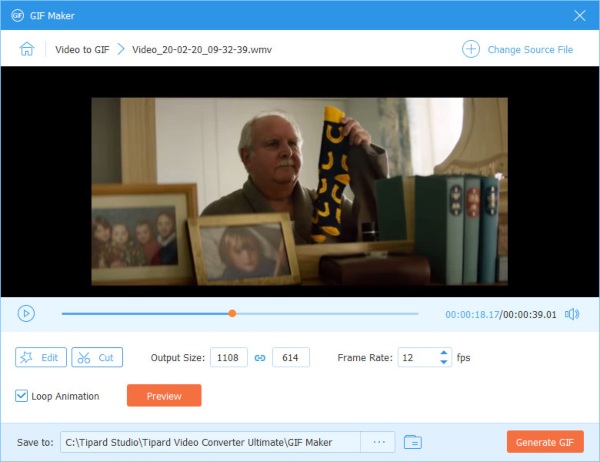 Top 2: GIMP
GIMP is a free and open source GIF maker for Windows, Mac and Linux. You can make a GIF with your pictures in GIMP for free. Moreover, you can create a color transition animation with GIMP blend filter.
Pros:
1. Make a GIF animation by exporting image as GIF directly.
2. Get high quality photo manipulation.
Cons:
1. GIMP may be stuck on loading occasionally.
2. Some features in GIMP are less intuitive.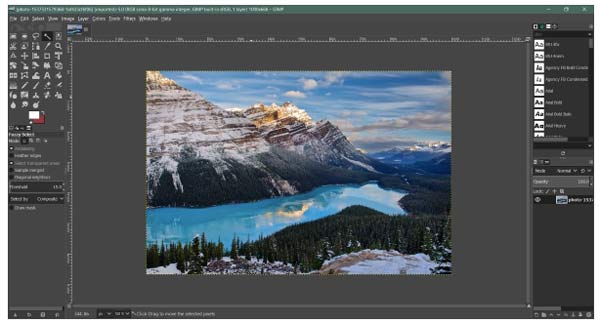 Top 3: EZGIF
It is an online GIF maker and image editor. You can make GIF effects to common pictures for free. By the way, you can get not only GIF maker, but also GIF optimizer from EZGIF.
Pros:
1. Turn image and video into GIF online.
2. Resize, crop, reverse and optimize files into GIFs.
Cons:
1. Lack the online save option.
2. The interface is not intuitive as other GIF makers online.

Top 4: GIFMaker
You can use GIFMaker to create image and video animations. The canvas size and animation speed are customizable. Thus, you can make video and image into GIFs online.
Pros:
1. Combine several GIFs into a new GIF.
2. The free GIF maker accepts up to 300 images in PNG, GIF or JPG formats.
Cons:
1. Cannot store the GIF animations online.
2. No built-in video or image editing tools.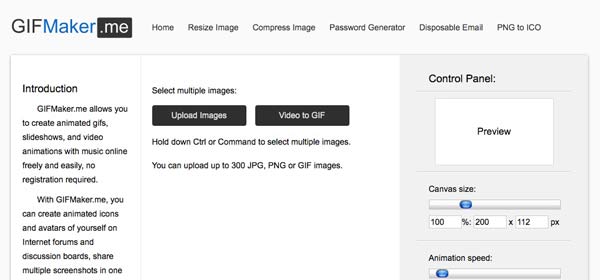 Top 5: Photoscape
Photoscape is a collection of image editing tools. From its interface, you can get an animated GIF maker, image viewer, batch editor, RAW converter, screen capture and more.
Pros:
1. Make a GIF photo with multiple images.
2. Explore many other features from the phot GIF maker.
Cons:
1. The animated GIF maker is slightly slow to use.
2. Lose quality while exporting.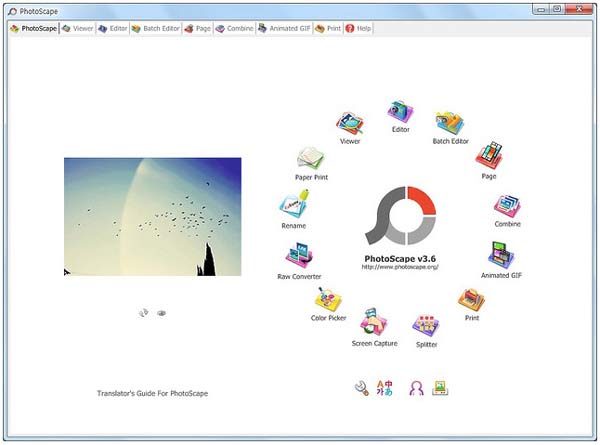 Part 2: Top 3 Best GIF Maker App for iPhone and Android
There are also some good free GIF maker apps. You can turn captured videos and images into GIFs immediately.
Top 1: GIF Maker & GIF Editor & Video Maker
The free GIF maker application allows users to make and edit GIFs with no watermark. If your media file size is overlarge, you can compress GIF to reduce file size and make it smaller.
Pros:
1. Convert images and video clips into GIFs on Android.
2. Record screen video and camera video into GIF animations.
Cons:
1. The GIF editor and maker app freezes occasionally.
2. The color of GIFs may be messed up.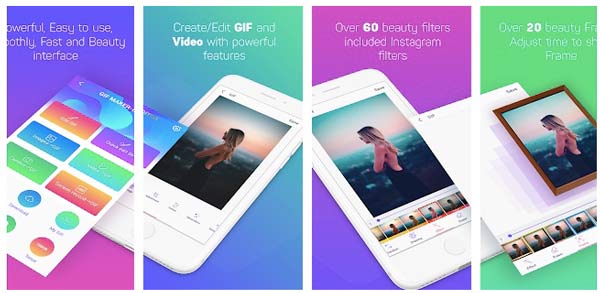 Top 2: Giphy Cam
Giphy Cam is a free GIF maker for both iOS and Android users. Actually, it is also one of the best GIF library all over the world. You can get free GIFs, stickers and memes from Giphy.
Pros:
1. Get a built-in GIF camera to record custom GIF.
2. Text, share and save animated GIFs.
Cons:
1. Giphy Cam becomes glitch and gets crashes frequently.
2. Many GIFs in Giphy Cam only work as links.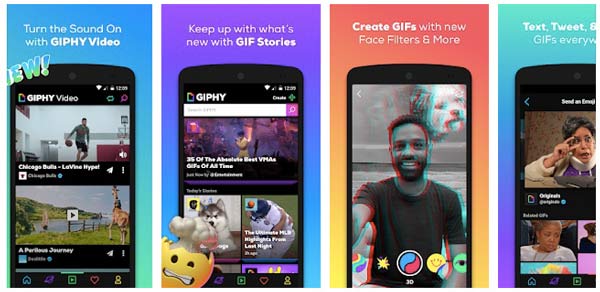 Top 3: Lively
You can turn live photo to GIF via Lively on iPhone and iPad. The GIF maker app for iPhone is free to use. But some advanced features are locked as in-app purchases.
Pros:
1. Create GIFs and movies from live photos.
2. Share the animated GIFs to Messenger, Facebook, Twitter, Slack and other social platforms.
Cons:
1. The free GIF maker app is buggy.
2. Lively can be too glitch to upload occasionally.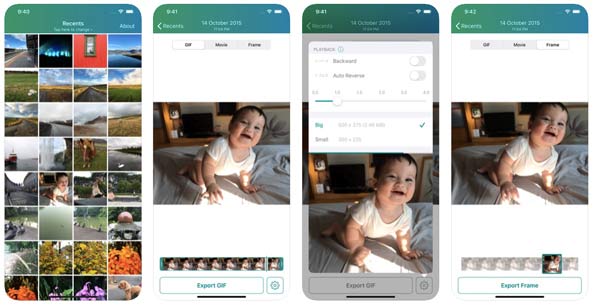 Part 3: FAQs of GIF Maker Software and Apps
Is it possible to create a GIF with sound effects?
Actually, GIF is still an image format. You cannot add voice to a GIF. If you really want to add audio to GIF, it is a short video clip. You can take a look of GIF with sound maker in Giphy, Lalagif and more.
How to make a GIF from a YouTube video?
You can download or screen record YouTube video first. Later, use a GIF maker to generate YouTube to GIF.
What text GIF maker to use on your phone?
You can download Animated Text from the Google Play Store. The text animation maker allows users to create animated GF text or video on Android.
From the above analyzation and review, you can get the best GIF maker for your phone and computer. All media files can be your GIF source files. Thus, you can make your own GIFs from images and videos with ease.