What Are the Differences between AVI and MP4
There are many video file formats you can choose from, among which AVI and MP4 are more popular to be used to compress and store multimedia file. AVI is the abbreviation of Audio Video Interleave and MP4 is an official filename of the MPEG-4 Part 14. Both are considered as the file containers that are able to carry the main two types of files: audio and video. So which is better and what are the difference between AVI and MP4? Here I will give you a specific AVI vs MP4 comparison to help you figure out the differences between AVI and MP4.

Part 1. Brief Introduction of AVI and MP4
AVI and MP4 are video file formats, also called container formats. Containers are the collections of files containing all components of a video, such as video, audio, subtitles, and chapter information. Here we will introduce the basic knowledge of AVI and MP4 for you to get a preliminary understanding of AVI and MP4.
AVI, the abbreviation of Audio Video Interleave, is a multimedia container format. It is able to contain a wide range of video and audio data in a file and supports variable frame and bit rates. Video stored in AVI format keeps its original quality. However, since there is no compression, the file size of an AVI file can be quite large.
MP4, known as MPEG-4, is the official filename extension for MPEG-4 Part 14 developed by the Moving Picture Experts Group. MP4 is commonly used to store digital video and audio streams, and also supports lossless compression codecs and subtitles. If you are going to preserve your video and audio files, MP4 can be your good choice.
Part 2. AVI vs MP4: Differences and Similarities
In order to have a further understanding of AVI and MP4, we'd like to help you find out their differences from different angles and know about their similarities shared in common.
Differences between AVI and MP4
Codecs: One big difference between AVI and MP4 is that AVI is only for HD and Full HD files while MP4 can hold 4K Ultra HD videos. That's because AVI won't support UHD video codecs, like HEVC/H.265 or VP9 formats.
Subtitles: AVI is not capable of holding subtitles itself, but it can contain SubRip, SubStation Alpha and XSUB via third-party modeification and DivX. But MP4 supports two subtitle types, namley MPEG-4 Timed Text and VobSub.
Althogh AVI and MP4 are both containers for storing multimedia files, the main difference is not the formats itself, but the types of codec used within the files.
Similarities between AVI and MP4
Apart from the difference, we also find out the similarities between AVI and MP4.
Quality: Both AVI and MP4 can keep the current maximized quality of the video files. So they are both considered as the most commonly used container formats for saving preferred high-quality video.
Size: For ensuring the highest video quality, AVI and MP4 are correspondingly larger in size than other video formats like FLV and WMV. But it won't cause any trouble when moving them to your portable devices.
Compatibility: The two file formats is compatible with most media players and mobile devices. You can play AVI and MP4 on iOS/Android phones, game consoles, media players, storage devices and more.
Part 3. How to Convert AVI and MP4 Videos
Tipard Video Converter Ultimate is a professional video converter that can convert abundant video formats such as AVI, MP4, MKV, MOV, FLV, M4V, MPEG, VOB, etc. Also, it can convert any download online video to general videos and lossless audio. What's more, you are provided with powerful editing functions like merging, trimming, cropping, adding watermark and others. Here we will take the conversion from AVI to MP4 as an example to show you the detailed steps.
Step 1
Install Tipard Video Converter Ultimate
After downloading this program, you can install and launch the program. On the main interface, choose the Converter function.
Step 2
Add AVI files to the program
Import the video files into the program by clicking the plus button. You can also drag the video or audio files into this program directly.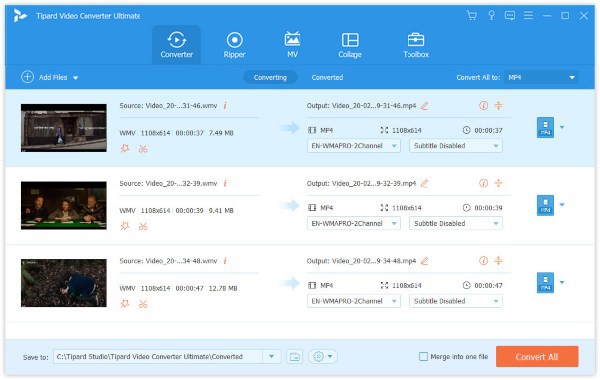 Step 3
Select the MP4 output format
In order to playback the AVI file on any media player, you can convert AVI to MP4.
Step 4
Convert AVI to MP4
In the end, click "Convert All" to start this AVI to MP4 conversion.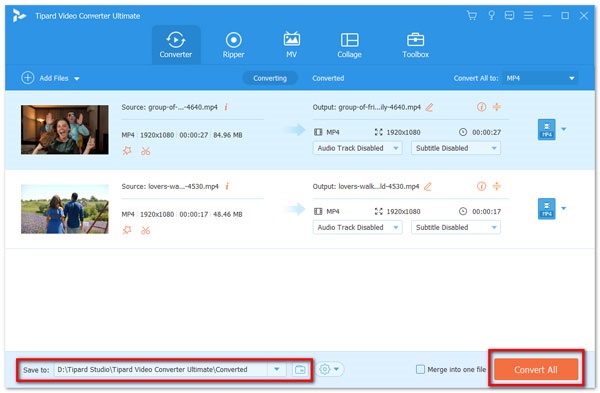 Part 4. FAQs of AVI and MP4
1. How to play AVI and MP4 videos?
For playing AVI videos, you need to download a codec pack like K-Lite Codec Pack; and for playing MP4 videos, the MPEG-4 codec like X Codec Pack is needed. The easiest way to play AVI or MP4 videos is to find a powerful media player. You can use Tipard Blu-ray Player which supports playing AVI, MP4 and any other videos. Apart from playing digital videos, it allows you play Blu-ray disc/folder/iso image files, 4K and 1080P HD videos.
2. How do I convert MP4 to AVI?
For changing MP4 to AVI, you can make use of a video converter, like Tipard Video Converter Ultimate to help you convert MP4 to AVI with high quality. This all-in-one video converting tool enables you to convert 4K video to any 4K/1080p HD video, and MP4, AVI, MKV, AVI, MOV, MP3, etc. at 60x faster speed. And it can also rip any DVD to video/audio file and copy DVD to ISO file/DVD folder/MPG Lossless directly.
3. Is AVI bigger or MP4?
Generally AVI tends to be larger than most video formats due to minimal compression features. If you prefer store your multimedia file in a small file size, it is recommended to use MP4 format.