Easy Ways to Compress a Video with the Best Applications
Q: I'm looking for how to compress video for email. Currently, the file is about 120MB, I'm aiming to make it less than 50MB. I tried online websites but it doesn't work, it either makes it a bigger size or the website just doesn't respond. Would love all and any advice! - Reddit user
To solve this problem, you need to know how a video compressor works. A video compressor is capable of removing the not-that-important parts of a video by going through each frame of the video and reduce the size by using methods such as intraframe and interframe compressing. Thus, you need to find a good video compressor to archive your goal.

Part 1. How to Compress a Video with the Best Compressor
If you need to know how to compress your video in a swift fashion, look no further than Tipard Video Converter Ultimate, one of the most powerful tools as an all-in-one solution for your video editing tasks. If you need to compress your video for email or compress your video on Mac, no worries Video Converter Ultimate has your needs covered. Video Converter Ultimate has features that fit most of the daily scenarios and supports both PC and Mac. Here are the other major features of Video Converter Ultimate you might get interested in:
Features
1. Supports compressing over 300 formats including the most popular formats such as AVI, MKV, MOV, MP4.
2. Edit your video with ease. Use features such as crop, trim, rotate, and add watermarks to manipulate your video.
3. Pre-made editors and filters, no complex editing skill is needed to generate creative video outputs.
4. Advanced compress algorithm, fast, reliable, and no quality loss.
5. Handy toolbox such as GIF Maker, MV Maker, and Video Enhancer would boost your multimedia experience.
6. Native software on both Mac and PC.
Step 1Import a Video to Your Project
Download and open Tipard Video Converter Ultimate. On the main screen, click on the Toolbox tab on the top bar. In the Popular Tools section, click on the Video Compressor option. You will be given a simple screen to add your videos which need to be compressed. Click on the plus button in the middle of the screen to insert the file which you intend to shrink.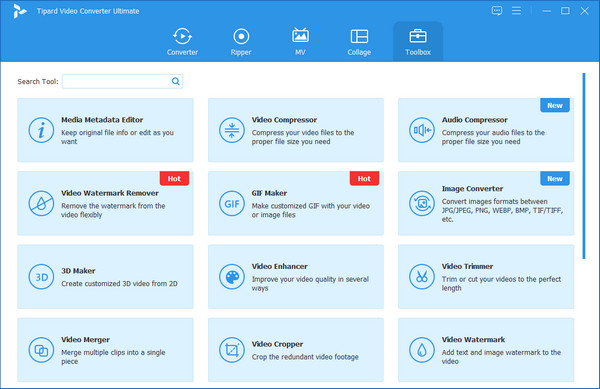 Step 2Optimize Your Video
On the second screen, you would be able to tweak more detailed parameters about your video.
1. Click on the

Name

input box to change the file name of your video.
2. Drag on the

Size

slide to determine how much you want to shrink your video.
3. Click on the menu besides

Format

to change the output format you intend to.
4. If you choose a format that supports changing resolution, you would be able to click on the

Resolution

menu and select one option.
5. The

Bitrate

and

Duration

would be automatically determined once you changed the percentage you want to resize your video.
6. Click on the

Preview

button to generate an automatic overview of your compressed video. You could check whether the final result is satisfactory before exporting the final output.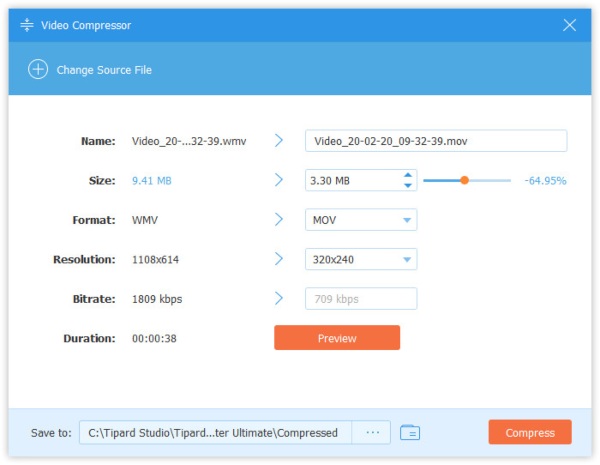 Step 3Export the Compressed Video
Once everything is done, click on the Save to option on the lower bar to shift the path folder you want to save your videos to. And finally, click on the Compress button to render your video in the final form.
Part 2. How to Compress a Video Free Online
Method 1: Clipchamp
If you need to know how to compress a video with online tools, look no further than Clipchamp. You do not need to download any additional software, Clipchamp allows you to upload your video on any given platform, and the compressed video could be shared or published easily and quickly.
The following steps would teach you how to compress a video with Clipchamp:
Step 1Log onto clipchamp.com. Drag and drop the video file you would like to compress to the website.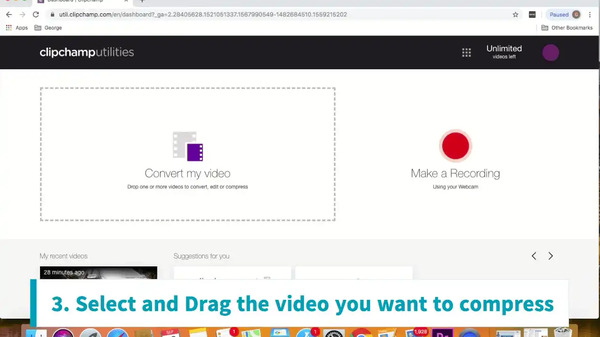 Step 2Select the desired optimization you would like to take on your video.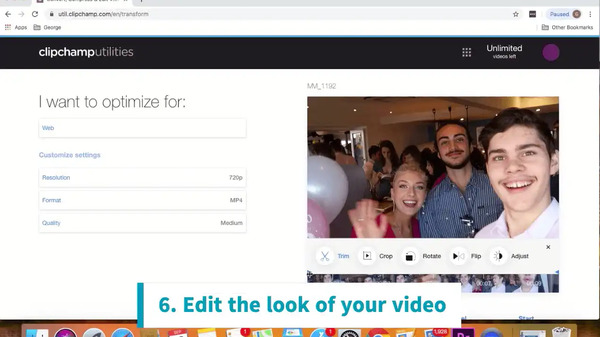 Step 3Click on the Start button to complete compressing. You would have the option to either save your video locally, save your video to Google Drive, or share it over social media.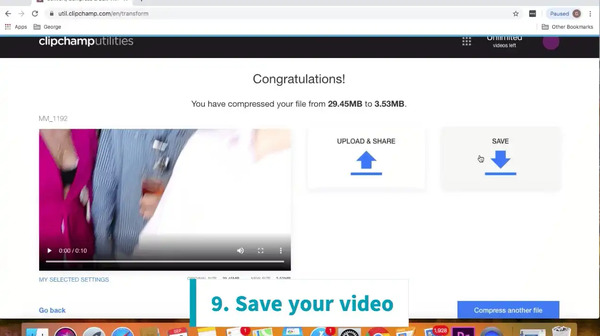 Pros:
• Easy-to-use user interface
• Cloud-based, supporting most of the platforms and codecs
• Sharing videos is extremely easy
• Good stock effects and templates to alter your video
Cons:
• Uploading time greatly varies according to personal Internet speed
• Free version Clipchamp would generate watermarks on your outputs
Method 2: Veed
If you tried Clipchamp but felt unsatisfied with the quality of its results, there is an alternative choice you would like to consider: Veed.io is another online video compressor tool. You could upload your file to the website, select the desired compression option, veed.io would process automatically before generating the download link of your compressed video.
Pros:
• Simple Interface, no learning barrier to overcome
• Supports popular formats including MP4, MOV, MKV, AVI, WMV, FLV
• Dropbox integration
Cons:
• Limited features for the free version. Need to upgrade to the Pro version to get full features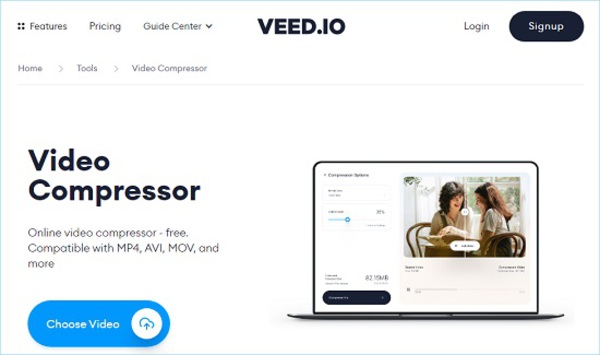 Part 3. FAQs about Video Compressing
1. I'm uploading 4K videos to YouTube. Do I need to use a video compressor?
Depends on the codecs you are using. Let's assume you are using the popular codec h264, it could be adjusted to a more compressed (smaller) or less compressed (larger) option. Usually, people would export in a larger file first, and run it through a good video compressor app later.
2. How to compress a video faster?
If you are beyond the casual level and need to perform video compressing work daily, consider enabling the hardware acceleration option in your video converter software. If this is still not satisfactory, consider purchasing a dedicated hardware encoder to fasten your workflow.
3. Why do I keep the same settings in my video compressor, but get different file sizes after compression?
Video compression results largely depend on the quality of the source and the compression level of the source. Usually speaking, the lower the quality of the source, the more artifacts before encoding your video files have, the harder it is to compress.
Conclusion
After comparing major features between video compressors between the best-dedicated video compressor and online video compressors, it is clear that Tipard Video Compressor Ultimate is the best option if you need to know how to compress a video for different usage. Whether you are creating videos on Mac, or need to compress a video for email, Tipard Video Compressor Ultimate would completely satisfy your requirements.