How to Capture Screen and Video/Audio
Part 1: How to capture screen and video
Step 1

Choose the capture size of your screen

When your capture your webcam video, streaming video, games or some other video tutorials, you should determine the capture size first. You can choose full screen or customize the size by yourself.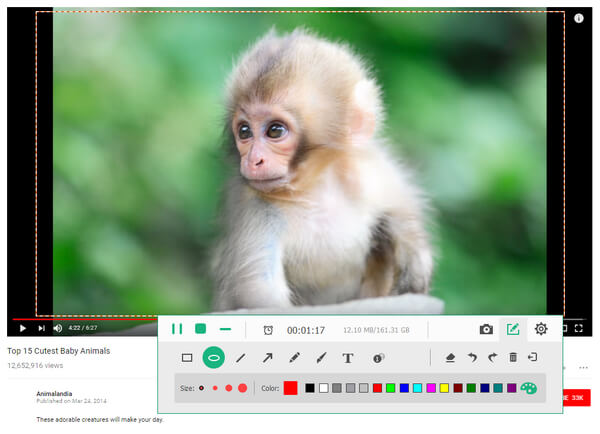 Step 2

Capture the screen in high quality

After choosing the area size of screen, you need to ensure the screen which you want to capture. For instance, if you want to capture video tutorials, you can click REC and start to capture. And then move your cursor to start your teaching process.

Step 3

Finishing the screen capture and preview it

After you complete the capturing process, click the red square to stop the capture. And then you can preview the video automatically and save it on your computer.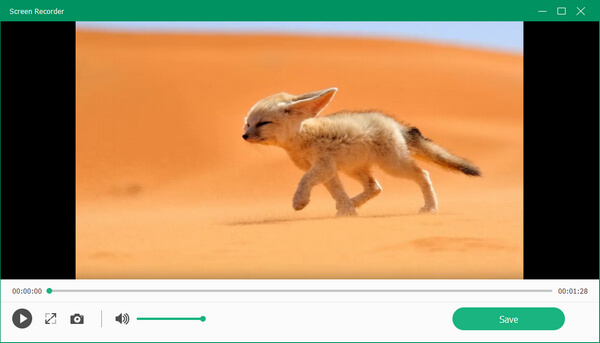 Part 2: How to record audio files
Step 1

Set the audio source or microphone voice

When you capture screen, if you need to record audio at same time, you just need to set the audio options easily. Choose the system audio or microphone audio, or select them both according to your needs.

Step 2

Start to capture the audio

If you finish all settings, just click REC to capture your audio file.
FAQ: How to Fix Screen Recording Failed?
When you use Screen Capture on your computer, you may fail to record your screen sometimes. If so, you can try the methods below or contact us immediately.
1. Sound card is occupied by other applications.
If you get the message saying "Failed to record, as your sound card is occupied by other applications." Please check your sound card and free it. If you don't know where to find it, you can also choose to reboot your computer."
2. Graphic card or sound card has been modified.
If you get the message saying "Recording failed, for some changes in your graphic driver or sound card driver." Please restart the program and try recording again.
3. Camera and Microphone access is disabled.
Please make sure that your Microphone and Camera access is enabled. To enable the access, you should click the Start icon on your computer. Then select Settings, Privacy, and find Microphone/Camera. Now turn on the Allow apps to access your microphone/camera option.
4. The speaker is not plugged well.
Please make sure that you have plugged the audio jack into computer correctly.
5. Sound/graphic card drivers are outdated or not compatible.
In this situation, you need to uninstall the sound/graphic card drivers and install the proper drivers from your sound/graphic card manufacturer.
6. The running program is in Compatibility mode.
Please uncheck the Compatible mode and run the program as an administrator.