Learn How to Put a Video in Reverse Using TikTok [2023]
Nowadays, TikTok is one of the most popular social media applications that gained huge numbers and caused worldwide hysteria. TikTok became famous because of the tons of fun and unique features that it offers. With a few clicks, you can create and initiate fantastic features which can add spice to your video content. And one of the cool features of TikTok is that you can play your video in reverse. Yes, that is correct. With the TikTok app, you can make a video and play it in reverse. Therefore, if you desire to know how to reverse a video using TikTok, read this post thoroughly.

Part 1. How to Reverse a Video Using TikTok
With TikTok, you can create fantastic video content with its features. One of the most popular editing features of TikTok is the reverse feature. Many people use the reverse feature because it can add creativity to your video. Some users use the reverse feature to highlight a scenario from their video and sometimes to add fun to the video. However, reversing a video may sound complicated. But with the TikTok app, it is not. And in this part, we will show you the steps on how you play a video in Reverse on TikTok.
Step 1First, open the TikTok app on your mobile phone. On the app's main interface, tap the Create (+) option at the bottom of your screen to create a video or edit an existing video.
Step 2And then, record a video clip, or upload an existing video from your gallery.
Step 3Next, tap the Effects button located beside the Sticker option. Then you will see the cool effects that TikTok offers.
Step 4Slide your finger to the right and tap the Time tab located at the bottom-right of your screen interface. And then access the Time-related effects.
Step 5After that, move the slider to the area on your timeline where you want your reverse effect to start. Tap Reverse to apply the effect to your video.
Step 6If your video did not play automatically, tap the Play button to the applied effect.
Step 7Once you are done reversing your video, tap the Save button and tap Next. You can now enter a description or caption and adjust any settings you prefer. Tap Post to share your reversed video output.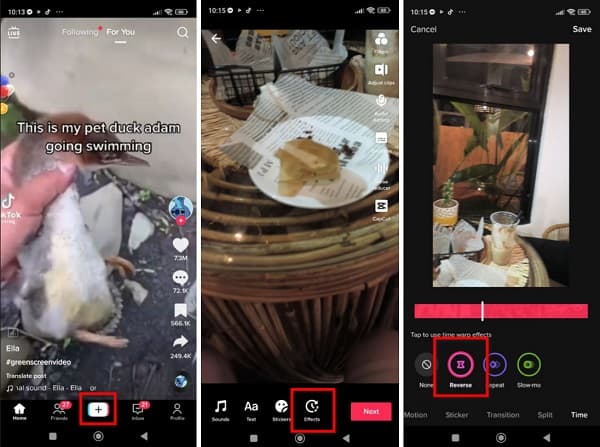 Simple, right? That's how to rewind a video using TikTok without using other applications. By following the simple steps comprehensively, you can surely reverse your video using TikTok without having a hard time.
Part 2. How to Reverse a Video for TikTok on Computer
If you prefer to reverse your video before uploading it to TikTok, then we have a solution for you. There is an alternative for how to make a video in reverse using TikTok, and that is by using the best video reversing application on your computer. Below, we will present you the steps on how to reverse a video for TikTok on your computer.
Tipard Video Converter Ultimate is a notable video editing application that offers tons of advanced editing tools that you can use, including a video reverser, color correction, video merger, video watermark remover, and more. Its video reverser feature enables you to reverse your video entirely or partially. Additionally, it supports almost all video formats, such as MP4, AVI, MOV, MKV, FLV, VOB, WMV, M4V, and 500+ more, so you will be able to upload video files easily. It also has an easy-to-use interface, making it a beginner-friendly application. Furthermore, when you reverse your video using Tipard Video Converter Ultimate, you can rest easy because it reverses videos without quality loss. Plus, this offline application is downloadable on all operating systems, like Windows and macOS.
Step 1To begin, download and install Tipard Video Converter Ultimate by clicking the Download button below for Windows or Mac. Then, follow the installation procedure, then launch the app.
Step 2And then, on the software's main user interface, navigate to Toolbox. A list of editing features will appear where you will select the Video Reverser feature.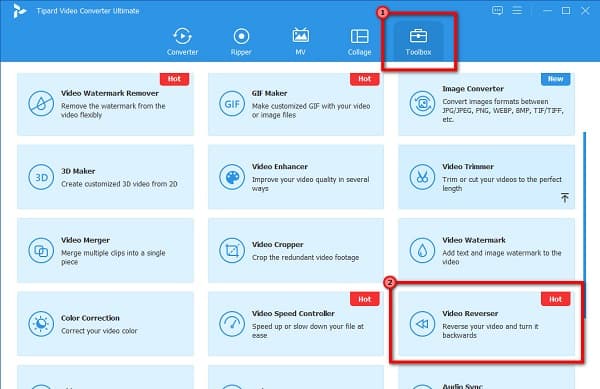 Step 3Afterward, click the plus (+) sign icon to upload the video you want to reverse. You can also drag and drop your video file to the plus sign box to upload videos.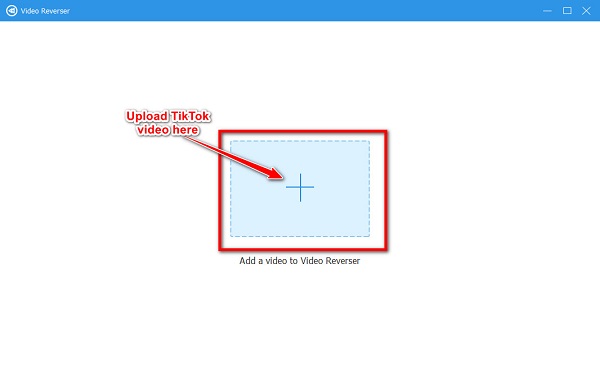 Step 4Once your video is uploaded, Tipard Video Converter Ultimate will automatically reverse your video entirely. You can also select some portion of the video that you want to reverse by clicking the Set Start or Set End buttons.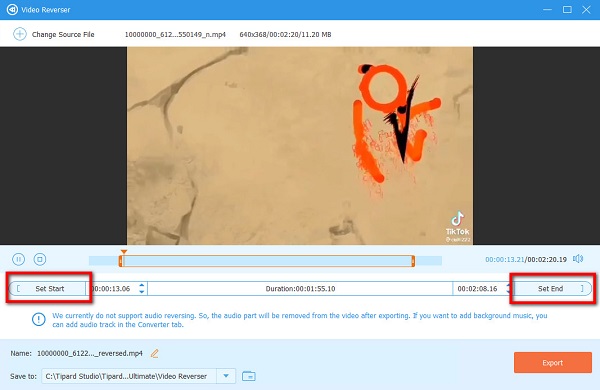 Step 5And lastly, click the Export button located at the bottom-right corner of the interface to save your reversed video on your device.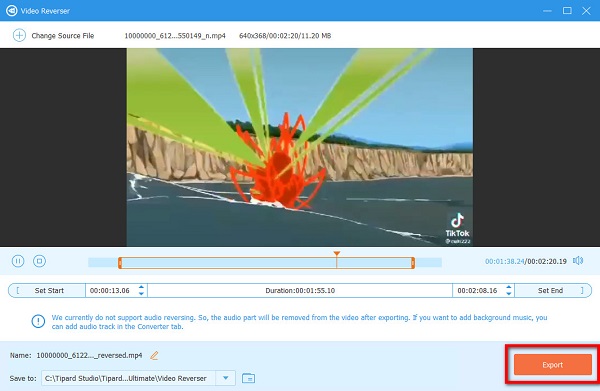 Part 3. How to Reverse a Video for TikTok on Mobile Phone
If you have a video that is saved on your Gallery, then you can use apps for your mobile phone to reverse your video. Aside from using the TikTok app, you can also install video reverser apps to reverse your videos easily.
Reverse Video Player is a mobile application that allows you to reverse your videos for TikTok effortlessly. With this mobile app, you can reverse your video without compromising the quality. Moreover, before reversing the video, you will first have the option to trim or delete some parts of your video. Also, it is a user-friendly app because it has an intuitive user interface. However, Reverse Video Player contains many disturbing ads, leaving a watermark on the video that you reverse.
Step 1Install Reverse Video Player on your mobile phone, then open the app. On the first interface, select the video you want to reverse for TikTok.
Step 2And then, trim your video (optional), and tap the Next button to proceed to reverse.
Step 3Wait for your video to be reversed, then tap the Next button to save your video from this video reverser. Tap the Save option.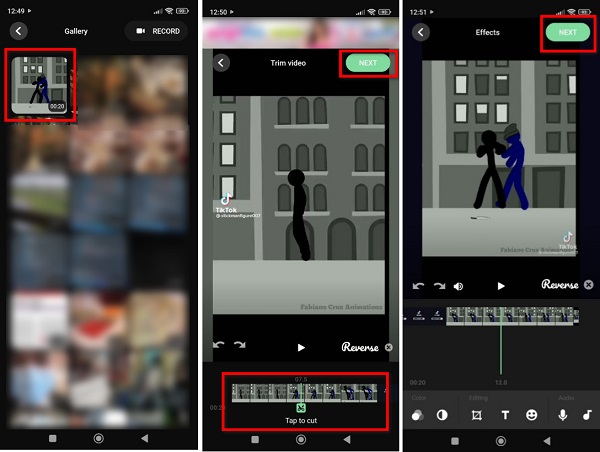 Part 4. FAQs about How to Reverse Videos Using TikTok
Why can't I reverse a video using TikTok?
TikTok only enables you to reverse a video that you upload yourself. The reverse effect won't be available when you view other people's content.
How can I revert my video using TikTok?
To revert your video to its original form, use the Reverse feature of TikTok, then upload the reversed video you have. Then it will be back on its original playback.
Can I download TikTok on a computer?
Yes. TikTok is an application that is downloadable on your desktop.
Conclusion
Phew! That's quite a journey. Now that you know how to reverse a clip using TikTok, you can now reverse your video. By following the steps given above, you can reverse any video that you have for TikTok. But if you have a video saved on your desktop, we recommend using Tipard Video Converter Ultimate to reverse your videos before uploading them to TikTok.