Learn How to Reverse a Video Online on Your Computer
Nowadays, almost all homes have access to the Internet. And it has become convenient for many video editors as they can access the Internet to search for video editing applications. The same goes for video reverser applications. There are tons of online video reversers that you can use just by searching on your browser, and of course, you need an internet connection. However, not all online software is safe and free to use, and that's where the selection begins. If you are among the video editors that are looking for the best video reverser, then you are on the right page. Read this guide post carefully to learn how to reverse a video online easily.

Part 1. Three Ways to Reverse a Video Online
When you search for video reversers online, numerous tools appear on your search result page. Surely, all of those tools can help you reverse your videos. But always keep in mind that not all online software is safe to use. But do not worry because, in this part, we will show you the most used and safe video reversers online. We will also show you the steps on how to use these tools.
1. Clideo
Clideo is first on the list when it comes to video reversers online. This online application supports standard video file formats, like MP4, AVI, MPG, VOB, WMV, and more. Also, once your video is reversed, you can select the reverse video speed you want for your output. Moreover, it has other editing features that you can use. With Clideo, you can mute your video's audio after reversing it and even change the output format of your file. But, one of the drawbacks of Clideo is that it has a slow uploading process. Nonetheless, it is still a good app for reversing videos.
How to make reverse video online using Clideo:
Step 1First, search Clideo through your browser, and click the software. And on the first interface, click the Choose Files button to upload a video file.
Step 2And on the next interface, select the Reverse Speed option that you want for your video. You can choose between 0.5x, 1x, and 2x.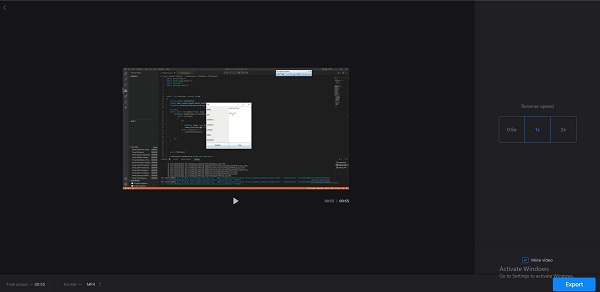 Step 3Once you are done selecting the reverse speed, click Export at the lower right corner of the interface to save your output.
2. Ezgif
Another video reverser online that many people use is Ezgif. Many people love using this online tool to reverse videos because it allows you to reverse or mute your video's sound. In addition, it has an easy-to-use user interface, which makes it a beginner-friendly application. Ezgif also contains many editing features, such as a file converter, video cropper, video resizer, and more. Furthermore, with Ezgif, you can watch the preview of your output before saving or exporting it on your device. A little setback of Ezgif is that it contains ads that might distract you while reversing your video. But, it is still an excellent online application to reverse your videos because it is free and safe to use.
How to reverse video online for free using Ezgif:
Step 1Open the browser that you use and search Ezgif in the search box. And on the application's main user interface, click Choose Files to upload the video you like to reverse. You can also copy and paste the URL of your video to upload it.
Step 2Once your file is uploaded, click the Upload Video button, then you will be in a new interface.
Step 3Next, you can now preview your output and choose to mute or reverse your audio. Click the Reverse Video when you are done reversing your file. And that's it! Those are the steps on how to reverse video clips online using Ezgif.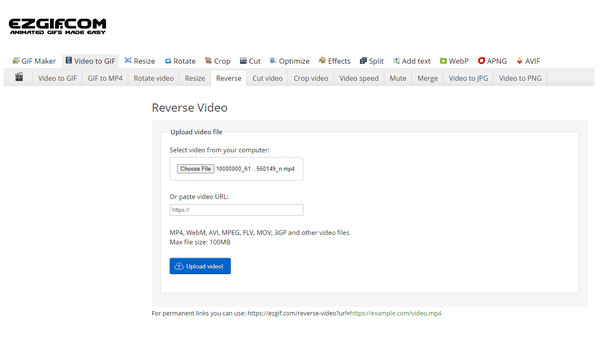 3. Kapwing
Also on the list of the best video reversers online you can use is Kapwing. Kapwing is a video reverser online that many beginners love to use. Because of its simple user interface, many users can easily reverse their videos. Additionally, in just a few clicks, you can reverse your video. Also, it has other editing tools that you can access to enhance the file that you are editing. With Kapwing, you can add audio to your video, add subtitles, trim your video, and more. The problem when using Kapwing to reverse video is that you need to purchase the upgraded version to use the app's other features. Nonetheless, this tool is very effective for reversing standard video files.
How to reverse a video clip online using Kapwing:
Step 1To begin, access your browser and search for the Kapwing video reverser in the search box. And then, click the Choose a Video button to upload the video file you wish to reverse.
Step 2After, click the Click to Upload button to select the video file you want to import.
Step 3When your video is imported into the software, select the video file on your timeline by left-clicking it. Then under the Edit panel, tick the Reverse box to play your video file in reverse.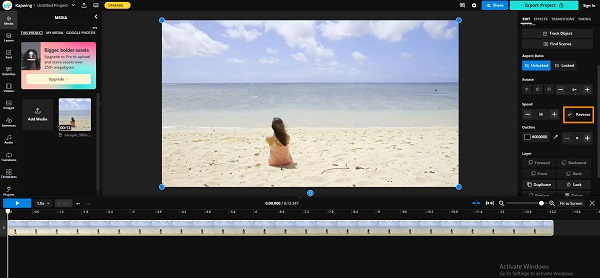 Step 4And finally, click the Export Project button at the upper right corner of the interface to save and export your video on your device.
Part 2. Comparison of the Video Reversers Online
| Features | Clideo | Ezgif | Kapwing |
| --- | --- | --- | --- |
| Free | ✔ | ✔ | ✔ |
| Easy to use | ✔ | ✔ | ✔ |
| Safe to use | ✔ | ✔ | ✔ |
| Contain ads | ⨯ | ✔ | ⨯ |
| Contain other editing features | ⨯ | ✔ | ✔ |
Part 3. Recommendation: Offline Way to Reverse Videos
Tipard Video Converter Ultimate is an offline video reverser that can reverse videos without losing quality. This video reverser is accessible offline, which makes it easier to reverse videos because of the wide interface you have. In addition, with this application, you can reverse your video entirely or partially without having a hard time. Also, it supports over 500+ video formats. Fantastic, right? You can download Tipard Video Converter Ultimate on all operating systems, including Windows, macOS, or Linux.
How to reverse a video clip using Tipard Video Converter Ultimate:
Step 1Download Tipard Video Converter Ultimate by clicking the Download button below. Once installed, open the application.
Step 2Download And then, on the main interface, go to the Toolbox panel and select the Video Reverser option.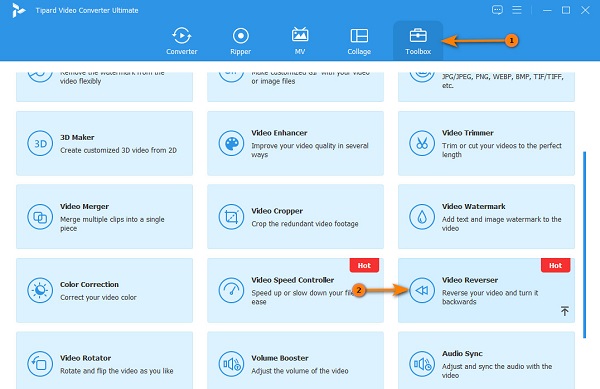 Step 3Click the plus sign icon to upload the video clip you want to reverse.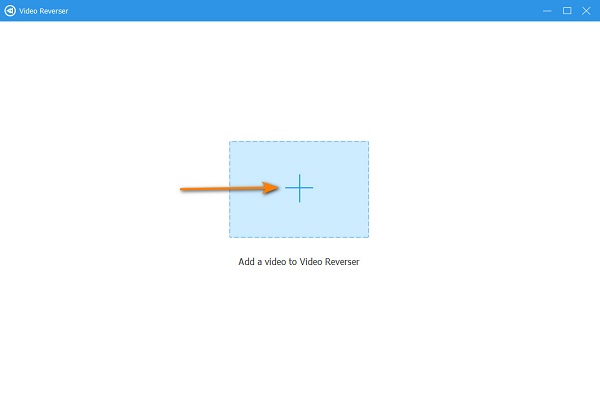 Step 4Next, Tipard Video Converter Ultimate will automatically reverse your video entirely. To select a part you want to reverse, click the Set Start and Set End button.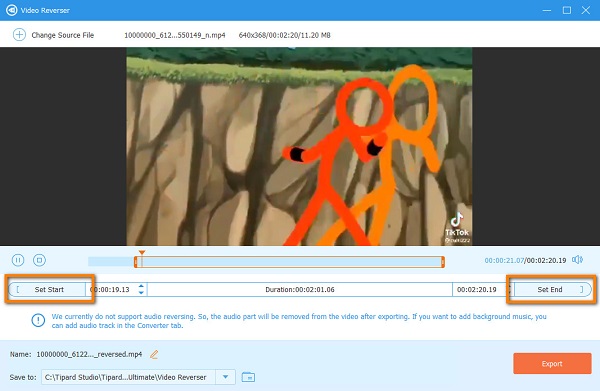 Step 5Lastly, click the Export button at the lower right corner of the interface to save your output.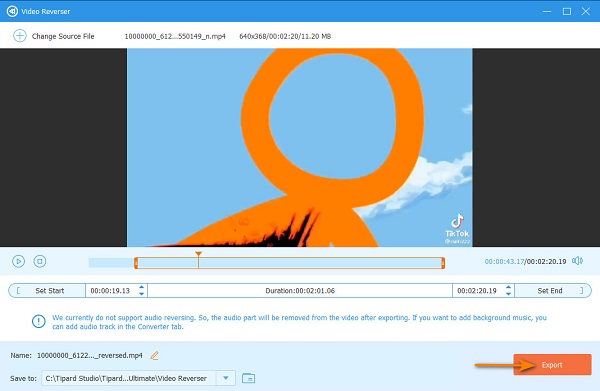 Part 4. FAQs about How to Reverse a Video Online
Can I reverse my videos using TikTok?
Yes. With TikTok, you can reverse your videos by going to the Time section in the Effects menu.
Can you reverse a video on an iPhone?
Definitely, yes. On your iPhone device, you can install the Reverse Vid: Play it Backwards, one of the most used video reversers for iPhones.
What is the best offline application to reverse a video?
If you are a professional video editor, the best video reverser application you can use is Adobe Premiere Pro. But if you prefer an application that is cheaper in price and easier to use, use Tipard Video Converter Ultimate.
Conclusion
Using the methods given above can solve your problem about how to reverse videos online or put a video in reverse online. Video reversers online provide convenience to many users, as it does not require you to download anything on your device. However, video reversers online rely on the Internet; therefore, if your internet connection is slow, the uploading and loading process will also be slow. So, if you want to use an offline application to reverse a video, download Tipard Video Converter Ultimate now.