Complete Instructions on How to Play A Video In Reverse
Do you want to know how to play a video in reverse because you want a unique impact on your video? If so, carefully read this guide to acquire a conclusive response to your question. Reverse video playback and viewing are entertaining. Reversed video often appears to be magic. Playing the video backward is a fun extra effect that adds an intriguing and surprising touch to your movie. It is entertaining seeing people walking and backward, waterfalls going back on a cliff, jumping people on top of the building, and more. So, if you want to have fun editing your video, read this article and get the best method using great applications with a video reverser tool.

Part 1. Effective Method to Reverse A Video on a Desktop
To play your video in reverse mode, you can use Tipard Blu-ray Player. When using this downloadable application, you can quickly reverse your video. It has an easy-to-utilize interface and basic methods. This way, you can have excellent results in just a few clicks. With this backward function, you can return to the previous scene you want. Also, This application is accessible on both Windows and Mac, which is convenient for all users.
Furthermore, aside from reversing a video, Tipard Blu-ray Player lets you play Blu-ray movies on your computer while maintaining 100% quality. You may watch any Blu-ray discs, folders, and ISO image files with this free Blu-ray player and watch the most recent Blu-ray movie on your computer. In addition, with excellent quality, this software can play a wide range of standard video formats, including MP4, AVI, WMV, TS, FLV, MTS, M2TS, MKV, TRP, MXF, MPEG, and many more. You may also listen to audio files and watch regular movies or HD videos with outstanding graphic effects. You may experience lossless sound quality with modern built-in audio encoding methods like Dolby and DTS. There are more good features you can experience when using Blu-ray Player.
If you desire to know how to play a video in reverse, follow the simple steps below using Tipard Blu-ray Player.
Step 1The first step is downloading the Tipard Blu-ray Player on your desktop. After downloading the app, follow the installation process and launch the application.
Step 2Afterward, select the Open File button at the center interface. Choose the video you want to play in reverse from your desktop folder.
Step 3To start playing your video in reverse mode, navigate to the Controls panel and click the Backward option. This way, you can play your video backward effortlessly.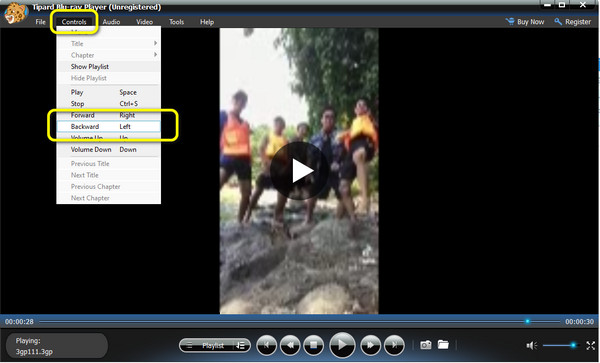 Part 2. Best Way to Make a Reverse Video Using iPhone
If you want to make a reverse video on the iPhone, use Reverse Vid. This application can help iOS users reverse their video because, as we know, iPhone doesn't have video reverser features. In that case, using a third-party application is the best option. Reverse Vid is not just good at reversing videos; there are more features you can use. You can replay and rewind clips, make magic moments, change the speed of the videos, and more. It also has simple steps for playing your videos in reverse. However, this application is not accessible on iPhones and iPad. It is impossible to operate this application if you are an Android user. Use the steps below to learn how to play video backward on an iPhone.
Step 1Go to the App Store and install Reverse Vid. Then, launch the application.
Step 2On the main screen, you can choose the kind of video you want to reverse. You can capture a new video, reverse an old clip, or both.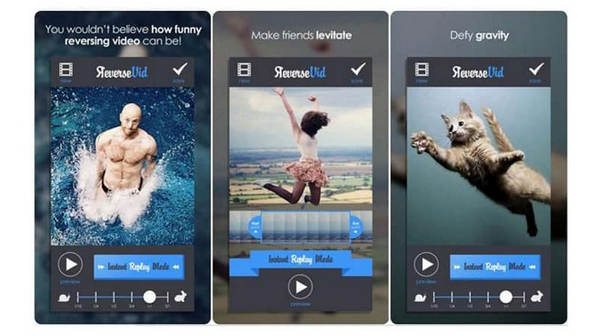 Step 3Finally, if you are finished reversing your video, click the Save button on the top right corner of the interface.
Part 3. How to Make a Reverse Video
Tipard Video Converter Ultimate is one of the most popular video editing software you can use on your Windows and Mac computer. It allows you to reverse your entire video. Tipard Video Converter Ultimate offers a simple method with a user-friendly interface, which is suitable for advanced and non-professional users. In addition,this application offers a Video Enhancer tool. It enables you to optimize the brightness and contrast of your videos. You can also reduce the video noise, reduce video shaking, and upscaler your video's resolution. With the help of this tool, your video will become better. Moreover, you can convert various video files with this tool. You can experience 60x faster speed with Tipard Video Converter Ultimate than with other standard media converters on the market since it supports GPU acceleration from Intel, AMD, NVENC, and other manufacturers. Additionally, it transforms video files in their entirety. You may retain the original settings to maintain the highest quality, whether you convert 8K/5K/4K/1080p HD videos or rip a DVD to MPG Lossless.
If you are interested in discovering the best way to make a reverse video using Tipard Video Converter Ultimate on your Windows and Mac, here are the easy procedures for you.
Step 1Access the Tipard Video Converter Ultimate by clicking the Download button below. Afterward, install and run the application.
Step 2After launching the application, click the Toolbox panel and go to the Video Reverser tool to begin the procedure.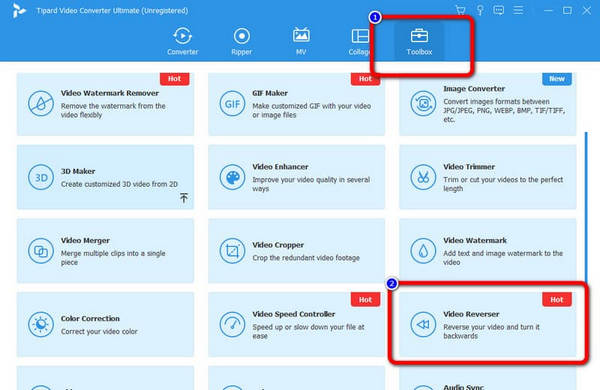 Step 3Click the +a sign button and select the video file you desire to reverse.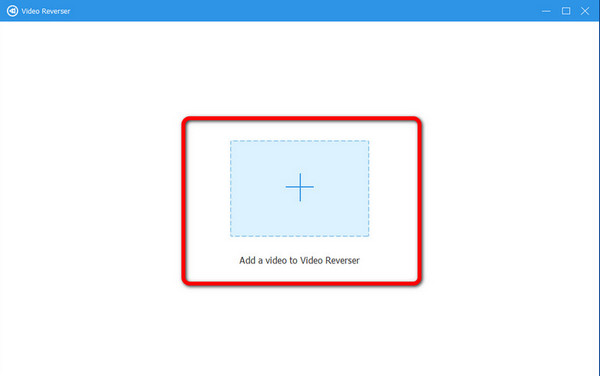 Step 4In this part, if you want to reverse the whole video, press the Export button. Then, if you want to select a portion of your video that you want to reverse, click the Set Start and Set End button.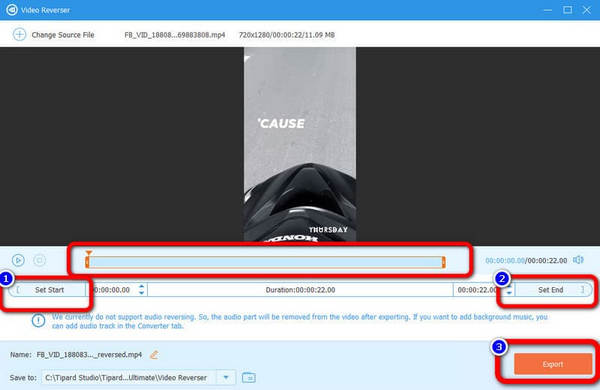 Part 4. FAQs about How to Play A Video In Reverse
How to play a video in reverse on iMovie?
- To reverse a video in iMovie, you can start iMovie on a Mac and load the film you wish to play backward before starting the process. Locate the clock icon on the top tool menu, drag the video clip to the timeline, and select it. Check the Reverse option to validate your action. You can play the video backward after exporting it.
Can I use an online application to play a video in reverse?
- Yes, there is. You may play a video backward using online video reverser applications, such as Kapwing Reverse Video, Clideo Video Reverser, Ezgif Online Reverse Video Tool, and others. However, you should be aware that the primary purpose of all these internet programs is to edit short videos.
How can I play videos backward using TikTok?
- You may add a rewind effect to a short video you've already recorded by TikTok by tapping Effects and navigating to the desired location. You can preview the video on the screen by selecting the Reverse effect.
Conclusion
Now, you should know the effective and useful methods on how to play a video in reverse using video reverser software. If you want to reverse your video straightforwardly, use Tipard Video Converter Ultimate. It offers simplicity over complexity so that beginners won't have a hard time utilizing this application.