Two Ways to Remove WeVideo Watermark Effortlessly
WeVideo is a cloud-based video editing application that enables users of all skill levels to produce amazing professional-style videos. This video editing tool has offline and online versions you can use for editing videos. Moreover, with WeVideo, you can use stock videos, green screening, create animated subtitles, and more. You will surely get the hang of its simple user interface. In this blog post, we will discuss more information about whether WeVideo has a watermark and how to remove WeVideo watermark.

Part 1. Introduction to WeVideo
WeVideo is one of the most known video editing software for capturing, editing, and viewing footage. And since it is a cloud-based software, it requires only a little storage space. In addition, teachers and students usually use this tool for educational purposes. And as mentioned above, WeVideo is a web-based and app-based tool. So whether you prefer editing offline or online, WeVideo is your application. You can use two modes for WeVideo: the storyboard and the timeline.
But as many people ask, does WeVideo have a watermark? The answer is yes. WeVideo embeds watermarks on its videos to show and promote its brand to the users who use the free version. But many people do not like watermarks on their videos because they ruin the quality and presentation of their videos.
So, can you remove the WeVideo watermark from your video? Is there a solution to it? Luckily, there are tons of video watermark removers that you can use on your desktop. And below, we will show you the best video watermark remover and how to use it. We will also discuss how to use WeVideo to remove the watermark by purchasing the license.
Part 2. 2 Ways to Remove WeVideo Watermark
Method 1. Use a Video Watermark Remover
Tipard Video Converter UItimate is one of the most recommended video watermark removers you can use on your desktop. This application allows you to remove watermarks from your video without affecting its quality. Some video watermark removers remove the watermarks from the video by leaving a blurred mark on it. But with Tipard Video Converter Ultimate, you can remove the watermarks from your video without leaving any marks or blur parts. Additionally, it supports over 500+ video formats, such as MP4, AVI, MOV, MKV, FLV, VOB, M4V, WMV, WebM, and more.
It also contains many advanced editing features, including a video trimmer, GIF maker, 3D maker, color correction, video reverser, and more from the Toolbox. Furthermore, it is a user-friendly tool with an easy-to-use software interface. Another amazing feature of this app is that it can remove two or more watermarks from your video. You can download Tipard Video Converter Ultimate on all operating systems, like Windows, macOS, and Linux.
How to get rid of WeVideo watermark using Tipard Video Converter Ultimate:
Step 1 First and foremost, download Tipard Video Converter Ultimate on your desktop by clicking the Download button below for Windows or Mac. After, follow the installation process and launch the app once it is installed.
Step 2 After opening the app, go to the Toolbox panel on the software's main user interface. The list of Tipard Video Converter Ultimate's editing features will appear. Select the Video Watermark Remover feature.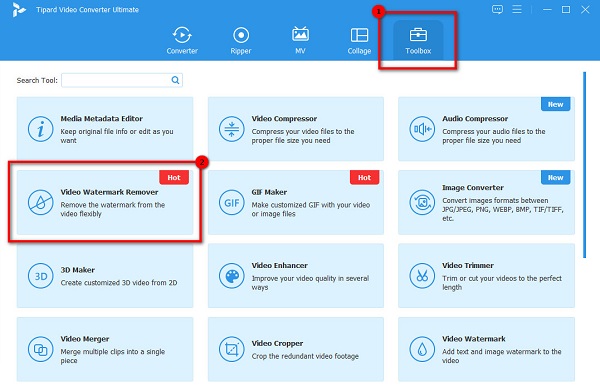 Step 3 Next, click the plus icon to upload the WeVideo file you want to remove from the watermark. You can also just drag-drop your video file from your desktop files to upload the video.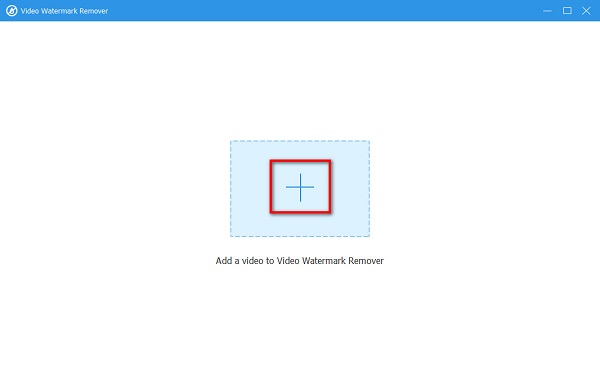 Step 4 Afterward, click the Add watermark removing area button. And then, on the following page, you will see the watermark removing area and the preview of your video. Move the watermark removing area to the WeVideo watermark and resize the watermark removing area by holding and dragging the sides of the watermark remover area.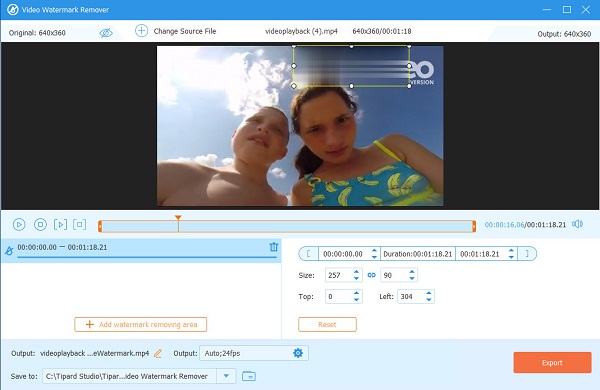 Step 5 And then, when the WeVideo watermark is covered, click the Export button to erase the watermark from your video completely. Tipard Video Converter Ultimate automatically removes the watermark and saves it on your computer folders.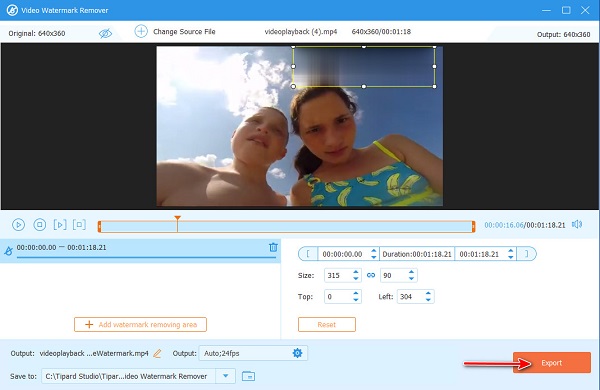 With this WeVideo watermark remover, you can surely remove the WeVideo watermark without losing any quality.
Method 2. By Purchasing the WeVideo License
If the first method that we presented is a little complicated for you, there is another method that you can do. If WeVideo is the editing application you often use, you can purchase the license to edit videos without a watermark. There are four plans that you can choose from for purchasing the WeVideo app:
Power - You can publish a 30-minute video per month, with 20 GB storage and 720 HD video resolution. It also comes with templates and motion titles.
Unlimited - All features from Power with unlimited publish time and storage. It also comes with 1080p+ HD video resolution and more features.
Professional - Every feature from the Unlimited version plus unlimited stock usage and brand management. It also comes with premium templates and 4K Ultra HD video resolutions.
Business - You can unlock all features from the Professional plus Team license for three seats. You can also unlock collaboration tools and user management features. By purchasing this license, you can also create your own templates.
Refer to the image below for the prices of each plan.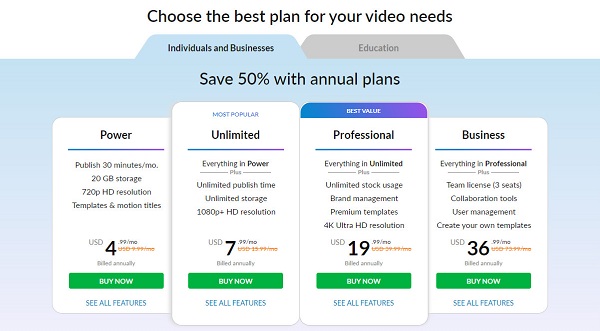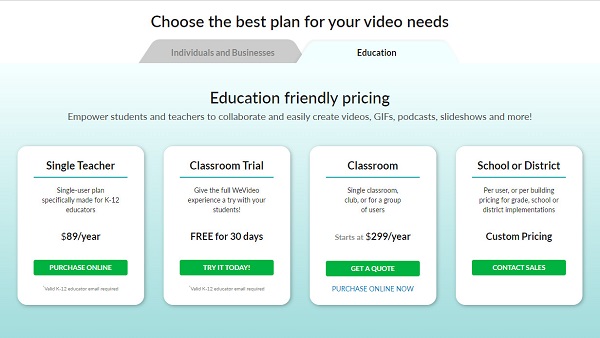 Therefore, if you like to get rid of the WeVideo watermark, purchase the license we presented above.
Further Reading:
What is Watermark On a Video? Why Add One to Your Video
List of the Top Video Watermark Removers Offline and Online
Part 3. FAQs about How to Remove WeVideo Watermark
How long is WeVideo free?
You can use the free trial of WeVideo for up to 14 days. However, it includes a watermark in all exported videos. If you want to export video files without a watermark, purchase the license for the WeVideo app.
Is WeVideo free for all students?
WeVideo is an in-app purchase with access to over 650,000 high-quality and licensed royalty-free videos, images, clips, music tracks, and more. It helps students and teachers to edit and enhance their video projects. However, you must purchase a license to export videos without a watermark. The good thing is, for students, it has no additional cost.
Can I use an online watermark remover to remove the WeVideo watermark?
Yes. There are tons of video watermark removers online that you can access on your browser.
Conclusion
Simple, isn't it? All the steps that you need to learn about how to remove a WeVideo watermark from videos are included in this article. Purchasing a license is quite pricey. So, if you want to use a simpler and more practical way to remove the WeVideo watermark, download Tipard Video Converter Ultimate now.