Easy Steps on How to Cut Videos in After Effects [2023]
Many Professional editors are stunned at how they can edit their videos in After Effects. Adobe After Effects is an editing application that has many functions. It is a potent application that enables you to create unique effects in your video. However, most of the time, when you edit a video, it will be completed in Premiere Pro. But if you want to cut your videos, it is essential to know the steps for cutting them in After Effects. Therefore, read this post all inclusively to learn the steps on how to cut videos in After Effects.

Part 1. How to Cut Videos in After Effects
With Adobe After Effects, you can make visual effects and motion graphics for web, video, TV, and film. It is the industry standard for creating visual effects and motion graphics. Additionally, it has incredible features where you can create animation for texts, such as spinning words, rolling credits, and twirling titles. And if you want to add motion to shapes, objects, logos, and cartoons, you can use Adobe After Effects. Furthermore, it has many motion graphic templates, which help create an excellent project. Also, Adobe After Effects is a wonderful video and image editing application. And did you know? You can also use this software for cutting or splitting your videos. Let's now jump in on how to trim videos in After Effects.
Note: Splitting, trimming, and cutting your layers in Adobe After Effects are the same, no matter what video file you work with. The cutting techniques we will show will allow you to edit your videos.
Split Videos in After Effects
Adobe After Effects differs from other video editing software because this app divides your timeline into layers. So, splitting a clip using After Effects will divide your single layer into two.
How to split videos in After Effects:/p>
Step 1 Download Adobe After Effects on your desktop. Then, run it once it is instilled. Go to File > Import > File on the main app's interface. You can also press the Cmd + I or CTRL + I on your keyboard to add the file you want to split. Select your video and click Open.
Step 2 And then, to create a new composition, hold and drag your clip to the New Comp icon at the Layer panel. Or, you can right-click your video file and select New Comp.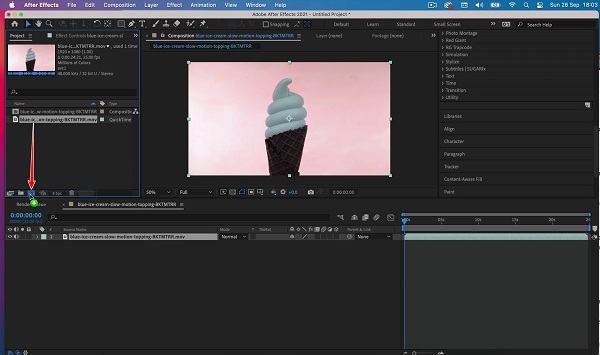 Step 3 Move the playhead on your Timeline to where you want to split your video. Use the Page Up/Down or Cmd + Left Arrow and Cmd + Right Arrow to move the playhead one frame at a time.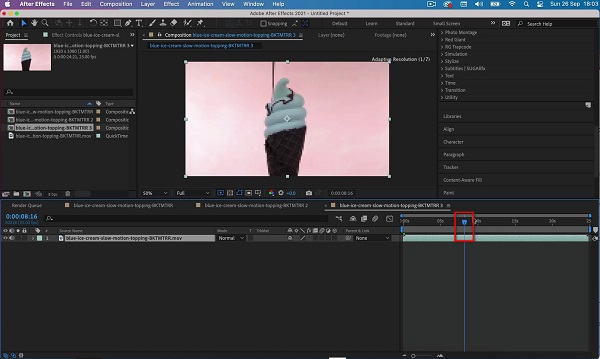 Step 4 Now, we will split the video. Go to Edit > Split Layer (Cmd + Shift + D or CTRL + Shift + D on your keyboard)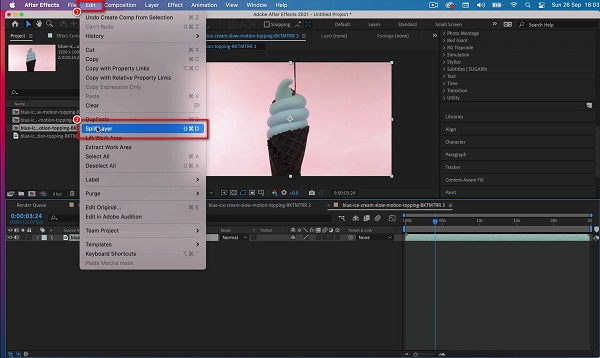 Trim Video Layers in After Effects
When you trim videos, you need to cut the beginning or the end of your video; this is usually the common practice with most editing. There are two methods to trim your videos in After Effects, but we recommend you memorize the Hotkeys because it is one of the most used shortcuts in Adobe After Effects.
How to shorten video in After Effects by trimming:
Step 1 Import your video on After Effects or create a new composition and drag it to the existing timeline.
Step 2 To trim your video at the start or the end, hold the handlebars of your video on the Timeline and drag them to where you want to cut your video.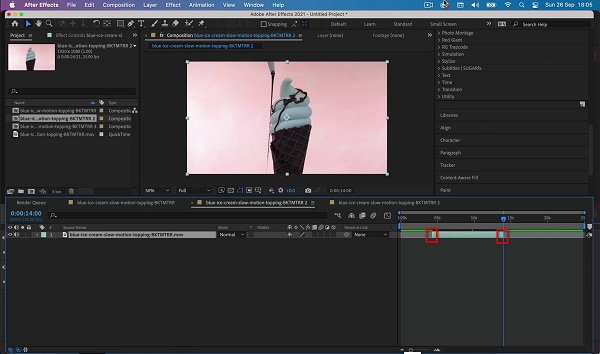 Step 3 You can also use these shortcut keys to trim the layer of your video. Press Alt + [ or Option + [ for trimming the beginning of the video, and Alt + ] or Option + ] for trimming the end of your video.
And that's the process for After Effects - cut video. It may not look straightforward, but you will surely get the hang of it after many tries. But if you prefer using another application for trimming or splitting your videos, read the next part.
Part 2. Best Alternative to After Effects
Aside from Adobe After Effects having a complex interface, it is also not free to use. Therefore, if you want to use another application for trimming your videos, which is free to use, then we have the best tool you are looking for. In this part, we will show you a great video trimming application and a tutorial on how to use it.
Tipard Video Converter Ultimate is among the list of the best video editing software that is free. Tipard Video Converter Ultimate is loaded with many advanced editing features that are helpful for editing videos. It has a video trimmer, video watermark remover, video reverser, color correction, and more from the Toolbox. Moreover, it supports over 500+ formats, like MP4, M4V, MOV, MKV, AVI, VOB, FLV, WebM, WMV, etc. And using its video trimmer feature, you can easily trim and split your video. It is a user-friendly software because it has an intuitive user interface. In addition, it allows you to batch trim/split your videos simultaneously. You can download Tipard Video Converter Ultimate on all media platforms, including Windows, Mac, and Linux.
How to clip videos in After Effects alternative:
Step 1 To begin, download Tipard Video Converter Ultimate on your desktop by clicking the Download button below. Install the app on your device, then open it immediately.
Step 2 After opening the app, go to the Toolbox panel on its main user interface and select the Video Trimmer function. On the video trimmer, you can trim and split your videos.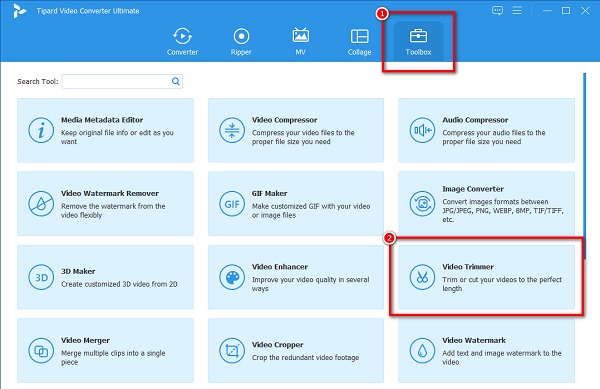 Step 3 To upload your video, click the plus (+) sign button or drag and drop your video to the plus sign box.
Step 4 Now, we will proceed with trimming your video. To cut your video, move the left handlebar to select the beginning of your video. Move the right handlebar to choose the end of your video.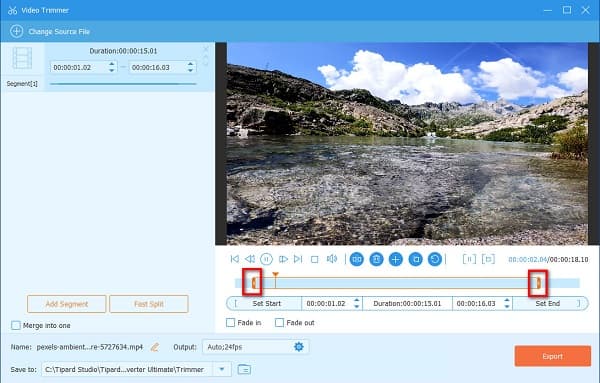 Optional. If you want to split your video, play it on the Timeline, and click the Split icon once it lands where you want to split your video.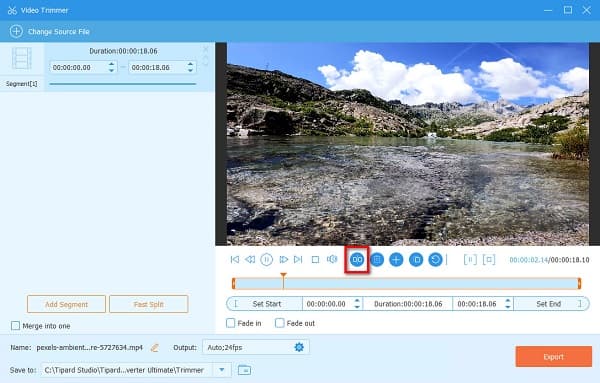 Step 5 And lastly, click the Export button to save your output on your device.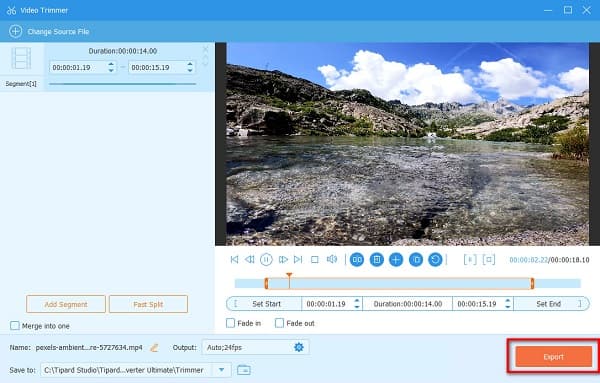 Part 3. Tips for Using After Effects to Trim Videos
After Effects is an unwieldy tool for video editing, and you must always minimize the editing process you are trying to do. In this section, we will present to you some of the most valuable tips for editing videos in Adobe After Effects.
Use Premiere Pro for Dynamic Linking
If you are editing many stock videos that you need to edit before applying effects, it is recommended that you start in Premiere Pro. But is that possible? - Yes! After Effects and Premiere Pro work together by using the dynamic linking system. You can edit your videos on Premiere Pro and add effects or animations in After Effects without exporting. You also can use Premiere to split video.
Naming Layer
Naming your layers on the Timeline as it keeps your project organized. Many video editors missed naming layers, creating havoc when labeling their layers. But when you name your layers, you can easily find and manipulate your layers.
Use Layer Locks
Another problem that many editors are experiencing in editing videos in After Effects is that they accidentally move or select the wrong layer. Although naming layers can resolve this issue, you cannot edit in that certain layer when you lock your layers. So, you should use the layer locks.
Part 4. FAQs about How to Cut A Video in After Effects
How much does After Effects cost?
You can purchase Adobe After Effects as a standalone app for $20.99/ AU$29.99 per month. And you can purchase After Effects as a part of an all-apps subscription for $52.99/ AU$76.99 per month.
Does splitting a video in After Effects affect the quality of your video?
Typically, Adobe After Effects does not affect the quality of your video when you split them.
Can you edit a shaky video in After Effects?
Yes. Adobe After Effects enables you to edit your shaky video by using the Warp Stabilizer.
Conclusion
Following the methods we presented above, you will know how to cut videos in After Effects. We hope that you can now trim, split, or cut your videos independently using After Effects. But if you want an easier way of splitting or trimming your videos, follow the part 2 method and download Tipard Video Converter UItimate now.