Easy Ways to Create 3D Text in After Effects
Creating a 3D text effect may be difficult for many people, especially if you do not have a tool to help you create one. Fortunately, we found an application to help you create a 3D text effect. Adobe After Effects is an industry-standard software, visual effect, and motion graphics application that allows you to create post-production films, video games, and television programs. And if you did not know, Adobe After Effects can also help you make a 3D text. So, in this article, you will know how you can easily make a 3D text in After Effects.

Part 1. What is a 3D Text
Nowadays, 3D text and videos are popular in the media industry because they create a good impression and pro impression on people who see them.
3D text is a three-dimensional text where you can see the text's height, width, and length. 3D text. Because of the characteristics of 3D text, they are often used on company names, logos, and even on TV programs. In the 3D text, you can change the thickness of the text and edit its color. Moreover, there is no denying that 3D text impacts TV movies, animations, and even clips; it makes a professional impression on viewers. Unlike 2D texts, where you can only observe a single point of view, in 3D texts, you will see a three-dimensional point of view.
Now that we are in the modern days, there are many ways you can create After Effects 3D texts. And if you desire to know how to create one, proceed to read the next part.
Part 2. How to Make a 3D Text in After Effects
Adobe After Effects is one of the best tools where you can create 3D text fascinatingly. Although it is hard to operate and will take you time to study, it is still an amazing application for creating an outstanding 3D text. And if you are a beginner in using Adobe After Effects, do not worry because we got your back covered. In this part, you will know the step-by-step procedure on how to make a 3D text in After Effects using two methods.
The new version of Adobe After Effects, Adobe After Effects CC 2017, has a new feature released, namely, Cinema 4D. So, we will teach you how to make a 3D text using the simple way and using the Cinema 4D.
Method 1: Simple Way to Make 3D Text in AE
Step 1Download the Adobe After Effects on your PC. Follow the installation process, and then run the app.
Step 2Using the Text Tool, type in your text. Write the text you want, but we will use the 3D word as a sample in this article.
Step 3And then, go to the layer switches on your text layer, then activate the 3D layer option. Tick the box located under the small cube. Then you will observe that you can now manipulate your 3D text.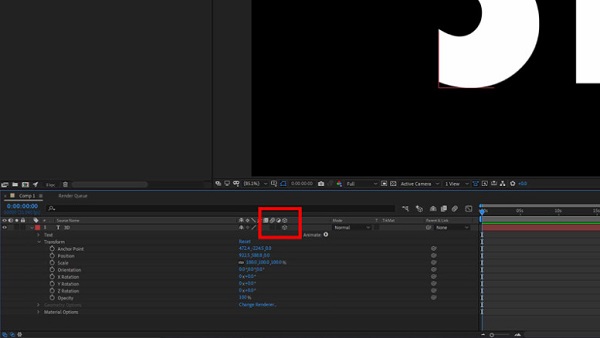 Step 4After clicking the 3D layer box, you can animate your text into 3D using the 3D transform properties.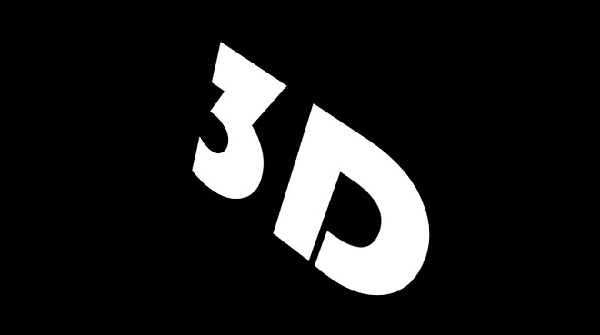 However, you will see that the 3D text that you created looks more like a 2D text because it has no depth.
Optional. If you want to individually animate every letter on your text into a 3D text, enable Per-Character 3D.
To activate this, write text using the text tool, then open the text layer properties. On the right side of your screen, you will see the Animate panel and click the playback button beside it. And then, select the Enable Per-character 3D.
Method 2. Create 3D Text in After Effects Using Cinema 4D Renderer
Using this second method will be more complicated than the previous one. But when using this method, you will be able to create a more professional 3D text. Below are the steps to create a 3D text using Cinema 4D Renderer.
Step 1On Adobe After Effects, change the Renderer. Instead of using Classic 3D, use the 4D Renderer. Go to the composition settings>3D Render>3D Renderer>Cinema 4D, then click OK.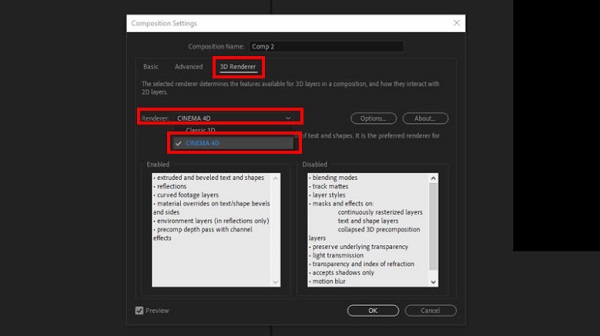 Step 2Next, on the 3D layer box, you will see two options, The Geometry Options and the Material Options. Open the Geometry Options and then adjust the Extrude Path. The Extrude Path will help you achieve the thickness that you desire. Set it to 200.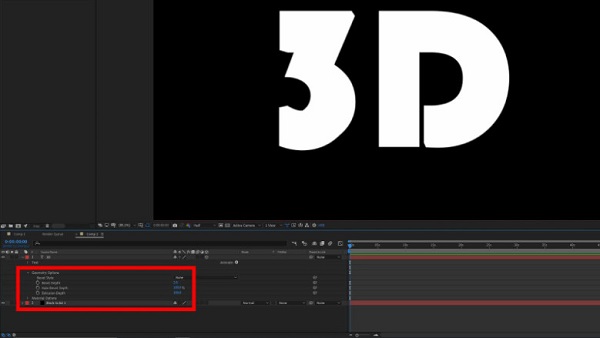 Step 3To further enhance your 3D text, create a Camera and Lights.
1. To create a camera in After Effects, go to New>Camera.
2. Use the 35 mm preset or choose whatever preset you like.
3. Name your camera, then click OK.
4. Using the Camera Tool, click the text and drag your cursor in any direction. You will see that the perspective will change.
5. In creating a light source, right-click on any surface, and then go to New>Light. A new tab will prompt where you can modify your text settings. To create shadows, you need to place the spotlights around the text.
6. Adjust the Bevel Style and Bevel Depth. Use Convex on the Bevel Depth and set it to 10.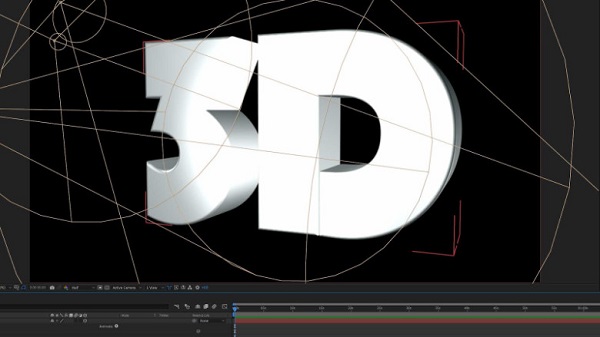 Step 4Lastly, add an Adjustment Layer. Then put a color correction on your 3D text to turn it into a more pro-looking 3D text.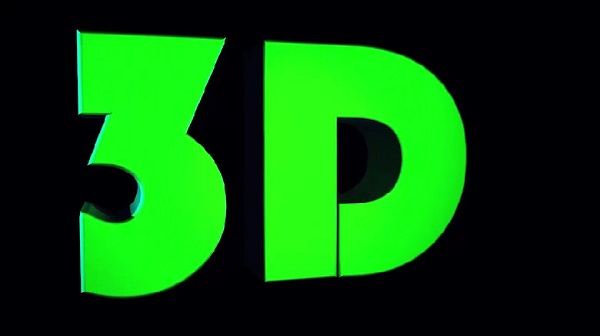 And that is how to make 3D effects and text in After Effects.
Part 3. Bonus: How to Make 3D Videos With the Ultimate Tool
Making a 3D video may sound complicated. But is there an application that will help you easily create a 3D video?
Tipard Video Converter Ultimate is a popular application for creating a 3D video. This tool has an intuitive user interface, making it a beginner-friendly tool. In addition, it can support numerous file formats, like MP4, MKV, AVI, FLV, MOV, and more. It also contains many advanced features, including a 3D maker, video merger, video speed controller, and more from the Toolbox. If you want to make a 3D video, follow the process below.
Step 1Download Tipard Video Converter UItimate by clicking the Download button below. And then, open the app.
Step 2Then, on the software's main interface, go to the Toolbox panel then click the 3D Maker.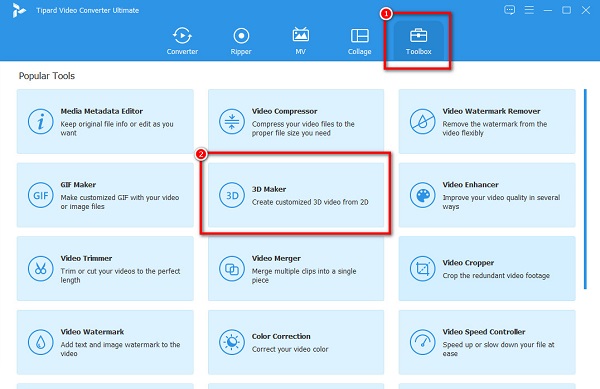 Step 3Next, click the + sign button and upload the video that you want to turn into 3D.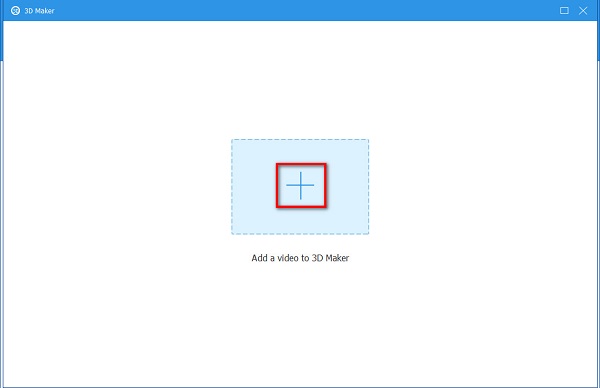 Step 4You will see the preview of your output 3D video, and when you are satisfied with it, click the Generate 3D button.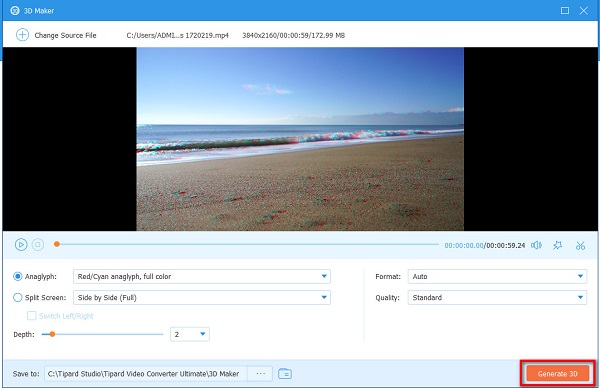 And that's it! As simple as 1-2-3, you can make a 3D video using Tipard Video Converter Ultimate.
Extended Reading:
How to Export After Effects Video as MP4 without Media Encoder
10 BEST 3D Movie Maker Software in (Verified & Recommended)
Part 4. FAQs about Making 3D in After Effects
Can you turn a 2D image into 3D in After Effects?
Yes. You can use the Projection 3D v2 plug-in to turn your 2D image to 3D in After Effects.
Can I create a 3D animation in After Effects?
Certainly! Adobe After Effects has many functions, including making a 3D video, 3D text, and 3D animations.
Is Adobe After Effects free?
No. Although you can crack free versions, it is not ideal to pirate applications. You must pay the app's subscription fee to download Adobe After Effects.
Conclusion
To sum it up, making a 3D text on Adobe After Effects will be easy if you can master the steps and methods above. Creating a 3D text in After Effects will help you achieve the professional-like output you desire. However, if you want to make a 3D video, you can easily use Tipard Video Converter Ultimate to create one.