Learn the Steps on How to Use GIMP to Remove Watermark
Nowadays, you will see many images on the internet that contain a watermark. People put watermarks on their images because they want to promote their brand to the viewers or prevent people from owning or stealing their photos. However, this becomes a problem for many. And that gave rise to many watermark removers on the internet. One of the most known watermark removers for pictures is GIMP. GIMP is an open-source photo editor that you can download to edit your images perfectly. But what many users are unaware of is that it can also remove watermarks on images. Therefore, in this guidepost, we will show you the steps to use GIMP to remove watermarks from photos.

Part 1. How to Use GIMP to Remove Watermark
GIMP, or GNU Image Manipulation Program, is a cross and open-source platform that enables you to edit your images professionally. It is one of the most known photo editors and a great alternative to Adobe Photoshop. If you are a graphic designer, photographer, illustrator, or student, you can use GIMP to edit your images sophisticatedly, as it provides the tools that you need. GIMP is a free photo editing application, so you do not need to fret about its limitations.
And did you know, with GIMP, you can also remove the watermarks from your images? Yes, you read that correctly! GIMP is available on almost all OS, like Windows and macOS. So, in this part, we will show you the steps to remove watermarks with GIMP.
Step 1GIMP is an offline photo editing application, so first, download and install it on your computer. After installing the app, launch it to start removing the watermark from your image.
Step 2And then, click the File tab at the upper left corner of the interface, and click Open. To upload your image, select it and open it.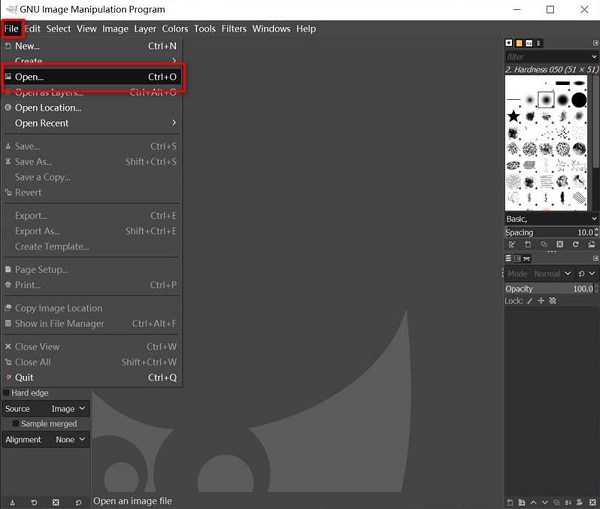 Step 3Next, on the list of tools, select the Clone Tool at the upper right corner of the interface. The Clone Tool is used to refix the image. Using this, we can copy the same portion of an image by holding the CTRL key on your keyboard, then paste it on the ruined or watermark part.

Step 4Then, find a region similar to the color and appearance of the watermark background, then put the cursor on it. Keep the CTRL key pressed on your keyboard, then left-click your mouse. Note that you can resize the region on the left side.)
Step 5Press the left key of your mouse, and hover it around the watermark. And then, the image from the copied region will fully cover the area you traced or selected.
And that is it! Those are the steps on how to remove a watermark in GIMP. Just follow the steps we've shown, and you are good to go.
Part 2. Best Alternatives to GIMP
Although GIMP seems like the best tool to remove any watermarks, there are easier methods and tools to remove watermarks. And in this part, we will show you two of the most outstanding alternatives to GIMP.
1. Tipard Image Watermark Remover Free Online
If you are searching for an easy-to-use watermark remover on the internet, then Tipard Image Watermark Remover is the tool for you. This online watermark remover allows you to remove watermarks in three ways. You can use the polygonal, lasso, and brush tools to remove watermarks. Moreover, it is AI-powered, so you will not have difficulty removing watermarks from images. What's even excellent about this software is that it does not leave any blurry parts on the image that you erased the watermark.
Furthermore, you can upload almost all image formats, like PNG, JPG, JPEG, and WebP. It also contains a crop feature to reduce the size of your image after removing the watermark. Also, it is accessible on all web browsers, including Google, Firefox, and Safari. So, if you are interested in using this amazing watermark remover, follow the instructions below.
Step 1Access your browser and search for Tipard Image Watermark Remover Free Online in the search box. You can tick this link to visit their main page directly.
Step 2Then, click the Select Photo button to add the image you want to remove the watermark. You can also drag-drop your photo from your computer files to the Select Photo area.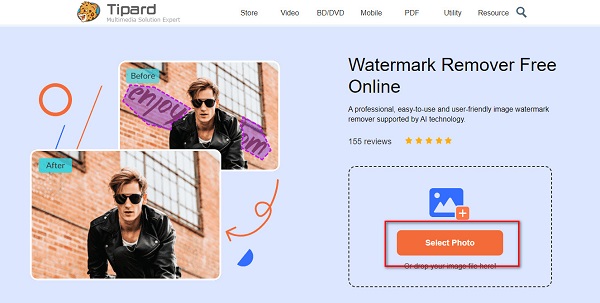 Step 3After uploading the image, select the remover tool you want to use to remove watermarks. The polygonal tool is used when you have an irregular size watermark. The lasso tool is used if you want to reduce watermark size. You can use the Brush tool to remove watermarks accurately.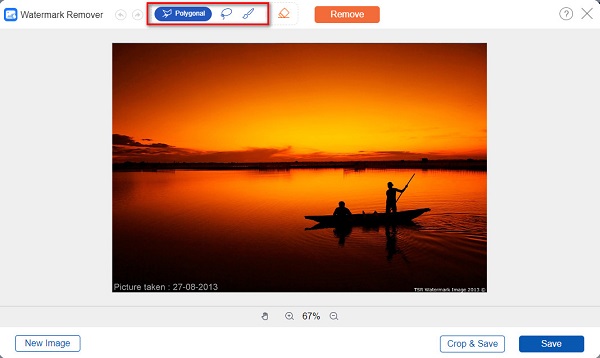 Step 4Next, select the watermark from your image until it is thoroughly selected. Then, click the Remove button to get rid of the watermark instantly.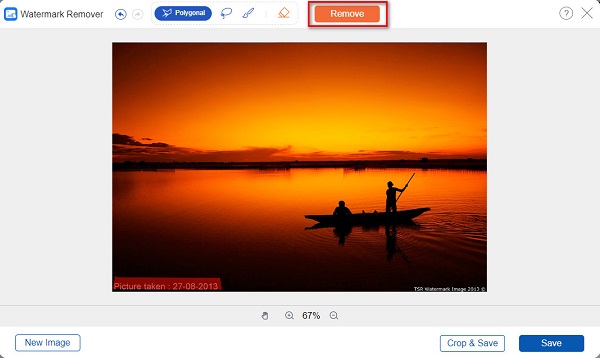 Step 5And voila! You will see on the preview that the watermark is clearly removed. Now, click the Save button to save your output on your device folders.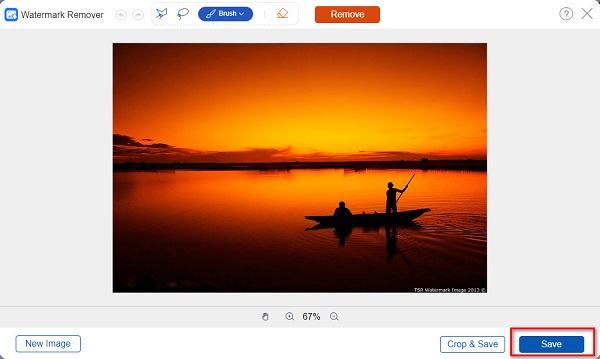 2. Wondershare Pixcut
Another online watermark remover you can use to remove watermarks is Wondershare Pixcut. This application can remove watermarks from images using its brush tool. You can change the brush size depending on the size of the watermark on your image. In addition, Wondershare Pixcut can also easily remove any unwanted objects on your images. It also has a simple user interface, which makes it a user-friendly application. However, Wondersahre Pixcut is an online application, and there are times that it has a slow uploading process. Nonetheless, it's still a great app to remove watermarks.
Step 1On your browser, search for Wondershare Pixcut and go to the main page. Then, click the Remove Watermark Now button on the main user interface.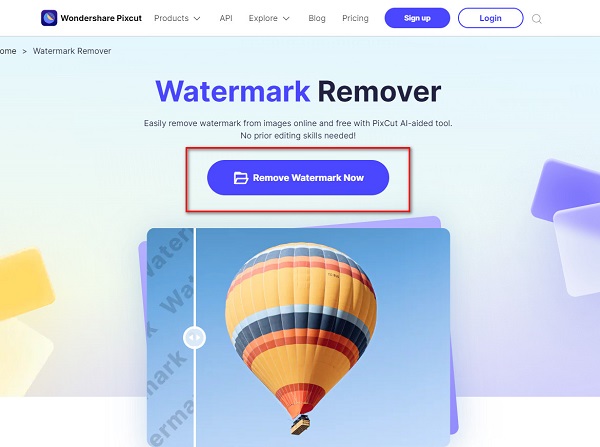 Step 2Click the Upload Image, then upload the image file. And then click the Select option and start selecting the watermark using the brush tool.

Step 3Lastly, click the Remove Objects button, and Download the output image. You need to sign in for an account before you can erase the watermark from your picture.
Part 3. FAQs about How to Use GIMP to Remove Watermark
Can I use GIMP on Mac?
Yes, you can. Version 2.8.2 of GIMP natively runs on Mac. So, if you are among the people who want to use GIMP on Mac, then you can download it for free.
Is GIMP the best alternative to Photoshop?
GIMP is one of the best and most free alternatives to Photoshop. If you are searching for a cheaper photo editor, then GIMP is one of the best options.
What are the disadvantages of using GIMP?
You cannot select multiple layers.
It crashes occasionally.
The layers take a lot of work to arrange.
You cannot add effects to edible texts.
Conclusion
Indeed, it is not hard to use GIMP to remove watermarks from photos. With its easy-to-use interface and advanced editing tools, you will surely enjoy using this application. But if you want an easier way to remove watermarks, and if you want to remove watermarks online, use Tipard Image Watermark Remover Free Online.