Magic DVD Ripper Review and Best Alternatives

Magic DVD Ripper is one of best DVD Ripping software on market. When we choose a DVD ripping application for our computers, the first thing we should consider is output quality. Professional DVD rippers, such as Magic DVD Ripper Pro, could produce high image quality during DVD ripping. Moreover, we are more likely to watch videos on mobile devices, so we expect a DVD ripper could encode DVD videos to portable devices supported formats. Although the program is an excellent DVD ripping application, it is not perfect and appropriate for everyone. Therefore, we are going to share the latest review about this DVD ripping program and its best alternatives in this post.
Part 1. Introduction and review
Magic DVD Ripper Pro a paid DVD ripping program, but it still has many features worth to use.
1. It has the capacity to back up full DVD content to local hard drive, including subtitles, DVD menu, chapters and other meta-information.
2. Or you can transcode DVD videos to various popular media formats, like AVI, MP4, VCD, SVCD and more.
3. It could rip most commercial DVD movies to digital videos and save to hard disk.
4. The DVD compression feature could compress a large capacity DVD for 4.7 GB disc.
5. It also supports to splitting DVD-9 into two DVD-5 discs.
Pros

1. The interface is well designed and easy to navigate.
2. It is able to break and remove the latest copy protections.
3. The image quality of ripped videos is OK.
Cons

1. It takes longer time to rip a DVD compared to the competition.
2. Custom options are limited.
Part 2. The Best Magic DVD Ripper Alternatives
1. Tipard DVD Ripper
Tipard DVD Ripper is a professional DVD ripping program, as well. Compared to Magic DVD Ripper, it is suitable for a wider range of audiences.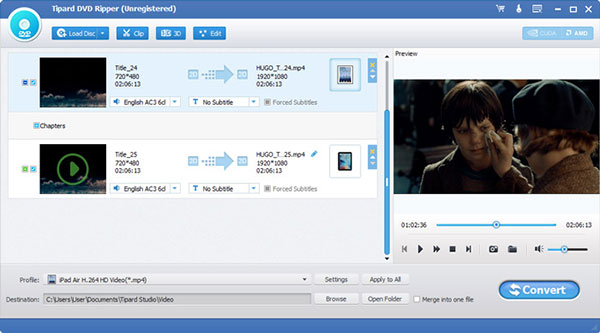 1. Average people could use it to rip any DVD easily with the presets feature; while advanced users could control DVD ripping through extensive custom options.
2. This DVD ripping application is able to remove any restrictions from DVD, like encryptions, copy protections or region codes.
3. The compatible output formats include MP4, MKV, MOV, AVI, FLV, WMV and hundreds of video and audio formats.
4. It also has the capacity to transcode DVD videos for portable devices and websites, such as iPhone, iPad, Android phones,etc.
5. The ripped video quality is highest among DVD rippers available on market.
6. Tipard DVD Ripper has integrated video editor and offers plentiful video editing tools.
In a word, everyone will discover that this DVD ripper is helpful, no matter your computer runs Windows or Mac OS X.
2. WonderFox DVD Ripper Pro
WonderFox DVD Ripper Pro is another alternative of Magic DVD Ripper for both personal and business use. WonderFox DVD Ripper Pro's features include:
1. 1. Rip DVD movies to MP4, AVI, MKV, MOV, WMV and MPG.
2. Compress DVD content to digital videos on Windows operating systems.
3. Remove region code from DVDs or bypass various copy protections on commercial DVDs.
4. Encode DVD videos for variety of devices, like mobile devices, PCs and TVs.
Pros

1. The DVD ripping speed is higher compared to the competition.
2. It supports to optimize DVD video for various targeting devices.
3. Advanced users could adjust extensive custom profiles.
Cons

1. It is only compatible with Windows operating systems.
2. The output formats are limited.
3. Custom options make beginners confused and frustrated.
3. MediaCoder
MediaCoder is the only freeware on the list of best Magic DVD Ripper alternatives, partly because it could rip DVD movies to high quality videos. Other features include:
1. Rip unencrypted BD/DVD/VCD/CD to variety of digital video and audio formats.
2. Convert and encode DVD content to high quality videos.
3. Embedded useful video editing tools to crop, merge or trim DVD videos.
4. Capture videos from cameras and other external devices.
Pros

1. MediaCoder is a free DVD ripper.
2. Users could control output quality and DVD ripping through plentiful parameters.
3. It supports multi-thread and ripping speed is faster.
Cons

1. It cannot rip commercial DVDs.
2. The custom parameters are complicated to beginners.
4. AnyDVD HD
AnyDVD HD is a paid DVD ripping program too. This best Magic DVD Ripper alternative is a good choice for ripping latest commercial DVD movies. Its basic features include:
1. AnyDVD HD could remove and break most encryptions and protections, for update frequently.
2. It has the capacity to rip DVDs, Blu-ray discs and other optical discs to digital videos and audios.
3. Users could decide to copy full DVD or rip main movie to local hard drive.
4. It has the ability to work on-the-fly without storing data onto hard drives.
Pros

1. It could remove the latest encryptions from commercial DVDs and handle a wider range of encryptions and restrictions.
2. AnyDVD HD works well with other DVD utilities.
Cons

1. Update is too frequently and annoying.
2. It needs other software to back up DVDs
5. Aimersoft DVD Ripper
Aimersoft DVD Ripper is another well-designed DVD ripping application. As an alternative, it has most features similar to Magic DVD Ripper.
1. It has the capacity to rip DVD movie to digital media formats, such as AVI, MP4, WMV, MOV, FLV, MKV, 3GP, MPEG and more.
2. This DVD ripper is able to rip and bypass DVD encryptions, protections, region codes and other restrictions.
3. It also supports to transcode DVD videos for iPad, iPhone and other mobile devices.
4. Users could extract music and sound from DVD movies with this program.
Pros

1. The output quality produced by Aimersoft DVD Ripper is among high rank.
2. It supports various output formats, including commonly-used and rare-used.
3. Easy-to-use features make it accessible to the average customers.
Cons

1. It does not support to rip a DVD to ISO image or DVD folder.
Conclusion
In this article, we have introduced one of the best DVD ripping applications, Magic DVD Ripper. As its name said, Magic DVD Ripper offers many features to make ripping DVD like a magic; however, as a professional DVD ripping application, it does not offer many custom options for advanced users. So, we identified and share top five alternatives for Magic DVD Ripper in the second part. Magic DVD Ripper and Aimersoft DVD Ripper are commercial DVD rippers provide extensive features. MediaCoder is not only a media converter, but also a free DVD ripper. AnyDVD HD has excellent capacity of removing DVD protections. If you are looking for the most cost-effective choice, we will recommend Tipard DVD Ripper.

Click here to join the discussion and share your comments