What WinX DVD Ripper Platinum Is and Its Best Alternative
If you are about to convert your DVDs into regular digital formats, then you must know about WinX DVD Ripper. It is what many recommend, for it is a popular DVD-ripping software that they say can transcode DVDs into high-quality digital videos. Thus, you will have the chance to meet it on your own as this article brings you everything you need to know about it. That being said, see if it is a must-have for you, or perhaps you will need something better as you will also meet an alternative. All of these when you read the entire article below.

Part 1. An Overview of WinX DVD Ripper
To start this WinX DVD Ripper review, let us have an overview of it. What is this tool? As its name suggests, it is a ripping software that is popularly known due to its capacity to convert DVDs into digital formats. Furthermore, this program has extensive support for commercial and DVDs. Along with this support, it can also work with all types of DVD formats, such as DVD+R, DVD-R, DVD-RW, DVD+RW, ISO files, TS folders, etc. This DVD ripper claims to have easier editing, sharing, and backup of DVDs as the main reasons for using it.
Part 2. Key Functions of WinX DVD Ripper
This part contains the program's key functions that will enable you to discover the answer to your question about how good WinX DVD Ripper is.
1. DVD Ripper
As the main function of this program, ripping is the best function of this WinX. This tool has the ability to extract DVDs to almost all popular formats, such as MP4, MOV, WMV, AVI, MPEG, FLV, and many more.
2. Back-Up DVD
It has the feature to let its users backup their DVDs.
3. Customize While Ripping
It provides its users with some customization options allowing them to flexibly customize the settings on the conversion process.
Part 3. How to Use WinX DVD Ripper
Of course, this article won't be complete if you will not see or learn how to use WinX DVD Ripper. Thus, after installing it on your computer, you can take action in the steps provided below.
Step 1Run the software on your PC, and when its interface is shown, click the DVD button to load the DVD you inserted in your optical drive before you even launch the software.
Step 2When your DVD is loaded, the next thing to do is to choose a video format for your output. Meanwhile, during this process, you can also navigate to the customization options to make your output nice.
Step 3Once done with the customization, click the OK button. Then, hit the RUN button to start the ripping process.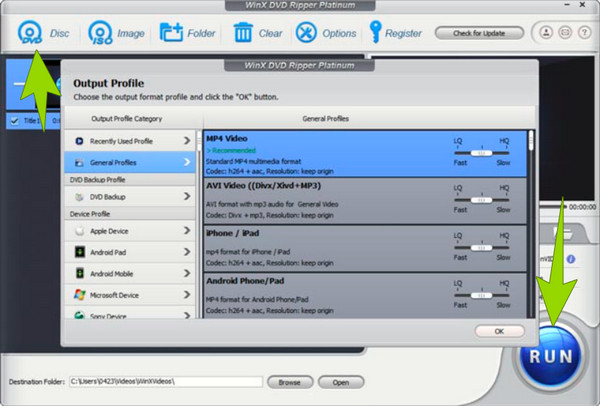 Part 4. Is WinX DVD Ripper Safe
If you are half-hearted about downloading this DVD ripper since you do not know if it is safe to get, then this is what we have for you. WinX has a reputation for providing its users with a safe installation process. However, many sources from the web offer this DVD ripper for download. Hence, if you want a safe acquisition of WinX, then make sure to get it only from its official website.
Part 5. Is WinX DVD Ripper Free
One of the reasons why users get specific software is because it offers a free service. Therefore, if you are curious to know if WinX DVD is free, then here is a fact. WinX DVD Ripper used to have a free version as standalone software, which eventually vanished. On the other hand, you can still get its Platinum version which comes with a free trial. However, this free trial will only allow you to rip a DVD into a video with five minutes duration. Hence, below are the prices and versions of WinX DVD Ripper.
Premium License: $34.95.
Ultimate License: $59.95.
4-in-1 Bundle: $144.95.
Part 6. Best Alternative to WinX DVD Ripper
With WinX's limitations, we will not be surprised if you prefer to have another ripper instead. That being said, allow us to present you with this Tipard DVD Ripper, the best WinX DVD Ripper alternative. It is a ripper that doesn't only allow you to rip DVDs to digital video formats that the other tool does but also lets you produce from ISO and folders. Furthermore, this amazing ripper provides you with advanced customization and features for various functions. It features a 30x faster ripping speed due to the acceleration technology infusion. Moreover, you can also lavish its functions to make 3Ds and GIFs while letting you compress and enhance the videos using Artificial Intelligence technology.
If you wonder how wide its range is on its supported video format, this software endorses more than 500 formats. Aside from that, it also lets you rip the DVD into digital devices such as Samsung, HTC, Apple TV, iPad, iPhone X, XR, and recent ones. Thus, to provide you with a much simpler and quick way to rip DVDs, here are the detailed steps you can follow.
Step 1Freely download Tipard DVD Ripper onto your computer, and start inserting the disc into the DVD drive.
Step 2Open the software and click the Load DVD button or the Plus tab to load the disc. Then, select an option for how you want the title to be shown.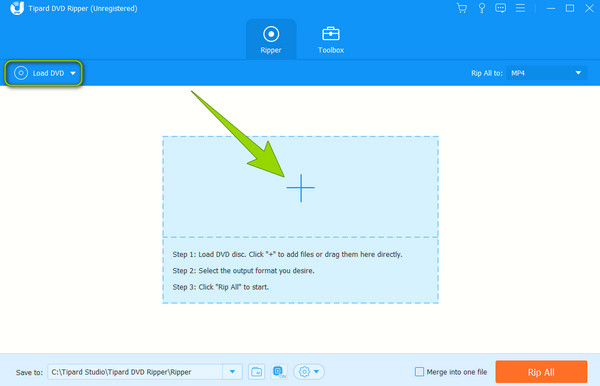 Step 3After that, reach the Arrow button on the Rip All To section to pop up the window where the video formats are. Choose the one you desire, then select the resolution type as well.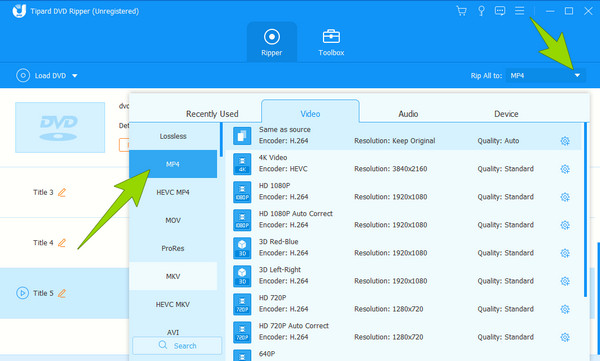 Step 4Then, hit the Rip All button to rip the DVD with this WinX DVD Ripper alternative.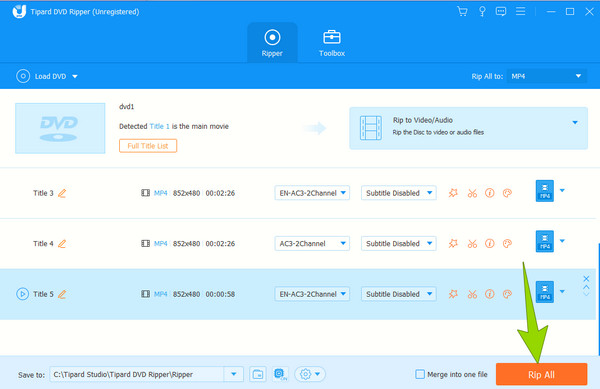 Part 7. FAQs About WinX DVD Ripper
HandBrake vs. WinX DVD Ripper, which is better?
The answer to this question will always depend on the use. Both WinX and HandBrake are good. But based on our experience in terms of ISO conversion, WinX was able to produce much better quality.
Does Windows 10 have a DVD ripper?
No. Windows 10 computers do not have a built-in DVD ripper, but you can burn DVDs through them.
How long does it take to rip a DVD with WinX DVD Ripper?
Ripping a DVD with the WinX DVD Ripper will only take roughly five minutes. But it still depends on the duration of the DVD.
Conclusion
There you have it, the helpful review of WinX DVD Ripper. If you want to transform your DVD movies into digital videos, then you can acquire them. However, if you are not satisfied with what WinX offers you, then have the Tipard DVD Ripper, for it offers more while producing a much higher video quality for you to watch.