Aimersoft DVD Ripper and the Best Alternatives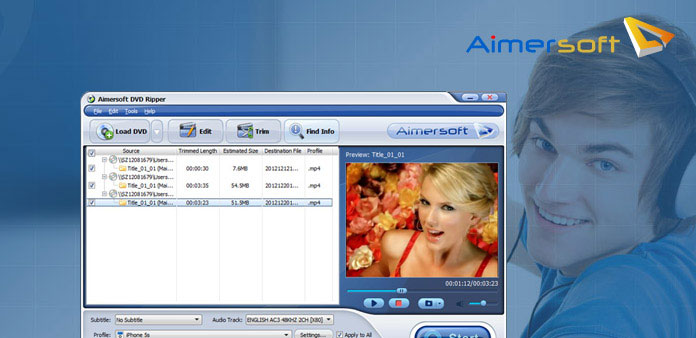 Aimersoft DVD Ripper is the DVD ripping software developed by Aimersoft. As a solid application, you can use the program to rip DVDs to digital videos and audio formats and store to hard drives. When you choose a utility to rip DVDs, you must want to use an appropriate program. It is a big challenge to identify the most appropriate one to ordinary people. Therefore, we have collected millions of users' reports and tested the most popular DVD rippers available on market. In this post, we will share the review of Aimersoft DVD Ripper alternatives.
Part 1. Aimersoft DVD Ripper review
When we test DVD ripping software, we usually focus on the cost, the GUI, stability, video edit, input sources, output formats and more. Based on our survey, DVD Ripper of Aimersoft is one of the best DVDs ripping software, although it has some disadvantages.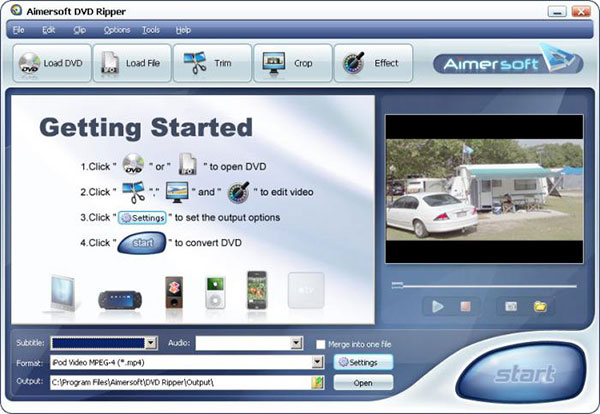 Pros
1. With this software, you can convert a DVD movie to any formats, such as AVI, MP4, WMV, MOV, FLV, MKV, 3GP, MPEG and more.
2. It is able to rip DVDs to iPad, iPhone and other portable devices.
3. This DVD ripper has the capacity to rip videos from DVD and convert them for streaming online.
4. Users could extract audio tracks from DVDs to MP3, WMA and other audio file formats.
5. The intuitive interface makes it accessible to the average users.
6. It provides several basic video editing tools.
Cons
1. It does not support to rip a DVD to ISO image or DVD folder.
2. The output quality is not as great as developer described.
Part 2. Top 5 Alternatives for Aimersoft DVD Ripper
Considering there are several shortcomings of Aimersoft DVD Ripper, we tend to recommend some best alternatives in this part.
1. Tipard DVD Ripper
Tipard DVD Ripper is one of the best DVDs ripping software on market, which allows users to back up DVD to DVD, ISO file, media folder or video and audio files.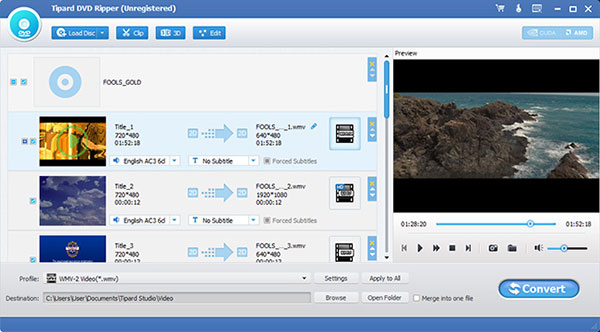 1. DVD Ripper is able to rip any DVDs to MKV, MP4, MOV, AVI, FLV, WMV, MPEG, 3GP, MP3, WAV, WMA, AAC, FLAC and more than 300 video and audio formats.
2. Moreover, it could rip DVDs for portable devices, such as iPhone, iPad, iPod, Android phone and consoles.
3. After DVD ripping, you can edit video clips and enhance video quality with extensive built-in tools.
4. Since it has a straightforward interface and well-designed features, you can get user-friendly experiences during DVD ripping.
2. DVD Decrypter
Although DVD Decrypter is a freeware, its excellent features make this DVD ripper professional rank. And DVD Decrypter is a good choice for beginners.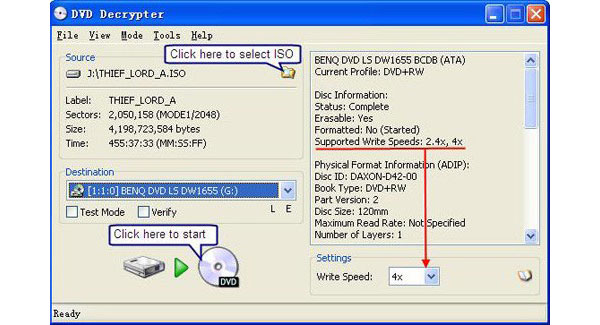 Pros
1. DVD Decrypter has a concise interface. All features you need to rip DVD are on the interface.
2. The DVD ripping speed is rather high. You just need to wait for a while to back up a DVD to your computer.
3. You can decide to rip the entire DVD or any part of the disk with the custom settings.
4. DVD Decrypter is able to rip encrypted DVDs as well, like commercial DVDs or DVDs with region code.
5. This Aimersoft DVD Ripper alternative is totally free and without ads, if you download from trustable sources.
Cons
1. It is only available to Windows.
2. There is no helping document.
3. WinX DVD Ripper Platinum
WinX DVD Ripper Platinum is a high-end DVD ripper for Windows users. You can try free trail for 30 days and the full version needs to pay for $60.00. Although this Aimersoft DVD Ripper alternative is expensive, it is still one of the best DVD rippers.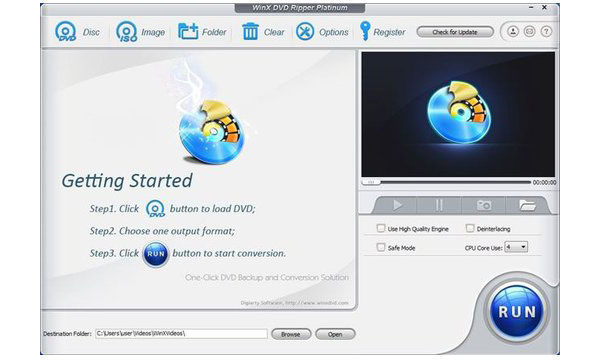 Pros
1. With WinX DVD Ripper Platinum, you can rip any DVD to hard drives, like standard DVDs, HD DVDs, and so on.
2. WinX DVD Ripper Platinum allows you to decide to convert DVD to ISO file in 1:1 ratio or rip DVD to digital videos at AVI, MP4 MPEG, WMV, AVC and other formats.
3. Compared to other DVD rippers, WinX DVD Ripper Platinum provides more output options to rip your DVD, like ISO, DVD folder, digital files and portable devices.
Cons
1. WinX DVD Ripper Platinum only has limited video editing features and lack of watermark and other adjustment options.
2. Compared to features, price is expensive.
4. FFmpeg
FFmpeg is the only command line DVD ripper on the top alternative list. For advanced Mac users, FFmpeg is the easiest way to convert DVDs digital files and save to local hard drives.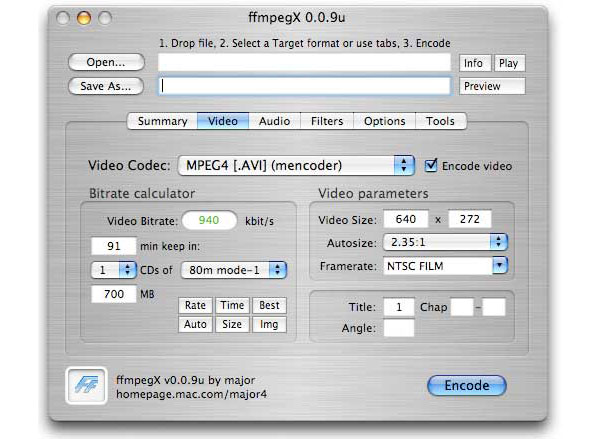 Pros
1. FFmpeg supports a wide range of media formats, like mp3, AAC, mpeg-4, wmv3, ProRes, QuickTime, SWF, Speex, FLAC, VP9 and more.
2. In addition to rip DVDs, you can stream videos or audios within FFmpeg. It is compatible with multiple streaming protocols, such as http, ftp, rtmp, rtsp and hls.
3. You can use command line to crop videos or merge videos and audios from different sources.
4. this Aimersoft DVD Ripper alternative is an open source project and free to use.
Cons
1. If you do not have a front-end, FFmpeg is not convenient to use at all.
5. MakeMKV
MakeMKV is another open-source Aimersoft DVD Ripper alternative. As its name said, MakeMKV is able to rip any DVD to MKV videos.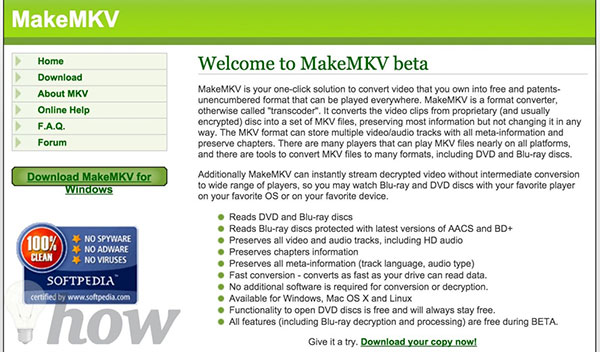 Pros
1. This DVD ripper supports to convert encrypted and commercial DVDs or Blu-ray discs to MKV files.
2. It takes shorter time to rip DVDs and create high quality MKV videos.
3. Developers update and maintain this DVD ripper regularly, so you can enjoy its solid functions well.
4. MakeMKV is a cross-platform DVD ripper available to Windows, Mac OS and Linux.
Cons
1. If you want to rip Blu-ray discs, you have to pay for upgrade.
2. In addition to MKV, no other formats available to choose.
Conclusion
In this introduction, we shared the review about Aimersoft DVD Ripper. Although there are some shortcomings, it is still one of the best DVD rippers on market. If you are searching for another choice, you can learn more information on the second part, the best alternatives. DVD Decrypter is a free-charge DVD ripper that could provide as extensive features as paid ones. WinX DVD Ripper Platinum is the best alternative for Windows users, although the price is a little high. FFmpeg uses command line to rip and convert DVDs to digital formats. And MakeMKV is the best cross-platform choice. For the people looking for a smart choice, Tipard DVD Ripper is the best Aimersoft DVD Ripper alternative. You can enjoy the highest quality of outputs with DVD Ripper.