Top 5 Free DVD Ripper Software on Windows and Mac

A DVD ripper is usually used for converting the video and audio content from a DVD to PCs in AVI, MP4, WMV or other commonly used media formats. The ripped files could be saved in hard drive for further editing, sharing, watching and backup without physical discs. If you have a collection of home DVDs, DVD movies and video DVDs, you will want to rip the entire DVD content or several video clips to PC or back up them to cloud services. We are going to share top 5 free DVD rippers to help you encode DVD content to local hard drives in this article.
1. HandBrake
Handbrake is an open-source DVD ripper. That means you can use it to rip DVD content without paying a penny. Its free-to-use features include:
1. You can rip the movies on unprotected DVDs to different formats.
2. Handbrake support to rip multiple DVD videos in batch. It will create a queue and transcode the videos one by one.
3. You can add subtitles or create chapters to any video during DVD ripping.
4. It has the capacity to extract audio tracks from DVDs and encode to digital audio formats.
Pros

1. This free DVD ripper software is compatible with a wider range of input and output formats.
2. It is able to optimize ripped videos for portable devices.
3. The output quality is as good as most paid DVD rippers.
Cons

1. Handbrake can be challenging for beginners, for extensive settings, like codec, framerate and more.
2. The Blu-ray ripping feature is not free to use.
3. You will need extra software to break encrypted DVDs.
2. FFmpeg
FFmpeg is the only DVD ripper on the top list supports command line. For tech savvy, FFmpeg is the easiest way to rip DVDs to digital files. Other features of FFmpeg include:
1. This free DVD ripper is able to encode and rip DVDs to popular media formats, like mp3, AAC, MP4, wmv3, ProRes, QuickTime, SWF, Speex, FLAC, VP9, and so on.
2. User can stream videos or audios within FFmpeg after DVD ripping.
3. It also has the capacity to crop videos or merge videos and audios from different sources.
4. FFmpeg offers several video filters to personalize ripped videos.
Pros

1. It is compatible with variety of popular video and audio formats.
2. FFmpeg supports multiple streaming protocols too, such as http, ftp, rtmp, rtsp and hls.
3. This DVD ripper is available to Windows, Mac OS X and Linux.
Cons

1. For ordinary people, its command line and custom options are complicated.
3. MediaCoder
MediaCoder is more than a media transcoding program. It is also a free DVD ripper and converter for Windows. Its features include:
1. Rip unencrypted BD/DVD/VCD/CD to digital video and audio files.
2. Convert between most commonly used audio and video formats.
3. Offer plentiful filters to enhance audio and video contents.
4. Extract audio tracks from video DVDs.
Pros

1. This free DVD ripper supports multi-thread and ripping speed is faster.
2. It allows you to control the DVD ripping process and outputs through extensive custom options.
Cons

1. MediaCoder is not compatible with Mac OS X.
2. It cannot rip copy-protected DVDs
3. This DVD ripping utility is a little complicated to beginners.
4. iSquint
iSquint is a simple DVD ripping application for Mac OS X. It works well on Mac computers.
1. This free DVD ripper is able to rip DVDs to MP4 and save in local hard disk.
2. iSquint has the capacity to rip DVDs and optimize DVD videos for iPod and Apple TV.
3. It can upload the MP4 files to iTunes automatically after DVD ripping.
4. The H. 264 encoding feature could produce better output quality.
Pros

1. The interface is user friendly.
2. It includes advanced settings for tech savvy.
3. Ripping speed is faster.
Cons

1. Although iSquint is free of charge, the update is paid.
2. Audio conversion is not always great.
5. Freemake Video Converter
Freemake Video Converter is a simple DVD ripper for Windows. For beginners, this free DVD ripper is a good choice to rip home DVDs to digital videos.
1. Freemake Video Converter could rip and encode unencrypted DVDs to various digital video formats, such as AVI, MP4, WMV, 3GP and more.
2. The built-in editor allows users to personalize DVD videos.
3. It could extract audio tracks from DVDs and transcode to MP3.
4. This DVD ripper has the capacity to encode DVD contents for mobile devices and game consoles.
Pros

1. It supports most popular video and audio formats.
2. Users could set output quality, like 1080p, 720p, TV quality or mobile quality.
3. The ripping speed is rather high.
Cons

1. It cannot handle commercial DVDs and encrypted discs.
2. Users cannot add subtitles or create chapters on DVD videos.
The most cost-effective DVD ripper
As you can see, freeware has many shortcomings. Most free DVD rippers cannot remove encryptions and restrictions from commercial discs. The output quality is not always great. Moreover, majority of free DVD rippers lack some necessary features, such as video editor. If you need an excellent DVD ripper, we recommend Tipard DVD Ripper. With this smart DVD ripper, you can get more useful features.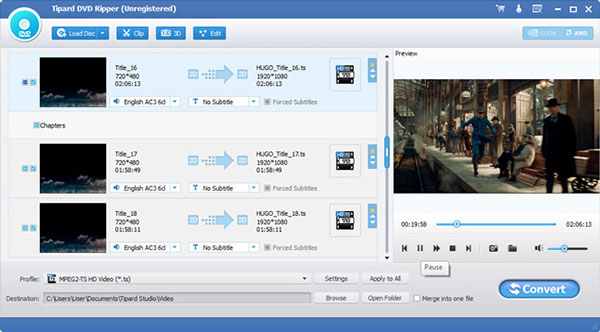 1. DVD Ripper has the ability to break and remove almost all encryptions and restrictions from commercial DVDs, including the latest encryption system.
2. The output formats compatible with DVD Ripper are more than 300.
3. It is able to rip and optimize DVD videos for portable devices or websites, like iPhone, iPad, Android phones, and YouTube.
4. The built-in video editor could crop and trim videos, add watermark or effect on ripped videos.
5. DVD Ripper will produce highest output quality during DVD ripping at higher speed.
Everyone could enjoy its powerful features, no matter your computer runs Windows or Mac OS X.
Conclusion
If you are a movie enthusiast or have plentiful family video DVDs, you will need a DVD ripper for your computer. As DVD sales collapsing, many analysists predicted that DVD is dead. Currently, people are more likely to save media files to cloud services, such as iCloud, Google Drive, Dropbox and more. It makes sense, when you consider that people spend more and more time to watch videos on mobile devices. Compared to physical media, cloud services are more portable and convenient. Free DVD ripper download could help you encode DVDs to digital files. And in this article, we identified and share the best free DVD ripper available on market. If you need a more powerful DVD ripper, you should try Tipard DVD Ripper.