4 Best Methods to Convert or Export iMovie Projects to MP4 Format
It is well-known that iMovie is the video editor developed by Apple for macOS and iOS devices. Apple customers can enjoy this app and a full set of impressive features for free without ads or other restrictions. With iMovie, you are able to enhance and modify video color, crop, trim, and rotate footages, etc.
However, iMovie is not a perfect video editor. The limited output format, for example, is the biggest pain of iMovie. Compared to MOV, MP4 is more internet friendly and compatible with extensive devices. Therefore, this guide wishes to share multiple methods to save iMovie projects as MP4.

Part 1. Ultimate Way to Export iMovie Project to MP4
Though iMovie projects are friendly on macOS, it is hard to open them on Windows. Sometimes, you need a powerful tool to convert iMovie projects to MP4 format on Windows or Mac. From this point, we recommend Tipard Video Converter Ultimate.
1. Convert iMovie projects to MP4 or other video formats.
2. Keep the original quality while converting iMovie.
3. Batch process more than one iMovie projects at one time.
4. Offer extensive video editing tools, like crop, rotate, trim, etc.
5. Work well on Windows 10/8/7 and Mac OS X.
In brief, it is the best iMovie to MP4 converter you can find on market no matter you are using Windows or Mac.
How to Convert iMovie to MP3 on Windows
Step 1
Import iMovie projects
Launch the best iMovie to MP4 converter after you install it to your computer. There is another version for Mac. Then click Add Files menu at the upper left corner to import the iMovie projects. Alternatively, drag and drop the project files into the interface directly.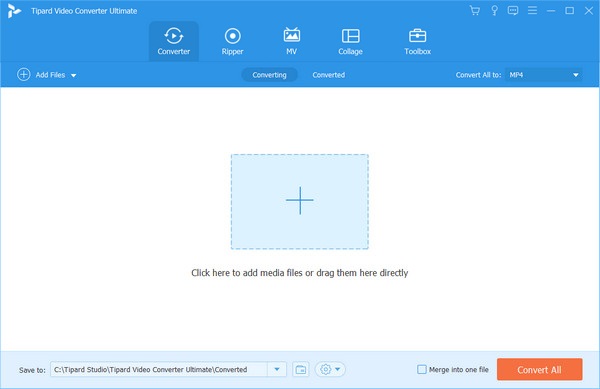 Step 2
Set MP4 as the output format
Click the Format option on the first project file to trigger the Profile dialog. Go to the Video tab, select MP4 from the left side, and choose the proper resolution. You can adjust the parameters by hitting the Gear icon. Then click the main interface to close the popup dialog. Now, repeat the process to set other project files.
Step 3
Convert iMovie to MP4
Locate the bottom area, click the Folder icon and set a specific folder to save the output. Finally, click the Convert All button to start converting iMovie to MP4 immediately. It relies on hardware acceleration to improve the performance, so it only takes a few minutes to handle dozens of iMovie projects.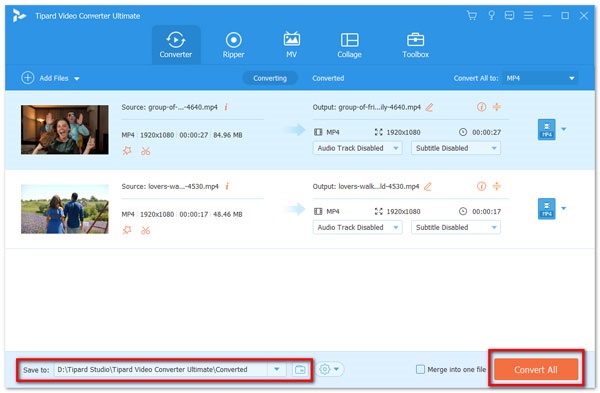 Part 2. How to Export iMovie Project to MP4
If you are using macOS or iOS devices, you might still not be aware of the fact that iMovie has the capacity to export projects to MP4. More importantly, you can decide the output quality when exporting iMovie to MP4.
Step 1Run iMovie, and go to the File menu, select Share and then choose File after you are editing the iMovie project. (Cannot see iMovie? Just download iMovie firstly.)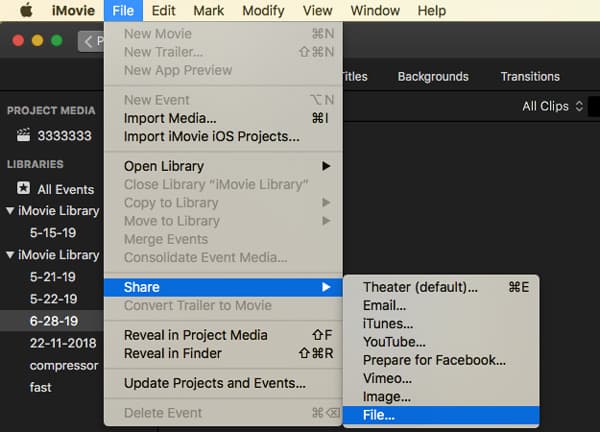 Step 2On the popup dialog, enter a title and description for the video. Plus, you can set tags, change resolution and more. When it comes to Quality, Low is preferred for uploading to Internet, Medium is usually selected if you do not want to compromise on the video quality, and Hight is perfect to create a movie.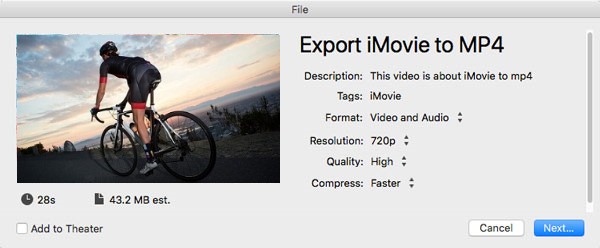 Step 3Click the Next button to open the next dialog, and leave a filename for the video in the Save As File field. Select the destination location and click Save button to export iMovie to MP4.
Note: This is the easiest way to save iMovie as MP4, but you must have a macOS device. On the other hand, the process involves changing the structure of your video. In result, you video may be corrupted. So, we suggest you to save the iMovie project before exporting to MP4.
Part 3. Save iMovie to MP4 with QuickTime
QuickTime is the native media player on macOS. It is another way to save iMovie to an MP4 file. In fact, you do not really open the media player but just use the Export using QuickTime option in iMovie.
Step 1Go to the Share menu after editing the movie in iMovie, and select Export using QuickTime. That will take you to the Save exported file as dialog.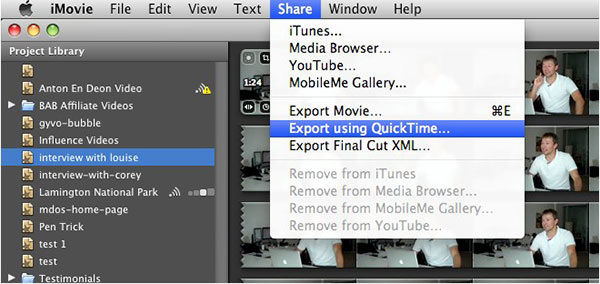 Step 2Expand the Export drop-down list and select Movie to MPEG-4. Next, name the video in the Save As box and select a location to save the file.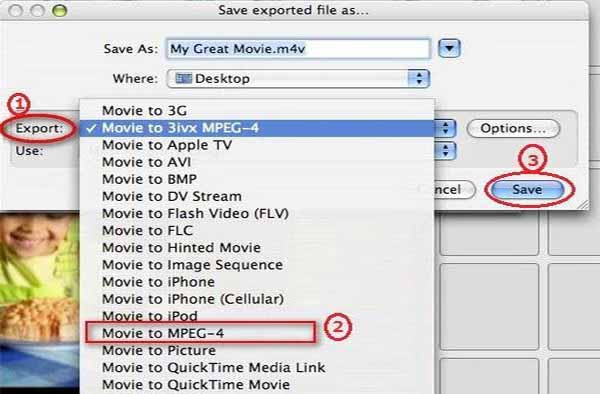 Step 3Optionally, click the Options button to open the Movie Settings dialog. Here you can change aspect ratio, video and audio quality and other options. Click OK to confirm it.
Step 4Hit the Save button on the Save exported file as dialog to initiate saving iMovie to MP4.
Part 4. Convert iMovie Project to MP4 with HandBrake
HandBrake is an open-source video converter working for saving iMovie to MP4. The biggest benefit of HandBrake is free of charge. Moreover, it provides extensive presets, so beginners can use it easier. So, it is another way to convert iMovie projects to MP4 on Windows, Linux and Mac.
Step 1Run the free iMovie to MP4 converter. If you do not have it, download from the official website for free.
Step 2Click the Open Source menu at the top left side and import the iMovie project that you wish to watch in MP4.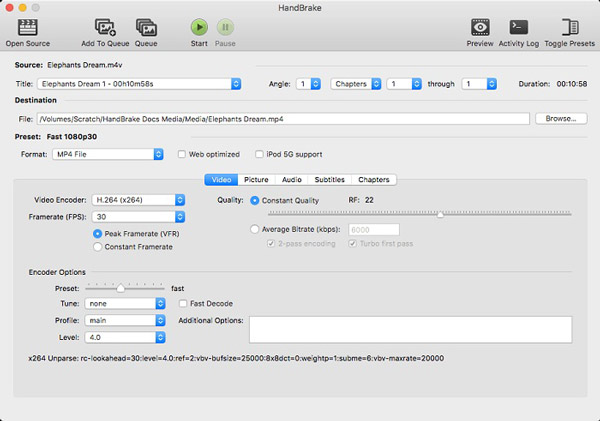 Step 3Click the Browse button in the Destination area, and select a specific directory to save the output video. Next, select MP4 from the Format drop-down list.
Step 4Hit Toggle Presets menu to open the presets panel on the right side. Here you can select the desired option or target device. Then HandBrake will set various parameters.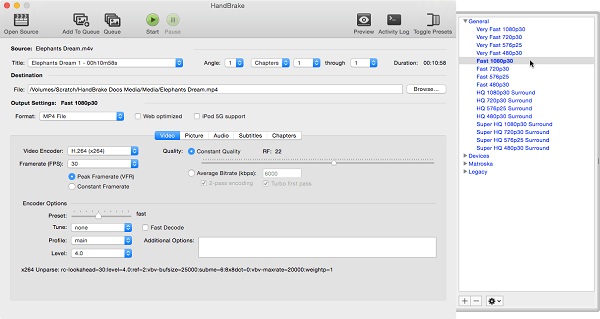 Step 5Once click the Start button on the top menu bar, the iMovie project will be saved as MP4.
Part 5. FAQs of Saving iMovie as MP4
How do I export iMovie to MP4?
As shared previously, you have several ways to save iMovie projects to MP4. If you are done editing a movie in iMovie, two options are available to export iMovie to MP4. Firstly, go to File, Share and select File to save it as MP4. Plus, you can use the Export using QuickTime option in Share menu to get what you want.
What format does iMovie export?
By default, iMovie will export projects in Apple friendly video formats, like MOV or M4V. Now, you have more options, like AVI and FLC. In addition, you can save sound to AIFF, AU or Wave in iMovie.
Can I convert iMovie to MP4?
If you have saved iMovie projects, it is still possible to convert iMovie to MP4. Compared online video converter apps, we suggest you to use desktop programs to do it since they can produce better quality.
Conclusion
This guide has talked about how to convert or export iMovie to MP4. Though MP4 is not Apple video formats, it is wide used on almost all digital devices and media players. In result, you may want to save iMovie projects to MP4. iMovie has integrated the MP4 support. Considering the workflow is a bit complex, we shared how it works. Tipard Video Converter Ultimate, on the other hand, is able to process multiple iMovie projects on Windows. Other problems? Please leave a message below.