The Different Solutions to Edit a Video on iPhone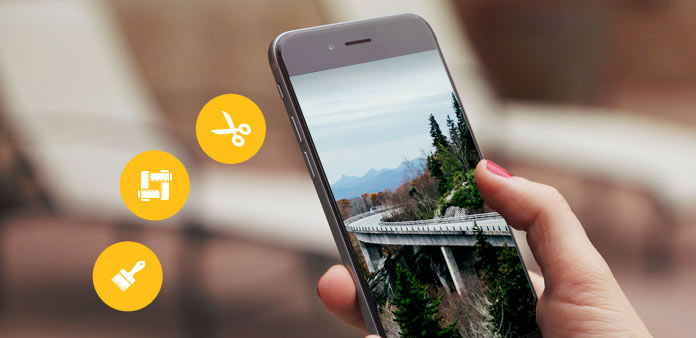 With professional cameras, newest iPhone model encourage users take more videos with their handset. This also brings new demands on video editing. To average people, how to edit a video on iPhone may be still a challenge, partly because they lack a powerful video editor or have not grasped video editing apps' usage. So, we are going to introduce several best videos editors available to iPhone. And to help you editing videos on iPhone, we will show you the step-by-step guides of these video editors. If you just begin to capture wonderful moment with your iPhone, you will find our guides helpful.
Part 1: How to edit a video on iPhone Photo directly
iPhone Photos app is not only a photo editor, but also offering simple video editing tool. Apple has integrated video trimming feature into Photos app. For beginners, it is a good start point to learn how to edit a video on iPhone.
Step 1: Take a short video in Camera app.
Step 2: Go to Photos app and tap on the video you just took. Then tap on the "hamburger" icon on menu ribbon to open the video on timeline.
Step 3: Drag the "front anchor" right until reaching the start point you want to set. Drag the "rear anchor" left to reach the end point as you wish.
Step 4: Tap on the "Play" button with a triangle icon to preview the output. If you are satisfied with it, tap on "Done" and decide to "Save as New Clip" or "Trim Original" on the pop-up.
Unfortunately, Photos does not have more features related to video editing on iPhone, besides trimming.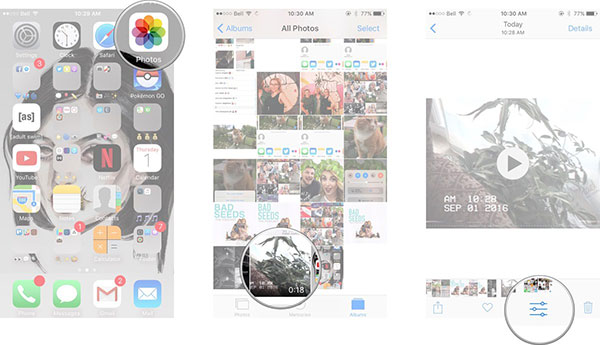 Part 2: How to polish a video on iPhone with iMovie app
iMovie for iOS, as a part of iLife suite, is free to download from App Store. If you want to use iMovie separately, you have to pay for $4.99. It offers extensive tools for video editing on iPhone. And we will introduce several commonly used ones.
1. Trim a clip from a video
Step 1: Launch iMovie, it will import all videos editable on your iPhone. Choose a video you want to cut and open it on timeline.
Step 2: Shorten or lengthen the clip you want to cut by dragging either yellow trim.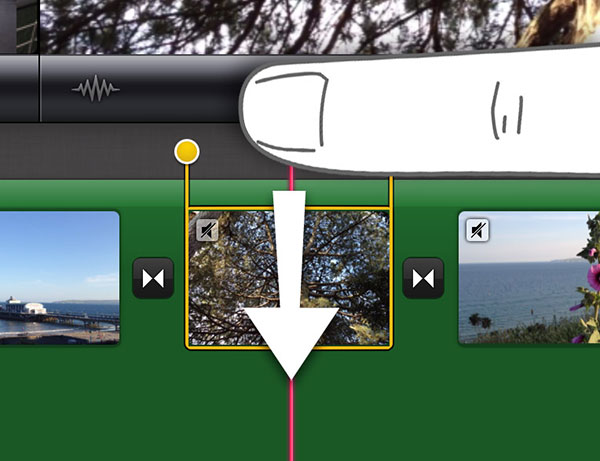 2. Cut a video into two clips
Step 1: Tap the "Actions" button and choose "Split" on the timeline.
Step 2: Treat your finger as the split tool. Locate to the exact position you want to cut and swipe down your finger to separate the video.

3. Rotate a video
Step 1: Put the video you want to rotate onto timeline.
Step 2: Touch the video with your finger and thumb in the viewer and move with a clockwise or counterclockwise twisting motion.
Step 3: The white arrow icon will show you the video rotate status. And each time, the video will be rotated 90 degrees. You can repeat step 2 to rotate video 180 degrees.

4. Delete a clip from a video
Step 1: Select the clip you want to delete in the timeline.
Step 2: Hold the clip until it floats off the timeline. Keep holding it until you see a "smoke" icon appears on the clip.
Step 3: Then you can tap on "Delete" to erase it from a video.
More features of iMovie are waiting for your exploration.

Part 3: How to edit a video on iPhone with Splice app
Splice app belongs to GoPro is an awesome video editor for iOS devices. It is free to use without ads. We will show you how to polish a video on iPhone with Splice.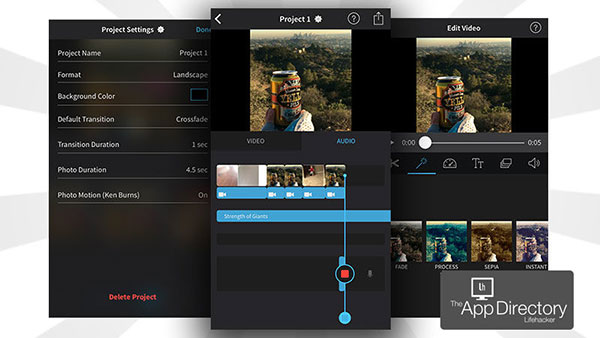 Step 1: Import video
Launch Splice and hit the "Plus" button at top of screen to create a new project. When Camera Roll screen open, choose the video to edit on iPhone and tap on "Add". Then hit Done to skip the Project Settings Screen.
Step 2: Open editor
Tap on the video to evoke the menu list, choose "Edit video" to open the video for editing on iPhone.
Step 3: Split video
Move the slider on timeline to the split point and tap on the scissor icon to split the video to two clips.
Step 4: Add filter
Touch the magic bar icon and choose your favorite video filter from the list. It will add on the video immediately.
Step 5: Adjust speed
Press the dashboard icon and adjust the video speed by moving the slider.
Step 6: Save output
Back to project screen and tap on the share icon. Then you can "Save" the output to iPhone or "Share" to social media. Splice also allows you to add text on video and create a movie with multiple clips.
Part 4: Eidt iPhone videos via other popular editing apps
1. Magisto – Magical Video editor for iPhone
Price: Free with in-app purchase
Just express your creativity to make a movie or tell your story with Magisto. It is the magic video editor on iPhone for more than 80 million users. It includes auto video maker, music videos, share videos, business features, channels and connections, family video and more other features.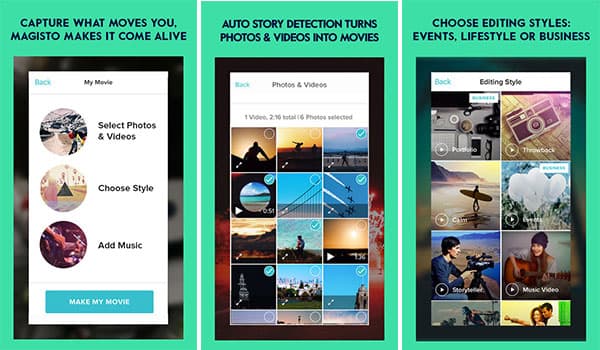 2. Viva Video – Video and Slideshow Editor on iPhone
Price: Free for in-app purchase or US$2.99 for Pro version
Viva Video is a powerful video editor and slideshow maker with creative video camera lenses. There are lots of free material files for you to edit a video on iPhone with ease. What is more special, Viva Video has a unique video collage maker merges different clips into one story with many awesome templates.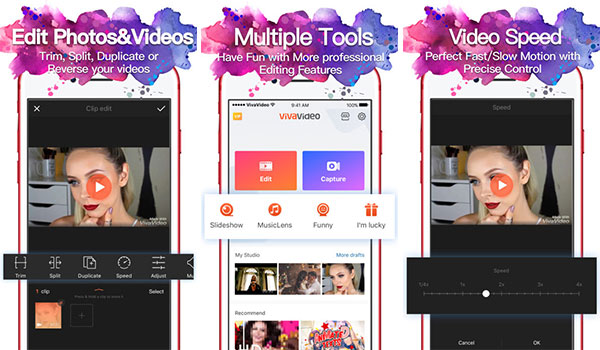 3. Video Shop – Easy iPhone Video Editor
Price: Free for in-app purchase or US$1.99
Videoshop is an easy iPhone video editor with fast editing features, filters and many other effects. There are multiple features, such as slow motion, adjust display, stop motion, tile shift, and other basic functions to edit video files on iPhone. You can always add an enormous amount of content and effect to the video.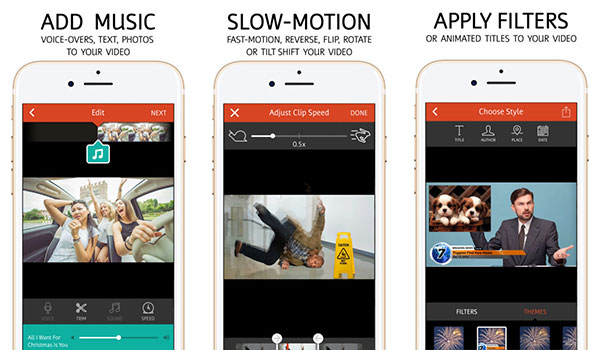 4. Funimate – Add cool effect to videos on iPhone
Price: Free
Funimate instantly transforms every moment into a creative video on iPhone. There are more than 20 advanced video effects. It is designed to have a perfect match for editing short videos, which you can use Hyperlapse, Dubsmash or other creative tools such as Replay, Vidlab, Phhhoto or Videoshop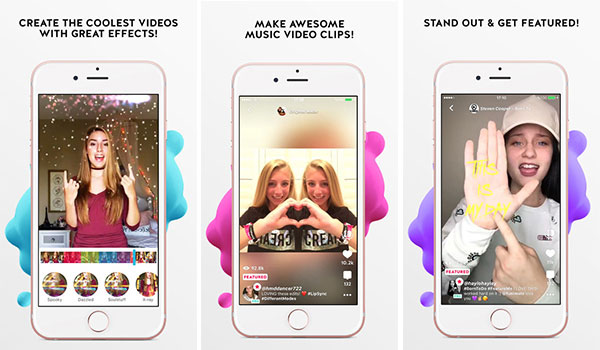 5. Quik – Video editor to edit clips with music
It is known as Replay previous, Quik works with photos and videos captured with your GoPro, phone or other device. You can add videos and photos, and then choose the styles, customize the video, pick up the soundtrack and edit video files on iPhone as profession. The new version supports Quickstories compared to Replay.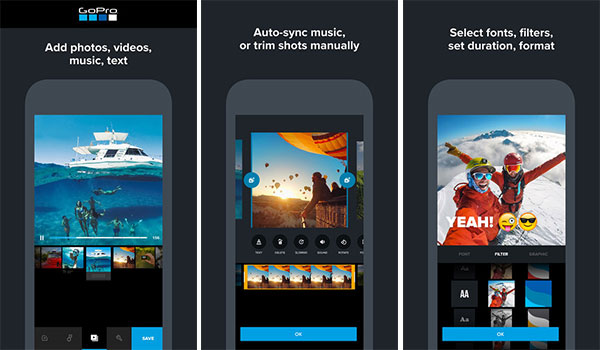 Part 5: Best desktop video editor for iPhone video editing
Although newest iPhone have larger screen and more memory space, editing videos on iPhone is still not as convenient as on PC. Tipard Video Converter Ultimate is a professional desktop video editor for iPhone. With Video Converter Ultimate, you can enjoy awesome features.
1. It has the capacity to convert any video formats to iPhone playable one.
2. If you want to view YouTube videos on iPhone offline, it could download and transcode online videos for iPhone.
3. You can also transcode DVD videos and playback them on iPhone.
4. This iPhone video editor offers all basic video editing tools to enhance and modify videos for iPhone.
5. More importantly, it could keep the original video quality during video converting and editing.
How to edit videos for iPhone
Step 1
Install video editor for iPhone
Launch Video Converter Ultimate after you download and install it on your computer.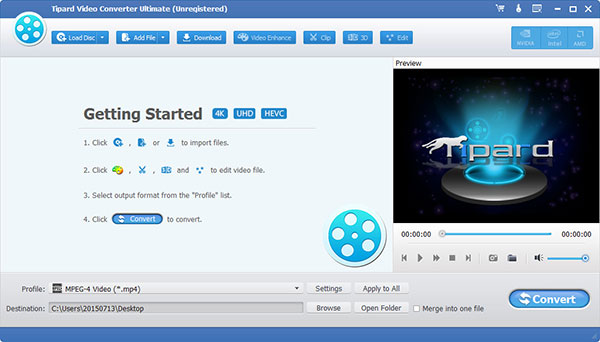 Step 2
Add video
Click on the Add File button on top ribbon and choose a destination. It supports to load videos from DVD, URL and hard drive.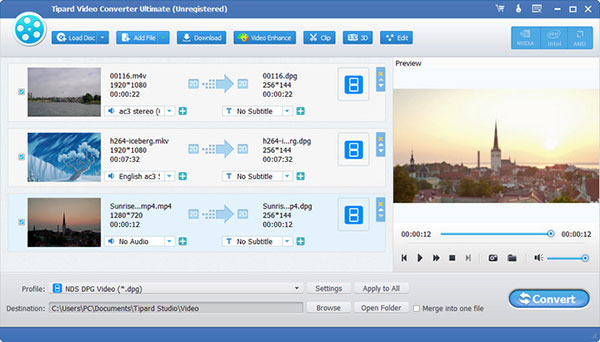 Step 3
Adjust video
Click on the Edit button on top ribbon to open the built-in video editor. Here you can trim, crop, merger videos and add effects, text, and watermark on videos.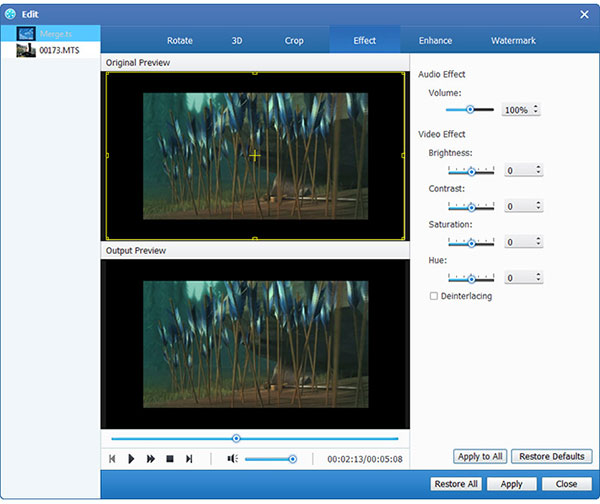 Step 4
Convert video
When back to the interface, locate to the bottom area. Choose Apple iPhone from the drop-down list of Profile. Press the Apply to All button to complete editing video for iPhone.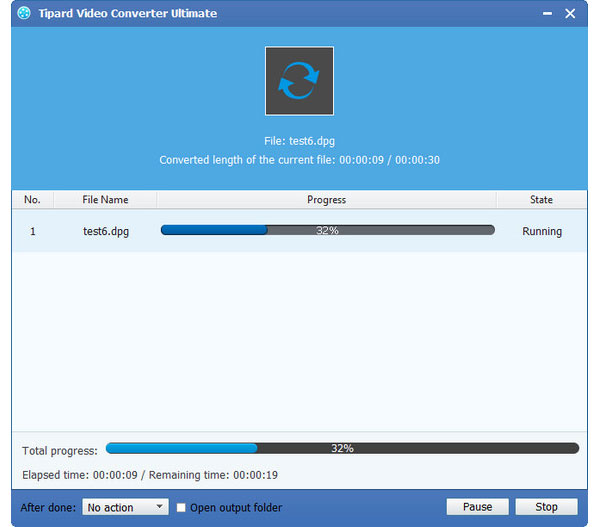 Then you can transfer the video to your iPhone and enjoy it at anytime and anywhere.
Conclusion
Based on our introduction, you might understand how to edit a video on iPhone. There are at least three best video editing apps available to iPhone. Photos app is the simplest way to trim a video clip. And if you want to grasp more features, you can try iMovie. It works well for most iPhone models and iOS versions. If you need a free tool to edit videos on iPhone, Splice is a good choice. Modifying videos on iPhone still has limits, especially long videos. So, we suggest you to edit videos on PC with Tipard Video Converter Ultimate.