Resize Videos for TikTok: Achieve the Perfect Aspect Ratio to Trend
One of the most popular platforms for sharing educational and entertainment content is TikTok. As a result, TikTok creators tend to apply all the necessary video editing classifications, which include cropping. Therefore, don't be surprised to see that many find the best solution to the problem of how to crop TikTok videos. Meanwhile, cropping a video can help you eliminate the most unnecessary part of the content, causing you to emphasize the most highlighted points. This way, you can efficiently maintain the interest of your audience. In addition, cropping is a type of video editing that brings aesthetic appeal by emphasizing the action or foreground subject and eliminating its distractions.
Thus, let this post help you achieve those beneficial aspects by learning the best ways to crop your videos before posting them to TikTok.

Part 1. How to Crop a Video on TikTok (Computer and Mobile App)
Unlike before, the latest updates of TikTok offer editing options that are helpful enough to beautify your content. And yes, one of the editing tools it offers is the cropping tool. With this built-in function, you can set your content to your desired ratio before posting it. Hence, here are the instructional guidelines to help you find and use it.
How to Crop on TikTok Using a Mobile Phone
Step 1Open the TikTok app on your mobile, and tap the Plus button at the bottom-most center of your screen. Then, choose whether to upload a saved video or record a new one for posting.
Step 2If you choose to upload a video, then tap the Upload button and bring the video you want to crop. Once the video is in, tap the Edit button on the screen's right part and the same button on the next screen page.
Step 3After that, find the Crop option among the tools at the bottom by swiping the screen to the left. Then, freely adjust the screen cropping box according to your desired ratio.
Step 4Once done, tap the Save button. To directly post the video on TikTok, tap the Next red button to do so.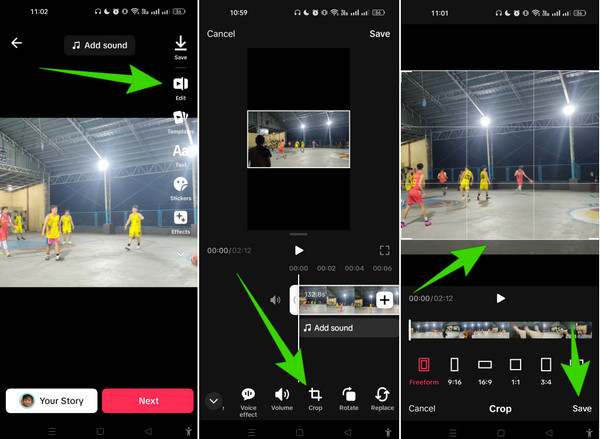 How to Resize Video for TikTok on the Web
Unfortunately, TikTok on the Web is not as feature-rich as the actual app on mobile. If you open your TikTok on the Web using your computer, you can compare it with the other app version, especially regarding its video editing tool, which sadly doesn't offer a tool to let your crop the video online. This said, you can use an alternative third-party online cropping tool that you can use to crop your video to post, or better to crop the video already before uploading it to your TikTok. Such third-party croppers include Kapwing, EZGIF, and etc. To know better about these tools, below are some reviews that might help.
Extended Reading:
A Thorough Review About the Kapwing Reverse Videos Tool
Complete Review About How to Use Ezgif to Reverse Videos
Part 2. Why is TikTok Cropping the Video Automatically
The automatic cropping of videos in Tiktok is a typical problem that many Tiktokers encounter. This is typically related to the video's aspect ratio. This video platform primarily supports a vertical orientation for the video, with 9:16 as the aspect ratio. So, if your recorded or uploaded video doesn't match this aspect ratio, the platform might zoom in or crop your video to meet the required vertical frame. Additionally, this event can cut off parts of your content, or it cannot be displayed as intended. Hence, to prevent this from taking place, you must use the correct orientation and aspect ratio. Alternatively, you can crop the video before uploading it on TikTok to prevent TikTok from doing so.
Part 3. How to Crop Videos for TikTok Without Watermark (Offline)
Since there's no way to crop TikTok videos on its online version and you might want to crop the video yourself in case TikTok does so, here's the best solution to use without acquiring watermarked outputs. Introducing Tipard Video Converter Ultimate, a standalone video editing program that can crop your videos with or without an internet connection. This software has many powerful tools that will not only crop your videos but also enhance, trim, merge, reverse, and color-correct them like a pro. Along with these is its support for more than 500 different formats, allowing you to work on other video types besides TikTok. After all, it's your multi-functional video editing program.
This Tipard Video Converter Ultimate is infused with advanced technologies beyond a mere video crop editor such as its hardware and GPU acceleration. Together with that are its features to create movies, 3Ds, GIFs, and collages that are beneficial for creating trendy TikTok content. That being said, allow the steps below to teach you the process to crop TikTok a video without a watermark.
Step 1On your computer, install this powerful editing software. It would help you best when you click the Download button below.
Step 2Launch the software and go to the Toolbox menu. From there, hit the Video Cropper option and upload the video you want to crop when you reach the next window after you click the Add button.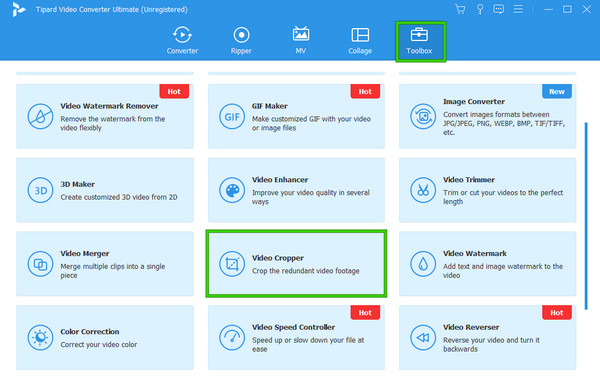 Step 3Once you reach the new window, you may start cropping the uploaded video. To do so, you can either adjust the yellow cropping bar or adjust the Crop Area and Aspect Ratio sections. After that, apply the changes by clicking the Export button and saving the cropped video.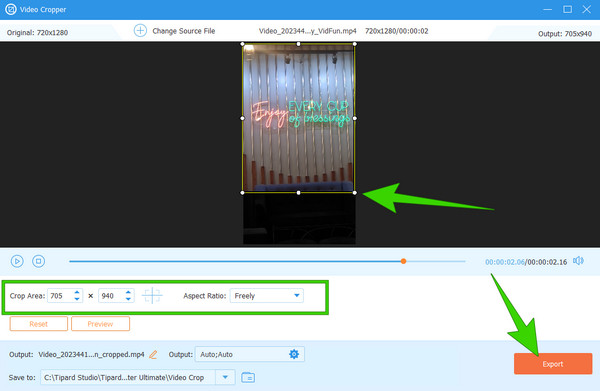 Part 4. FAQs About Cropping TikTok Videos
Can you crop the TikTok video before posting?
Yes, it is possible if you use the TikTok mobile app. On the other hand, if youuse online TikTok, then cropping the video is not possible.
Why can't I crop videos on TikTok?
You might want to check the TikTok app version you are using. The older update version had a lot of limitations in video editing, and cropping the video is one of them.
Why can't I edit a TikTok video?
If you grabbed a video from TikTok, please do not take the time to edit it to avoid copyright issues.
Can you edit a TikTok after you post it?
No. A posted video cannot be edited anymore unless you will only edit its caption or download your posted video and re-post it.
How long does it take to upload a video on TikTok?
The duration of uploading a video depends on how strong your internet connection is. The faster your internet connection, the faster the upload process.
Conclusion
This article has provided you with the steps on how to crop on TikTok. With the information above, you have learned that the process of cropping is not that challenging on the mobile app. This is because, thankfully, the app offers many editing tools, including a cropper, rotator, voice effect, speed changer, splitter, volume editor, and many more. This said, you won't need to install third-party cropping apps. However, unlike the mobile version offers, the limitations of the Web version are eminent. Therefore, for your computer utilization, use the Tipard Video Converter Ultimate.