How to Crop an Animated GIF Image without Losing Quality
Nowadays, GIF is one of the widely-used image formats. You can see GIFs everywhere on social media, websites, message apps, etc. That makes GIF editing an essential digital skill. The biggest downside of GIF is the image quality. Moreover, many platforms have a limit on GIF size. Fortunately, you can crop a GIF and focus on a specific area if you have the right tool. This tutorial tells you how to crop a GIF on Windows, Mac, iPhone, Android, and online.

Part 1. How do you crop a GIF on Windows
If you want to crop an animated GIF, you have to do it with the help of some special software, such as Tipard Video Converter Ultimate. It is able to crop a GIF similar to editing a video file easily.
Main Features of the Best GIF Editor
1. Crop an animated GIF within three steps.
2. Optimize GIF quality while editing.
3. Include a wide range of editing tools.
How to Crop a GIF on PC
Step 1Add GIF
Run the best GIF editor after you install it on your PC. There is another version for Mac. Go to the Add Files menu on the upper left side and choose Add Files or Add Folder to open the media files that you want to crop.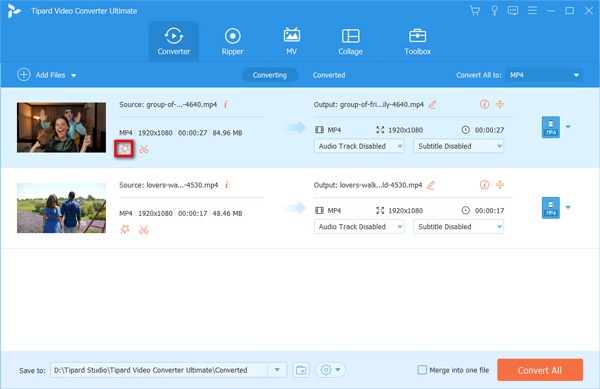 Step 2Crop GIF
Click the Edit button under the title to open the editor windows. Switch to the Rotate & Crop tab from the top ribbon. Then you will be presented with the cropping box in the Original panel. Now, all you need to do is to move each edge until you get the desired effect. You can also reset the Aspect Ratio, Zoom Mode, or crop the GIF accurately by setting the Crop Area.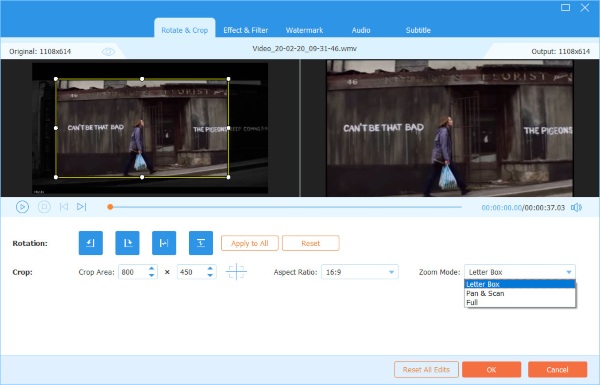 Step 3Export GIF
Preview the cropped GIF in the Output pane and click OK if you are satisfied. Click the Folder button at the bottom of the main interface and select a specific directory. Finally, click on the Convert All button to export the GIF.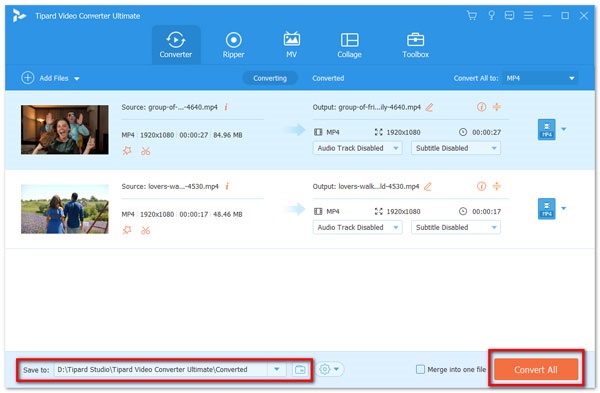 Part 2. How do you crop a GIF on Mac
When it comes to cropping a GIF on Mac, you have to use a third-party app too. Although there are limited choices to edit animated GIFs, you still have several options, like GIMP, Photoshop, etc. We use GIMP as the example to show you the workflow.
Step 1Start the free GIF editor on Mac, and open the GIF that you want to edit using the File menu and Open.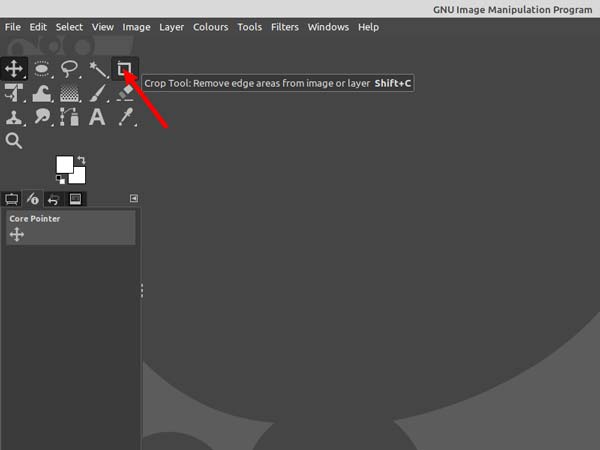 Step 2Then go to the Tools menu on the top ribbon, choose Transform Tools, and select Crop. You can also click the Crop Tool on the Tool palette.
Step 3Now, left-click anywhere on GIF canvas and drag your mouse to the location to create the cropping boundaries. You can also crop a GIF in a circle or other shapes using the Selection Tools.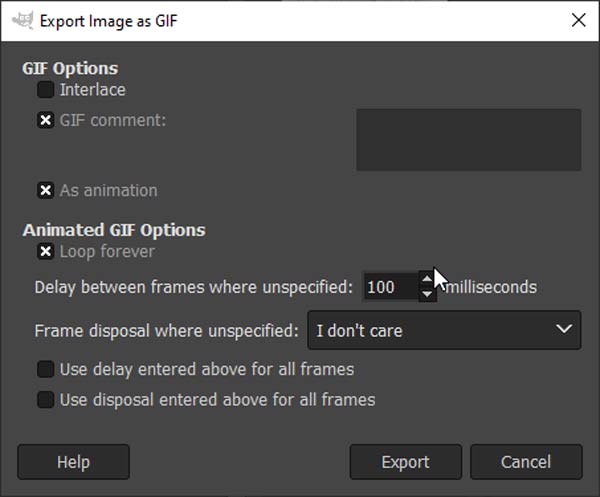 Step 4When GIF cropping is done, go to the File menu and choose Export As. Make sure to check the box next to As animation if you intend to save the animated GIF. Then follow the instructions to save it.
Part 3. How do you crop a GIF on iPhone
There is no built-in feature on iPhone able to crop an animated GIF image. Luckily, you can do it with third-party apps, like GIF Maker ImgPlay. It can turn Live Photos or videos into animated GIFs and edit GIF images on iOS devices.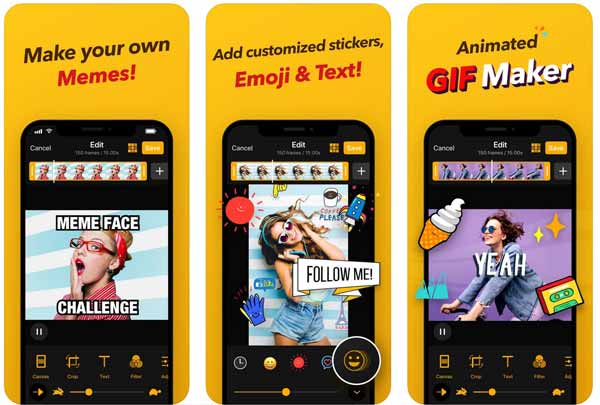 Step 1Install the GIF editor and maker app on your iPhone from App Store. It is free to download. Then run it from your home screen.
Step 2Permit it to access your Camera Roll, find and select the target GIF, and open it in the app.
Step 3Tap the Crop feature at the bottom and crop the GIF with your fingers.
Step 4Edit and retouch the GIF and tap Done when you are satisfied. Select GIF under TYPE, and set the quality and other options. Then you can save the GIF to your iPhone memory or post it on social media.
Part 4. How do you crop a GIF on Android
Several GIF editor apps are available to Android in Google Play Store, but only a few of them can crop a GIF. GIF Maker GIF Editor, for example, is an all-in-one GIF editor app, including the cropping feature. That makes it an excellent choice to retouch and crop your animated GIF images on Android.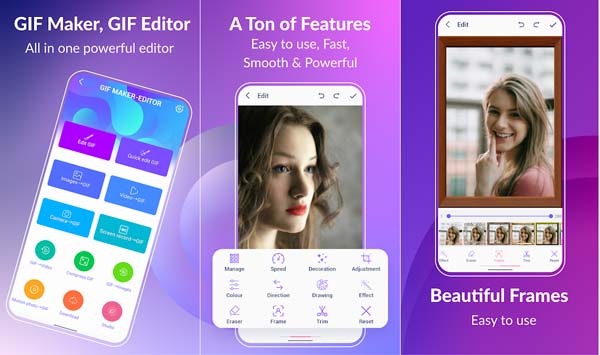 Step 1Launch the GIF editor app. You can install it from Play Store for free. It allows you to exchange free features with viewing ads.
Step 2Tap the Edit GIF option and you will be presented with your photo gallery on Android. Select and touch the GIF image that you intend to edit.
Step 3Tap the Adjustment feature at the bottom and crop the GIF by moving the cropping box with your fingers.
Step 4At last, tap the Done button at the upper right corner and save it to your Gallery or share it on social media.
Don't miss: Best GIF App for iPhone and Android
Part 5. How do you crop a GIF Online
It makes sense that more and more people prefer to crop a GIF online. It does not ask you to install anything on your hard disk. Moreover, you can do GIF editing everywhere. EZGIF, for instance, is a free GIF solution online. Here are the steps to crop a GIF with EZGIF.
Step 1Visit https://ezgif.com/crop in a browser when you need to crop an animated GIF online.
Step 2Click the Browse button and open the target GIF image from your computer. It also allows you to import an online GIF from URL address.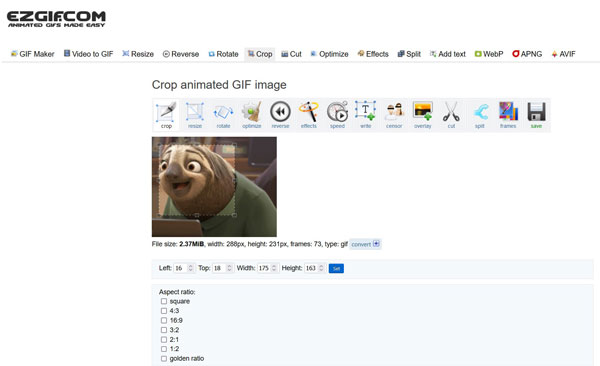 Step 3Hit the Upload button. Then you will get the cropping box on the next page. Next, click on the GIF and drag the cropping box to cover the desired area.
Step 4Click the Crop image button once you are satisfied. Preview the cropped image and hit the save icon to download the GIF.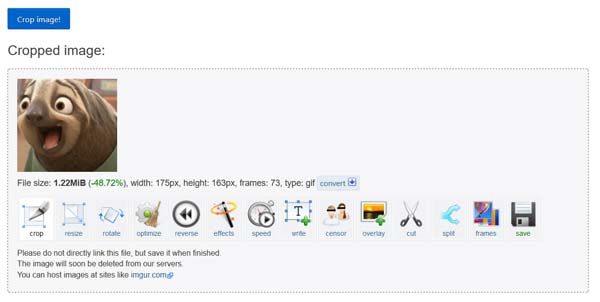 Note: The maximum file size is 35MB, but it won't add any watermark to your image.
Part 6. FAQs on Cropping GIF
Can you crop a GIF with Giphy?
No, the Giphy app or website can trim a GIF, decorate GIFs with stickers, or convert a video to a GIF, but it cannot crop a GIF.
How to crop a GIF in Preview on Mac?
The Preview app on Mac can crop a static image in GIF format. When it comes to animated GIF images, Preview cannot edit or change them while keeping the animation.
Is it possible to crop a GIF in Photoshop?
Yes, Photoshop is able to crop an animated GIF on both PC and Mac. However, the procedure is pretty complicated, especially for beginners.
Conclusion
This guide has told you five ways to crop an animated GIF on Windows, Mac, online, iPhone, and Android devices. You can pick the proper method and follow our steps to do it easily. Tipard Video Converter Ultimate is the best choice to crop a GIF on PC and Mac. More importantly, it can produce the best output quality.