How to Reset a Computer to Factory Settings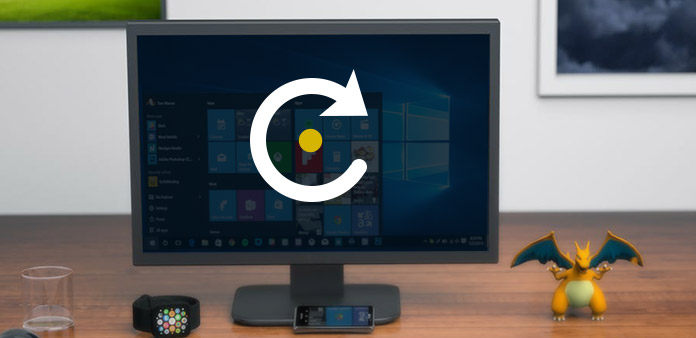 Factory reset a computer is a useful skill to all PC users. Modern computers usually have pre-installed operating systems. But time goes by, you would discover that your computer runs slower and slower, partly because you have installed some programs. But the principal reason that a computer becomes slower is the operating system. Moreover, if you click on an unauthorized link or access an unsafe site, the spyware or malware may settle in your computer quietly. Even anti-virus software cannot help you to thoroughly clean malware from your PC. Fortunately, it is the ultimate solution to solve all these problems. Do you want to grasp the best way to achieve factory reset on different platforms? You can learn the best method to reset Windows 10, Windows 7 and Mac OS in this post.
Part 1. The best way to factory reset Windows 10
Microsoft has realized the importance of factory reset, so this operating system vender integrated factory reset feature into Windows 8 and Windows 10. Considering the built-in factory reset function is more stable and safer, it must be the best way to reset a computer. To provide better user experience, Microsoft has improved graphical factory reset process.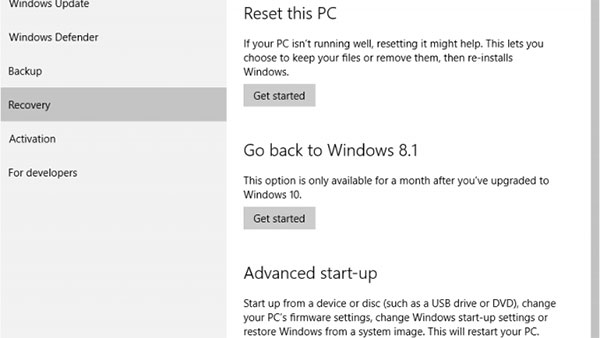 How to reset Windows 10
Step 1
Before factory reset, you'd better backup your computer and important files.
Step 2
Go to the Start menu and select Settings icon with a gear. Search reset in search field and choose Reset this PC in the result list. Then tap on the Get started button in the Recovery section of Update & Security to evoke the reset process.
Step 3
In the pop-up window, Windows 10 provides three options: Keep my files, Remove everything, Restore factory settings.
Step 4
The first option will wipe apps and setting from your computer but left your personal files. As it said, the second option will remove all of your personal files, programs and settings.
Step 5
The last option not only deletes personal files, programs and settings, but also reinstalls Windows 10. Choose an option according to your requirement to continue.
Step 6
Then your operating system will do the rest work; and a few minutes later, you will achieve factory reset a computer.
Part 2. The best method to reset Windows 7
Unfortunately, the graphic factory reset technology is not available to Windows 7 and Windows 8. But you still could factory reset Windows 7 without bootable discs. You have to go to deep system and achieve factory reset a computer runs Windows 7; while the benefit is you do not need the help of external hardware. Moreover utilizing system restore feature in Safe Mode is rather safe.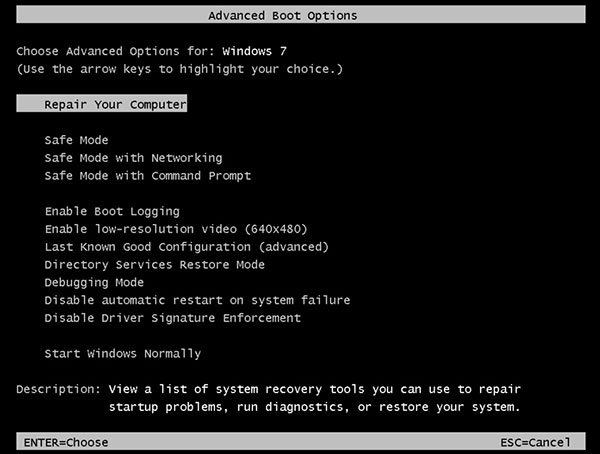 How to reset Windows 7
Step 1
After backing up your computer in normal mode, you can reboot Windows 7.
Step 2
Once the logo appears on the screen, you have to go to the Advanced Boot Options menu. Generally, you can press F8 key to open the menu. You can browse the list below to find out the corresponding key for your computer.
Acer – Alt + F10
Asus – F9
Dell/Alienware – F8
HP – F11
Lenovo – F11
MSI – F3
Samsung – F4
Sony – F10
Toshiba – 0
Step 3
Choose the Safe Mode with Command Prompt option and hit Enter key to access Safe Mode.
Step 4
When the command prompt shows up, input rstrui.exe and press Enter key. Then choose Yes, reformat hard drive and restore system software to factory condition and tap on Next to evoke the process of factory reset a computer.
Step 5
When the process is done, tap on Finish to reboot your computer. Then you can get a new computer and restore any files and program from backup.
Part 3. Restore Mac computer to factory settings
Similar to Windows, Apple has embedded the factory reset feature within Mac OS. So, you can use reset a Mac computer, such as MacBook Pro to factory settings directly. The advantage of built-in factory reset is resetting at anytime and anywhere. Moreover, this technology is totally free for all Mac users.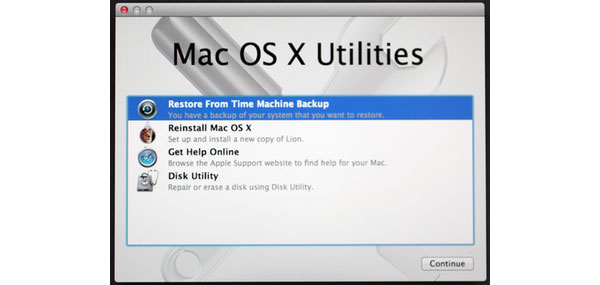 1. How to restore a MacBook Pro to factory settings
Step 1
When you need to restore a MacBook Pro to factory settings, you have to understand that all of personal data will be removed from the computer. So, you'd better transfer important files to an external hard drive and back them up.
Step 2
Plug your MacBook Pro into the AC adapter and reboot the computer. Hold down Command+R to boot into restore process.
Step 3
When the Mac OS X Utilities screen appears, choose the Disk Utility option and click on the Continue button to move on.
Step 4
Choose your primary disk, which is named Macintosh HD by default and go to the Erase tab on the right panel. And then select Mac OS Extended from the drop-down list of Format.
Step 5
Once you tap on the Erase button, MacBook Pro will start deleting personal data from the computer.
Step 6
Back to recovery screen and connect the computer to an available Wi-Fi. Then choose the Reinstall OS X option and click on the Install button to evoke the factory resetting MacBook Pro process.
When the process is done, you can go to your MacBook Pro as normal and restore necessary files from backup.
Part 4. Tipard Windows Password Reset
Just as we know, factory reset is useful solution for your computer. However, some people may misuse this technology. When people forgot Windows password, for example, it is a waste of time to factory reset a computer. We will recommend a better way to recover your lost password: Tipard Windows Password Reset. This computer reset tool is not only a password recovery application, but also an account manager. If you want to know how Windows Password Reset works, you can browse the content below.
1. How to make a bootable disc
Step 1
Launch Windows Password Reset and plug a formatted USB flash drive or insert a new DVD into your computer.
Step 2
And then tap on Burn USB button or Burn DVD/CD button to start making bootable disk.
Step 3
When bootable disc is done, click on the OK button and remove the bootable disc.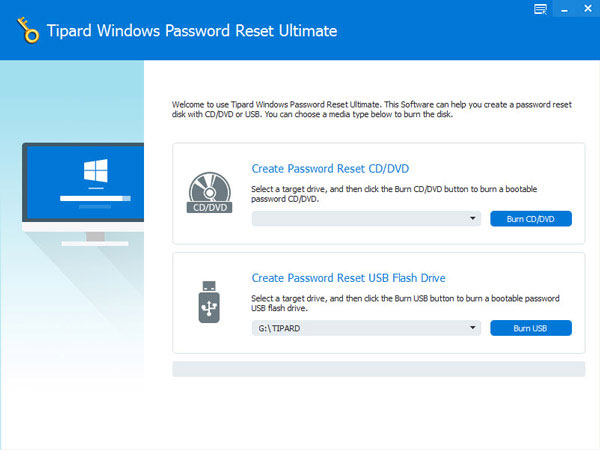 2. How to recover Windows password
Step 1
When you forgot Windows login password, insert the bootable disc into your computer and restart it.
Step 2
Before access to operating system, the password manager screen will open automatically.
Step 3
You can choose your account and reset its password by hitting the Reset Password button.
Step 4
After resetting, remove the bootable disc and restart your computer as usual with the new password.
As you can see, Windows Password Reset helps uses to simplify the process of password recovery.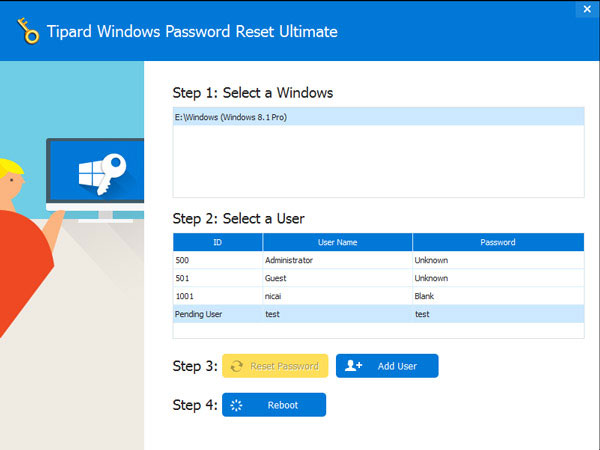 Conclusion
In this article, we have introduced the best ways to factory reset a computer runs Windows 10, Windows 7 or a MacBook Pro. After factory reset, all your personal data will be wiped from the computer and factory settings will be restored on your PC. Then you may discover that your computer runs faster and the interactions become smoothly. At the same time, factory reset could help people to clean spyware, malware, virus and other dangers thoroughly. But if you just forgot Windows password, factory reset is not the best solution. We suggest Tipard Windows Password Reset to solve this problem, because this app is easier than factory reset.