How to Reset a Laptop in Different Methods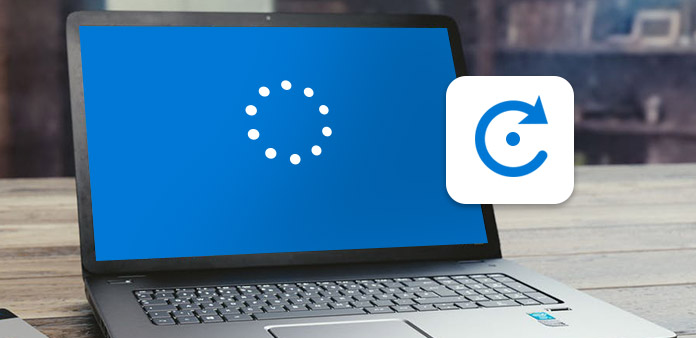 When you start your laptop, the first thing appears on the screen is not Microsoft logo, but your computer brand logo. You might believe that the brand logo is just a marketing strategy. But major laptop venders are not only the apples of Sodom. Besides excellent hardware, major laptop brands also developed some useful technologies to provide better users experiences. So if you are searching for the answer of how to reset a laptop, you may have more options. In addition to the methods Microsoft equipped in Windows systems, you can also choose to reset your laptop with the tool that computer brand provides. In this article, we will introduce how the reset a Dell laptop, HP laptop or a Lenovo laptop with their special tools.
Part 1. Reset a Dell laptop
Dell is one of the most popular laptop brands around the world. If you have bought a Dell laptop, the user manual would tell you that Dell Factory Image Restore feature could remove all personal data from hard drives and reset Dell laptop to factory settings. To start this feature, you'd better backup important files first.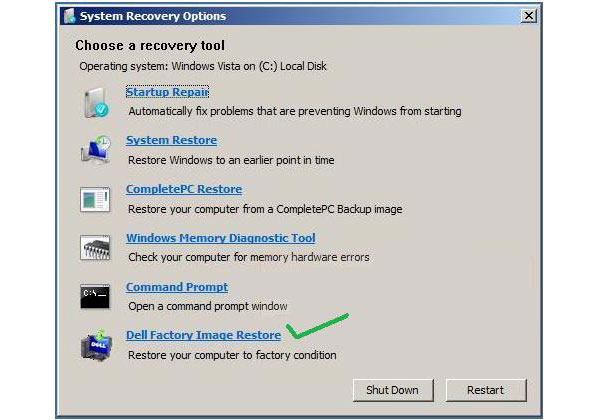 Step 1
Disconnect all peripherals, like scanner, keyboards, mouse, network cables and more and reboot your laptop.
Step 2
When the Dell logo shows up on the screen, hold down the F8 key multiple times to boot into Advanced Boot Options screen.
Step 3
Choose Repair Your Computer in advanced boot options screen with Arrow keys and hit the Enter key. And then choose a keyboard layout and click on the Next button to continue.
Step 4
Select Dell Factory Image Restore in System Recovery Options window and click on Next to go to next window. Then check the box of Yes, reformat hard drive and restore system software to factory condition and click on Next to start factory reset Dell laptop.
After the reset process is done, tap on Finish and reboot your laptop. Then you will get a new computer without any personal traces.
Part 2. Factory reset HP laptop
Unlike Dell integrated factory image into the system recovery feature, HP provides embedded a dedicated Recovery Manager into every HP laptops. The Recovery Manager feature allows users to restore the laptop factory settings from the built-in system restore drive. Make sure that the system restore drive is still in your HP laptop and disconnect all peripherals before reset.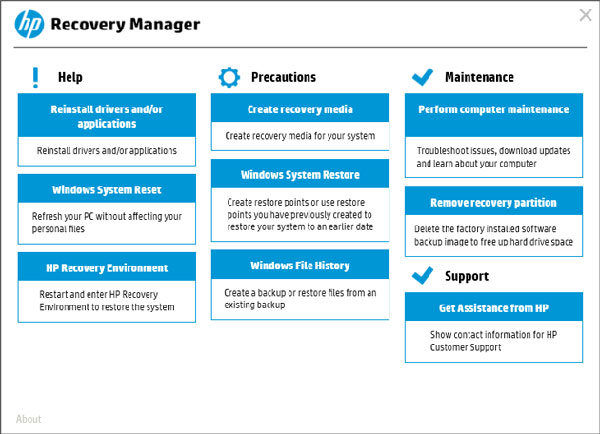 Step 1
If your laptop runs Windows 7, go to the Start menu and find out HP Recovery Manager. If you have a Windows 8 or Windows 10 laptop, search for HP Recovery Manager in search bar and open this tool.
Step 2
Choose System Recovery option under I need help immediately section. When Recovery Manager asks whether you want to restore the computer to its original factory shipped condition, select Yes and click on the Next button to restart your HP laptop.
Step 3
When your laptop starts loading, press the F11 key several times to access recovery partition screen. For Windows 7, Recovery Manager will appear automatically; while on Windows 8, you need to go to Troubleshoot and access Recovery Manger.
Step 4
In the Recovery Manager window, select System Recovery and go to the next page. Then you need to decide to back up or recovery right now. After select the appropriate option, click on the Next button and then click OK on the pop-up box to start factory reset.
Step 5
The whole process may take more than 30 minutes. When it is done, click on the Finish button to restart the HP laptop.
Then you need to reset language, region and more as you did when you bought the laptop.
Part 3. Restore Lenovo laptop to factory settings
If you have a Lenovo laptop, you are a lucky guy, because Lenovo developed a fast recovery tool called Lenovo OneKey Recovery. You may notice that Lenovo laptop has an extra buttonnext to power port, which is the onekey recovery key. With Lenovo OneKey Recovery feature, you can reset a laptop easily.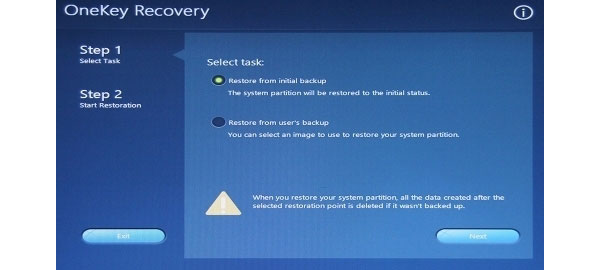 Step 1
Power on your Lenovo laptop. When the Lenovo logo appears, press the onekey recovery key next to power port.
Step 2
In the NOVO boot menu, choose System Recovery and hit the Enter key to open OneKey Recovery screen.
Step 3
Choose Restore from initial backup option and click on the Next button to go to OneKey Recovery's Step 2.
Step 4
In Step 2, confirm the operation and click on the Start button to evoke the factory resetting process.
During the process, you should keep power supplying, otherwise, factory reset a laptop will fail. When factory reset is done, you can restore some files and necessary programs to your Lenovo laptop.
Part 4. Reset a laptop password
All the factory reset tools developed by laptop brands will remove the personal data and settings. So, if you just forgot a laptop password, factory reset is not the best choice to reset. Instead, we suggest Tipard Windows Password Reset, because this program is able to reset a laptop password without damaging to personal data. Moreover, Windows Password Reset is an easy-to-use application.
1. How to make a bootable DVD
Users could create a bootable DVD or a bootable USB drive. We use bootable DVD as the example.
Step 1
Install and open Windows Password Reset on an accessible computer and insert a new DVD into CD-ROM drive.
Step 2
In the interface of the program, tap on the Burn DVD/CD button to start burning the bootable DVD.
Step 3
When the bootable DVD is done, Click on the OK button and remove the bootable DVD.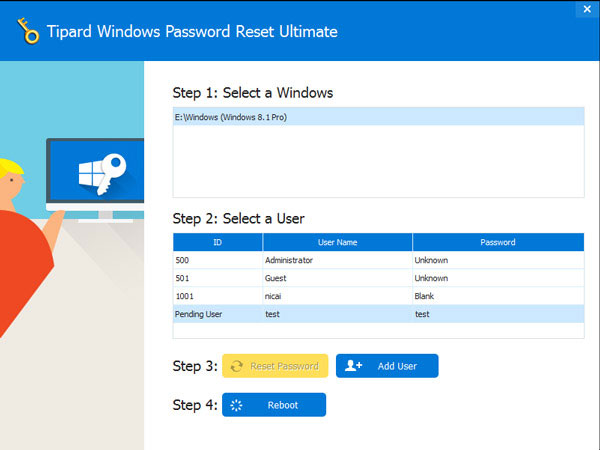 2. How to reset a laptop password
Step 1
Insert the bootable DVD into your computer when you forgot laptop password.
Step 2
Before access to operating system, the password manager screen will show up.
Step 3
Choose your account and reset the password. Then click on the Reset Password button to confirm it.
Step 4
When you are done, remove the bootable DVD and reboot your laptop with the new password.
With Windows Password Reset, you can reset a laptop password less than ten minites.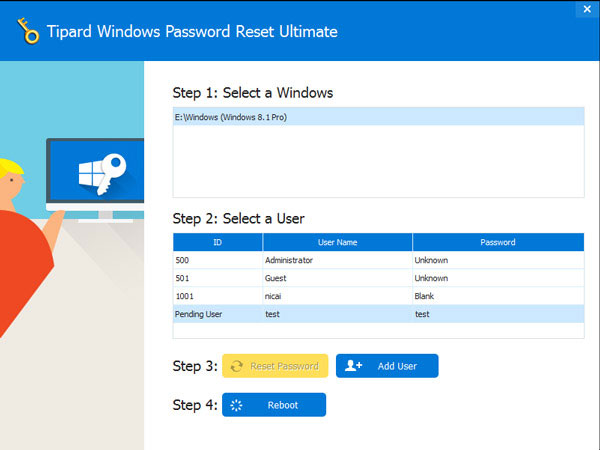 Conclusion
In this article, we collect some special ways to reset a laptop to factory settings. Dell Technology provides Dell Factory Image Restore to all its laptops. This feature allows users to reset a laptop to shipped condition. HP equipped Recovery Manager on all HP laptops, tablets and PCs. This pre-installed program is able to wipe all personal files, settings, and third party programs from the hard drive. So you'd better to back up important files and documents before factory reset. Lenovo OneKey Recovery is easier to use. Finally, Tipard Windows Password Reset is available to all laptops.