Top 3 Microsoft Password Reset Tools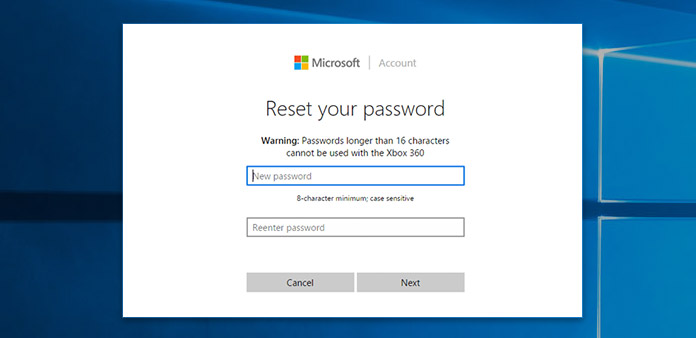 Microsoft password is important to all Windows users. This password is not only the first line to protect your computer security, but also the key to log in various Microsoft services. You should follow the experts' suggestion and execute Microsoft password reset regularly. But another problem is what you should do when you forgot Microsoft password. Without Microsoft password, you cannot go to your computer or log into other Microsoft services. So, it is necessary to grasp a best way for every Windows user. This article will introduce multiple best ways to reset Microsoft password.
1. Microsoft password reset page
Microsoft has released password reset page, so you can go to the webpage and reset a new password when you cannot remember your Microsoft password.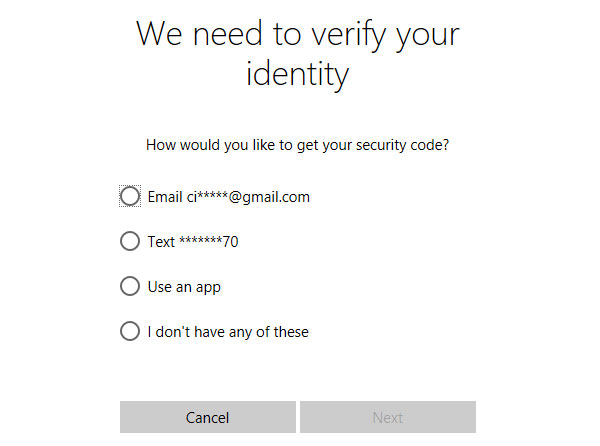 Step 1
Go to Microsoft password reset page in any browser. Select I forgot my password option in webpage and tap on Next to continue.
Step 2
In verification page, you have to type your Microsoft password reset account into the account box. Input CAPTCHA code displayed in the image in right field and click on Next button.
Step 3
Then you should decide a channel to verify you are the owner of this Microsoft account. Microsoft allows you to receive verification code via SMS, email and app. After selecting, click on Next. In the next page, drop your contact information in the field and press Send code to continue.
Step 4
When you receive the verification code via SMS, email or app, type it into the Code box and press Next button.
Step 5
Finally, if you pass the verification process, Microsoft will take you to the password reset page and you can set a new password. Keep on pressing Next button until you see the message said Your account has been recovered.
The workflow to reset Microsoft password on official website is a little complicated. You should be patient and careful during the process.
2. Reset Microsoft password with third party tools
The way above has two prerequisites: your Microsoft account and your verification email or phone number is available. If you cannot remember Microsoft account or your verification contacts are unavailable, you have to try other ways to reset your Microsoft passcode. We identify several top Apps based on testing.
Tipard Windows Password Reset
If you cannot reset Microsoft passcode with Microsoft password reset page or there is no internet connection when you forget passcode, you can try Tipard Windows Password Reset. Windows Password Reset is a professional tool. It is able to recover and reset Microsoft password in pre-installation environment. So if you suspend that your Microsoft account is hacked, you can use Tipard Windows Password Reset to reset passcode before boot into operating system. Another benefit of Windows Password Reset is easy to use.
1. How to create a bootable disc
You can decide to create a bootable DVD or a bootable USB drive according to your situations. We set bootable DVD as the example. The process to create a bootable USB drive is the same.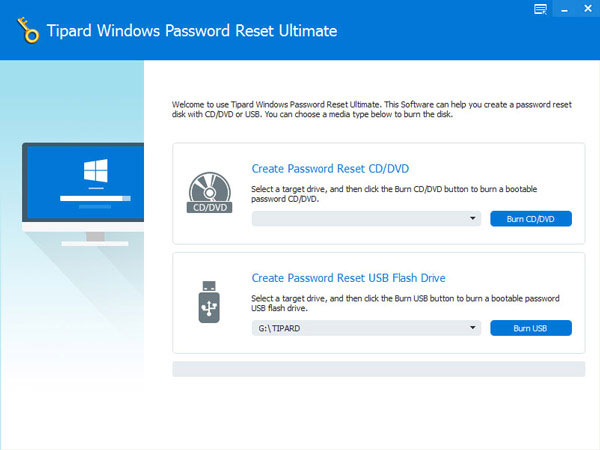 Step 1
Install and open Windows Password Reset on an accessible computer and insert a new DVD into the computer.
Step 2
Tap on Burn CD/DVD button to start creating bootable DVD. The whole process may spend a few minute.
Step 3
When the bootable DVD is done, tap on OK button and remove the bootable DVD.
2. How to reset password
When you forget your Microsoft passcode or suspend your Microsoft account has been hacked, you can set Microsoft password again in Windows Pre-installation Environment.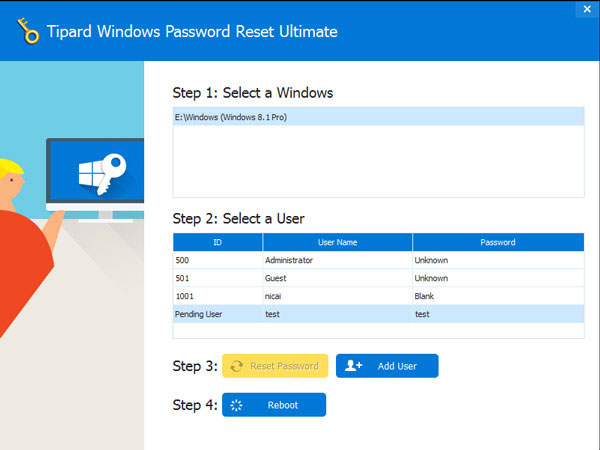 Step 1
Insert the bootable DVD that you created with Windows Password Reset and reboot your computer.
Step 2
Wait until the password manager screen pops up automatically.
Step 3
Choose your Microsoft account and tap on Reset Password button.
Step 4
In the password reset dialog, drop a new password and press OK to confirm changes.
Step 5
After resetting, you can remove the bootable DVD and start your computer as normal.
As you can see, the workflow to reset Microsoft passcode with Windows Password Reset is simple. All you need to do is just several steps and no more than a minute.
3. Recover Microsoft password with Ophcrack
Ophcrack is a dedicated Microsoft password reset tool. It is an open source password recovery tool, so everyone could use it for free. Another benefit of Ophcrack is to use rainbow table to crack Microsoft password. Although Ophcrack is a cross platform password cracker, only Windows XP and Windows Vista users could use the extra tables for free. In a word, Ophcrack is one of the best tools.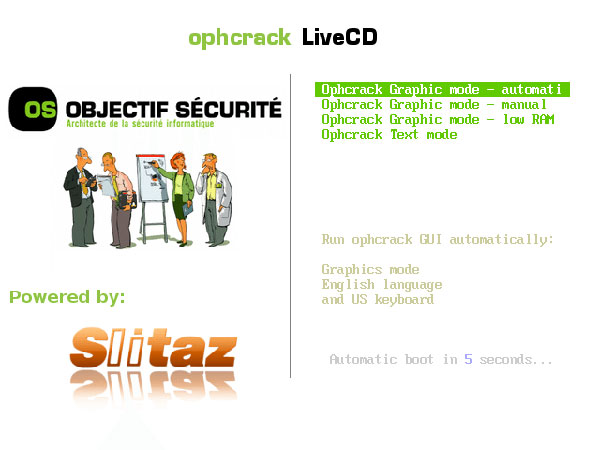 How to make Ophcrack LiveCD disc
Step 1
Go to the official website and download the right version of Ophcrack LiveCD by clicking on Download ophcrack LiveCD.
Step 2
After downloaded, you need to burn the LiveCD ISO file to a disc or a USB flash drive with a burning program.
Ophcrack is only available to Windows XP, 7 and 8. Windows 10 users cannot enjoy this Microsoft passcode recovery tool.
How to recover Microsoft passcode with Ophcrack
Step 1
Insert Ophcrack LiveCD disc into your computer and reboot it.
Step 2
Before your computer enters operating system, the Ophcrack LiveCD menu screen will appear. And then Ophcrack will go to Ophcrack Graphic mode – automatic automatically. You do not need to do anything.
Step 3
When Ophcrack LiveCD window shows up, Ophcrack will begin cracking your Microsoft password.
Step 4
Once your Microsoft account appears on LiveCD window, write down the password in NT Pwd column.
Step 5
Remove Ophcrack LiveCD disc and reboot your computer.
Ophcrack could recover your Microsoft password in a few minutes. Then you can reset it at any time.
Conclusion
This article has introduced the best ways to reset Microsoft passcode. All these ways are legal and passing the security tests. When you cannot remember Microsoft password, you can go to password reset page and follow the instructions to reset it. But the premise is you remember Microsoft account and one of the verification contacts is available. Otherwise, you cannot reset Windows passcode successfully. On the other hand, Tipard Windows Password Reset does not have such limits. With Windows Password Reset, you can manage and reset Microsoft password at any time, whether internet connection is available or not. Moreover, Windows Password Reset is able to reset passcode before enter operating system. That is especially useful when you suspend your computer has been hacked. Ophcrack is another choice to recover your Microsoft password. It is the best free password recovery tool. And you do not need to install anything on computer when recover password with Ophcrack. In short, when you forget your Microsoft password, you can try these ways to reset it.