Blu-ray vs. 4K: Which is More Worthy to Acquire
With the kind of technology that we all have nowadays, we cannot settle for a substandard movie display anymore. One reason for this is our upgraded preferences for higher picture quality. Another one is all upcoming movie contents use a significant display for exceptional playback. On the other hand, if you would like to experience the same cinematic vibes at home, you can use Blu-rays for it. Hence, you should know the levels of Blu-rays that you use. Therefore, let us learn from this Blu-ray vs. 4K article with regard to the said gist above. So, without further adieu, let's get this learning started.

Part 1. Introduction to Blu-ray and 4K
Over the years, movie enthusiasts have been jumping from one theater to the other to catch the greatest movie on a big screen with excellent quality. And with the recent pandemic, one of the changes brought to the community is the home movies, where the convenience and cost-effectiveness of streaming are found at home. In connection with this, you need to know what Blu-ray and 4K are to see which you can acquire at home.

What is 4K Ultra HD?
4K UHD is known to be the Ultra HD Blu-ray disc. Although there is also a kind of video resolution that is known to be 4K, that is another topic to handle. Meanwhile, 4K UHD discs debuted in 2016 with 2 times the picture quality compared to the regular Blu-rays. This kind of disc comes with a 3840×2160 video display resolution with 60fps H.265 coding. This means it has a more in-depth color on TV shows and films.
What is Blu-ray?
Blu-ray, on the other hand, is the successor of DVD discs. It is a kind of disc developed in 2000 by Sony and was released in 2006. It comes with a 1920×1080 resolution with 50-60 interlaced fps, giving an in-depth color display. In addition, a Blu-ray disc can store movies with two hours duration faster and easier than others.
Part 2. Comparison and Contrast of Blu-ray and 4K Ultra UHD
Perceive more on this 4K UHD vs. Blu-ray topic. The table below is presented.
| Features | Blu-ray | 4K Ultra UHD |
| --- | --- | --- |
| Price | Blu-rays cost 15 to 20 dollars per disc. | 4K UHD costs 25-30 dollars per disc. |
| Laser Type | 405nm blue laser type. | 405nm blue laser type. |
| Resolution | 1920×1080 resolution or 2K. | 3840×2160 resolution or 4K. |
| Region Coding | Most of the Blu-rays are coded with A/1, B/2, and C/3. And some are region-free. | All 4K Ultra HD are region-free. |
| Size of the Storage | The single layer has 25GB, and the double layer has a 50GB storage size. | The single layer has 50GB, the double layer has 66GB, and its triple-layer comes with 100 GB. |
| Audio Technology | Dolby Atmos and DTS-X. | Dolby Atmos and DTS-X. |
| Rates for the Data Transfer | 82 Mbps- 128 Mbps. | Not over 54 Mbps. |
| Screen Range | It comes with a dynamic range. | It comes with a dynamic range. |
With the factual insights above, 4K UHD has the upper hand compared to Blu-ray. As you can see, the main difference between the two falls on the price, resolution, and the size of capacity storage. Whereas, 4K UHD has more of all of them.
However, both can be a good choice, especially if you will turn the video or movie content into a digital video by ripping them. Thus, if you like the idea of transcoding your desired movie to play on your non-Blu-ray player, then proceed to the extra part below.
Part 3. How to Rip Blu-ray to Digital Videos
To achieve an excellent ripping procedure and cinematic quality, then there is nothing to use besides Tipard Blu-ray Converter. It is a flexible software you can obtain on any computer you use. Furthermore, it is an extraordinary ripping tool that offers multiple features helpful for your digital videos. Aside from its ripping tool that allows you to rip and transform movies into more than 500 formats at a 30 times faster procedure, it also comes with other great tools. One of its features is the converter feature that enables you to convert numerous video files into your desired formats like MOV, MKV, AVI, MP4, WMV, VOB, WebM, and many more. In addition, it lets you customize the videos by enhancing their resolution, reducing shakes, removing video noise, optimizing the brightness and contrast, and compressing them.
Meanwhile, you can work on ripping all kinds of Blu-rays and 4K UHD discs, for it also supports ISO, IFO, Folder, DVD, and AVCHD with up to 4K quality! Hence, if you like the idea of ripping with superb possession, then feel free to pursue the steps on using Tipard Blu-ray Converter below.
Step 1Get the tool by clicking the Download button applicable to the type of computer you use below.
Step 2Run the tool on your computer and click the Load Blu-ray button at the top right corner of the interface to import the Blu-ray you want to rip.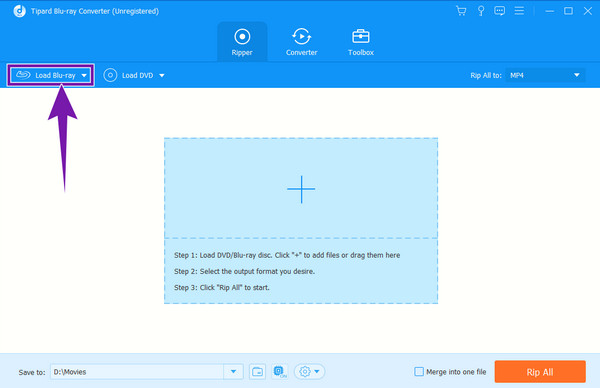 Note: inserting the Blu-ray disc into your computer drive before you run the ripping tool is a must.
Step 3Then, when the Blu-ray is loaded, hover over to the end part where the format menu tab is and click its Arrow drop-down button.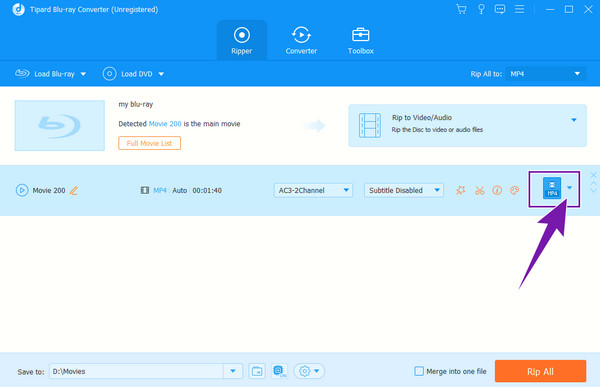 Step 4Once clicked, a new window will pop up. From there, please choose your desired format for the ripping output. Please choose among those that support 4K and 1080p resolutions, as seen on the right side of the interface. Then, click your preferred resolution after.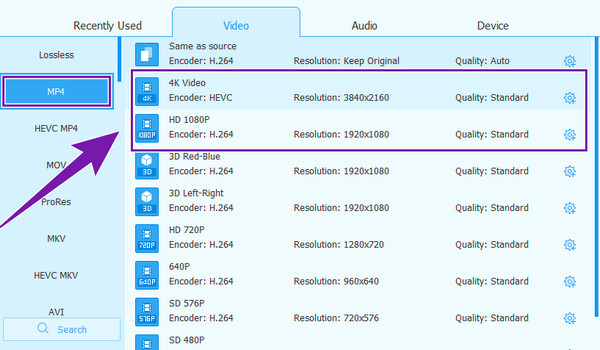 Step 5Finally, hit the Rip All button when you return to the main interface. Wait till the fast ripping process finishes, then check the ripped Blu-ray in the folder shown in the Saved To option.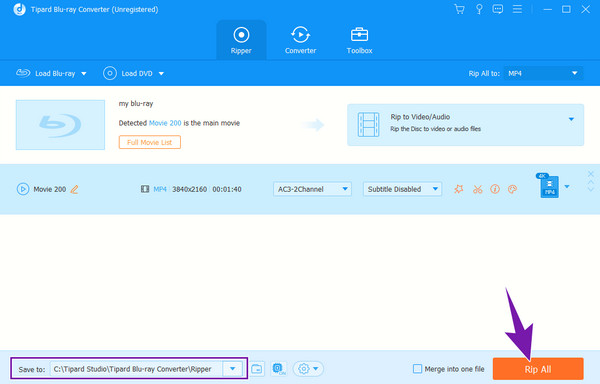 Part 4. FAQs about 4K and Blu-ray
Blu-ray vs. 4K Ultra HD, which is rippable with VLC?
Unfortunately, none of the two is rippable with VLC. Because, in the first place, a VLC media player doesn't have a ripping feature.
Can I find HDR video support on Blu-ray?
No. Blu-ray doesn't support HDR video. On the other, 4K Ultra HD is the one that supports HDR video with Dolby Vision.
Is a 4K UHD disc better than Blu-ray concerning video games?
No. Blu-ray is the better choice for video games since this disc comes with a red light that helps lengthen the wavelengths.
Conclusion
There you have it. This article that shows the Blu-ray vs. 4K content was written to help you decide which of the two is best to acquire. In the meantime, if you don't have the 4K UHD, you can convert the Blu-ray content to a 4K video using Tipard Blu-ray Converter.