How to Rip Blu-rays in 3 Easy Yet Excellent Ways
What makes the best Blu-ray ripper? You must have been thinking about this while you were about to click this post. Well, we tend to give you practical reasons why and how to choose the best one for you while providing you the comprehensive steps to rip your favorite Blu-ray movie content for the first time on your PC. With the king of convenience technology gives, we can now freely watch our favorite movie from Blu-ray on our handy devices such as on PC and mobile. And this is where Blu-ray ripping takes place. However, ripping is not as simple as we think since many technical things must be considered, such as the process where the high quality of Blu-ray is uncompromised. It is why having a good choice for Blu-ray ripping software is also crucial.
Fortunately, with this article's content, you can surely have your best companion with its comprehensive tutorial on perfect ripping. All that you will learn when you lean on the information below.

Part 1. Best Way to Rip Blu-ray Without Losing the Quality
When it comes to the best, nothing can give you the best procedure for ripping but the Tipard Blu-ray Converter. It is an all-out software that offers you the best Blu-ray ripper, converter, and toolbox to indulge in. Furthermore, this ripping program is accessible on Windows and Mac, giving you the same excellency in process and output. Moreover, this Tipard Blu-ray Converter allows you to rip Blu-rays, ISO, and folders in 4K or in the original quality in less than the time you expect. Yes, you read it right, this amazing ripper comes with top-level technologies such as acceleration, Blu-Hyper, and video decoding/encoding that help you to rip at 30 times faster!
What makes it more amazing is that it enables you to rip and convert your movies to whatever type of output you want. This Blu-ray ripper for Mac and Windows supports more than 500 different digital formats, including MOV, MKV, MP4, AVI, WMV, FLV, and many more. You will also love what its toolbox offers, such as a media metadata editor, video compressor, video enhancer, 3D maker, and GIF maker. And not to mention the simplicity of its interface, making you navigate it quickly without any hassle. Thus, we can say that this Tipard Blu-ray Converter has everything you need for your ripping task.
Pros:
• It comes with extra features besides a ripper.
• It rips Blu-rays 30 times faster.
• It supports more than 500 formats, allowing you to convert Blu-rays to digital videos.
• It extracts high-quality outputs from your Blu-rays.
• Incorporated editing tools to add effects, watermarks, filters, subtitles, and more.
• It supports batch ripping and conversion processes.
Cons:
• It is not 100% free software, but it comes with a free trial.
How to Use Tipard Blu-ray Converter
Step 1The first thing to do is download this best ripping program on your PC. Please refer to the download buttons above. When you have already finished downloading this amazing software, follow the installation process and then run it.
Step 2On the main interface, make sure to stay on the Ripper page, then click the Load Blu-ray button to import the Blu-ray that you need to rip. Alternatively, you may click the Plus icon at the center of the main interface to upload the Blu-ray. Please note that before you import the file on this Blu-ray ripper freely, make sure to insert the Blu-ray into your computer's optical drive.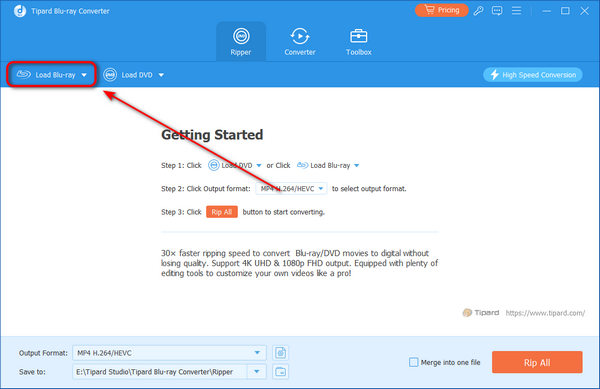 Step 3When the Blu-ray content is loaded, click the Arrow button in the Rip All To tab to select the format for your output. Please choose among the available formats shown in the prompted window.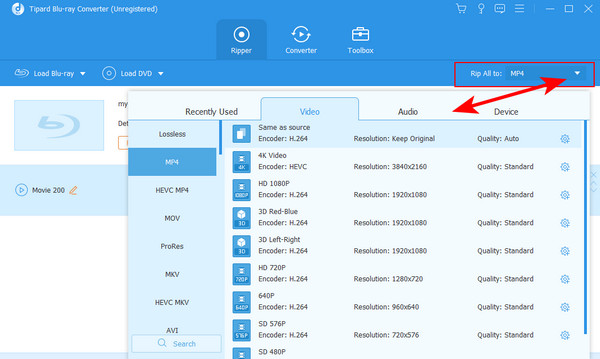 Step 4Optionally, you can also adjust or enhance the Blu-ray file by clicking one among the presets thumbnails shown along the uploaded file. Such presets are represented by the Star, Scissors, and Paint icons that you can freely use.
Step 5Before you even start to rip the 4K Blu-ray, you can customize the destination of your file. To do so, go to the Save to section and click the Browse and Select Folder tab. Then, to begin the ripping process, click the Rip All button at the bottom right corner.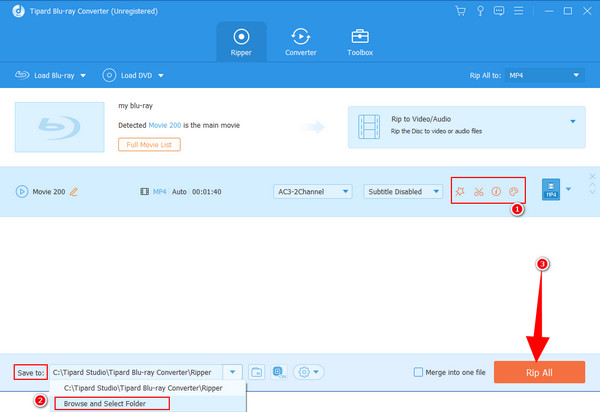 Part 2. How to Rip Blu-ray Using Leawo Blu-ray Ripper
Here comes another Blu-ray ripping program that will help you efficiently with your ripping task, Leawo Blu-ray Player. As its name suggests, this software is designed for converting 4K Blu-ray movies. Furthermore, this Leawo Blu-ray Ripper allows you to rip ISO image files and folders to videos in 720p, 1080p, and 4K. Moreover, it also lets you have various output formats, MKV, AVI, WMV, MP4, and many more. Meanwhile, you can also apply some video editing adjustments before ripping your 4K Blu-ray by cropping, applying 3D effects, trimming, adding watermarks, and more.
It is indeed a rapid Blu-ray ripper that lets you process the ripping in your expected time. On top of that, this tool can also remove the security of any Blu-ray to make the ripping and conversion process succeed. Thus, please refer to the steps below to provide you with a quick procedure for using this software to rip from Blu-ray.
Pros:
• Safe and easy to use.
• It comes with acceleration technologies for hardware, GPU, and conversion.
• Available on Mac and Windows.
• With extra video editing functions.
Cons:
• It cannot rip and convert batch files.
• The free trial version comes with ads.
• It doesn't have subtitles for SRT file conversion.
• It is not entirely free.
How to Rip Blu-ray Using Leawo Blu-ray Ripper
Step 1Install the software on your computer and launch it. Once launched, insert the disc on your optical drive and load it to the software by clicking the Add UHD/Blu-ray/DVD tab in the main interface. Alternatively, you can drag the Blu-ray file to the center when you open it using your file explorer.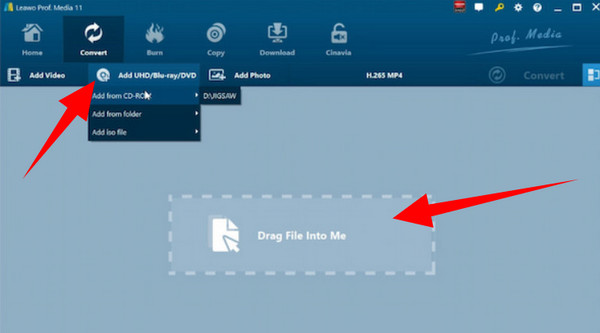 Step 2When the Blu-ray file is already loaded, go to the Profile panel and click to open the Format tab. And then, freely select your desired format for your output. After that, you may navigate to the Save To section to set the destination of your output.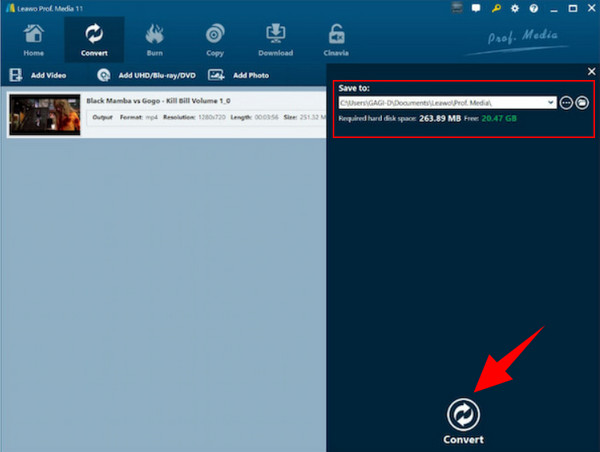 Step 3Finally, click the Convert button now to start the ripping process.
Part 3. How to Rip Blu-ray Efficiently with DVDFab Blu-ray Ripper
DVDFab Blu-ray Ripper is also one of the best tools that are capable of ripping Blu-rays and DVDs, for that's what its primary functions are. Besides its ability to rip, it also comes with the ability to convert video and audio files into a vast variety of formats excellently and conveniently. Furthermore, this DVDFab gives you gapless playback to use while letting you remove the protection before you rip the Blu-rays. Yes, as some Blu-rays are protected by region codes that are causing us to fail to play them back, especially when you have different regions. And that's why we know how vital a protection remover is for Blu-rays and DVDs. Luckily, this kind of feature is one of the great features of the DVDFab Blu-ray Ripper. Hence, to give you insight into how it works in ripping, please rely on the steps provided below.
Pros:
• It supports batch conversion.
• It lets you share your output with various social media sites.
• Many various video formats are supported.
• It lets you enhance your videos up to 4K.
Cons:
• It is not free software with a 30-day free trial.
• It doesn't support Mac 10 and lower and Windows 11.
• The paid version is pricey.
How to Rip Using DVDFab Blu-ray Ripper
Step 1Download and install the software and run it. Then, inject your Blu-ray disc into your external drive and upload it by clicking the Plus icon at the center of the interface. Then, wait for this tool to analyze the file.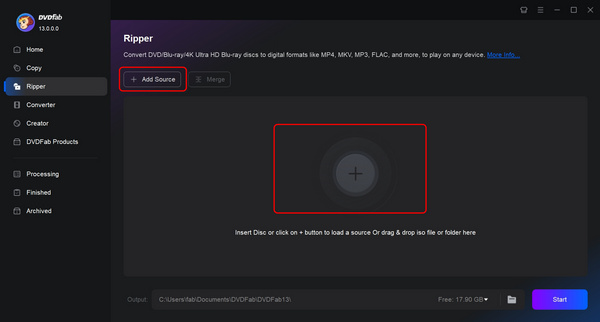 Step 2After that, click the IChoose Other Profile tab and select your desired format.
Step 3Finally, you can now hit the Start button to begin the ripping process.
Part 4. FAQs about How to Rip Blu-rays
How to rip Blu-ray using PS3?
You can play Blu-ray on PS3, but unfortunately, you cannot rip the Blu-ray with it. Therefore, use an alternative ripper to succeed, such as the Tipard Blu-ray Converter.
Can I rip Blu-rays with 3D content?
Yes. With the best blu-ray ripper like Tipard Blu-ray Converter, you can rip and convert your Blu-ray into a 3D video file.
How long does ripping Blu-ray take?
It depends on the size of the Blu-ray content you rip. But the normal ripping process using a good ripper takes one to two hours.
Conclusion
This article post contains three excellent Blu-ray rippers for efficient ripping. We assure you that your outputs are lossless if you use those best rippers. However, if you want an extra unique tool, use Tipard Blu-ray Converter and enjoy the other additional functions for your files.