Let's Explore and Learn Everything about 1080p vs. 4K
Nowadays, various resolutions are showing up in the media. This way, it is confusing to differentiate each resolution. But don't worry. This post will give you enough details about the resolution, especially 1080p and 4K resolution. This way, you will discover what they are and their differences. After that, in the later part, you will learn how to upscale 1080p to 4K perfectly.
Read the post now to have more ideas about 1080p vs. 4K!

Part 1. What is 1080p
Full HD (full high definition), referred to as 1080p. It is a display resolution with a common size of 1920 by 1080 pixels. The more pixels a picture contains, the sharper it appears to be. And resolution describes how many pixels a display has in width x height format. Today's TVs, gaming laptops, and PC monitors are frequently 1080p-resolution devices. And this is the lowest resolution deemed suitable for games or a modern computing experience. 1440p resolutions need a strong graphics card and offer more realistic gaming experiences. That's why most mainstream gamers still prefer to play at 1080p resolution.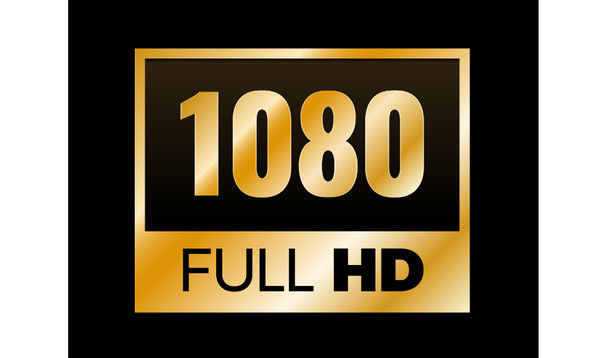 Part 2. What is 4K
A display that has 8 million active pixels is considered 4K. That resolution has been standardized at 3,840 by 2,160 for televisions. The resolution of digital cinema 4K, used in 4K theaters, is higher at 4,096 by 2,160. Whatever way you choose to define it, it offers four times pixels as a 1080p monitor. Additionally, it has a resolution over 23 times higher than that of HDTV. This indicates that 4K is sharper than 1080p. A 4K TV can fit four pixels in the same space as a 1080p TV. If you have native 4K source material for viewing at that resolution, there is a noticeable improvement in clarity.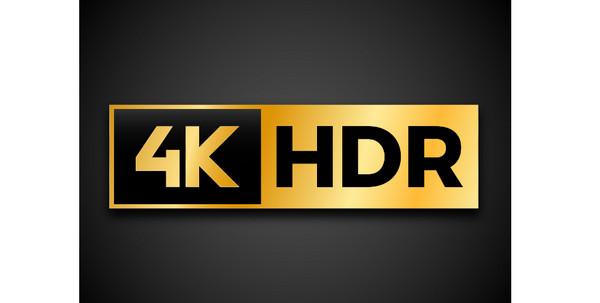 Part 3. Differences Between 1080p and 4K
| Resolution | 1080p | 4K |
| --- | --- | --- |
| Horizontal Pixels | 1920 | 3840 |
| Vertical Pixels | 1080 | 2160 |
| Total Pixels | 2,073,600 | 8,294,400 |
| Marketing Names | FHD, Full HD | UHD, Ultra HD |
| Worth Watching | 20" Displays from 3.8' Away or More | 20" Displays from 3.8' Away or Less |
| HDMI | 1.4 or above | 2.0 or above |
Part 4. Is 4K Better Than 1080p
The answer is definitely yes if you wonder whether 4K is superior to 1080. Today, 4K content is commonplace. TV manufacturers reserve their most cutting-edge technologies, like HDR and Dolby Atmos sound, for 4K TVs. Anyone purchasing a 1080p TV now is likely cost-conscious. Thus, enhancing them with features will only reduce their sales or profit margins. Many factors make 4K image quality higher than that of 1080p. The ability to distinguish extra-fine detail and perceive it while sitting closer to the screen is one of these aspects. See more details below.
Detail and Resolution
The finest details can be reproduced in 4K UHD, which has four times as many pixels as 1080p. This is regarded as the 4K video standard's major benefit.
For Closer Viewing
You may get a crisper picture while sitting closer to the big screen. It is thanks to 4K's higher resolution improvement over 1080p. The suggested viewing distance for a 4K TV can be half of a standard TV. It is because 4K feels best when watched up close; you might not always get the full effect from a distance.
Zoom Out
It is necessary to downscale recordings. You can downscale 4K content to 2K high resolution. Tests revealed that the image was more detailed when compared to a 2K scaled-down version of a 4K movie. 4K is ideal for consumers who need and expect the highest level of cinematic picture quality.
Part 5. How to Upscale 1080p to 4K or Downscale 4K to 1080p
If you want to upscale your 1080p resolution to 4K, downloading a program would be best. If that is so, try to download Tipard Video Converter Ultimate. If you have a video with 1080p resolution, you can change it using its converter features. Converting and upscaling video is easy and fast because of its straightforward interface and hardware acceleration. Plus another feature you can enjoy is the batch conversion process. This way, if you want to upscale and convert multiple video files, you can do so. This batch conversion feature saves you more time during the upscaling process.
Moreover, while upscaling the file, the program allows you to use some editing tools. You can click the Edit icon to proceed to the edit section. From this section, you can improve the file using various tools. You can rotate or flip the video. You can add effects and filters or modify the video's saturation, brightness, contrast, and hue. With the help of these editing tools, you can expect exceptional output after saving it on your device. Furthermore, Tipard Video Converter Ultimate is available on any operating system. It includes Windows and Mac. Aside from these features, you can discover more about the program. So, to upscale 1080p to 4K and vice versa, see the basic steps below.
Step 1Before the process, you first need to download the program you need. So, click the Download button below to easily access Tipard Video Converter Ultimate. Then, run the program when you are done in the process of installation. After that, the interface will appear.
Step 2You will see the Converter option on the upper part of the interface. Click it and hit the Plus icon in the middle interface to insert the file with a 1080p resolution. You can even drag the file directly to the interface.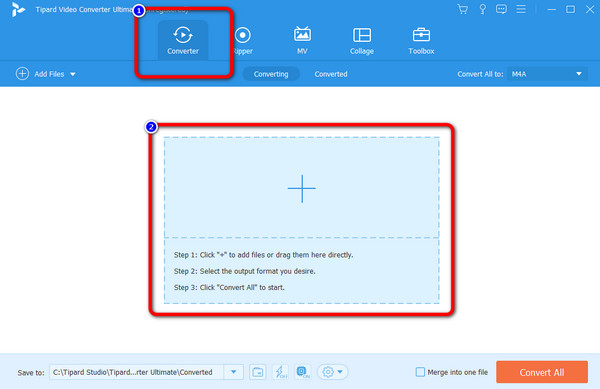 Step 3After you have added the file, go to the Convert all to option. Then, the format options will appear. Select your desired output format. After that, select the 4K Video from the quality options as your preferred resolution.
Step 4Suppose you want to improve the video. Then, you can click the Edit icon. This way, you can rotate and crop the video. You can add filters and effects to the video, like color adjustment. Inserting watermarks and subtitles is possible if you need. After that, click the OK button.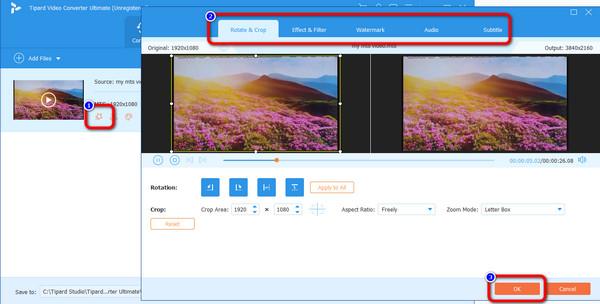 Step 5To finally upscale your 1080p to 4K, click the Convert All option from the lower-right corner of the interface. Then, after the conversion process, you can already play your video with a 4K resolution.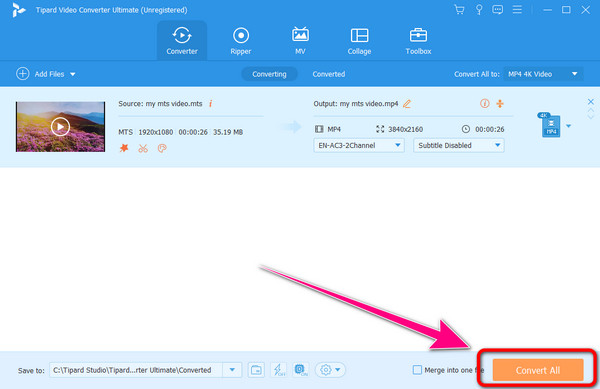 Note: Follow the same procedure above to downscale 4K to 1080p.
Part 6. FAQs about 1080p vs. 4K
1. What is the difference between 1080p vs. 2K vs. 4K?
Their main difference is the resolution they can offer. The resolution of 1080p is 1920 × 1080. The resolution of 2K is 2560 x 1440. Lastly, the resolution of 4K is 3840 x 2160. As you can see, between these resolutions, 1080 has the lowest, and 4K is the highest. Then, 2K is in the middle of 1080p and 4K. With that, we can conclude that if you prefer a higher resolution, the best way is to have a 2K or 4K.
2. Is 4K noticeable over 1080p?
Yes, it is. To see the differences, you need to come closer when playing 4K. This way, you can see the details, colors, and more.
3. Is 4K twice as good as 2K?
At first, we can think that 4K is twice as good as 2K. However, it is not. 4K resolution is four times better than 2K. As you calculate the pixels between the two, 4K has more than 8 million pixels. On the other hand, 2K resolution has 2 million pixels.
Conclusion
This review taught you everything you need about 1080p resolution vs. 4K. This way, you won't get confused about their differences. In addition, you discovered the best procedure to upscale 1080p to 4K or downscale 4K to 1080p using Tipard Video Converter Ultimate. So, using the program is the best choice if you want to upscale more files easily and instantly.