How to Play Blu-ray Discs with VLC: Easiest Way to Learn
VLC is undoubtedly one of the most popular media players on a PC and the second most popular player on mobile. Unlike others, this player is free and open-source software that will make you acquire it anytime without needing to purchase it. Another thing that makes VLC special is its various capabilities to do other functions, such as video conversion and some video editing functions. For this reason, many also want to know if this VLC can play Blu-ray. As you move on to the content below, you will see the step-by-step tutorial on how to do the task on Windows and Mac. Hence, without further adieu, let's get it started.

Part 1. How to Play Blu-ray with VLC
Before we move on to the following tutorial, let us confirm if VLC can play Blu-ray. Well, the answer depends on the version of VLC you have on your device. The older version of VLC has been reported to not support playing Blu-rays due to incompatibility issues. On the other hand, if you are using a 2.0 VLC version and up, you can enjoy its compatibility or support for Blu-rays along with the additional operational presets that VLC offers. Not to mention the ability of this media player to convert and edit files as its extra feature. However, this relishing information won't change the fact about the complex process of this media player for its extra functions besides playback. And yes, playing Blu-rays is not exempt. Hence, we have made the tutorial below as simple as possible for you to follow. Please note that this tutorial is applicable on both Windows and Mac versions.
How to Make VLC Play Blu-ray
Step 1Grab the Right Version
First and foremost, you have to make sure that you grab the correct version of VLC, which is 2.0 or higher. Otherwise, you will need to upgrade or re-install the VLC with the latest 3.0, with the 64-bit version, to play the Blu-ray on your computer device possibly.
Step 2Download the Needed Library and Database
Next, you must acquire the keys to databases and the AACS library to proceed. This will help you avoid the issue of playing encrypted or coded Blu-rays. To download the said keys and library, go to the VLC Blu-ray site. Then, grab the files with the names KEYDB.cfg for the database and the library, namely libaacs.dll.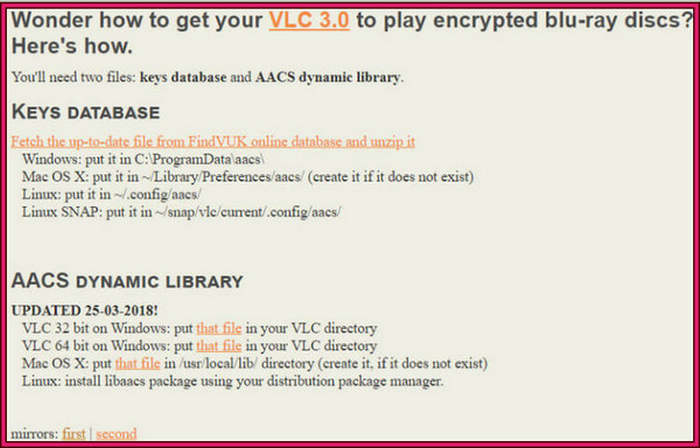 Step 3Prepare the Downloaded Files
Once the files are available, renaming the folder as AACS would be best. Then, move the KEYDB.cfg file in that folder. After that, go to C:\Program File\VideoLAN\VLC and transfer the new folder there.
Step 4Play the Blu-ray in VLC
ubsequently, you now insert the Blu-ray disc on your computer and launch the VLC media player. Once the player is launched, go to the Media menu, and click the Disc option. On the disc panel, toggle the Blu-ray tab, select the Blu-ray disc in the Browser menu, then click the Play button. You also can rip DVDs in VLC.
Part 2. Best Blu-ray Player Alternative to VLC
VLC is great, and its ability to read and playback Blu-ray is excellent. However, as you have seen in the tutorial above, the procedure is undeniably demanding. For this reason, we are glad to provide you with the best alternative with a much easier process for playing Blu-rays. Tipard Blu-ray Player is a fantastic player that is flexible to acquire on Windows and Mac in a breezy downloading process. Meanwhile, this Tipard Blu-ray Player has excellent support for all types of Blu-rays, including the ISO and folder, and is super flexible to provide you with excellent quality on DVDs. Furthermore, you will also love the playback control set shown in its interface, where you can easily forward, rewind, skip, pause, and stop your video on the play. VLC won't play Blu-rays as this outstanding player does because it comes with a snapshot where you can snap the movie's best scenes.
Not to mention Tipard Blu-ray Player offers wide variances of effects, where you can freely customize your video's brightness, contrast, hue, gamma, and saturation. Along with this are the tools to crop, deinterlace, and edit aspect ratio and screen size. Finally, you shouldn't also miss appreciating its dark, elegant, and premium interface that is perfect for professionals and beginners. Thus, the tutorial below will prove to you how amazing yet smooth this Tipard Blu-ray Player is when it comes to playing Blu-ray.
How to Play Blu-ray Discs with VLC's Alternative
Step 1Install the Best Blu-ray Player
Begin by clicking the Download button below as you are about to install this best software on your computer. Install it easily and launch it afterward.
Step 2Read the Blu-ray
After launching the software, you can insert the Blu-ray onto your disc driver. Once done, hover over to the software's main interface and click the Open Disc tab. Then, click the read disc that you have inserted to open.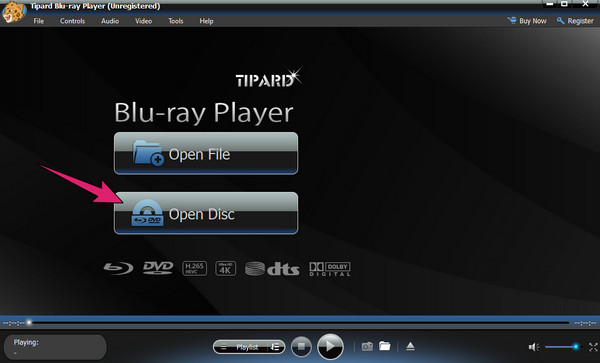 Step 3Play the Blu-ray
As easy as that, you can now see your Blu-ray movie playing on your computer screen. You can enjoy this software more when you test all the playback controls available in the interface. If you want to adjust the image display, you can click the Tools menu at the top, then click the Effects option. Then, if you wish to exit the movie and return to the home page, just click the Stop button.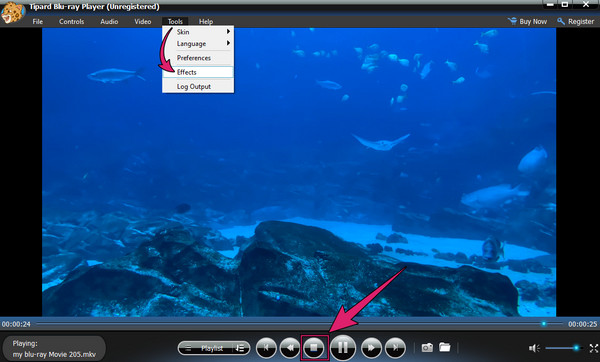 Part 3. FAQs about Playing Blu-ray with VLC
Does VLC play Blu-ray with MPEG-4 codec?
Yes. As a matter of fact, the MPEG-4 or H.264 that Blu-ray primary supports is also one of the primary codecs that VLC supports.
Why are my other discs not playing on VLC?
There are times that you will encounter errors in playing discs on VLC. This is because VLC media players do not support commercial discs for some reason.
Can I also use VLC to take a snap from my Blu-ray movie?
Yes. VLC's snapshot feature will be available when the movie is on the play. However, many users who took screenshots using the snapshot of VLC were not satisfied with the images' quality. Therefore, if you want to have crystal-clear screenshots, use Tipard Blu-ray Player.
Conclusion
To conclude, you can use VLC to play Blu-ray, but you will need the latest version and install the needed library and database. For some who are not that tech-savvy, they will indeed see it demanding and perplexing as it does. But thanks to Tipard Blu-ray Player, playing Blu-rays on a computer has been much easier.