Best 4K Blu-ray Players: 6 Hardware and Software Worth Your Time and Cash
Isn't it practical to acquire a device that can cater to both the latest DVDs and Blu-rays at the same time? Not all media players can do that; only a few are worth your cash and precious time. For this reason, we have created this article outlining the six best picks for 4K Blu-ray and DVD players. By reading the entire article below, you will be able to grasp and realize that you can reminisce about your old favorite movies without compromising the technophile inside you. So, without further adieu, let's add fuel to the engine and get going.

Part 1. Things to Remember in Selecting a 4K Blu-ray Player
Before you get a 4K Blu-ray DVD player, you should remember the following things to remember in selecting a good one. First, you should know, or you should decide first if you are going to get hardware or software. After deciding, review your prospective player's features, price, and advantages and disadvantages. Then, after having this getting-to-know stage, inspect the player to see if it fits the kind of device you will use along with it. For the hardware, ensure it fits the kind of television and the voltage you use in your electric circuit. For the software, ensure that it fits your computer's OS.
Part 2. Top 3 Hardware 4K Blu-ray Players that Can Play DVDs
Here are the top 3 4K Blu-ray/DVD player reviews for the hardware edition. Cling on to this part if you are the type of user who prefers a portable device.
Top 1. Panasonic DP-UB9000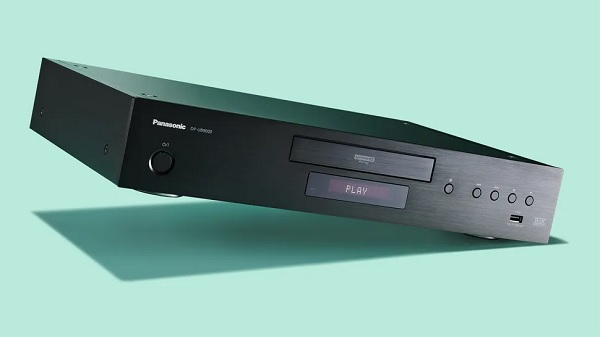 Price: $974.94
See what brings this Panasonic DP-UB9000 to the top. This player supports up to 3840 x 2160 video resolution with HDR10+, HDR10, and Dolby Vision-supported formats. The player itself has a dimension of 430x81x300 mm and a weight of 7.8kg. Its price is reasonable since it is beautifully made with the latest technologies attached to it. Another reason for being a premium DVD player, this device from Panasonic supports the latest Smart TVs, WiFi, and 3D movies playback. However, this player doesn't have support on SACD.
Top 2. Sony UBP-X700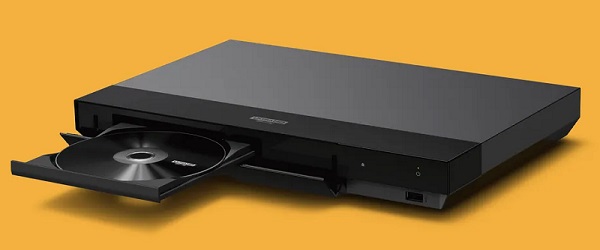 Price: $263
With a cheaper price than the previous one, this Sony UBP-X700 is Sony's 4K DVD player top of the line. This, too, supports 3840x2160 video resolution and is workable on Smart TVs, WiFi, and 3D videos. This player weighs 1.4 kg and 320x45x217 mm for its physical dimension, which is drastically lighter than the previous one. When it comes to its supported formats, Sony UBP-X700 supports Dolby Vision, HDR10, and HLG, and yes, it comes with UHD upscaling. However, when it comes to sound, it is left behind with the first one.
Top 3. Reavon UBR-X200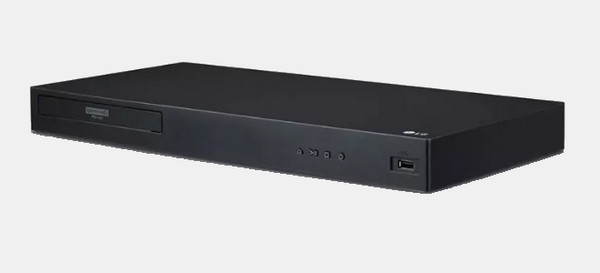 Price: $1,020
Lastly, you can try this Reavon UBR-X200 player, another device that enables you to play 4K Blu-ray and DVD. This device has an incredible 4K upscaling with extensive file support for Dolby Vision and HDR10. It has a dimension of 430x85x300 mm and weighs 6.3 kg. For its supported resolution, it can work on 3840x2160 videos and 3D ones. However, it lacks support for wireless connectivity or WiFi and HDR10+ decoding.
Part 3. Top 3 Software 4K Blu-ray Players Best for DVDs
Top 1. Tipard Blu-ray Player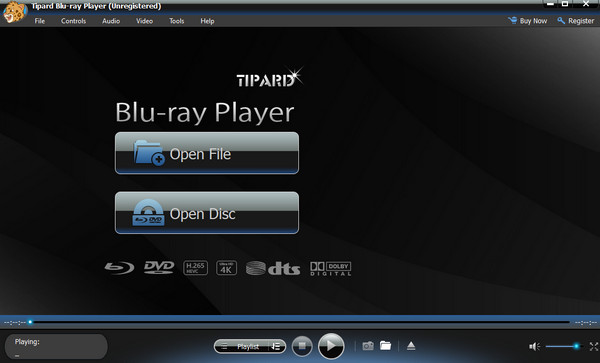 Price: $16.00 - monthly license; $32.00 - lifetime license.
If you are looking for the latest innovative DVD and Blu-ray player software for your computer device, Tipard Blu-ray Player is the one to acquire. This amazing software is available on Windows and Mac and has extensive functions and features. No wonder this software made it to the top since many excellent reasons made it so. Furthermore, this Tipard Blu-ray Player can easily accommodate your DVDs, Ultra HD, 4K Blu-ray, and ISO files. It is a region-free player that will surely provide you with the highest lossless watching experience ever. What makes it more impressive is that it offers advanced technologies such as Intel, DTS, and Dolby Vision, making it extra powerful. Thus, it can bring you a matchless output quality when you use it.
What's more? This best 4K Blu-ray player for PC that can play DVD provides you with a neat and user-friendly interface with adaptable playback controls. You will be given multiple options and selections to customize your movies while playing them. Do you want to know what those are? They are the speed, volume control, and the video's effect settings for brightness, saturation, hue, contrast, and gamma. Overall, this Tipard Blu-ray Player is the best deal for you and rookies. Thus, you can scan this software more by installing it on your PC using the download buttons below.
Top 2. DivX Video Player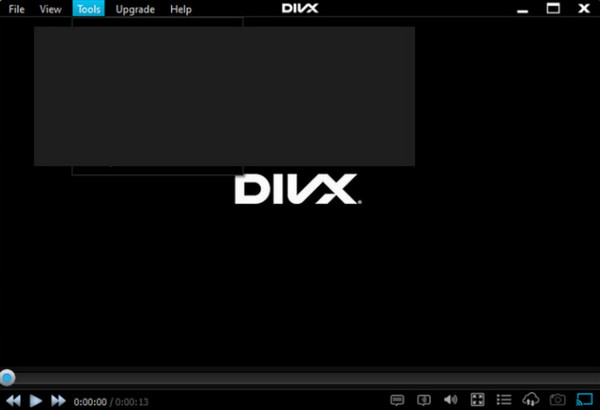 Price: $34.19 - Pro version.
Next in the line is this DivX Video Player. It is another 4K Blu-ray player that also works with DVDs excellently. Furthermore, It is a multimedia player that flexibly supports numerous video formats, including 4K UHD videos. As you see in the photo, it comes with a clean and elegant interface that you can have perfectly on both Mac and Windows screens. Surprisingly, you can also cast it on larger screens like TVs. Regarding the features it offers, DivX provides tools for enhancing audio, burning videos, and many more. However, aside from its higher price, DivX can only provide you with a 15-day free trial.
Top 3. CyberLink PowerDVD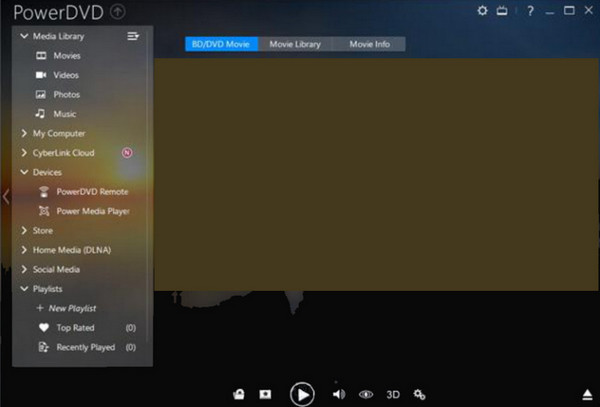 Price: $59.99 - Standard; $69.99 - Ultra Version.
Finally, we have this CyberLink PowerDVD. It is a DVD player for PC that supports Blu-ray. You will love how this media player can support your videos with up to 8K quality. Furthermore, just like the previous one, this PowerDVd of CyberLink lets you watch your 4K to 8K videos and DVDs on TV screens aside from the screen on your computer. If you like the dark and elegant-looking interface of the previous ones, this player also provides it to you. However, for you to acquire it, your computer hardware must be powerful.
Part 4. FAQs about DVD and Blu-ray Players
Is a software DVD player more practical to get than hardware?
Yes. Aside from the fact that a software DVD player is more affordable, it is also accessible to use.
How long does a usual hardware player last?
A regular DVD player hardware typically lasts for six years.
Conclusion
There you have it, this year's 6 best 4K Blu-ray and DVD players. Apply the tips we asserted for you to select the best one. As per the practicality and accessibility, the software players have a higher hand. And if you decide to have software, always choose the top choice. Indeed, you will always go right with Tipard Blu-ray Player due to the extensive features at a much more affordable price.