How to Rip Blu-ray for Plex: Guideline for the Best Solution
Isn't it convenient to watch your favorite Blu-ray movies on your portable devices like computers and phones? For this reason, Plex can help you do that. However, you will need to rip Blu-ray to Plex's supported file for it to stream your movie. But how can you rip the movie without compromising its quality? Fortunately, this article has the best solution only for you. In addition, extra learning and tips are included in the outline so that you can have more enlightenment about Plex and the ripping process. Hence, let us not delay this any longer, and let's get going by reading the content below.

Part 1. What is Plex
Plex is a media server that debuted in 2008. Throughout these fifteen years, this app has been dedicated to organizing the video, photo, and audio files of its online users to be streamed by its players. Its official clients can run it on their mobile devices, streaming boxes, web apps, and Smart TVs. Furthermore, it is known to be a freemium service that allows you to open and play media files from one device to another that it supports for free. However, despite having a free version to use, Plex also comes with a premium subscription where all the powerful features, such as live television and mobile syncing, are available. Furthermore, this media player software is downloadable to any network-attached storage or NAS devices and on Windows, Mac, and Linux computers.
Part 2. Why Rip Blu-ray for Plex
Let us now see the reasons for ripping Blu-ray to Plex. The Plex Media Server is, without a doubt, a great tool for media file playing. However, one of its weaknesses is it lacks the ability to play Blu-ray movies. For this reason, even if you want to stream your favorite movie on a Blu-ray, you can only do that if you rip it. Another reason is that we all know that most Blu-rays are encrypted, and one way to decrypt them is by ripping them.
Part 3. How to Rip Blu-ray for Plex
As mentioned above, the best way to play your favorite Blu-ray movie with Plex is by ripping it. However, you wouldn't want any ripper out there because, for sure, you would seek the best way to rip Blu-ray for Plex. For this reason, allow us to present you with Tipard Blu-ray Converter, the most amazing Blu-ray ripper of the year. You will surely love to have this software on your Windows and Mac computers, for it provides you with a ripper, a converter, and a Toolbox where your favorite video editing tools lay. With this being said, you can exaggerate your ripping task by editing the Blu-ray movie's metadata, compressing it, and enhancing it in several ways. In addition, you can also create your own GIF and 3D content out of your Blu-ray movie as part of its powerful tools.
Another reason for loving it is its support for more than 500 different video formats like HEVC MP4, FLV, AVI, MOV, MTS, XVID, ASF, and many others. Despite that, this Tipard Blu-ray Converter will never disappoint you in bringing your Blu-ray to Plex movies in excellent quality, for it supports 2K, 4K, and even 8K video output!
Main Features:
• Transcode Blu-ray movies to more than 500 various video formats and devices.
• Rip your Blu-rays 30 times faster than the regular ripper.
• It comes with a built-in Toolbox that contains various video editing tools, such as a compressor, enhancer, medium metadata editor, and more.
• Excellent quality extraction from your Blu-ray's audio and video, including 4K and 8K videos.
How to Convert Blu-ray for Plex
Step 1Install the Ripper on Your PC
Begin by installing this Tipard Blu-ray Converter on your computer by following the prompted installation process when you click the Download button above.
Step 2Load Your Blu-ray
After the installation, run the software to reach the main interface. This is how to rip a 4K Blu-ray for Plex. You need to insert the 4K Blu-ray into your computer's optical drive, and once done, stay on the Ripper page. Now, hit the Load Blu-ray button and load the Blu-ray you want to rip. Also, you may hit the Add symbol at the center of the interface to import the content.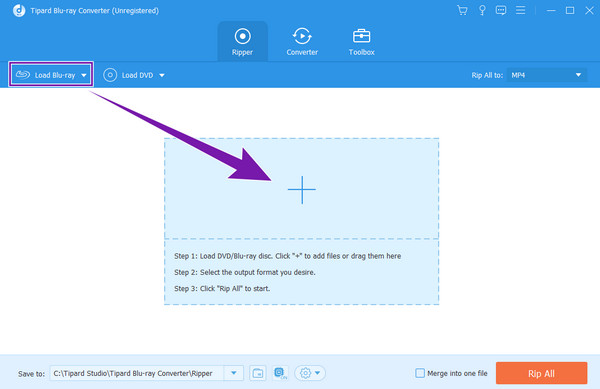 Step 3Set the Output Format
After loading the Blu-ray, you must set its output format. To do so, go to the Rip All To section and click the Arrow button to prompt the window where you select the format output. Please choose among the options under the Video tab or Device tab.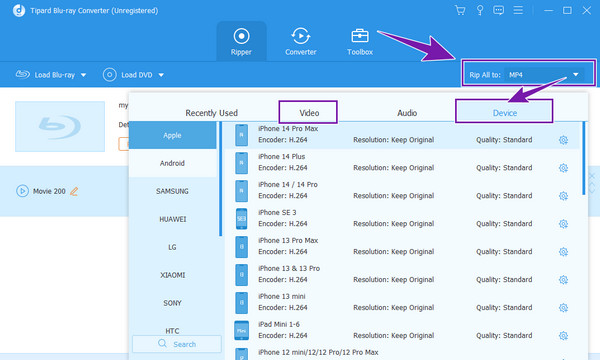 Step 4Customize the Content (Optional)
One good reason for choosing this tool is that it enables you to customize your Blu-ray content before ripping it. You can do it optionally by clicking the needed presets that are represented by the Scissors, Star, and Paint symbols you see along the loaded file. You can customize your Blu-ray by adding effects, filters, watermarks, and subtitles and edit it by rotating, cropping, cutting, spitting, and enhancing it freely.
Step 5Rip the Blu-ray
To finally begin the ripping process hover over to the Rip All button located at the bottom-most right corner of the interface. Thus, you have the option to pre-set the destination for your file before you rip Blu-ray. Go to the Save to section, hit the Arrow button, and select the Browse and Select Folder tab to do so.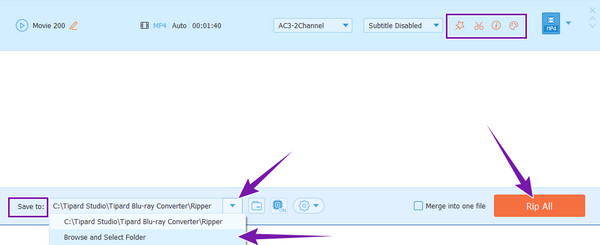 Part 4. Tips for Ripping Blu-ray for Plex
Before you even consider ripping Blu-ray to Plex streaming, you can see the tips below that will help you.
• Check if the Blu-ray is region-locked. If so, you will need to make sure that the ripper can work with locked Blu-rays.
• Make sure that the Ripper software supports the formats that Plex supports.
• Aim for a high-quality video to play with Plex.
Part 5. FAQs about Ripping Blu-ray for Plex
Does Plex support MKV format?
Yes. MKV is one of the supported formats of Plex, including MP4, WMV, MPEG, and other popular ones. Click here to learn how to rip Blu-ray to MKV.
Can I rip 3D Blu-rays for Plex?
Yes. You can rip regular and 3D Blu-rays for Plex if your ripping tool supports 3D.
Why does Plex not work fine?
Sometimes, Plex is not working potently, causing it to buff on high-resolution videos like 4K videos. If you experience this issue, try to fix it by updating the server. To do so, click Settings, then click the General button to access the Check the Updates option to click. Afterward, make sure to restart Plex to apply the updates.
Conclusion
There you have it, the best guideline to rip Blu-ray to Plex. Reading this article post will make you learn more about ripping and about Plex itself. Furthermore, may you also share your learnings with your friends, so they can also use Plex with their favorite Blu-ray movies. Also, please let them meet Tipard Blu-ray Converter, the best ripping software we all got to have.