Step-by-Step Tutorial in Converting 3D Blu-ray to SBS for Windows and Mac
There are various reasons why people convert 3D Blu-ray to SBS. And we may conclude the most valid reason for doing this task is because of using VR headsets. Having a backup of 3D Blu-ray movies is a wise person's practical practice. It is because that person knows how frail the physical optical discs are and that just a single scratch can easily damage them. Therefore, a backup ISO file should be created to preserve the 3D content of a Blu-ray disc. However, with our current technology, 3D players are also included in the innovation, which therefore requires a level-up playback experience, like what VR headset does.
For this reason, let us learn how to fulfill the legit 3D playback experience in a VR headset by converting an ordinary 3D Blu-ray into SBS one in the most effortless ways below.

Part 1. Quick and Remarkable Way to Convert 3D Blu-ray Movies to 3D SBS
Tipard Blu-ray Converter
If you want an easy, convenient, and quick way to convert your Blu-rays with 3D movies to SBS, then this Tipard Blu-ray Converter is a perfect choice. This software has a simple yet remarkable interface and process that you will surely enjoy. With the hardware acceleration support that it is infused with, your 3D Blu-ray to SBS 3D conversion will have 30 times faster transactions. Additionally, it can convert multiple 3D ISO files to your desired output at once since it supports batch conversions! Remarkably, when you choose to have a 3D left-right or SBS for output, you can customize the 3D settings of the video to add effects! Furthermore, this dedicated converter comes with multiple great features, including a ripper and a Toolbox of various tools. To cut to the chase, this Toolbox offers a video compressor, 3D maker, GIF maker, video enhancer, and media metadata editor that will give extra colors to your 3D movies.
Moreover, despite being a multifunctional Blu-ray converter, it is also a cross-platform tool you can acquire on both Windows and Mac computers. Not to mention the more than 500 different file formats that it supports, such as MP4, AVI, WMV, FLAC, MKV, XVID, etc., which you can choose for your 3D SBS outputs. Hence, to give you more of this Tipard Blu-ray Converter, here are the steps to follow in converting 3D Blu-ray to SBS.
Step 1Install the software on your computer, then launch it. Then, hit the Arrow button of the Load Blu-ray option and choose the suitable Blu-ray file to upload the 3D movie.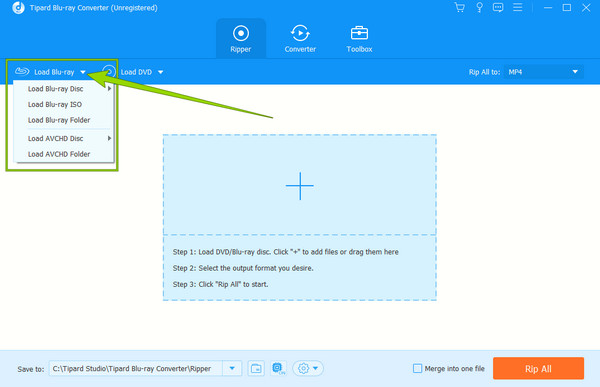 Step 2Once the 3D Blu-ray is loaded, you can already directly hit the Arrow button in its tail part. Then, choose the format you want for the output on the new window. After that, hover over to the right side and move your cursor to the 3D Left-Right option.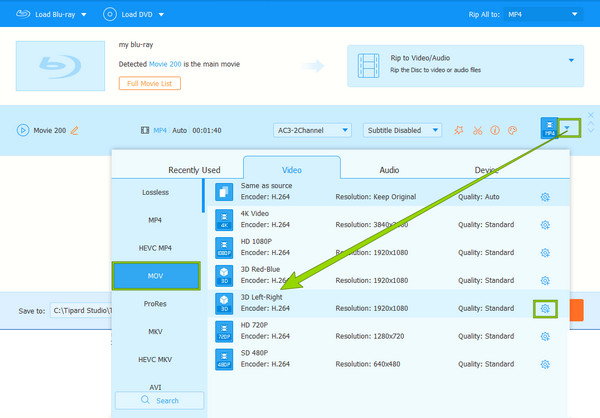 Step 3Before you even click the option, let us customize the 3D effects of the output. Access the 3D setting by clicking the Coggle icon. Once you get to the new window, toggle the Split Screen option and choose the Side by Side tab option. You can also adjust the Depth as you wish. Then, click the Create New tab.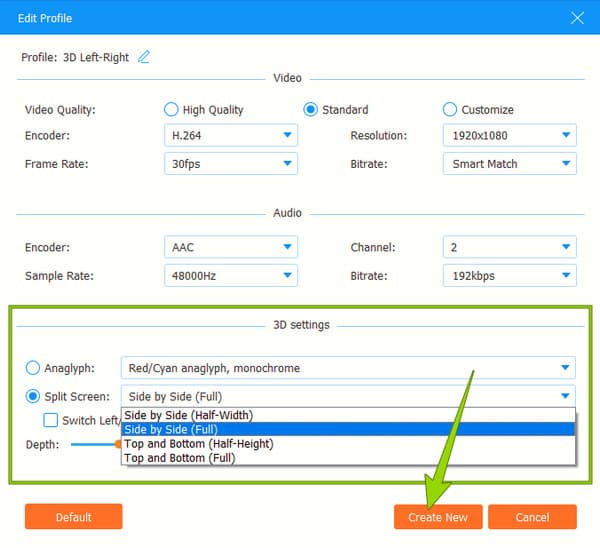 Step 4Optionally, you can also add some effects and filters to your 3D SBS by clicking the Star icon in the main interface. Then, go to the Effect & Filter menu on the prompted window and begin customizing the panel. After adjusting, click the OK button to apply the changes.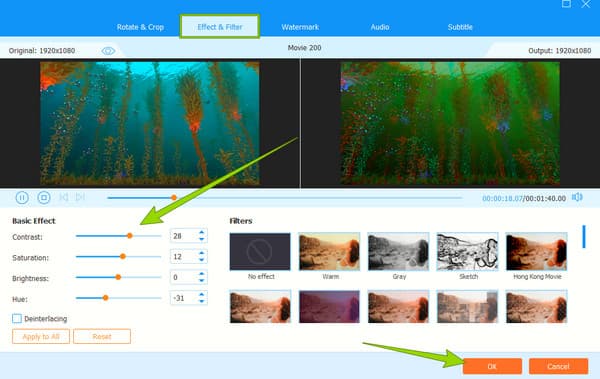 Step 5Finally, you can now hit the Rip All button. This amazing software works as a ripper and a converter at the same time.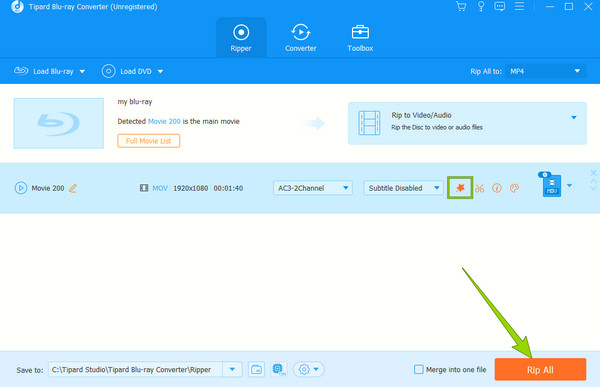 Pros:
• It supports any type of Blu-ray.
• It is an easy-to-understand tool.
• It comes with a hardware acceleration that fastens the conversion to 30 times faster.
• Support a wider range of file formats.
Cons:
• It is a paid software that comes with a free trial version.
Part 2. Another Quick Way to Convert 3D Blu-ray to 3D SBS
Another remarkable 3D Blu-ray ripper to watch out for is EaseFasb LosslessCopy. It is a professional software that will help you convert 3D Blu-ray to SBS. You also love how easy the process offers that even an elementary could understand. Furthermore, it supports various formats, including MKV, MP4, and MOV, in producing 3D outputs. However, you will need to bear the chaotic organization of the features in its interface that will give you a not-so-well impression of it. Nevertheless, it is good software, especially when following the steps below.
Step 1Run the software after installing it. Click the Plus icon in the DVD button on the main interface, and choose the Load IFO/ISO button to import the 3D Blu-ray.
Step 2Then, click the Settings button along the Format section and choose a format under the 3D Videos tab menu. Then, hit the Customize tab and toggle the Side by Side option in the new window.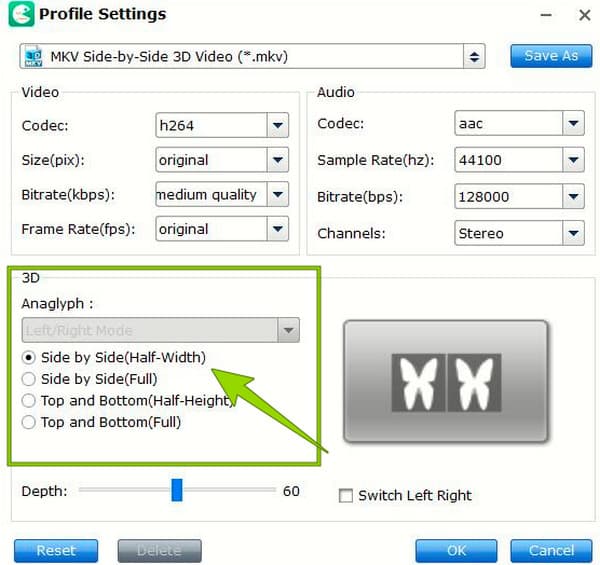 Step 3Finally, hit the Convert button to begin the conversion process.
Pros:
• You can use it for free.
• Work very well with 2D and 3D videos.
• It is compatible with Windows and Mac computers.
Cons:
• The interface looks outdated.
• It supports a minimal variety of video formats.
Part 3. Extended Knowledge about 3D Blu-rays and 3D SBS
3D Blu-ray is a type of Blu-ray that has stereoscopic viewing. It uses a multi-view codec, whereas viewers use 3D glass to appreciate its scene display. 3D SBS, on the other hand, stands for Side by Side 3D, which uses two halves frames for both left and right views. A video with an SBS signal has split frames making the display scene even more realistic than a regular 3D movie, especially when watched with a professional 3D monitor and VR headsets. Click here to get 3D Blu-ray players.
Part 4. FAQs about 3D Blu-ray and SBS
Can I have an MP4 format for my 3D SBS video?
Yes. You can have various format types for a 3D SBS video as long as your Blu-ray converter supports them.
What is the best resolution for a 3D video?
Similar to the regular Blu-ray and videos that use a 1080p resolution, 3D videos are also best with the same resolution.
Can I watch 3D movies without using 3D glasses?
Yes, you can. However, the impact of the 3D display can harm your eyes.
Conclusion
There you have it, the best instructions to convert 3D Blu-ray to SBS. We couldn't agree more on how easy this task is, but it still depends on the software that you are using. Hence, make sure to utilize Tipard Blu-ray Converter together with its great features in converting multiple Blu-ray files at 30 times faster and have a successful lossless conversion.