Blu-ray Disc Capacity: How to Store More Files in Blu-rays
A Blu-ray is a disc that holds high-definition formats that debuted to us in 2006. Furthermore, it is a kind of disc with an outstretched color, depth, and image details, and that has been used till now. Eventually, different types of Blu-rays arose, and so did the Blu-ray capacity. Hence, to give you more informational updates about the capacities and types of various Blu-rays, plus the ways how you can enlarge their storage, here is a helpful article for you to read.

Part 1. Blu-ray Capacities of Main Blu-rays
There are two types of Blu-rays: the BD-R and BD-RE. Each of these Blu-rays has its own characteristics, as we listed below.
BD-R
BD-R is also known as Blu-ray recordable. It is a type of Blu-ray that can only be written once. The Blu-ray capacity in GB of this type depends on its layer because it comes with a single and dual one. The single layers of BD-R are also called BD-25, BD-R SL, and BD-R 25GB; by these names, this layer can only contain up to 25GB. On the other hand, the dual layer of BD-R that offers up to 50GB of size is also called BD-R DL, BD-50, and BD-R 50GB.
BD-RE
BD-RE is the type of Blu-ray that is rewritable. This means this kind of Blu-ray disc can write, read, delete, and overwrite the data it contains multiple times. When it comes to the storage capacity of this Blu-ray, it also has the kind of what the BD-R has. The single-layer type of BD-RE or also known as BD-RE 25GB, BD-RE SL, and BD-25, all have the capacity to save up to 25GB size of data. While the BD-RE dual-layer is called BD-50, BD-RE 50GB, and BD-RE DL can store up to 50GB of data.
Part 2. How to Make Blu-ray Store More Files
To make your Blu-ray physical disc more spacious, here are three different ways that you can count on. First is by ripping the Blu-ray contents and converting them into digital files that can be saved on your local drive. The other one is by extracting the content from your Blu-ray and backing it up as a Blu-ray folder. Lastly, is by compressing the video and audio files before burning them while saving Blu-ray disc size.
Method 1. Rip the Blu-ray
The first method to utilize is to rip Blu-ray for you to be able to produce a digital copy. Because digital files are much smaller in size compared to Blu-ray files, for that reason, use Tipard Blu-ray Converter for this. The software lets you convert Blu-rays into more than 500 digital formats you wish to have, such as MOV, WMV, VOB, AVI, MPG, WebM, MKV, and more. Furthermore, it is advisable to use it as it uses a hardware acceleration that helps it rips and converts 30× faster. That being said, you can also expect your ripped and converted Blu-rays in lossless quality, making you anticipate having more than 4K Blu-ray capacity. Thus, here are the quick instructions to follow to use this software easily.
Step 1Obtain the software by clicking the Download button presented below. Once acquired, insert the Blu-ray into the optical drive, then launch the Blu-ray converter.
Step 2Click the Load Blu-ray button to load the disc. Then, go to the Rip All To section and click the Arrow button.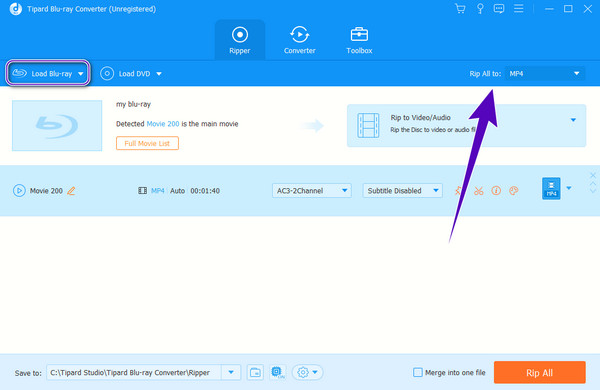 Step 3Then, choose the video format you desire from the next window. Do not forget to click your desired source as well.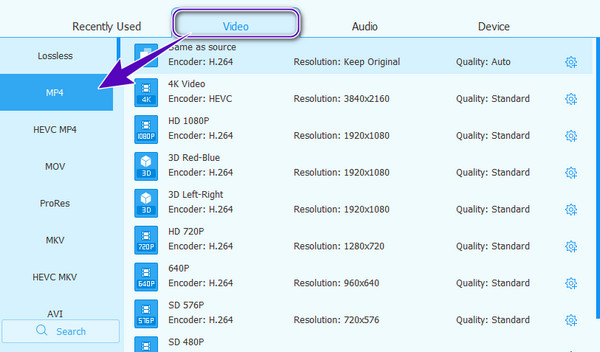 Step 4Finally, hit the Rip All button to start the ripping process when you get to the main interface.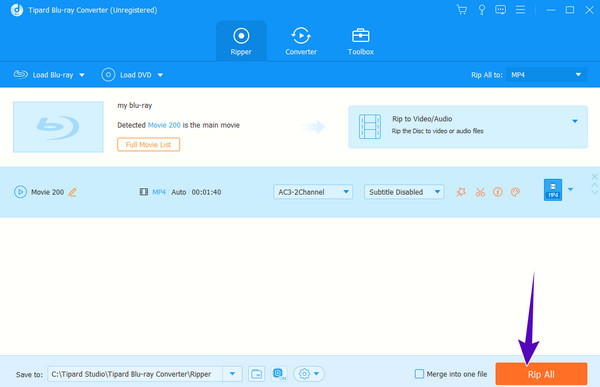 Note: After ripping the Blu-ray content, you can already delete the content from the disc.
Method 2. Copy Blu-ray to Back Up
Next is the way to copy the Blu-ray content from an optical disc and turn it into a Blu-ray folder. This is another way to free up 25GB Blu-ray capacity, as you turn its content into a digital file. This will be accurately done when you use Tipard Blu-ray Copy software that clones movies and 2D and 3D videos into Blu-ray discs, folders, and ISO. Furthermore, it works superiorly to back up the said files without losing any bit of the quality. Thus, how will you copy the Blu-ray accurately yet easily? Follow the steps below.
Step 1Insert the Blu-ray in the optical disc and fire up the software after the installation.
Step 2Choose the Full Disc mode from the copy modes given on the main interface.
Step 3After that, click the Start button to commence the copying process.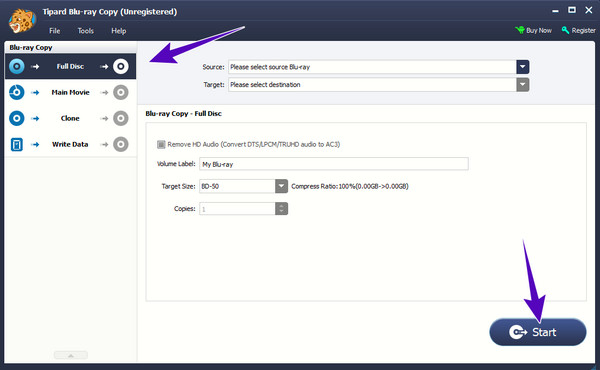 Method 3. Compress Videos Before Burning Blu-ray
If you plan to burn videos to a blank Blu-ray disc, you better shrink the video files before creating Blu-ray. That said, incorporate this Tipard Video Converter Ultimate in your plan since it has the best video compressor within its Toolbox. This software caters to nearly all video formats, giving you the confidence to compress all types of videos you have on your computer. Furthermore, it offers additional features such as a DVD ripper, MV maker, collage maker, and the mentioned Toolbox that has almost everything you need for video and audio editing. Not just that, but this tool also comes with an ultimate converter that works at 60x faster conversion speed, even in batches. Meanwhile, to see how this ultimate software compresses videos, follow the steps below after installing it.
Step 1Launch the software and go to its Toolbox to see and click the Video Compressor tool.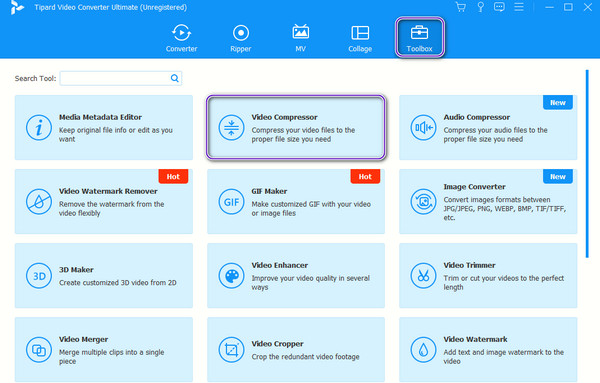 Step 2Then, click the Add button to upload the video you need to compress.
Step 3After that, slide the slider along the Size section to the left to reduce the file's size. Then, click the Compress button to begin the process.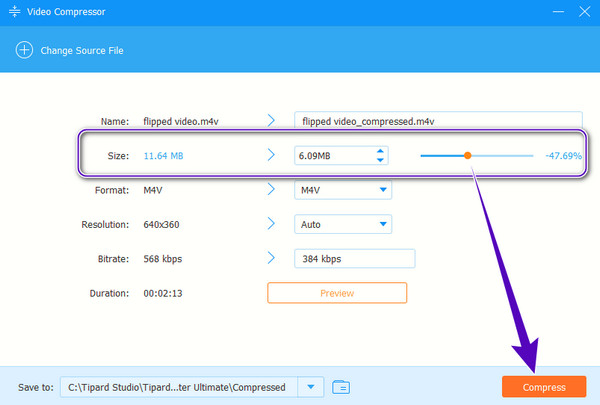 Part 3. FAQs About Blu-ray Capacities
How many GB does a Blu-ray hold?
It depends on the kind of layer the Blu-ray has. Single-layer Blu-rays can hold up to 25GB, while double-layer Blu-rays can hold up to 50 GB.
How much data can you write to a Blu-ray Disc?
It depends on the type of Blu-ray. BD-R can only write one piece of data, while BD-RE can write unlimited data.
Why does Blu-ray have more storage capacity?
There are several factors why Blu-rays have more storage than CDs and DVDs. But the primary reasons are that Blu-rays have more modern physical characteristics and optical technology than CDs and DVDs.
Conclusion
To sum up, to determine the Blu-ray capacity, you must know its kind. This post has shown you that single-layered Blu-rays have a smaller GB size than double-layered ones. Therefore, if you have a single-layer Blu-ray and want to save more space, follow the recommendations we presented in part two. Choose among the Tipard Blu-ray Converter, Tipard Blu-ray Copy, and Tipard Video Converter Ultimate for your desired method.