Rip DVD for Plex: 3 Best DVD Rippers to Utilize
You are reading this article post because you want to learn how to rip DVDs for Plex, right? Whether your reason is mainly to watch DVD movies via Plex or to create a playlist in your Plex library, the important is to know how to make it possible because this streaming tool cannot keep and stream any video in a DVD format directly. Now, to produce your movie or video via Plex, you must really learn the details of the process below.

Part 1. What is Plex
What is Plex? And can Plex play DVDs? In 2008, a free media server called Plex debuted. Over the years, this media server has been devoted to its online users for streaming video, audio, and photo files to its supported players. One of the perks of its official customers can run Plex on its streaming boxes, phone devices, smart TVs, and web apps.
Furthermore, it is popularly known to have a freemium service that enables users to open and view their videos and other media files on all of its supported devices without needing a penny. Despite being free, there is also a Plex premium subscription that you can have, where the remarkable features of this server are found. Such features that are available in the premium version are mobile syncing and live TV. Moreover, this media player server is accessible on Mac, Windows, Linux, and all NAS devices or the network-attached storage.
Plex can play many digital videos and movies in digital formats but cannot play DVDs. This is also the main reason why we need the best DVD ripper for Plex. That said, let us now move on to the next part to learn some of the best DVD to Plex rippers.
Part 2. Best Ways to Rip DVDs to Plex
1. Tipard DVD Ripper
Given the above, playing your favorite DVD movie with Plex is impossible unless you rip it to produce a supported video format. For this reason, allow us to introduce you to the first most used rippers in this generation, the Tipard DVD Ripper. It is great DVD ripping software that will allow you to extract contents from DVD optical discs to digital formats and produce outputs from extracting ISO and folders. Furthermore, this best software to rip DVDs for Plex gives you advanced features for various customization functions, where you can rip up to 30x faster speed made by the acceleration technology. Aside from that, you can also enjoy making 3Ds and GIFs from your files and then compressing and enhancing them excellently with the help of its Artificial Intelligence technology.
What's more? If you are wondering how wide the formats it supports, this Tipard DVD Ripper can produce more than 500 choices, such as the FLV, MP4, MTS, ASF, AVI, MOV, and many more.
Main Features:
• Acceleration technology that rips 30x faster than others.
• Infused with video editing tools such as a video enhancer, compressor, GIF maker, 3D maker, and media metadata editor.
• Support 500 best formats to rip DVDs for Plex.
• Support for 2K, 4K, and 8K video quality.
Step 1Place the DVD into the optical drive and launch the ripper after quickly installing it on your computer. Then, once you reach its interface, click the Plus button to add the DVD.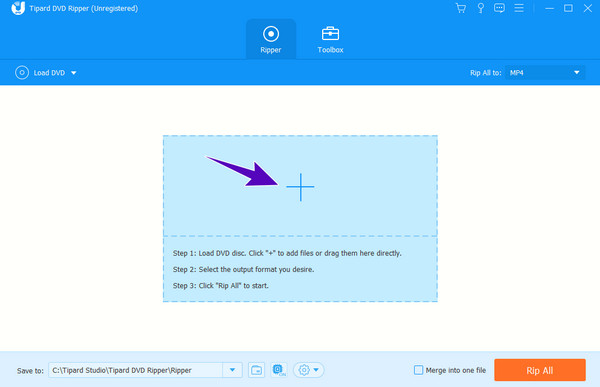 Step 2When the DVD is loaded, go, and click the Rip All to drop-down list to select your desired video format.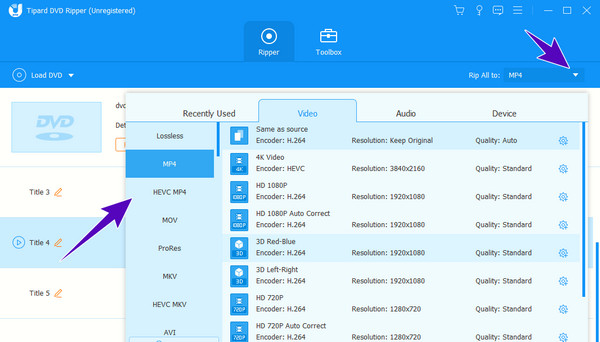 Step 3Quickly click the Rip All button to initialize the ripping process.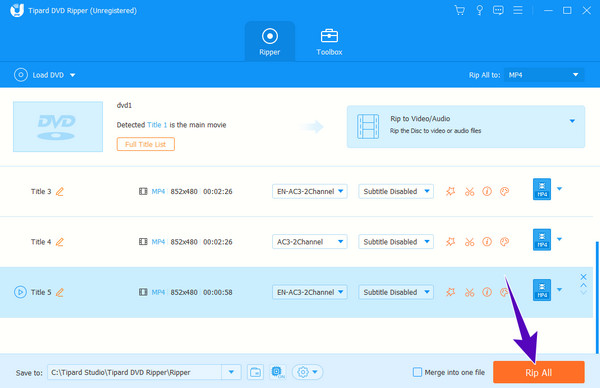 Pros:
• You can acquire it on both Mac and Windows.
• You can rip your DVDs to more than 500 various formats.
• Ultrafast technology that rips faster than others.
• With editing tools ready to use.
• Batch processing.
Cons:
• The Mac version only supports 300 various formats.
Note:Tipard DVD Ripper does not only work as a sole ripping tool. You can also use it to copy and back up DVDs to ISO files or DVD folders, which will keep the exact structure of the DVDs and include their menus, chapters, titles, audio tracks, etc.
2. HandBrake
Next is HandBrake, a well-known open-source program. It is a free ripping tool that you can use to rip, convert, and somehow edit your outputs on all popular OS like Linux, Mac, and Windows. Thus, aside from using this HandBrake to rip DVDs for Plex, you can also use it to customize your video's resolution, framerate, aspect ratio, and bitrate as you wish. Just like the previous ripping tool, HandBrake also processes media files in batches. When it comes to the formats that it supports, HandBrake produces MP4, MKV, AVI, WebM, M4V, OGM, and more. Meanwhile, here are the steps to follow in ripping your DVD.
Step 1Open HandBrake using your computer, and upload your DVD file by clicking the Open Source button. Then, drag and drop the file at the center.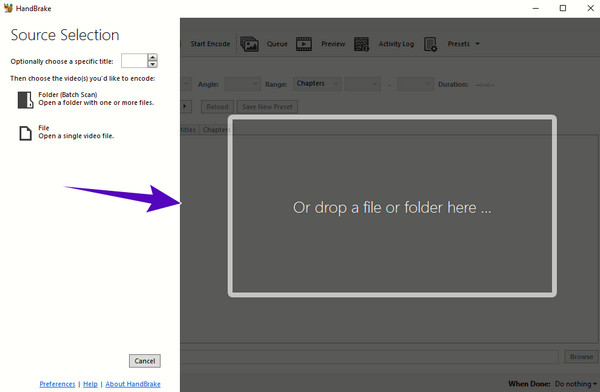 Step 2After that, go to the Format section and choose your desired output format. You can also navigate the Save As section and set your file destination.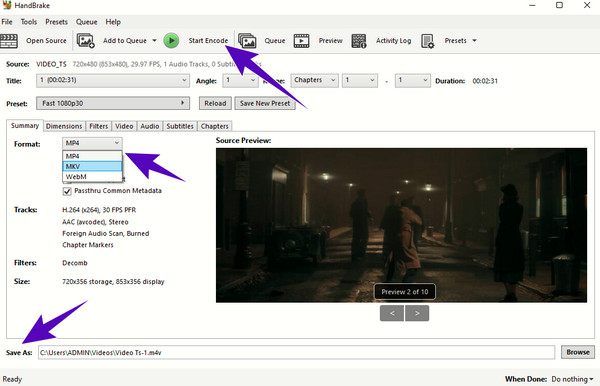 Step 3Then, click the Start Encode button to begin the ripping process.
Pros:
• You can use it for free.
• It comes with customization options.
• It allows you to control the video quality.
Cons:
• It is not that easy to operate.
• The conversion process is a bit slow.
3. MakeMKV
And finally, the last best way to rip DVDs for Plex is the way of MakeMKV. This is another free DVD ripper that allows you to rip both DVD and Blu-ray to the Plex server quickly. You can have it on your computer with a Windows, Linux, or Mac OS. Furthermore, you can also guarantee batch processing, fast conversion, and also the other editing features that it offers you for the expanded functions.
Step 1Open this software on your computer, and analyze the disc you need to rip.
Step 2Then, set the output destination.
Step 3After that, hit the Make MKV button to begin the ripping process.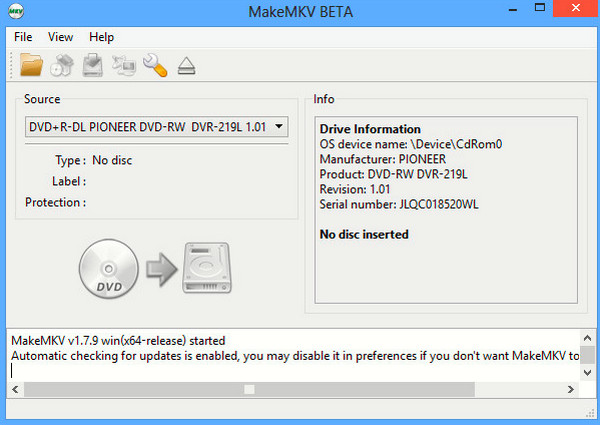 Pros:
• Quick ripping speed for a 2-hour DVD movie.
• It can work as a decryption engine for other software.
• High-quality outputs.
Cons:
• MKV is the only available output format.
• Uncompressed output MKV videos come in large file sizes.
Part 3. FAQs About Plex and Ripping DVDs
Can I add ISO DVD to Plex?
Yes, you can. Plex can support ISO DVDs, unlike the optical disc. When signing in, click the add library button, then upload the ISO file.
Can I add the subtitle when ripping DVDs for Plex?
It depends on the ripping software you use. Many but not all ripping software lets you select and include the DVD's subtitles when ripping, just like Tipard DVD Ripper, for example.
Will the high quality retain after ripping the DVD?
Yes, when you rip the DVD, you have the option to retain the original quality. However, please remember that DVDs' quality is not as high as the 4K videos.
Conclusion
You have just seen the ultimate reviews and guide to rip DVDs for Plex. Please remember that it will always be beneficial to use the best tool for any task related to videos to have excellent multimedia viewing still. Hence, if you are still having second thoughts on which rippers to choose, then take it from the expert, and go for their best choice: the Tipard DVD Ripper.