Comprehensive Review of MakeMKV and Alternatives: Help You Choose What's Best
Perhaps you are about to acquire the MakeMKV ripping tool but want to make a wise decision, so you need a thorough investigation. In that case, allow this article to give you enough factual information about MakeMKV and its key features. Ripping DVDs and Blu-rays is crucial, for you should have a good device if you want to maintain the good quality of a movie or content. And to be honest, not all who had experience using MakeMKV are satisfied, for others experienced disappointments. In this case, this post also lists some MakeMKV alternatives. Well, that is a usual anticipated reaction. After all, we do not have the same level of satisfaction. This means one tool may not be perfect for others, but the best for others. Therefore, see it for yourself by reading the entire content below.

Part 1. All about MakeMKV
Before considering an alternative to MakeMKV, let us have its concrete description and features to meet.
What is MakeMKV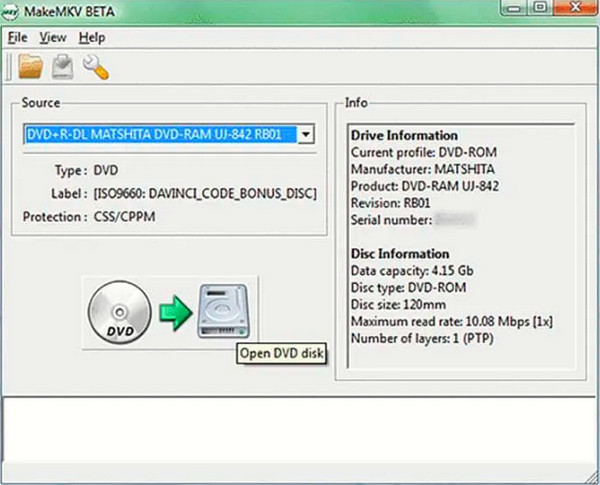 MakeMKV, as its name suggests, is a free DVD ripper that works to convert ripped movies into MKV format. Yes, this one-click solution helps you transcode DVDs and Blu-rays into a playlist set with MKV formats losslessly. Furthermore, MakeMKV has been popular in streaming decrypted videos to a different media player without requiring you to convert them immediately. Moreover, as MakeMKV enables you to use it for free, we cannot still disregard the fact that it is not free forever. Its free version only lasts for 30 days for a trial. And yes, you must get into its premium version if you want to continue using it.
Basic Features of MakeMKV
● It has the ability to read DVDs and Blu-rays at the same time.
● MakeMKV is a free alternative to Blu-ray players with BD+ and AACs.
● It preserves the information of the chapters, meta information, and HD video and audio tracks.
● Ultrafast conversion speed.
● Flexible to various platforms such as Mac, Windows, and Linux.
Limitations of MakeMKV
As mentioned above, you can definitely use MakeMKV for free. However, you must know the limitations when downloading its beta for free.
● The service time is limited. The free version of the software comes with every 2-month change for its update. This will require you to download new versions to follow the update.
● Please note that the beta doesn't support DVDs with HD content quality. This means that even if you try to play HD DVD movies, the quality, subtitles, and audio will not be preserved.
● If you are using a Windows-based computer, please note that the beta version of MakeMKV will require privileges from Windows admin.
Part 2. Best Alternatives to MakeMKV
1. Tipard Blu-ray Converter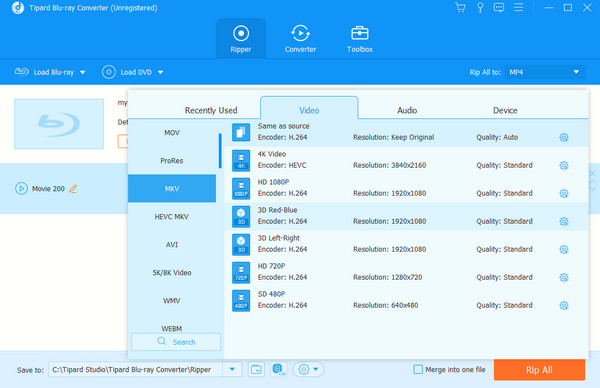 Tipard Blu-ray Converter is the best MakeMKV alternative for Windows, Mac, and Linux OS. It helps you convert any type of Blu-ray into more than 500 different video formats and devices. Aside from its ability to transform your Blu-ray into a much wider array of formats, it also allows you to convert bulk files simultaneously. This will absolutely lessen your time and effort in producing new MKV and other files. Furthermore, Tipard Blu-ray Converter provides you with extensive editing tools that you can use to make your videos more interactive. You can use its Toolbox, which holds the best video enhancer, which uses AI technology for every video it enhances. In addition, a video compressor, GIF maker, 3D maker, and media metadata editor are also present to do their job well.
Key Features:
● With a built-in media player that comes with a snapshot feature.
● Ultrafast conversion technology.
● Support for more than 500 video formats.
● Batch Blu-ray, ISO, IFO, and DVD file conversion.
● Video enhancer and maker of 3Ds and GIFs.
● Numerous effects and filter customization are available.
● No watermark embedded on outputs.
2. Tipard DVD Ripper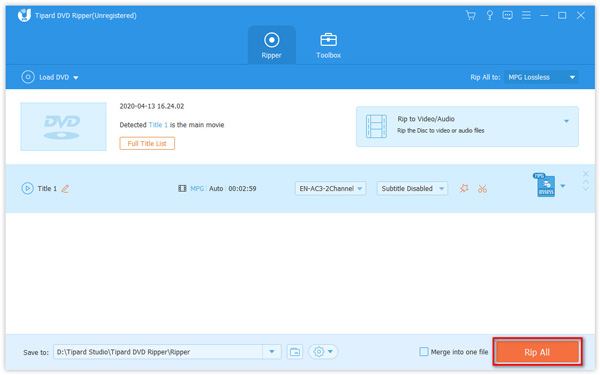 Another brilliant MakeMKV alternative on Mac and Windows is this Tipard DVD Ripper. It is one of the gems of Tipard that is dedicated to all DVD concerns. Furthermore, just like the first one, this ripper can rip your DVD file into 500 plus different video formats, including MKV, AVI, MP4, FLV, MPG, WMV, MPG, and many more. In addition, it also comes with a hardware accelerator that will help you copy and back up your DVD movie 30 times faster. Moreover, after copying your DVD movie, you can freely edit it by adding filters, adjusting its effects, adding audio tracks, subtitles, and watermarks, rotating, cutting, cropping, and merging them.
Key Features
● Hardware accelerator.
● More than 500 various video formats to choose from.
● Video compressor, metadata editor, and video enhancer.
● GIF and 3D maker.
3. HandBrake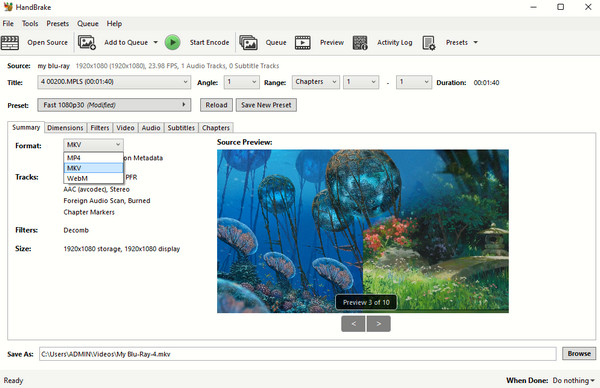 Next in the line is HandBrake. It is one of the most popular software that converts DVDs, files, and digital videos to MKV, MP4, and WebM, just like the first two software tools. Furthermore, HandBrake has been known not only for Windows and Mac but also as a good MakeMKV alternative for Linux. Surprisingly, this software also offers tools that will allow you to tweak your audio and video files. However, if you are about to work on encrypted Blu-rays, HandBrake might disappoint you since it is not its stuff.
Key Features
● Batch queuing scan and conversion.
● Maker of chapters.
● Video preview and live static.
● Built-in presets.
4. Freemake Video Converter
The last on the list is this Freemake Video Converter. It is, as it says it is, free software that converts digital videos to a wide array of output format selections. It makes it a good MakeMKV-free alternative since it also allows you to play Blu-ray movies. In fact, it provides you an option to clip out segments of the movies and edit them by adding subtitles, black rim, and rotating them.
Key Features
● Convert Blu-rays, DVDs, and digital videos massively.
● Share converted files online.
● Burn discs with audio tracks, subtitles, and authoring tools.
Part 3. FAQs about MakeMKV and Its Alternatives
What is MKV, and why rip DVDs to MKV?
MKV is the short-term for Matroska, a video container that can hold unlimited audio, video, and subtitles tracks. For this reason, you would want to rip your DVD movies to MKV since movies have large files that MKv can hold.
Can I rip 4K movies with MakeMKV?
Yes. MakeMKV can work on 4K movies.
Is MakeMKV safe to download?
Yes. MakeMKV has a good rating when it comes to safe downloading.
Conclusion
There are always MakeMKV alternatives that promote half-effort but yield better solutions. Choices are everywhere, but those in this post are more practical and reliable. If you need a tool that works on your 4K UHD Blu-rays, use Tipard Blu-ray Converter.