How to Create ISO from DVD with Top 4 Methods

Backup video in DVD is very easy and important for us to protect files. So, you will never lose vital files. On the other hand, it will be more convenient to create ISO files from DVD discs for someone use DVD frequently, you won't need to load or unload DVD disc all the time and you can transfer music or videos to phone with some DVD software. They can create ISO files from DVD disc easily.
ISO files are very good for DVD users, they are self-contained, easy to store and organize. But unfortunately, Windows did not set up a way of creating ISO image from DVD, so, you need some professional tools to make it. The article will introduce some DVD software to help you.
Method 1: Ultimate method to Create ISO from DVD
Tipard DVD Cloner could be the first software you should choose to create ISO from DVD, it supports a variety of models of DVD discs, such as DVD-9 to DVD-9, DVD-9 to DVD-5, DVD-9 to DVD-5. You can also backup files on disc or copy DVD to DVD folder. Actually, you can create DVD disc from ISO files with Tipard DVD Cloner, too.
3 modes to create ISO files, including Full Copy, Main Movie, Customize Copy.
Full Copy mode enables you to copy whole files on DVD disc automatically with everything in detail.
Main Movie can help you to copy main movie without useless title, but the app will get title for you automatically.
At the last, Customize allows you to select files you want to copy, it is better for someone do not want to waste space.
Step 1
Download and Install Tipard DVD Cloner
At first, you need download Tipard DVD Cloner and install it on computer. Launch the program, and then there will show up a message: Load source DVD automatically or not? You can click mark "Do not show this message again" option and click "No" option.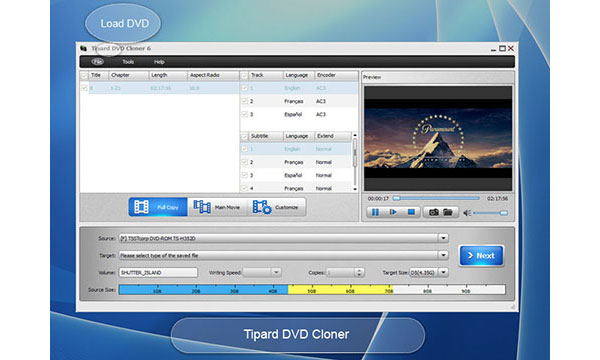 Step 2
Select the Source DVD
Now you can see all functions on the interface, From the "Source" menu choose the DVD Disc that you want to copy in the pop-up folder.
Step 3
Select iOS as Target and Target Size
Select the target from the "Target" menu and choose size for target DVD from "Target Size" (D5: 4.35G/ D9:7.95g)

Step 4
Select the Copy Mode
Click "Full Copy" button, "Main Movie" button or "Customize" button on the main interface to select the copy mode.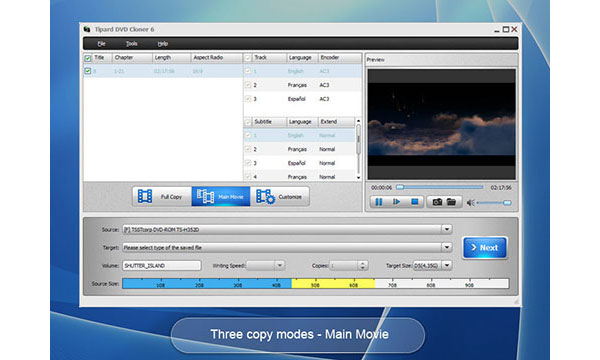 Step 5
Set Options
Click the "Next" button to enter the "Options" window. Here you can set some specific options to help you get customized output DVD, such as remove menu, skip menu, play titles as a loop. You can also set Destination and Action in the "After Burning" column.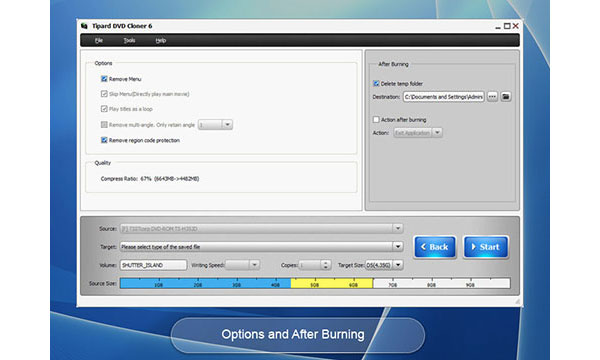 Step 6
Start the Copy
After all Options are set, you can click the "Start" button to start the DVD cloning.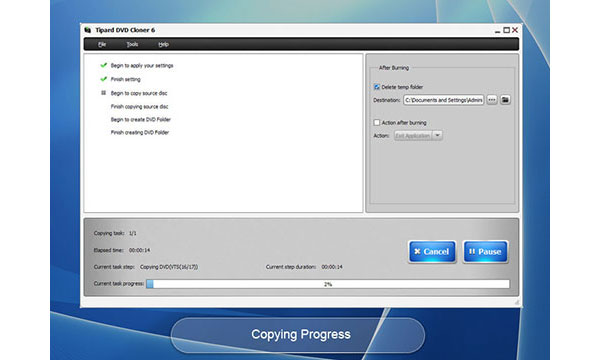 Method 2: Make ISO image file with BurnAware Free
BurnAware Free is another powerful DVD copier, it can create ISO files from all kinds of disc, such as DVD, CD, BD disc. On the other hand, BurnAware Free can be used to create ISO files on different platform. It supports Windows 10/8/7/Vista/XP/2000/NT, so, it can work on computer no matter how old the computer is. Both 32-bits and 64-bits are supported by BurnAware Free, too.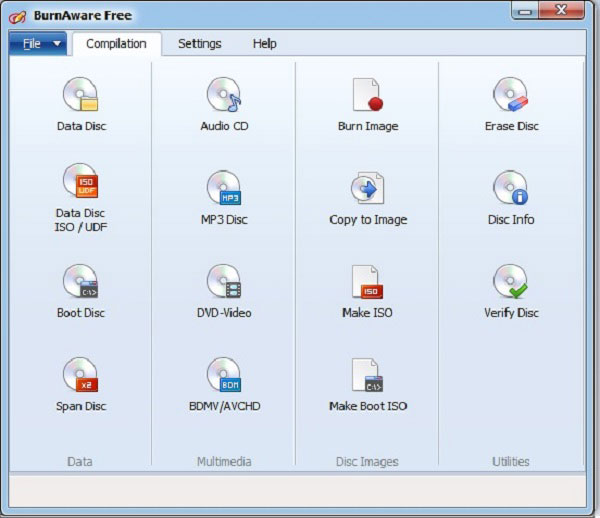 Step 1: Download and Install BurnAware Free
Download BurnAware and install it on your computer, you can download it from its official site: www.burnaware.com.
Step 2: Prepare to Create ISO files
When BurnAware is open, click "Copy to ISO" button located in the "Compilation" tab. Now, choose optical disc drive you want to use, please pay special attention right now, if you have DVD drive only, you can only create ISO files from DVD disc that your optical drive supports, your computer cannot read BD disc. Click "Browse" option in the middle of interface and on the location which you want to create ISO files to, give a name in the "File name" text box, and then click "Save" option.
Step 3: Copy ISO from DVD
Insert CD, DVD, HD disc into the optical drive you chose in Step 5. And then click "Copy" button. After some time, you can check the ISO files in the box you chose. Once you see the "Copy process completed successfully" box, the whole job for creating ISO files from DVD is over.
Method 3: Clone DVD disc to ISO file via Freemake Video Converter
As you can see, Freemake Video Converter is very suit for Windows computer, so, if you want to create ISO image from DVD disc on Windows, Freemake Video Converter can offer you free but powerful help, and the most important thing is, it is free.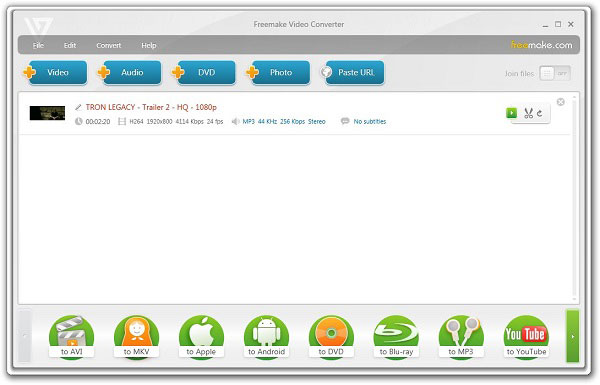 Step 1: Download and Install the program
Firstly, download and install Freemake Video Converter on your computer, you can download it on App Store or its official website. And then, launch the program and insert DVD.
Step 2: Select to create ISO files from DVD
Now, you need insert a DVD disc into computer, select "ISO Image" on "Converter" and choose the DVD on the "File". After that you can start to copy DVD to ISO files.
Method 4: Create ISO image file from DVD with ISODisk
If you do not want to make it very simple and fast, you can choose ISODisk without hesitate. It could be considered as the easiest tool on creating ISO image from DVD disc. It is so easy to use that even everyone can understand how to use it.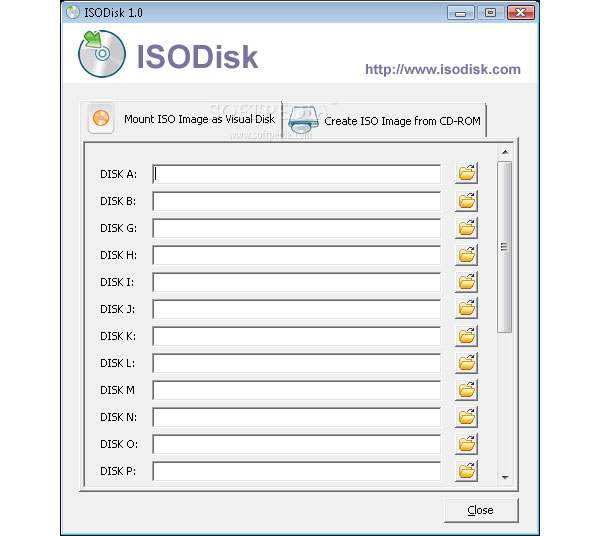 Step 1: Download ISODisk on computer
Just like others, you need download ISODisk firstly, App Store, its official website. And then install and launch the program on your computer.
Step 2: Insert A DVD Disc and Set up
Insert a DVD disc into your computer, and choose the drive you DVD disc is located, ISODisk will create ISO image files from it automatically. And then you can find the created ISO from DVD.
Conclusion
In order to backup DVD files on computer, you can save the files as ISO, which contains all the information of the DVD. The article explains the 4 excellent methods to create ISO from DVD. Learn more detail about the solution and choose the suitable one according to your requirement.

Click here to join the discussion and share your comments