How to Rip Blu-ray to ISO File Conveniently [Complete Methods]
Do you want to copy your movies but no longer have a recordable disc? In that case, we have a solution for you. You may also convert Blu-ray to ISO files if you are out of recordable Blu-ray discs. You may quickly store the Blu-ray backup by copying Blu-ray discs to ISO. Additionally, you can burn ISO files to fresh Blu-ray discs whenever feasible. Also, one of the best things that ISO files can offer is that it only offers less storage space. This way, you don't need to think if it is playable or not on your computer. Luckily, this guidepost has the best solution you need. Check this post to learn how to rip Blu-ray to ISO file.

Part 1. Differences Between Blu-ray and ISO
Blu-ray
ISO File
Description
A media format called

Blu-ray

was created to replace DVDs. More data can be stored on a single disc because Blu-ray uses a different laser to read the discs. In addition, Blu-ray can hold more data.
The word ISO was derived from ISO 9660, the optical media file system. An ISO image can be compared to a complete copy of all the data on an optical disc. It includes the file system on CD, DVD, or Blu-ray discs.
Appearance
Physical
Digital
File Size
Standard Blu-ray movie: 25GB, 50GB
4K Blu-ray movie: 50GB, 66GB, 100GB
32-bit + 64-bit: 5GB
File Type
Video file
Image file
File Extension
.bdmv
.iso
Part 2. 3 Ways to Rip Blu-ray to ISO
Convert Blu-ray to ISO Using Tipard Blu-ray Copy
The flexible Blu-ray to ISO converter Tipard Blu-ray Copy is accessible on the Windows operating system. Blu-ray discs can be copied and backed up in high definition to computers, hard drives, and blank discs. This downloadable software can rip Blu-ray to ISO easily and instantly. With this expert-level yet straightforward program, you can back up the videos to a computer as ISO image files. Using this Blu-ray to ISO converter, it is possible to copy Blu-ray with the fastest conversion speed. At the same time, it can maintain the original quality. It can effortlessly duplicate Blu-ray discs to a local, secured Blu-ray disc. Also, clone Blu-ray folders and ISO files to a computer or hard disk. It makes the most practical Blu-ray to ISO converter. As a result, you can save your Blu-ray movie and watch it later or use it elsewhere. The ripping process is also user-friendly, making it simple for all users. So, to learn how to rip the Blu-ray to an ISO file, see the simple procedure below.
Step 1Download Tipard Blu-ray Copy on your computer. After the installation process, run the program. To access the program quickly, you can click the Download button below.
Step 2After that, insert the Blu-ray disc you want to rip and select the Full Disc option under the Blu-ray Copy menu. Go to Source to select and open your Blu-ray disc. Then, go to the Target option and select the Save as ISO option. You can also put your volume label for your video.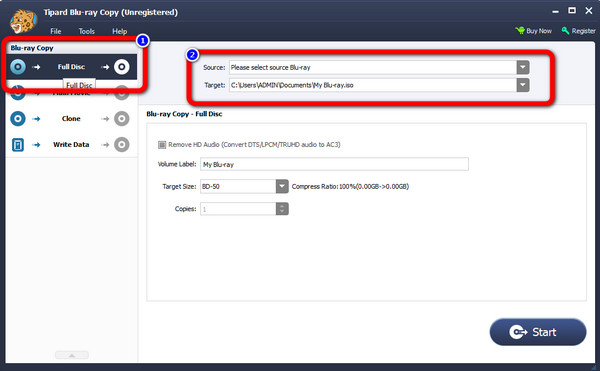 Step 3Then, the next step is to click the Start button on the bottom-left of the interface. This way, the ripping procedure will start. Then, when the process is done, your Blu-ray will turn into an ISO file.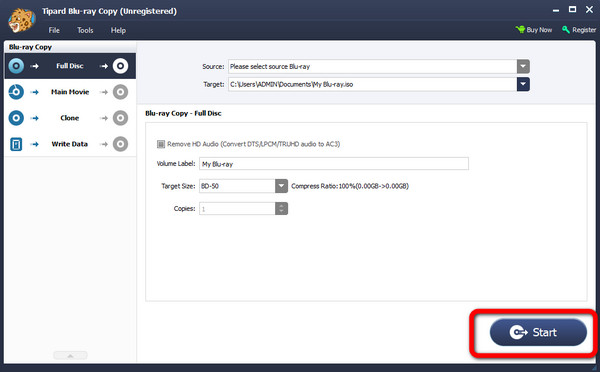 Rip Blu-ray to ISO Using Leawo Blu-ray Copy
Is there another way to rip Blu-ray to ISO with another program? Yes! There is! You can try to use Leawo Blu-ray Copy. It is offline software that can compress and copy Blu-ray, DVDs, and ISO images. The Blu-ray can be directly copied to another disk or computer with the software. It also converts Blu-ray files, like BD50 to BD25, BD25 to DVD-9, DVD-5, DVD-9 to DVD5, and more. Many other capabilities, such as burning ISO files to DVD or Blu-ray, are available. Even 3D Blu-ray movies can be copied without losing quality or effects. However, Leawo Blu-ray Copy is costly when planning to purchase. It costs $44.95 yearly and $99.95 for a lifetime license. Also, there are times when the software fails to rip a file.
Step 1After you download Leawo Blu-ray Copy, launch it on your computer. Then, click the Copy option to see the interface of Blu-ray Copy. Ensure that a Blu-ray disc is already inserted into your computer drive.
Step 2Then, click the Add from CD-ROM option to import Blu-ray from your drive. Select the Add from folder option if the file is in the Blu-ray Folder.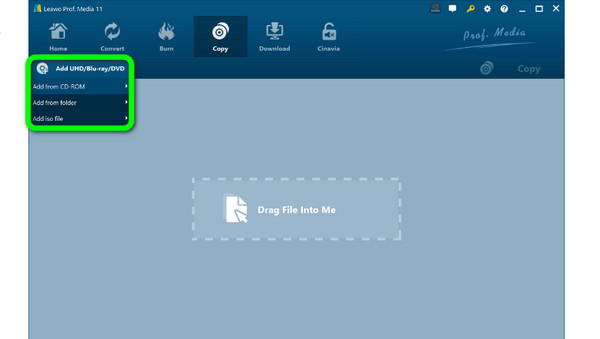 Step 3Click the Copy button to view the backup setting panel. From the Copy to option, click the ISO File. You can also insert your Disc Label and more. After that, click the Copy button below to begin the process.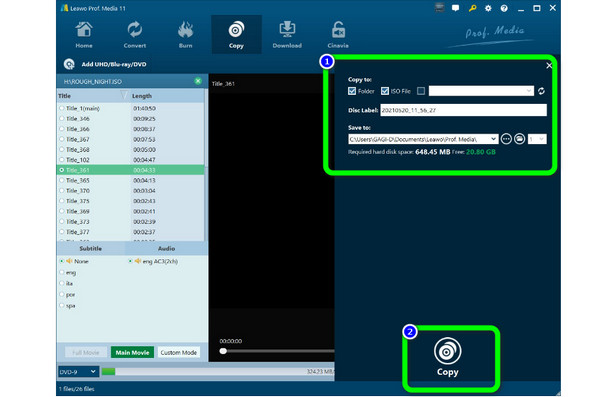 Convert Blu-ray to ISO Using EaseFab Blu-ray Ripper
Another Blu-ray ripping program for Windows and Mac is EaseFab Blu-ray Ripper. This offline software can effortlessly rip Blu-ray to ISO with its straightforward process. Due to its use of the NVIDIA GPU and minimal CPU usage, EaseFab is one of the best Blu-ray ripping software. Blu-ray discs, folders, and ISO files can all be copied and converted into well-known video and audio formats. It includes MP4 and MKV. However, the ripping process is time-consuming.
Step 1Download EaseFab Blu-ray Ripper on your computer. After you launch the program, select the Load Disc option and browse the Blu-ray.
Step 2A Blu-ray backup can be started by choosing the Full Disc Mode option. The Full Disc Mode feature ultimately maintains the Blu-ray discs' original structure.
Step 3Then, click the Convert option to turn your Blu-ray into an ISO file. You also can use this tool to convert Blu-ray to MP4.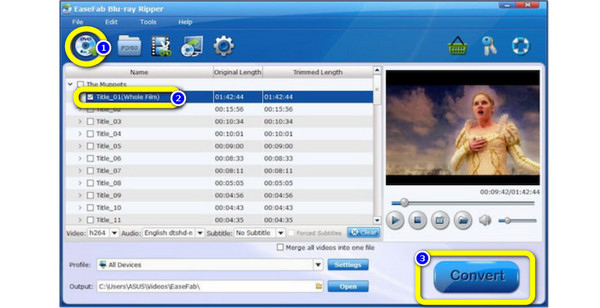 Part 3. FAQs about How to Rip Blu-ray to ISO
Can I play an unburned ISO file?
You can open an ISO file in WinRAR as a standard archive without burning it on a disc. You must first download and install WinRAR before you can do that. Additionally, you can use a third-party ISO player to open ISO files.
Do ISO files have good compression?
Not actually. ISO files might take up a lot of space on your computer because they are uncompressed. Moreover, sharing or downloading them could take more time.
Is an ISO file read-only?
The ISO 9660 file system is designed to be a read-only system. On the other hand, you have to write all the data at once to the media. Once the data has been written, it cannot be changed.
Conclusion
You probably learned how to rip Blu-ray to ISO using the software mentioned in this article. All of the programs are good and useful. However, if you are looking for the most straightforward and excellent program, use Tipard Blu-ray Copy. Its method is easy to follow and is suitable for everyone.