3 Trouble-free Instructions to Play ISO Files on Computer Perfectly
Recently, numerous Blu-ray users have opted to create ISO image Files. It is to back up their Blu-ray movies and videos. Blu-ray ISO helps copy Blu-ray Discs to computer hard drives for backup. Also, for further disc production because it contains all of a Blu-ray disc's content. This does not imply that you can natively access and play the ISO file on the PC. If you want to know the most effective method to play ISO using your pc, read this article.

Part 1. Method to Play ISO Files Using Tipard Blu-ray Player
Playing ISO is a challenge. You must consider the software you must use. If not, you can't play your ISO files. We would like to help you to achieve your goal. The most important thing is to use an exceptional program, Tipard Blu-ray Player. Using this offline program, we will guide you thoroughly about playing ISO files. But before that, we will give you more details about this software. Tipard Blu-ray Player offers users an excellent visual effect. It is a professional Blu-ray Player program and a universal media player. With this Blu-ray Player, you can play your ISO file without limitation. You can also use the software to play Blu-ray discs on Windows and Mac computers. Moreover, Tipard Blu-ray Player can make your life much more straightforward with its intuitive interface, making it easy to use and perfect for non-professional users. Lastly, while playing your ISO file, there are additional actions you can take. You can add subtitles, change video colors, and crop videos. You can check the simple method below to learn how to play ISO files using Tipard Blu-ray Player.
Step 1First and foremost, download Tipard Blu-ray Player on your computer. You can click the Download button below to access the program easily.
Step 2Click the Open File option from the program's main interface to get the ISO file. Browse and select the ISO file from your computer folder. Click the Open option to load it on the program.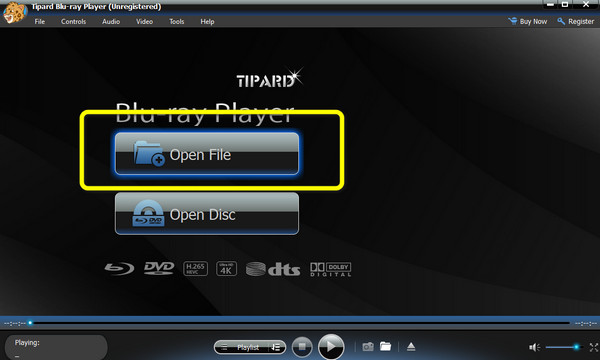 Step 3Then, you can play, pause, and stop the ISO file. Also, click the Full-screen icon to play the ISO file in Full-screen mode. To capture your favorite scene from the video, click the Snapshot icon.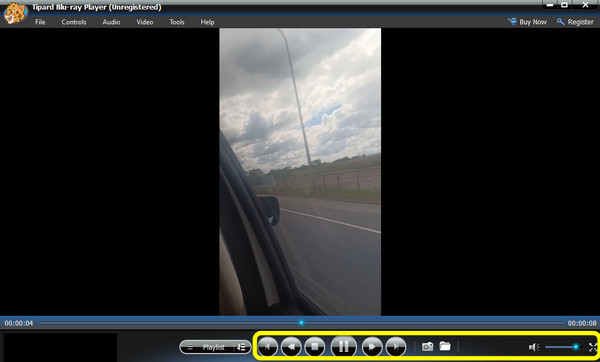 Pros:
• Easy to download.
• It offers an intuitive interface and simple method, perfect for all users.
• The program is accessible on Mac and Windows computers.
Cons:
• It can play IFO folder, Blu-ray disc for only 30 days when using the free trial version.
Part 2. Way to Play ISO Files Using VLC
Since we are talking about playing ISO files, VLC is another program you must consider. As far as we know, VLC is an offline media player you can rely on when playing videos with various formats. It includes MP4, MOV, FLV, WMV, and more. Aside from that, you can also play your ISO file on this program. With the help of VLC, you won't need to look for another ISO file player on the web. You can also enjoy another feature of the software. You can use the loop feature, especially when you want to play your favorite video repeatedly. Also, you can take a screenshot of the video while watching. However, installing VLC on your computer is time-consuming. You must be patient while waiting for the installation process. In addition, since VLC is only suitable for playing videos, its feature is limited. Click here to get VLC Media Player alternatives. Advanced tools for editing purposes are unavailable on VLC.
Step 1Download and install VLC Media Player on Mac or Windows. Then, launch the program on your device.
Step 2When the interface appears on the screen, click Media > Open File option to view the computer folder. After that, browse and open the ISO File. Another way to open the file is to press the Ctrl + O button.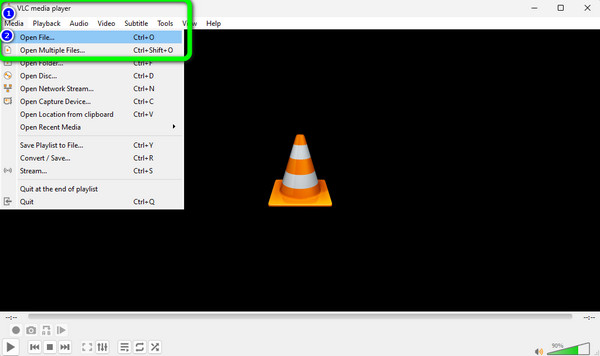 Step 3After loading, the ISO file is free to play. From the bottom-right corner of the interface, you can adjust the volume. From the bottom-left corner, there are numerous tools you can use. You can click the red circle to record the video. Click the Snapshot icon to take a screenshot from the video and more.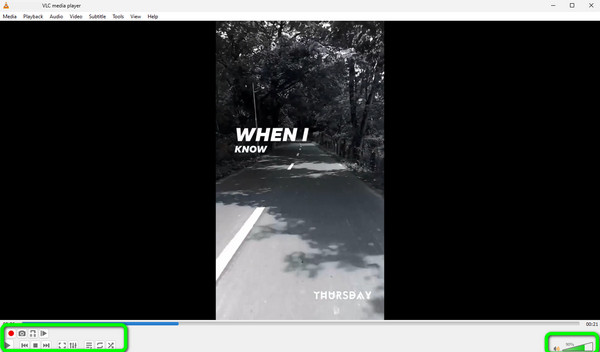 Pros:
• Simple to use.
• Free to Download.
• Available on Mac and Windows.
Cons:
• The features are limited.
• The installation process is time-consuming.
Part 3. How to Play ISO Files Using Windows Media Player
Windows Media Player is among the trust-worthy software for playing ISO files. Windows Media Player is a built-in software you can find on your Windows computer. It is also suitable for playing Blu-ray, MP4, MOV, AVI, FLV, and more videos. However, playing an ISO file on this program is challenging. Also, the interface of Windows Media Player is confusing, making it complicated to use. Use the steps below to play an ISO file on Windows Media Player. Also, there are times when ISO files need to be playing better on the software.
Step 1Browse the ISO file from your file folder. Then, right-click the file and select the Mount option.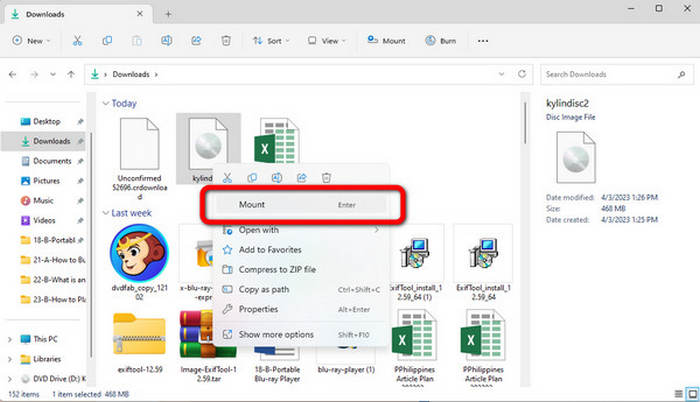 Step 2Another file will appear on the screen. After that, right-click the ISO file and select the Open with option. Then, select the Windows Media Player option.
Step 3Now, you can already play the ISO file using Windows Media Player. You can pause and play video, stop, and adjust the volume when playing.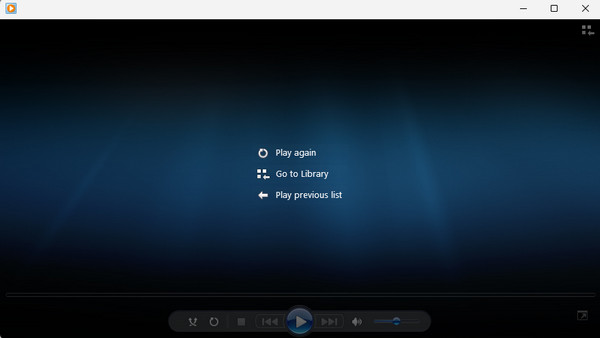 Pros:
• It supports various video formats like MP4, MOV, and AVI.
• It doesn't require an installation process.
Cons:
• The interface is confusing.
• The ISO files playing process is complicated.
Part 4. FAQs about How to Play ISO Files
How to play ISO files on TV?
The best way to play ISO files on TV is to connect your laptop to your TV using an HDMI cable. Then, when connected, play the ISO file from your laptop using a media player like Tipard Blu-ray Player, VLC, Windows Media Player, and more.
How to stream ISO files via VLC?
Launch your VLC on your computer. Then click Media > Open File options. Select the ISO file from the file folder and open it. After that, you can start streaming your ISO files.
What is an ISO file?
It is an archive file that contains an identical copy of data found on an optical disc, like a DVD or CDD. They frequently transfer large file sets to be burned to optical discs or backup discs.
Conclusion
To wrap up all the discussion, this article can give you detailed instructions on how to play ISO files on a computer. Some programs are hard to use and have limited features. So, to watch an ISO file without worry, use Tipard Blu-ray Player. It lets you enjoy its features while using simple methods of playing various files.