Top 3 Solutions to Rip/Convert DVD to MKV With Ease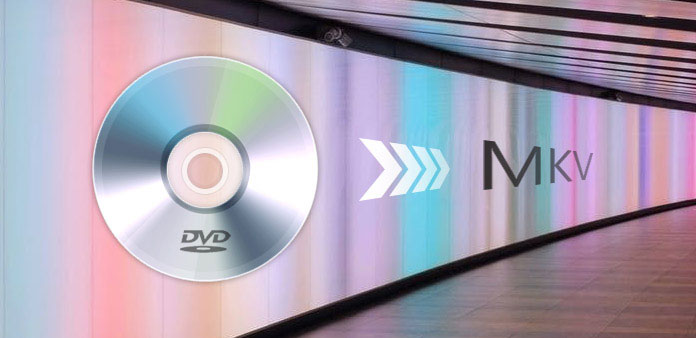 When you have a favorite DVD movie, you might want to rip DVD to MKV format in high quality. MKV in brief, MKV represents the stream of Matroska Video, which can be used to put several different multi-media formats in one file. And it enables you to save various types of videos and audio formats in MKV. What is more important, when you rip DVD to MKV, which supporting many types of formats like DVD, chapter, audio streams in different languages, providing the free code to users around the world. Now, we will introduce you several DVD Rippers for you to rip and rip DVD to MKV formats.
Top 1: How to Rip DVD to MKV with Tipard DVD Ripper
Tipard DVD Ripper is professional software for both Windows and Mac to rip DVD to MKV and other kinds of formats. It is one the most popular DVD ripping software to rip and convert video and audio files. For the latest updates, Tipard DVD Ripper becomes better and more useful and the speed of converting files is 6 times faster than before, besides it supports the tech of multi-core CPUs. What is more, you can also edit videos by yourself through this software.
How to rip DVD to MKV with Tipard DVD Ripper
Step 1
Load disc into the program
Choose the disc from the disk list you want to transfer, and then click "Load Disc" for which you can load the file to the software and enables to convert.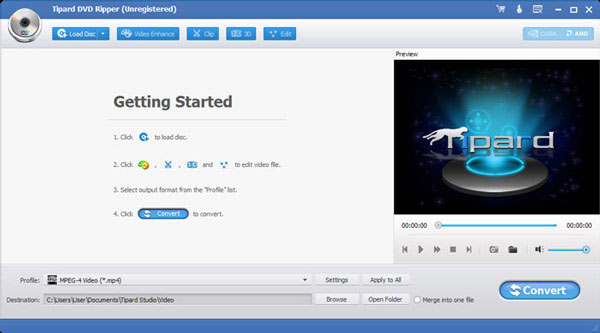 Step 2
Choose audio track and subtitle
Click drop-down menu and choose the one you want to add, so at first you need to make sure whether itself has audio or not. After those steps are done, you should choose the subtitle for the video you converted into by clicking drop-down menu and choose the one you need.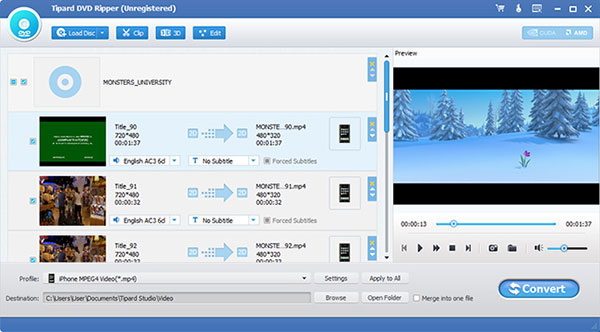 Step 3
Select the output MKV files
Choose the output files then click "Profile" and choose the object file. At the same time, you are supposed to select your favorite video and audio track.
Step 4
Edit your DVD videos
This step is alternative for you. If you want to make your videos more satisfying and enjoyable. Click the "Edit", then you can see the interface like the picture shows. there's 5 buttons on the top of the interface then you can Rotate video direction, adjust 3D settings, crop the video frame, adjust video effect, add watermark and adjust volume and etc. You can edit your videos you like!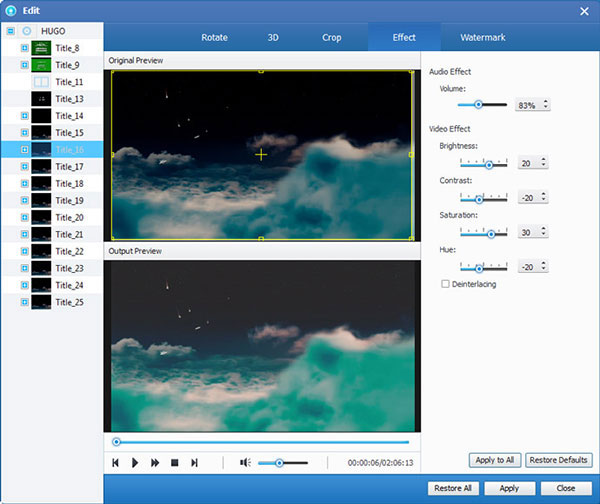 Step 5
Rip DVD to MKV
By clicking "start" it will begin to rip DVD to MKV and you can see the converting progress in the progress bar.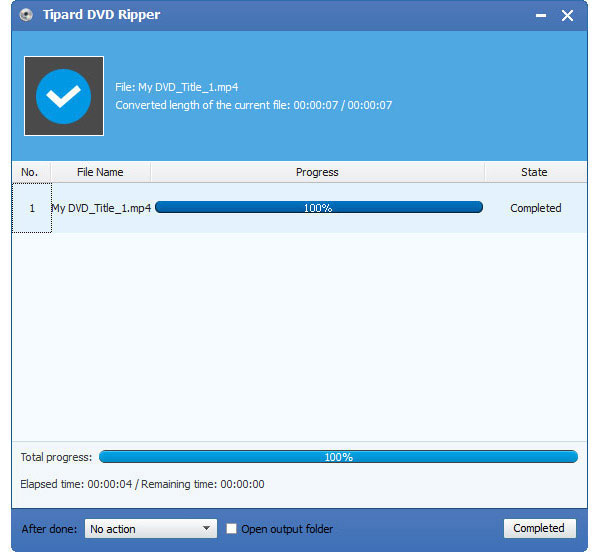 Top 2: How to rip DVD to MKV with WinX DVD Ripper
WinX DVD Ripper is able to rip music, pictures and videos out from DVD to MKV or other type of files. You can discover the powerful functions of auto transferring videos to MKV, AVI or AVCHD. It also backup DVD in 3 modes and remove the DRM protection mechanisms. What is more, you can also discover the optimal presets for lots of devices, such as iPhone, Samsung, Chromecast and more.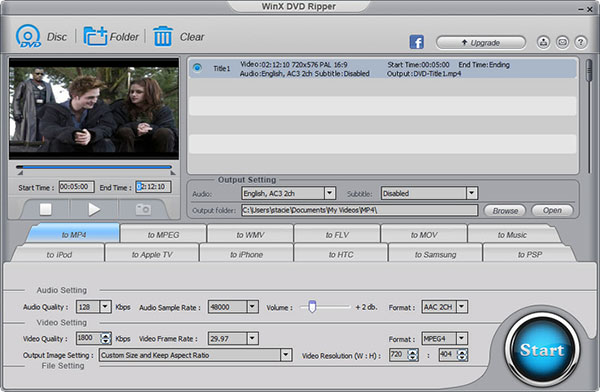 How to rip DVD to MKV with WinX DVD Ripper
Step 1: Load DVD into the program
Once you download and install the program, click "DVD" icon and then you can start to load the DVD file to this get start.
Step 2: Choose MKV as output
When it finished loading the DVD file you are asked to choose the suitable output file you want to with the following path "Output Profile" > "DVD Backup" > "Backup full title to MKV". And then click the "Done" button to start ripping DVD to MKV.
Step 3: Rip DVD to MKV
And then you can click "RUN" icon and you can also see the complete progress from the progress box. It takes a period of time for the whole ripping process from DVD to MKV files.
Tips: When the file finished converting and you still need to change for a little, for example you can change the direction, audio or background music you can find them from "More operations".
Top 3: How to rip DVD to MKV by MakeMKV
Just as the name of the MakeMKV, which is specially designed to rip DVD to MKV. You can use it on your computers for free only during beta download. And you can use it without registration for 30 days, after that you need to insert an account. The DVD to MKV ripper assists you to convert DVD to MKV. The advantages of it are it allows you to store the chapter information, keeps all meta-information and also it makes it possible for you to use it without downloading.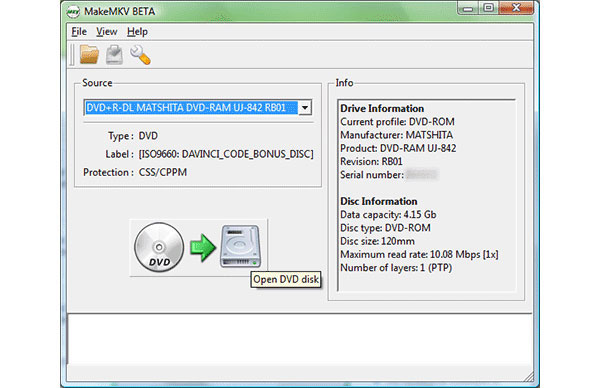 How to rip and convert DVD to MKV with MakeMKV
Step 1: Load the disc into the program
After you run MakeMKV, you should insert the DVD to your computer and then start to load it by clicking "Load Disc". Choose the file you want to convert and hit the green arrow.
Step 2: Choose the output file
When it finished loading, you need to choose the output file to the video you want to convert into. Or you can enter the type of the video in the quick search box and it will find it for you immediately.
Step 3: Start ripping DVD to MKV
Start converting the DVD file to MKV by clicking "Start" bar which won't spend too much time and you can know the speed of converting in the complete progress bar.
Step 4: Choose the destination folder
When it finished converting, you are asked to choose the destination folder for the converted video.
Summarize
The article recommends you top 3 ways to rip the DVD file to MKV. If you just need to rip DVD to MKV for once or during a short period, MakeMKV should be a nice solution. As for the unprotected DVD, you can also choose MacX DVD Ripper. When you are looking for the professional solution for ripping DVD to MKV, you should choose Tipard DVD Ripper as your first choice.